It takes less than two – tenths of a second for an online visitor to form a first opinion of your brand once they've perused your company's website, according to researchers at the Missouri University of Science and Technology.
If you are still using old web design formulas, you are missing a huge chunk of the online market. And if you are using modern web design methods and haven't still found success in lead generation, make sure you lack some major principles to gain more leads.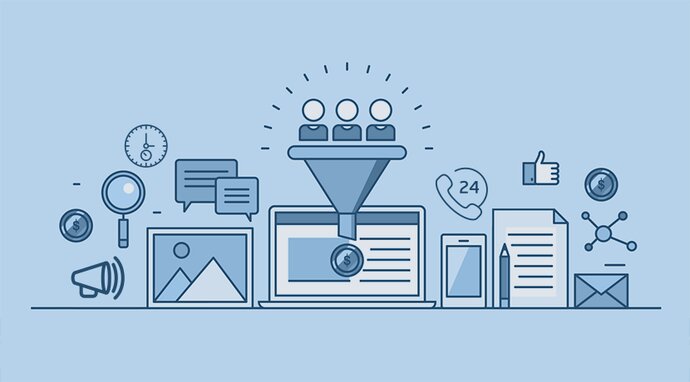 For gaining leads through website, you have to understand the core concepts of human behavior that drive people towards a website or compel them to follow the brand – this is a problem that about 50% of the businesses run into. They fail to understand why certain brands drive more traffic to their website as compared to their competitors.
Isn't it true?
Consider this simple question:
How can you 'persuade' and 'influence' people? The answer to the question solves the mystery of getting more website leads.
And the answer is hidden behind 7 main principles for a greater lead generation which we have derived from the opinions expressed by many successful brands and online marketing experts.
7 Principles that you should adopt for gaining website leads:
1. Create a Viral Buying Experience
Your website/webpage is your domain. It is under your discretion to maintain it, nurture it, and control how users access and use it. Give them an excellent user experience by creating a seamless user interface.
If you want to learn more about how to offer ideal user experience, check out Happy Supplies' Etsy Store. Happy Supplies is an e-commerce store that deals in handmade custom jewelry. This brand uses Etsy store to sell their products.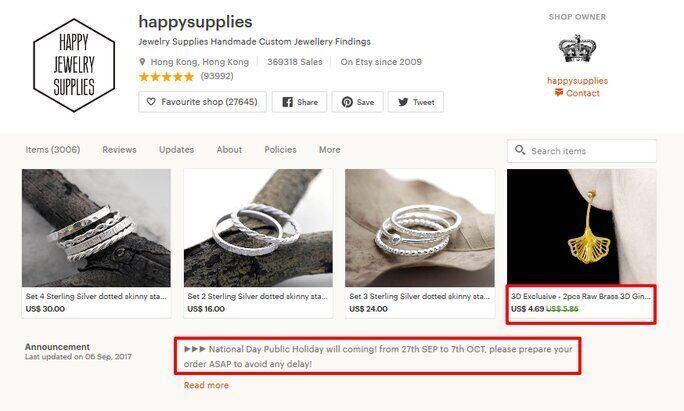 Enter this store as a user and all you will find is precious handmade jewelry with discounted price available beside. Not only they are selling jewelry, but also keeping a watch on upcoming festivals to encourage buying decision of users.
2. Build Relationships to Engage with Targeted Audience
Social media marketing is all about communicating and maintaining relationships with the target audience for better engagements, leads, and conversions.
How do we do it?
Build a rapport with your audience by posting (quality) content. Your initial posts might not get any likes or reactions, but if your content has caliber, people will start noticing you. I have always been a huge advocate of quality content, and my incessant jargon does not cease here. The content must have potential.
Few attributes of powerful content:
Timely and consistent
Specific and concise
Relevant
Informative
Interesting
Actionable
Facts & Figures
If your content has the above attributes, your audience will start engaging with you, eventually transforming your social media efforts into leads.
Let's see how influencers engage with the audience:
Sam Hurley is a Digital Marketing Influencer and yes, he is known as the nicest guy on the internet. His fans engage with him personally because he is responsive and posts relevant and informative content – why, he is a big influence on his audience.
Here is an appreciative twitter comment from one of Sam Hurley's Fan: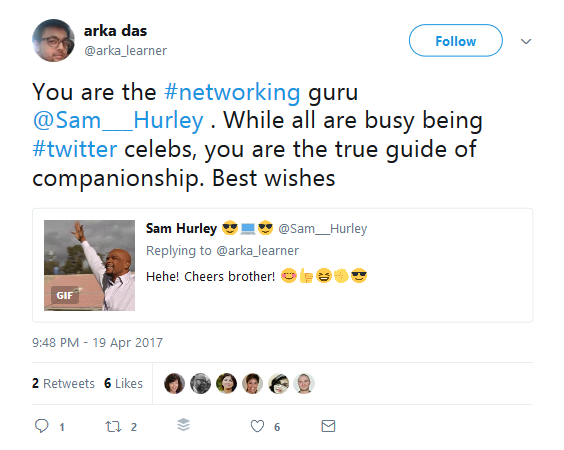 One More: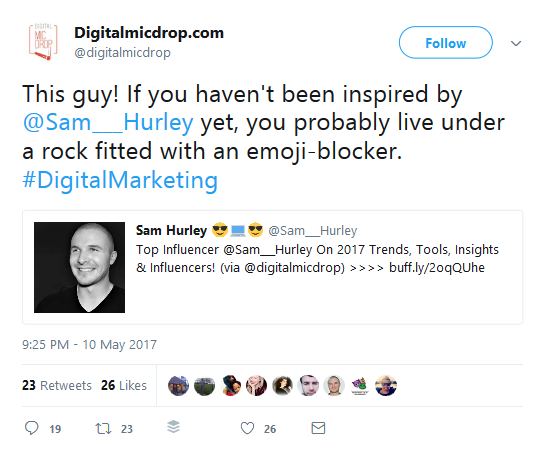 That's inspiring.
That's called building relationships with targeted audience.
Some notable points from Sam Hurley's social media marketing insights:
Develop a personal style and engaging voice for your brand.
Your content must look good, read well, and have a purpose.
Use emojis and giphys intelligently.
Work towards turning your followers into leads only once you win their trust.
Make use of free online marketing tools to manage social effectively, staying in the budget.
3. Identify Your Potential Leads and Networks they are Coming from
Every product/brand/service caters to its niche audience. Your first step towards leads generation involves identifying the audience you should be communicating to. Once you know your audience, then only can you move them to conversion.
But how will you identify find your potential leads?
And Where?
Most corporate and businesses are on LinkedIn. You could identify them using the Linkedin search function. Search for your twitter fans on Twitter Bios. Facebook is the largest social network where you can avail its features to follow and communicate with your target audience. Ask your existing customers to fill survey forms using a free survey maker or use likert scale surveys, conduct audience interviews, and study the data.
Study the data….What are you implying?
Use powerful social media analytics tools to find out the demographics of the audience that is engaging with your product. If statistics are not enough at your end, you could even track the competitor's data analytics. All social media networks also have dedicated analytics tools that will help you identify the age, gender, location, and active internet time of the potential leads. Create a spreadsheet, record the data and analyze thoroughly. Once you understand who your targeted customers are, you are ready to brainstorm ideas for the lead generation.
4. Mention all Your Contact Details
Your website should not just have rich content; it should carry complete details of your brand including your 'brand story' and contact details. It showcases your confidence towards your business and increases your brand's credibility.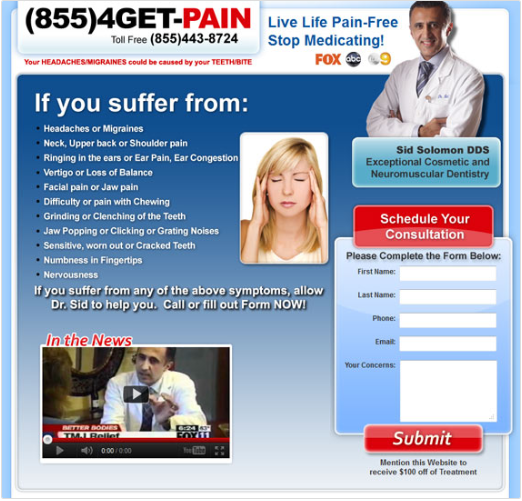 This is the lead generation website of a dentist in L.A, who has added nearly everything to make it easier for users to reach him. This includes a Toll Free Number, Consultation Form, List of Diseases he treats, etc. All such details are relevant to his audience which is a vital part of his page's lead generation strategy.
Tip: The presence of contact details is very comforting to target customers, add them to your website to increase the consumer's trust.
5. Add Testimonials and Customer Feedbacks
Use your customer feedback to your advantage.
"55% adults in the U.S. say that they watch online product review videos to help them with purchase decisions."
Grace your website with all the positive feedback and customer experiences. You could go a step further and add their photos and videos where customers express their positive experiences with your brand.
Testimonials can do wonders to boost the lead generation of a website. The audience is greatly influenced by actual reviews and recommendations of previous customers. WikiJob, one of the best sites to get finance jobs, proved it well with a simple change in its website.
WikiJob performed an A/B Testing on its website to see whether they can increase conversion or not. The site added three lines testimonials of customers which results into 34% increase in sales.
These are words of Chris Muktar when he was interviewed for such a remarkable change to its website:
"Testimonials increased sales by 34%. The testimonials we used are very 'sober' (compared with the overly enthusiastic ones you so often see in marketing literature). The test results were surprising."
Here's another way you can do it:
Add 'before' and 'after' results of the product to show fans and followers the actual impact of using their products. Fitness trainers and dieticians always put the results of their weight loss programs on their website and social media profiles.
Tip: Rather than focusing on selling your actual products; concentrate on selling the results of your brand.
6. Select the Correct Platform for Your Brand
You may be in love with Twitter, but alas, it might not be the most likely platform that will fetch you maximum leads. As per statistics, people have generated higher leads through Facebook ads than through Google ads. While this is true, we cannot ignore the fact the Google Adwords provides high quality leads to its customers. Here again, your analytics will help you judge the most suitable social media network for your business.
Tip- Keep measuring the results of your social media marketing campaigns at every stage of marketing.
7. Time to Take Some Action
You might be good, i.e. you post great content, engage with people, monitor your posts and use customer testimonials to your advantage.
But where is the real action happening? The best path towards lead generation is a direct CTA (call-to-action).
While asking your audience to take action, never be over promotional. Recognize the needs of your customers using emotional intelligence. Emotional intelligence involves controlling your emotions and the emotions and feeling of others. You can use CTA in your websites, blogs, social profiles, social media posts, e-books, infographics, checklists, images, ads or wherever your brand has presence.
Tip- More data->better targeting->higher leads
What's next?
Don't keep your audience guessing. Direct them towards the lead generation content through your well-designed CTAs. Have calls-to-action forms on every page. I repeat….on every page. The less information the website asks for in the first step, the more willing customers are to fill the forms and move towards the next step.
Be direct and concise.
Netflix uses a clear call-to-action that also specifies the duration of the free trial.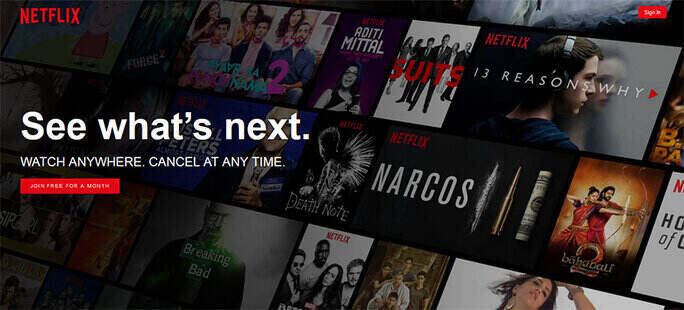 Your call-to-action must encourage the user to take a specific action. Use words like 'buy', 'join', 'donate', 'free' and 'subscribe' to show a sense of activity. Don't leave the users guessing and be clear about what you expect them to do.
Wrap-up
Don't overdo it.
Yes, as we take steps towards directing greater traffic towards our website for lead generation, our marketing efforts should be balanced. Build a relationship of trust and credibility with your audience and then direct them towards taking actions for lead generation.