Is it December already? The last time you checked, the trees were still shedding. You said to yourself, I still have Halloween to go through, but Black Friday caught up, and you had no time left to plan a Christmas marketing campaign. Right? Wrong!
It's still not that late for you. Give this blog a read and be on your way to executing your holiday spirit-filled Christmas marketing ideas.
However, if Christmas is still far away in the calendar, don't sit idly because your prospects won't. People generally start searching for Christmas shopping options way before the big date.
We at SocialPilot, have curated a bunch of quick steps, tricks, and pro-tips to running a successful Christmas marketing campaign.
Step 1: Define Campaign Objective
Start by establishing the sales goal that you want to achieve this Christmas season.
To do that, revisit your sales figures for the previous year's Christmas season. Once you have that number, write your goal for this year, considering the economic factors and the competition.
In addition to sales figures, you also need to look at numbers in the abandoned cart, discount coupon redemption, key performing sale days for your business, the percentage of new acquisition v/s retention.
Step 2: Understand Customer Behavior
Once you have your targeted sales number, The next is to understand the customer buying pattern.
40% of shoppers admit to doing their research online and getting the most value from their shopping experience. It is essential to be on the mind and screen of your potential audience early on in the holiday season.
Identify the times and devices from which your audience discovers you. If your customer is most active on mobile devices, make sure your website is mobile-responsive. In 2021, almost 79% of smartphone users bought online using their mobile devices.
One more thing.
Customers are pressed for time during the holidays. They are happy with a brand that makes their shopping experience easier – 55% of shoppers were happy shopping with a brand that gave them the exact information they were looking for.
In a nutshell,
Your holiday should focus on – sales figures, enhancing the customer journey, sharing the exact information the customer is looking for, and being present at the right time and on the right device.
You have set your marketing objective – Increase in sales by X% compared to last Christmas' sales numbers. But you also need to know the audience that you leverage as a brand.
Step 3: Segment Your Audience
Before the holidays, shoppers are in a frenzy of getting that 'perfect gift' for their loved ones. In that hunt, they are willing to buy from a new retailer too. Businesses, in their market research, should consider the possibility of leveraging both customer retention and customer acquisition.
In order to enter a potential customer's buyer journey, brands need to expand or tweak their search visibility.
Identify the avenues of sharing information. Adapt the tone and messaging to resonate with the correct set of potential customers. Set the perfect imagery that appeals to the emotion and spirit of gifting.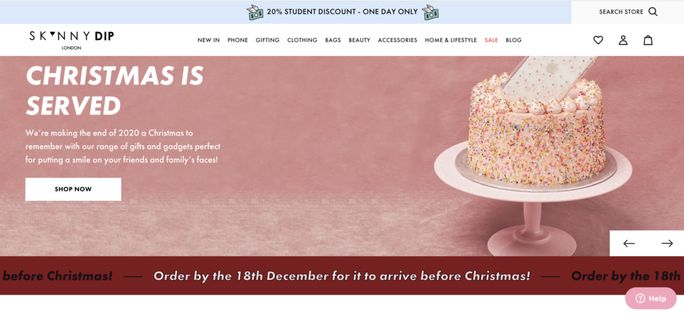 Since it's the seasonal shopping experience you are trying to take advantage of, your target audience should either fall in the category of deal-seekers or last-minute shoppers.
The commonalities between both these kinds of shoppers – brand agnostic, doing their research online, won't mind going down to the nearby store.
Prepare an irrefutable offer for the deal-seekers.
Where are they, you ask? 58% of shoppers find a better deal online, 40% of them say they Google the best deals, and there has been a 200% rise in the search-term 'rewards apps'.
On the other hand,
The last-minute shoppers are on the hunt, indecisive, and there is a sense of urgency from their end. As a brand, you need to leverage their need and urgency. The search trend of Google revealed around 50% of shoppers are open to buying from new retailers if they meet their needs.
One way to ease their buying process is by curating a list of Christmas collections that you offer.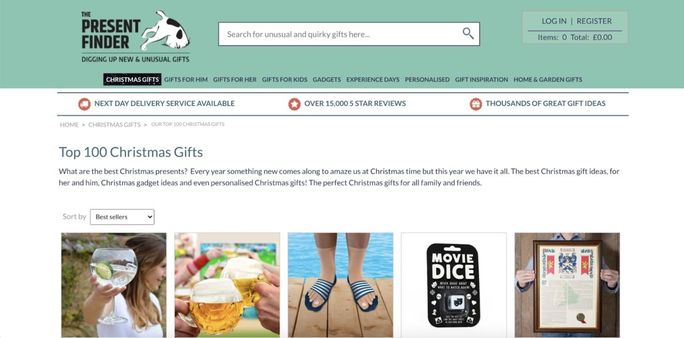 Customers that procrastinate holiday shopping are an easy target to boost your sales figures. 47% of instant shoppers factor in the returns policy in their decision-making.
They are open to discovering new brands. So, provide clear yet informational messaging with your Christmas branding activities. Look into the possibilities of revamping your returns policy, including free shipping in your offer, and packaging your brand with a seamless and quick shopping experience.
Step 4: Finalize Your Christmas Offer
Once you have your objective and know your target audience, work on creating the perfect offer to entice them.
Since you're pressed for time, introducing limited edition or holiday products might not be a card you would like to play. It is time-consuming and needs a different timeline to execute.
On the other hand, introducing discounts, gift certificates, product bundles, reward points, loyalty bonuses, free shipping, specialized packaging are changes that can be automated and promoted in a shorter span of time.
Check what offers or deals your competitors are offering via social media mentions and on their websites.
Identify the value you can add to your audience's shopping experience. Chalk out a couple of limited-time deals and make them roll-out ready. Because you have thoroughly studied the audience you'd like to cater to, providing them with valuable options won't take too long!
Step 5: Decorate Your Online Store & Social Media Profiles
You have your how's and why's in place. You know your objectives and KPIs, understand your target audience, and have chalked out a 'buyer persona'. Now you need to focus on the buyer journey of the audience that discovers you.
Based on the audience persona, you need to set a theme or introduce "holiday spirit" elements across platforms where the audience can interact with the brand. The major avenues where the audience interacts with you first-hand are your social media profiles and the website.
What can you do?
Change the elements of your website
Create landing pages for specific content pieces
Set-up trigger pop-ups on various pages
Add Christmas theme cover image flaunting discounts and offers across social platforms
These activities streamline the journey of a potential customer to a paying customer.
London Drugs, for example, added elements of ribbon, snowman, and Christmas on their Facebook profile and cover photos for the followers to get the holiday experience. Small changes like this take little to no time to introduce.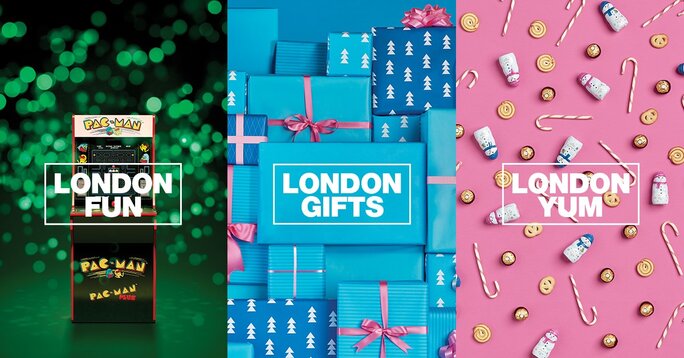 Why should you do it?
Attractive landing pages help the customer to get the information they were looking for. If your messaging is uniform across the customer journey, this adds to the seamless shopping experience.
Trigger pop-ups are another way to nudge the customer into buying. Induce time-limited offers, higher discounts, bundled products during the research experience of the customer. This acts as an enabler for the customer to come to an immediate decision rather than defer it. All you need is content, design, and landing page set-up.
The content includes the offer that you have decided to set up for your audience – "X% of savings on cart's total value", "bundled products at a steal-deal price", "limited time offer".
If you are a small business owner pressed for time, automation is your dear friend.
The time you spent researching the details of your campaign can be saved in shaping your campaign. There are tools that can help you design the perfect landing page, create attractive pop-ups, and add a timer to your website as well.
Canva is a highly appreciated tool that most marketers extensively use to design creative social media posts. Next comes writing social media copy that converts. Here, your copywriting skills would be put to the test. But with Google trends and keyword research, identifying the buyer-enhancing words would make it less time-consuming.
Step 6: Spread the Cheer Across Social Media
Once your online store is all prepped and ready for business, it's time to welcome the happy shoppers.
But wait! How do they know all the fab things you have in store for them? That's when you take the help of social media.
According to the latest social media statistics: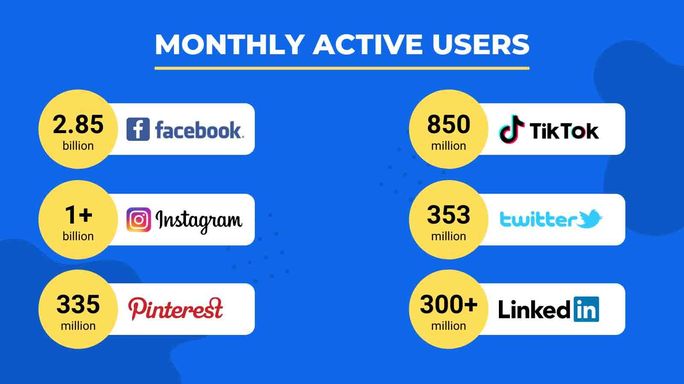 You get the picture. The potential is huge! Leverage the activities by getting in front of the right audience and a large audience. Promote your offering across pages and even on groups that you are a part of.
One of your biggest helpers, your elves, are the fans, loyalists, brand ambassadors that can help you spread the message like wildfire. They know your product, know what your brand stands for, and the audience they cater to either the same as yours or a close match to yours.
You need to identify and reach out to these superfans. Ask them to help you spread the message, reward them for their loyalty, produce social media content with them, start a #hashtag thread, use some Christmas marketing slogans, introduce a trend for audience engagement.
La Croix is one such company that does it the best.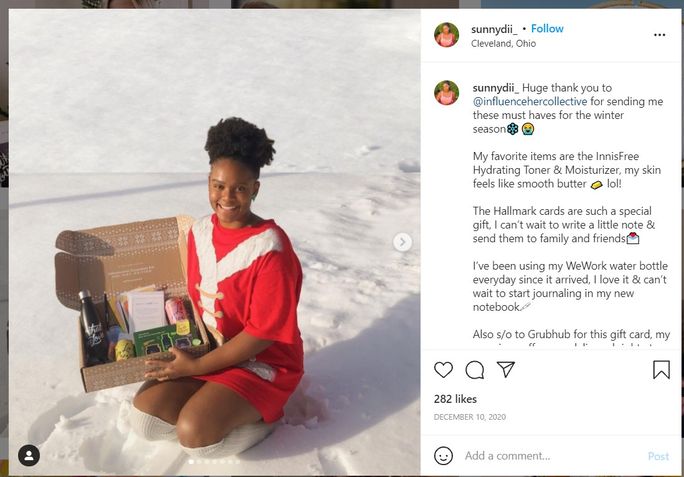 These activities will help you not only create a buzz for your offer but also help you in distinguishing your brand from the other players in the market.
You could run social media contests to enhance your engagement rates and increase your loyalty base.
A holiday contest idea could be organic, including your product or service in the most innovative copy or design, or content. The winners get free products, gift certificates, discounted subscriptions.
Contests help with engagement, increase fan-base, and generate a reservoir of UGC for the brand to re-share and re-purpose.
With social media giveaways, a brand can enhance its branding as well as support its avid fans. It is also key to attracting a new fan base that is yet not aware of your brand.
In order to leverage social media, you need to be consistent, precise, and not overly pushy. Content needs to be generated and shared across various platforms and at regular intervals. To optimize the impact of the right content to be pushed out, automation can be handy once again.
The right blend of social media publishing and social listening can sway the success of your campaign by huge margins.
Plan out the content strategy in advance and schedule your posts throughout the offer period with SocialPilot.
Note: Try SocialPilot's free 14-day trial now and keep your eyes open for our jaw-dropping holiday discount here.
Step 7: Attract Audience with Paid Promotions
To attract more people to your landing page or even make them aware of your offer, paid promotions are an avenue that should also be leveraged.
You could use various platforms, dads,copies, and designs to maximize the traction you get.
It comes down to your marketing budget and targeting. If you have a big budget and know your audience well, the ROI will be good. This would make it easier for you to reach your goal of higher sales faster and in a short period.
If you have a big budget, you could run ads on various platforms – PPC ads, Google ads, Facebook ads, LinkedIn ads ( for B2B ). Remember, the competition for keywords would be fierce, and the CPC could witness a hike due to seasonal demands.
Google ads and PPC campaigns would help you in discovery while you could use Facebook ads for remarketing. LinkedIn ads, though expensive, have proven to perform better in terms of getting qualified leads and higher conversions in the case of B2B clients.
There are various tools that help manage across multiple platforms. For Facebook, increasing the impressions and reach of your posts can be easily achieved by running a Facebook Boost Post campaign. For Google, Google Adword is your friend, with LinkedIn business manager access helps you devise campaigns for the same. LinkedIn is offering ad credit as well for first-time ad creators.
Step 8: Personalized Email & SMS Campaigns
Your fans, current paying customers, and subscribers to your content are also eager opportunities that need to be tapped. Segment your existing customers and send out mailers to all, letting them know about the offer.
Remember that no two customers are the same, so don't forget to personalize them and sprinkle a pinch of warmth. This would make them connect and convert.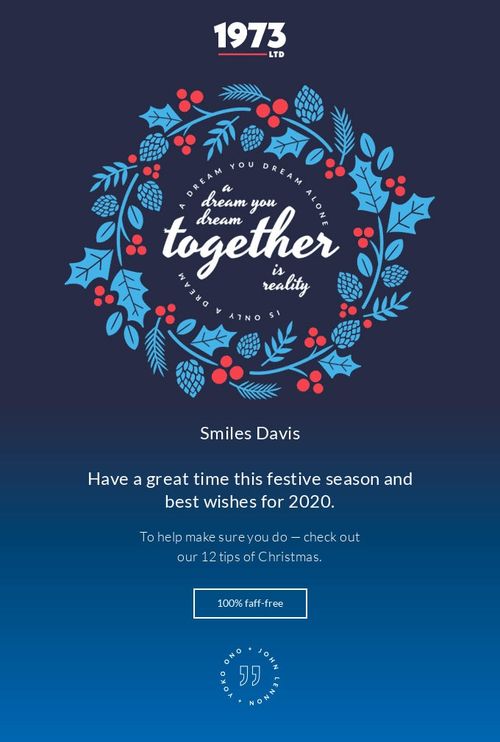 Besides mailers, you could also interact with your customers through SMS campaigns. If they are online through mobile, they are also checking their text messages. This form of marketing is niche, and not many companies use it.
It would help you reach a higher number with lesser costs compared to other paid promotions that you have been doing across various channels.
Remember to segment your audience based on the amount of interaction they have had with your brand.
Giving away $200 gift cards to first-time visitors and brand loyalists is going to leave a bad taste in their mouths. Understand the worth of your audience in dollar terms. This would maximize the return on investment of the personalized campaign that you've spent efforts behind.
Step 9: Post-Christmas Activities
Phew! Christmas is over. Now I can take a breather before the New Year starts. Well, not so soon. Christmas might be over, but the shopping season isn't over yet.
A lot of online shoppers are vying to give themselves a little something special. Customers are still spending high.
Extended discount offers, minimal shipping costs, and end-of-season sales are some tactics that you could continue to scrap every last bit of the dollars the customers are willing to spend.
These activities focus on squeezing that extra bit of revenue now that the market is a little less crowded. Your brand could send out the message even louder and attract an audience in the pipeline for the next sales quarter too. This step, though not necessary, could help you get an edge over the competition and increase your brand awareness.
You can run a charity campaign posting about giving away X% of the proceeds of the sales revenue earned in the last quarter. Because you have struck an emotional chord with your audience, they will get excited to participate and contribute to the cause.
Step 10: Analyze & Report
It's the new year, but you still need to wrap up the campaign. The biggest feat is yet to be conquered.
Have you succeeded?
Has the objective been fulfilled?
Did we maximize sales by X%?
All these questions will be answered once the report has been made.
You need to mine the data from various resources – website, social media, review sites, third-party avenues. Once the data is collected to measure the worth of the campaign through the pre-defined KPIs.
These activities will help you get a clear picture of what worked and what did not. Referring to this report next year would help you refine your objectives, goals, and capabilities for next year's holiday campaign. That is if you wish to run another campaign.
Here, things get a little hectic if you are a social media marketer handling multiple clients and assigned to report the full Christmas campaign results. This is where you use social media analytics tools to make things simpler.
Conclusion
You have a clear path drawn out for you to create a rocking Christmas marketing campaign. Don't worry, even if it is the last minute or the last week or the last moment.
After reading this, you might have recognized a few Christmas marketing ideas that you have been doing already, some activities in the pipeline, and some that need replacement in a fashion that supports your holiday objective of getting higher sales.
A good holiday campaign that shifts the needle isn't rocket science and doesn't need everything to be thought out from scratch. Identify those "almost there" activities in your business and launch a successful holiday marketing strategy.