I could say that content you need to create for 2017 should be all about the growing technologies of AR and VR – or that influencer strategy is growing fast and needs to be capitalized on. There is some truth to that, but before you start thinking about using the latest tools available – you need to do something else.
You need to get back to basics
Firstly, you have to think about the purpose of the content you are creating. Who is it for? What is it trying to do? Why should people be interested. Then you need to think about what part of the sales process your content is aiming for. Is it designed to attract people at the top of the sales funnel, inform them in the middle or drive them to make a decision at the end of the funnel. Then there are various other things to consider. What platform should you use? What tone of voice? What media?
What else?
Whatever works for your brand. Once you have worked that out – that's the point at which VR and influencers can be thought about. So many people get excited by the new opportunities at the end of the road, that they skip ahead of all the important things they need to do to get there. It's better to have a lemonade stand at the end of a well built road full of traffic than have a luxury resort at the end of a dirt track. It's even better to have a resort at the end of a well built road.
So what do you need to focus on?
1. Purpose
Every piece of content you produce must have a purpose. In fact, it must have several. You need to attract your audience and at the same time you need to promote your brand. You need to be careful. People on social media are savvy – and they don't like being sold to. A whole entire world of options is available to them a mouse click or a screen press away – so your first purpose has to be to engage the interest of your audience.
So why do people go online?
People go online for one of two reasons: to solve a problem or to be entertained. If they need to solve a problem, then they will tend to look for the answer on a search engine. If they go onto Facebook, then they go there for entertainment. So, you have to provide that as well as solving their problems – problems that they haven't even considered yet.
So how do you create clear purpose?

2. Sales Funnel
A sales funnel is a way to make sure that you turn as many audience members into people who are interested, then into leads and finally into conversions. If you just put out one message, you will have a certain rate of conversion. Cold callers get a response of about 1%, and ads that try and sell to people directly on social media have a similar conversion rate?
Here's how you improve that:
Retarget. Using things like the Pixel on a landing page lets you find people who have already shown interest in your brand, and then you can send them another message which matches them where they are on their customer journey – but before you can retarget your audience, you need to find your audience.
Top of the funnel
The top of the sales funnel is known by a lot of different names: brand awareness, the attract phase… even the stranger zone. It's where you take strangers, and put content out in front of them that attracts them and makes them aware of your brand. If people don't know about your business – then you're not going to get them to commit to an action with you.
Every salesman knows that you don't go from cold to sold – you need to attract people before you close in on the hard sell. That's something that can often be forgotten online, with some brands putting forward pressure sales tactics up front. People don't like being sold to online – and a direct approach isn't going to work will with most people.
At the top of the funnel, your focus should be to entertain them and show off your brand values. If you do it well, there will be some conversions as well (like the Lowe's example from earlier). At this point, the content has to have value on it's own – and make people aware of you and your sensibility rather than sell your product.
What does that mean?
If you were going to sell ice cream, you might not think the best way would be to put out a short video that showed a dystopian future where robots force feed ice cream to imprisoned elderly people – but that's what Halo Top just did with their ice cream.
They did just what they were supposed to at the top of the funnel: attract and interest. If I saw Halo Top ice cream in a store, I might be interested in trying it – but I'm certainly aware of the brand now. If that's just too weird for you – Sainsbury's in the UK did something similar through Snapchat – sending out a Snapchat only advert to 10 million users:
It shows off the innovative nature of the Snapchat app, but also shows the fun you can have cooking with friends and family. The supermarket chain linked to recipes showing some things people could make. Primarily the ad is entertaining and educational – but it also starts to drive the sales agenda – it starts to bridge the gap between the entertainment heavy top of the funnel and the educational…
Middle of the funnel
In the middle of the funnel, we assume that people are already aware of you. At this point, we assume that people are already aware of you, and your brand – but they don't really know the specifics. This is the 'getting to know you phase.' You could call it the education phase, but on social media, it's all about getting to know each other.
There are two phases to this, the first is to know your USPs – your unique selling points. What is it that makes you different from anyone else around you? Check out your competition to make sure that your selling points are unique – you need to stand out from the crowd.
Who does this well?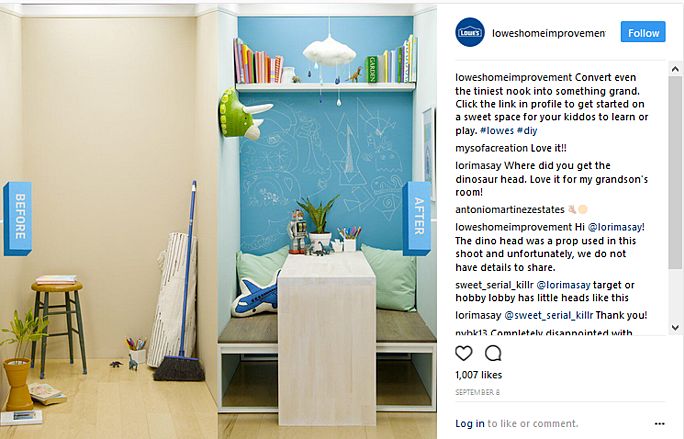 Adweek looked at an example of how Lowe's managed to do this on Instagram. They created 64 'microvideos' of less than a second each to show how to convert a small space into a children's play area. It's something fun, different – and actually useful, as people can stop at each small video to see a step by step guide on how to do the small space makeover – as well as go to Lowe's and buy all the stuff they need to do it themselves.
Here's why it works:
You can clearly see the multiple layers of purpose laid out – there's a clear purpose for the consumer – they are entertained. They also engage with the content due to its innovative nature – and continue with the content as they learn something valuable – how to convert a small unused space into a child's play area. For Lowe's, there is the obvious purpose of helping to sell the products featured in the video – but also a less obvious branding purpose.
With the innovative 'microvideos', and the innovation in the design it showcases, Lowe's positions itself as innovative and thinking outside the norm. It also seems family friendly and supportive of people who want to do things on their own terms – and empowers them to do that. Many people wouldn't even have considered turning unused space into a play area – and here Lowe's is solving a problem for them that they didn't even know they had.
Now comes the fun part:
The end of the funnel
This is where you close. Where prospects become leads, and leads become customers. Where customers make a decision to be a customer and take action – whether that's a purchase, a subscription or even signing up to an email list. It's where you close. But how do you close?
You need to make them an offer they can't refuse.
Remember if you're retargeting, then you may have already interacted with this audience a number of times and they still haven't committed. They're on the fence, and you need to do something to push them off. So, how can you do it: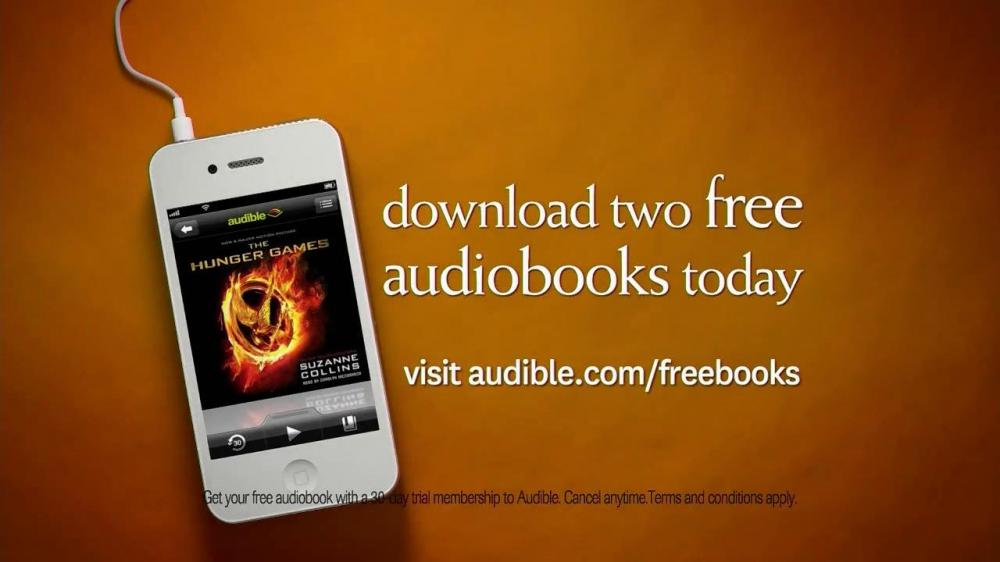 This is how Amazon's audio book company Audible does it – clear and simple. They offer their product free for a month (a two book subscription, and that they can cancel at any time without a problem. They offer an incentive, and make it easy to action. They have even offered some books for free, so people can sample their product and get placed within their infrastructure. They remove the risk from the equation – the customer has nothing to lose.
The opposite works well. With retargeting, you can also give a specific (and even time sensitive) offer. 42% of people on Facebook become a fan so they can access an exclusive discount – there's also the bonus that they pass that 'exclusive' discount on to their friends. If the deal runs out in 10 hours, or only the first 50 people get to use the code – then it's also an incentive to action.
3. Content you must create in 2017
Top, middle and end funnel content with purpose is the content you must be creating in 2017.
If your audience engages well with VR – then it's a great thing to use – but where would it sit in the sales funnel? Depending on your business, it might be a great way to get people's attention at the top of the sales funnel – like Lowes. Or, because it could shoe off your business, it might be a great way to deliver educational content. It's not likely to sit well at the bottom of your funnel, unless you develop one of the first ways to buy within a VR headset, and you're selling the experience.
Go with what works.
If you have a great piece of modern content at the top of your funnel – then you also need to make sure that message is consistent throughout the sales funnel. If you have a great piece of top funnel influencer content that brings in new people, then you need to make sure your middle and bottom funnel content matches that journey – don't expect the sales message that works well for other audiences will work for all audiences.
If your content has a clear purpose and sales journey for your audience, then it will be more successful. All the innovation and creativity you bring to your content will be enhanced by the fact that it is based on sound strategy. Having clear purpose and a sales funnel doesn't constrict you – it frees you up to be more creative, because you know you have an adaptive system that will create results when you create good content. Great content with no strategy will just get lost.