"Facebook was not originally created to be a company, it was created to accomplish a social mission, to make the world more open and connected"
– Mark Zuckerberg
And that is what we call vision!!
Facebook is 'the' social media channel that has successfully connected people all over the globe. It has accomplished its goals and gone beyond them to become synonymous with the word 'internet'. And Facebook never ceases to stop impressing. It's working day and night to introduce new features and leaves the fans grasping for more.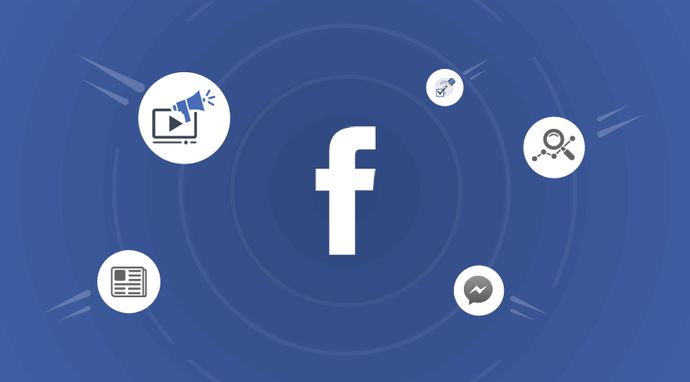 With 1.94 billion monthly users and still growing each moment, Facebook is definitely the platform for social media marketers to concentrate. As a social media marketer, you can study the FB updates and thereby devise your marketing strategies and increase your online efficiency using some social media automation tools like SocialPilot.
As Facebook celebrated its 13th anniversary, new features have been added which all social media professionals should know and monetize upon.
Here they are.
New Facebook features all social media marketers should know:
1. Mid-roll video advertisements
100 Million hours of video viewing per day.
Wow!
The figures speak for themselves and showcase the mammoth popularity videos have gained on Facebook. So it's time marketers, social media professionals, and businesses capitalize on this growing feature. Facebook has decided to add the mid-roll videos ads in videos that are longer than 90 seconds. It's a win-win situation for Facebook as well as marketers, as Facebook will sell these ads and share 55% of the revenue with publishers. This is similar to the policy of YouTube, which is the No. 1 global leader in online video ads.
How does the format work?
Content creators, ad designers, and marketers can insert their video ads after 20 seconds of the video have been watched. This would be an unbranded video ad which is relevant to the product that is being advertised. These ad videos have to meet clauses of minimum follower and viewership requirements.
The advantage for marketers
When ads relate to the topic of the video, there are better chances of reaching the correct audience. With 92% of mobile video viewers sharing videos online, these mid-roll videos could be a big boost to your existing video marketing strategies.
2. Facebook cleans up its News Feed
"Starting today, we're rolling out an update so people see fewer posts and ads in News Feed that link to these low-quality web page experiences. Similar to the work we're already doing to stop misinformation, this update will help reduce the economic incentives of financially-motivated spammers."- May 10th, Facebook blog representative.
With practically everyone on Facebook, there is a lot of fake news floating around. Facebook finally got geared to remove the low-quality ads and posts from the News Feed. There are numerous groups, celebrity pages, product pages and hence the amount of spam that gets accumulated is paramount. Facebook has noticed this issue and has been drawing strategies to take the problem head on.
The social media giant has been tweaking its news feed so that post content from family and friends appear on top and thereafter the other pages and publishers appear.
The advantage for marketers
If your content is top quality, when you are promoting your website's landing pages, your competition with spammers will reduce overtime. This is a time taking process but eventually, businesses will find an increase in organic traffic to their web pages.
3. Messenger Day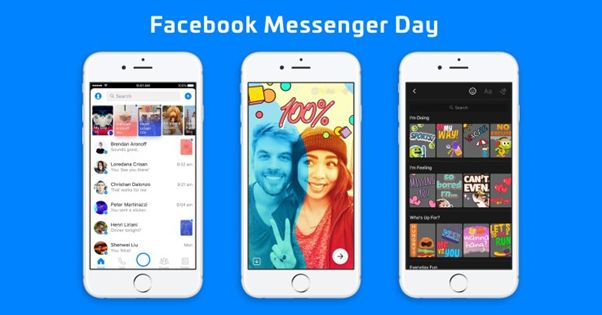 Messenger day is Facebook's robust answer to Instagram stories and Snapchat. Messenger Day is found at the Facebook messenger and has stickers, filters, and features galore. It's a great way to start a conversation in real-time, once you see who is online.
The advantage for marketers
You can use Messenger Day to give your social media marketing campaigns a personal touch. Just start a conversation in real time using interesting stickers and filters. Messenger's newly enhanced camera could be well on its way for starting visual communication that will help marketers get close and personal with potential clients. And they also plan to insert advertisements in Messenger to generate revenues.
It may be some time before these features take off, but advertisements on Messenger could be the new social marketing media channel for businesses.
4. Facebook 360 for gear VR
360 photos and videos have changed the way people take to social media channels. It's one of the most remarkable features that Facebook has ever launched. With 25 million 360 photos and 1 million 360 videos already posted, there is no way this technology will slow down. The Facebook's F8 conference in April was the launch pad of the professional 360- video camera for Gear VR.
The surround 360 has 17 cameras and this technology is being called the 'social VR' for personal VR devices. Powered by Oculus, you can now use this device to connect two or more people in the virtual world. The 360 videos can be saved on your mobile and desktop. You can view it later again and again at a convenient time.
The advantage to marketers
This is a huge step by any social media platform in refining the user experience. Yes, you can take your social media management strategies to new heights using the Facebook 360 VR app. Share your products and services using 360 VR and connect with your consumers for a real experience. Your audience can have a sneak peek into your services and you can determine their next course of actions. VR is an expensive concept and for the time being, will be used by the larger business entities.
5. Facebook marketing analytics gets even better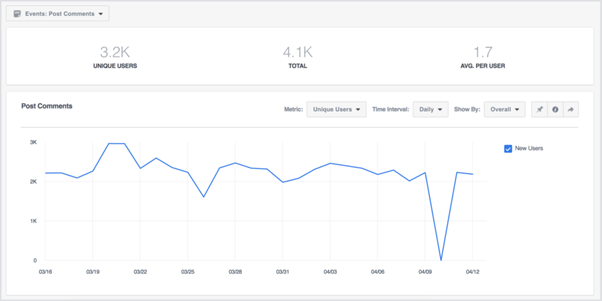 Facebook analytics are the most insightful form of social media analytics tools. Social media analytics allows users to optimize their marketing campaigns and increase their leads and conversions. You could monitor your post likes, reach, and engagement with the Facebook analytics. And now, with the Facebook Page Interactions, social media professionals can measure the post reactions and shares, to ascertain the preferences of the fans.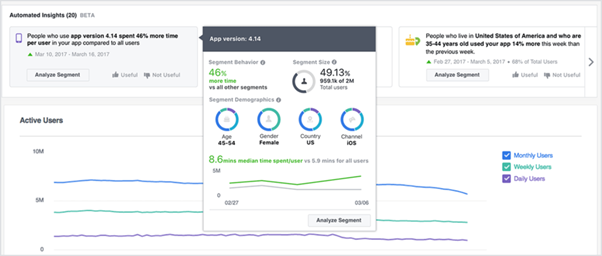 Another feature by Facebook is the AI-powered Automated Insights tool. Bigger marketers can use it as their social media tool for reaching out to a segmented audience.
The advantage to marketers
A competent social media analytics tool is pivotal is aiding businesses achieving their marketing goals. With Facebook polishing its analytics further, marketers can get deeper insights into their business promotional activities. These analytics, give you a clear picture of your social media effort and you can further device your new business goals based on these results.
6. Facebook Dynamic Ads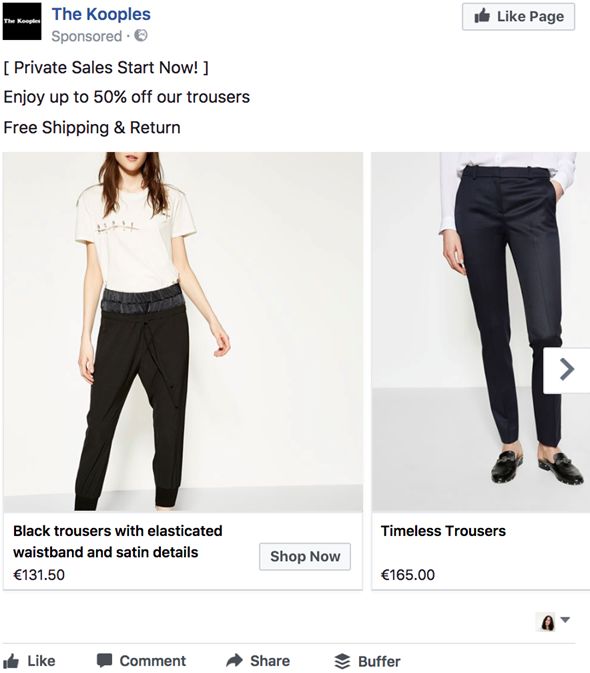 With Facebook Dynamic ads you can create a customized catalog for customers. Go on and conduct your remarketing campaigns based on the viewer's browsing history. Marketers can create a Feed from their selection of items and automatically deliver the images, prices, and descriptions in their ads.
As per the latest updates, you can use 20 different images from a catalog to showcase an item using Dynamic ads.
The advantage to marketers
When customers see products that are customized as per their tastes and requirements, the chances of a conversion is high. These Remarketing ads are geared towards influencing the customer's decision using Dynamic images and product information.
7. Facebook Live 2.0- Broadcast live from your computer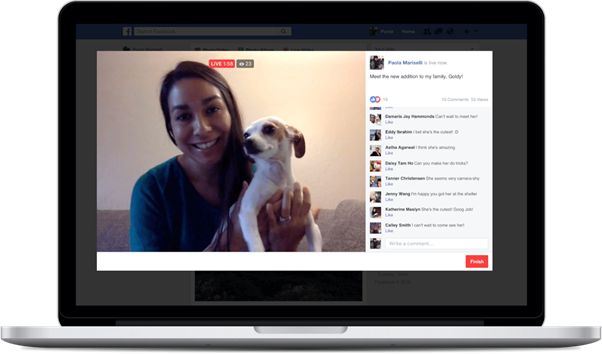 On March 22nd, 2017, the Facebook Live feature was announced. You can broadcast videos to the News feed directly from your computer/desktop. Previously, this feature was available only through FB's mobile app. As an admin, you can designate 'live contributors' to people who want to live stream on that page at any time. Users can also pin their comments and highlight important information for the fans.
The advantage to marketers
A live streaming video is beneficial to marketers in more ways than one. Firstly, you can connect with your fans live and interact with them. Other Live Facebook broadcast sessions like vlogging, Q& A, and tutorials can be conducted with the audience. Businesses can organize webinars on Facebook, as a part of their social media plans.
Wrap-up
From personal fund-raisers, the Add measurement tools, to new message reactions, Facebook's to-do list is endless. Facebook constantly adds new facilities to its already existed range of dynamic features. Marketers, retailers, and opting on some easy-to-use facebook business tools companies can have tremendous social media marketing options at their disposal. They have to determine which marketing strategy syncs best with their business activity. The 360 VR gear is a powerful feature by Facebook and will showcase content in the most explicit and elaborate format.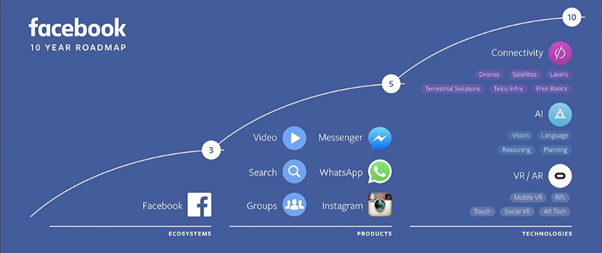 Facebook also relaunched its marketplace app which has enhanced the user's buying experience. Facebook's innovative ad plans are being rolled out constantly. Mid-stream ads are another effective strategy to hook the customers. Facebook's Power Editor automatically gives captions to ads, making them more distinct and recognizable.
GIFs are another fun feature by Facebook that helps organizations tap customers. New features, chat bots, fun games can be played in Messenger. This new avatar of Facebook Messenger can now be used independently without logging on to Facebook.
F8 2016 goes down in the history of social media as a pivotal day that saw some major announcements for the Facebook fraternity. With this ever-evolving social media giant and technologies like facebook publishing tools surrounding it, we expect consistent churning out of new features and strategies that will prove beneficial for marketers as well as the ardent Facebook fans and followers.