You must have heard so many people shouting out loud "Content is king", praising the importance of effective content marketing practices as a mean to improve business performance.
Yes indeed,
Content is absolutely essential, and I believe only few people understand why it is important.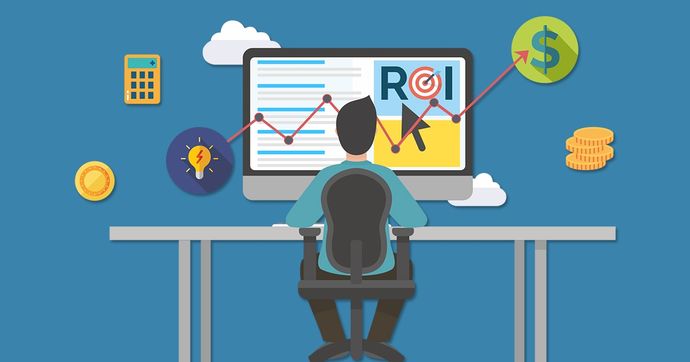 You see, many individuals use the term without even understanding what it means.
As Michael Dicky, Marketing Specialist at aussiewritings.com suggests, "Content is really not just words that we write in order to improve our search rankings. They're not simply "infographics", videos, or podcasts. In fact, content is everything that communicates a specific message to a group of audience.
Hence,
Social media marketing, email marketing, forum marketing, native advertising, traditional marketing – all these are dependent on content.
So when we refer to content marketing, we're talking about marketing strategies that revolve around your unique, relevant, and valuable content.
Similarly, the content of your business will have an equal impact on your business's ROI (Return on Investment)
However, there are certain things to consider when increasing your business ROI, they are…
The 1st rule in business is to keep your company/small business/online business profitable.
Well, to do that, you have to develop and publish quality content that brings value to people's lives. Also, by providing free educational content that inspires trust and improves your offer's remarkability you can invite more traffic.
Lastly, you'll need to follow the proper marketing strategies for presenting your content in front of targeted audiences because it will help you to know how eager the readers are to find out more about what you're writing.
Once you've captured the attention of an internet user and brought him to your business website, he's ready to engage in his consumer's journey that you have carefully set up before bringing him there.
If the prospect becomes a customer, your ROI will grow, and you'll know that your investments, energy and time are aimed in the right direction.
But let's not rush…
Because many of you might be new to these concepts.
So, let's first see what ROI means and why it is the most important metric that your business and marketing campaigns depend on.
What is ROI (Return on Investment)?
Wikipedia's definition looks like this:

However, we can also look at it this way: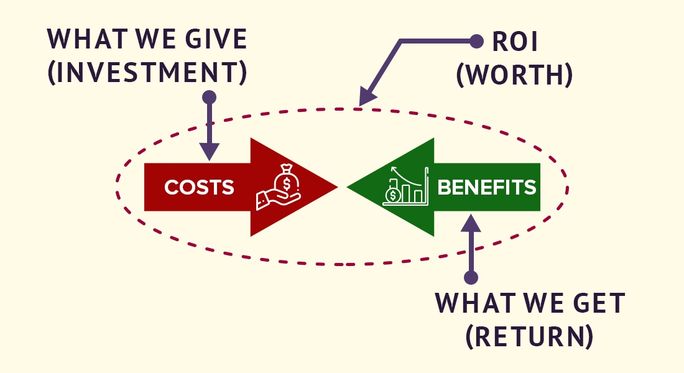 No matter, what investment you want to track and what benefits you want gain, you'll use different metrics but the equation will remain the same.
For a better idea..
Measuring ROI of the Content Performance
When measuring the ROI of the content performance on websites, most webmasters are tracking down the number of conversions (people that sign-up to your newsletter) that they generate.
Measuring ROI of an Email Marketing Campaign
When tracking the ROI of an email marketing campaign, people calculate the investment they made based on the average lead acquisition price and the additional expenses that sustain the email marketing campaign.
Measuring ROI of Social Media Channels
When tracking the ROI of social media channels, most marketers refer to the costs of their content development, content distribution, and the costs of advertising.
Measuring the Overall ROI
And lastly, there's the overall ROI, which is calculated using the same formula, only taking the overall investment that a business makes to develop and promote its content successfully.
Here, successful means profitable – "The better a brand's content performs, the better will be the sales performance".
Now you might be cleared of how you can measure different ROI, right?
But how social media can be helpful in increasing your business ROI?
Want to know how?
Let's move further…
How Social Media Can Boost Your Business ROI
Social media networks have definitely changed the face of online marketing. There is an impressive amount of brands that are currently leveraging various online marketing tools for small business to improve their brand awareness, grow sales, develop relationships with clients and much more.
For your business to be complete, you need to have the proper social image. You must also develop and implement effective social marketing strategies (later in this post), which is the only path towards an improved overall ROI.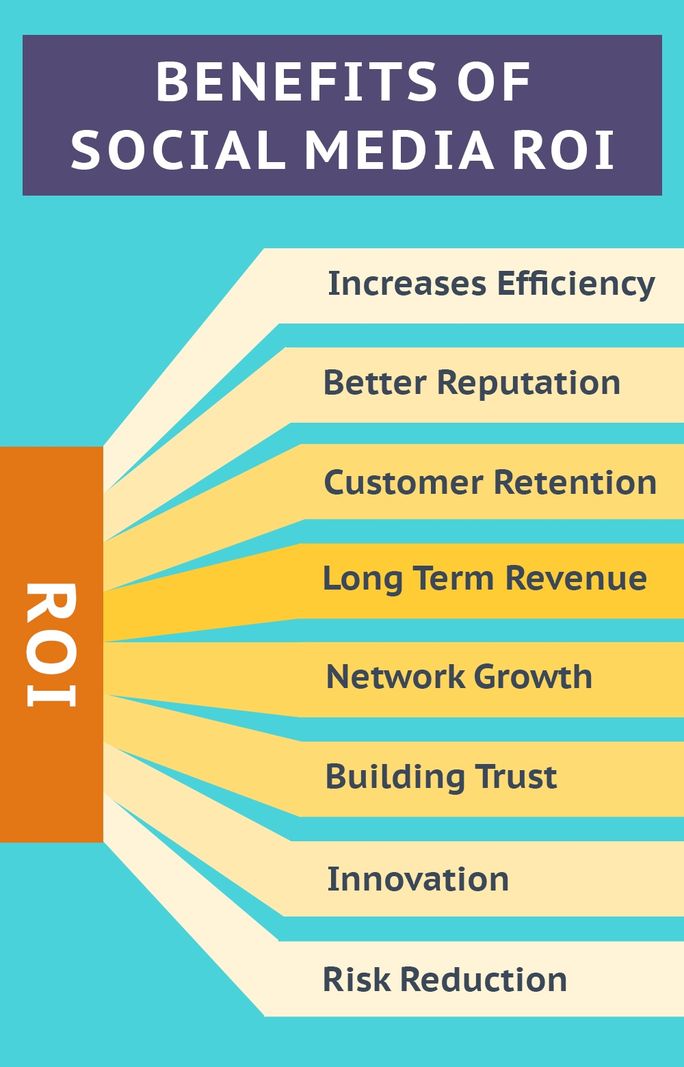 To give you even more insights, here I present some social media facts and stats that will help you get a clear idea:
95% of adults with ages between 18 and 34 are most likely to follow the activity of a brand on social media.
71% of the customers who had a pleasant encounter with a brand via social networks will be eager to share the link with a close contact or on their social walls.
80% of people use their smartphones to connect and to use social media.
To know more clearly…
Here's a great example to let you understand how social media can make a brand famous.
Let's take the example of the well-known brand Grammarly.
Grammarly is one of the most popular spell checker and language corrector tool in the present marketplace, which uses a creative social posting strategy. Its purpose was to inflict humor and generate positive vibes.
They post thought-provoking, interesting, and funny content can be devoured not just by professional editors, but rather to everyone that might have grammar and spelling problems.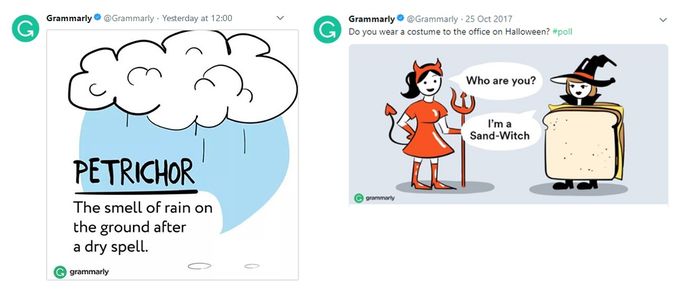 As you may see, they're trying to stand out from the crowd and be remarkable. You won't see any grammar software approaching its audience this way, yet no grammar software is as popular as Grammarly is.
Hence, the bottom line is…
To improve the overall ROI of your entire business operations, you must develop above-average content, followed by an effective social media marketing promotion plan.
Well, to get a better understanding…
"Your content is the core message, the essence, the passenger, the vehicle, while your social media channels represent the package, the container of information, the delivery man, the vehicle through which your content travels and eventually arrives at the end, targeted audience user.
Before moving ahead,
Let's take a look at some practical strategies to incorporate your content marketing strategies, because creating a super strategy will help you boost your business ROI and profits on a consistent basis.
Content Marketing & Social Media: The Path to a Profitable ROI
It's not the best content that wins, it's the best promoted content that wins".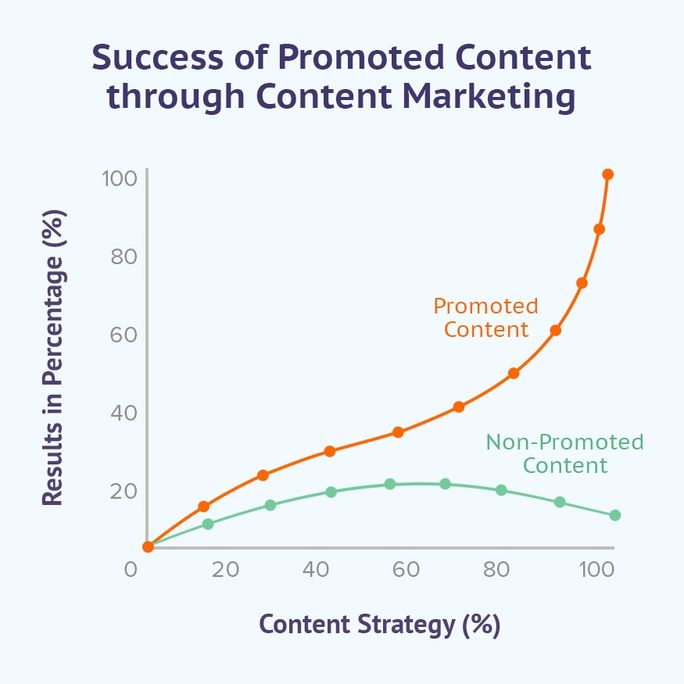 Keeping this quote in mind, follow these 5 (five) strategies with confidence and faith. Do your best to stay consistent and never give up at the first sight of failure.
Let's begin…
1. Choose the Proper Social Networks
In order to target proper audiences, you need to first target proper social networks. Depending on your business' audience, choose the networks that are best suitable for your promotion efforts.
Say for example, if you're selling house appliances, you shouldn't go for Snapchat, as that social platform is used by the younger generation, who are almost never interested in such products.
Ideally, you should have a Facebook, Twitter and LinkedIn presence, as these networks are mostly used by professionals and business companies. However, you should do further research and see which social channels fit your niche best.
Once, you're done with selecting your social media network, step ahead with creating a content marketing strategy for your business.
2. Create a Content Marketing Strategy
Every content marketing strategy must start with a purpose. Generally, you should be looking to improve your:
Website traffic
Email list (acquiring leads)
Generate more sales
Improve brand awareness and reputation
Engage with clients and customers
Now, based on your purpose, you should create concrete, measurable and approachable goals that you and your team will pursue until accomplishment.
Depending on your goals, you should strategise your content accordingly.
Well, you can start by following this small process:
Brainstorming your content topics,
Decide which media you'll use (text, video, audio),
Figure out the best ways to put them in front of your target audience,
Consolidate the plan as you go.
After deciding the entire content marketing layout, now it's time to deal with your online brand presence on various social media.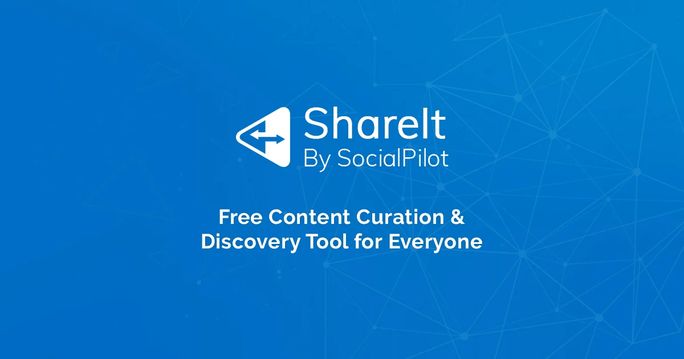 3. Develop Your Online Brand Presence on Social Media
As I've already mentioned, the better and bigger your social media presence is, the quicker social users will stumble upon your content.
So, what are you waiting for?
Start by developing a professional social profile on each of the social networks you've decided to focus on.
Make sure that your business profile is aligned with your company's purpose, and that all of your distributed content is valuable and qualitative.
If you want to go with an example, then take a look..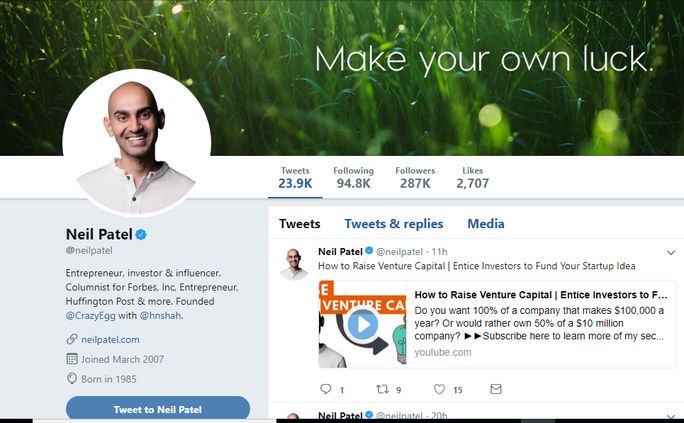 Neil Patel is one of the most well-known influencer and enterpreneur, who has made his name in social media marketing because his contents are user-friendly, easy to understand and mostly, they are very practical and useful with the ongoing trend.
So, if you want to grow your business like he has, ensure to do your best to grow your followers to higher organic reach, post consistently using free social media management tools, meaning that you'll receive consistent, free traffic whenever you post a new update.
At the same time, your content will be seen by more people and many of these people will fulfill their purpose and perform the actions they were supposed to perform.
So after preparing your business profile, let's invite some of the well-known social media influencers for creating a Buzz about your content.
4. Leverage Social Media Influencers to Generate Buzz
To boost up your branding process, you can appeal to social media influencers and negotiate a deal that will result in benefits for both.
But before moving ahead, ensure to look for personalities that appeal to the same target audience as your business does.
Ideally, these influencers – whether they're small businesses, famous niche influencers, or simple people that have lots of followers – should not be in direct competition with your business.
Well, let's take the example of…
If you have a pregnancy blog and you want to generate buzz around your new webinar that teaches soon-to-be-mothers, then you should ideally target audiences that have nothing to do with teaching or selling courses. You can reach baby clothing brands, alternative medicine for baby blogs and so on.
Here's how you should track your ROI when investing in influencers: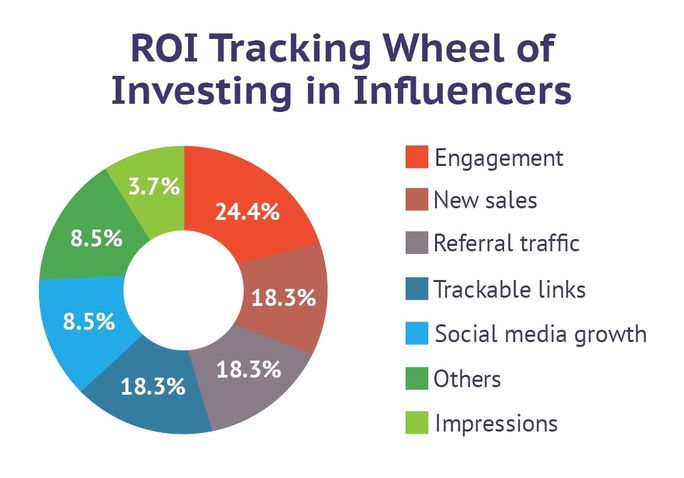 Pro tip: At the time of doing promotional campaigns with social media influencers, it is important to add UTM parameters to each individual URL that you promote as it'll allow you to see how each individual campaign performs and will save you of the possible Google Analytics reporting (sessions) discrepancies that may occur when doing the campaign on social media.
5. Invest in Paid Social Advertising Features
Don't be afraid to invest in social media advertising, as it's currently the most effective way to generate quick and powerful impact.
These days, every social network offers distinct yet very interesting features that make room for a lot of experimentation.
Let's take the example of Facebook ads,
It allows you to create unique campaigns by giving you unlimited targeting options.
In fact, you can easily reach to people who have liked your page, who have liked your competitor's page, who earn more than X per month, who are between X and Y years old, who are from X or Y country and so on…
So, if you choose to invest in Facebook, I'm sure you'll find plenty of information.
Whereas, LinkedIn advertising is also a great way to grow your business. It is extremely effective, especially for B2B businesses which primary target audience is comprised of professionals.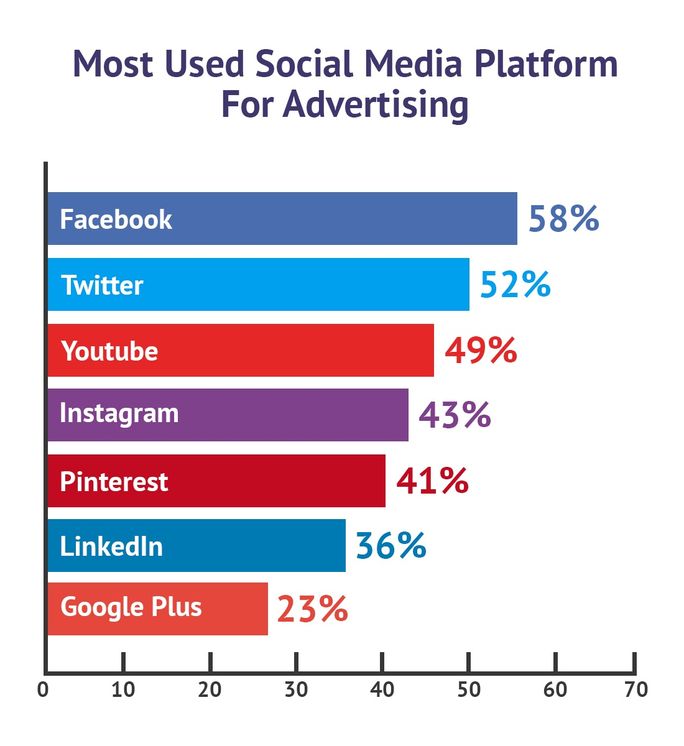 In the above diagram, you can clearly see the use of different social media platforms in percentage.
So now, you can decide which platform is best suitable for advertising your content marketing strategy.
But don't forget to create user-centric content because at the end the quality and the content engagement will help you get real results.
Let's Call it a Content!
Performing the proper content marketing using the correct social marketing will result in the balance which every businessman and webmaster aims to attain.
Because your ROI is the best metric that suggests whether your efforts are paying off or not.
So, it is always good to think in terms of ROI whenever you plan, execute and measure your content and social marketing campaigns together, because it will help you maintain the balance and let your business ROI thrive on a consistent basis.
So these were my insights on increasing ROI through content marketing and trust me, these strategies are helpful, but if you have any of your strategy to share with me, do share in the comment section below.