Influencer marketing is on the tip of every marketer's tongue these days. In just a few years, it has created a sensational wave all over social media.
The reason being the loyal customers of influencers. When such trusted personalities advocate your brand/product to the audience, you succeed in securing the immediate attention of people.
Influencers are known to charm people with their authentic and genuine marketing campaigns. Brands use the name and credibility of influencers to reach out to their followers.
Now, why is it so effective? That's because your brand will look more authentic if an influencer markets your product rather than you singing your own praise tune.
People expect brands to strike conversations, inform, and entertain them. Influencers take over the stage and perform these acts on your behalf. They help in creating apt strategies and strike the right chords with the audience.
Influencer marketing has experienced a whopping growth, and it isn't dying out any sooner. Though small businesses are still cautious with influencers, this is the right time for the brands to tap into their potential.
Let's see the latest trends that are expected out of this industry worth billions of dollars.
7 Influencer Marketing Trends to Follow in 2022
1. Videos on boom
Videos are everywhere. It is the most dominating content type as it delivers more information in less time. So leveraging all video features on multiple social media will boost your influencing capability.
Top social media apps like TikTok and Instagram have already implemented short-form videos for marketing purpose. Influencers are expected to make the most out of these features, compelling their audience to buy sponsored products.
So if you are a budding brand, partner with influencers for product launches and skyrocket your sales.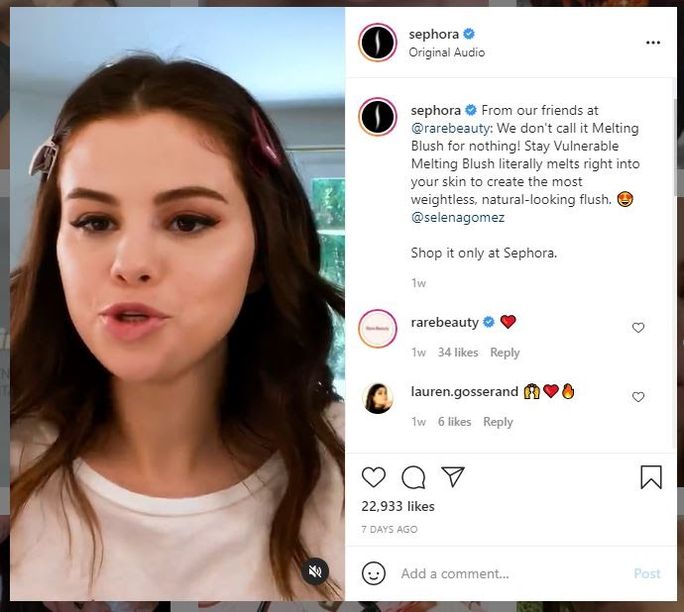 Sephora uses influencer marketing techniques to sell its beauty items. In this post, Selena Gomez promoted Rare beauty's makeup products available at Sephora shops. She did a quick, lightweight touch-up tutorial and simply nailed it. The brand also replied to comments solving queries and cherishing the excitement.
2. Stories are an all-time hit
Some brands have stories weaved around their products. These products are projected as an intrinsic part of people's lives, and they influence the audience in a big way. A major shift of audience is seen from Snapchat to Instagram and TikTok in recent times. Brands show a glimpse of the celeb lives and weave stories to influence them into buying products.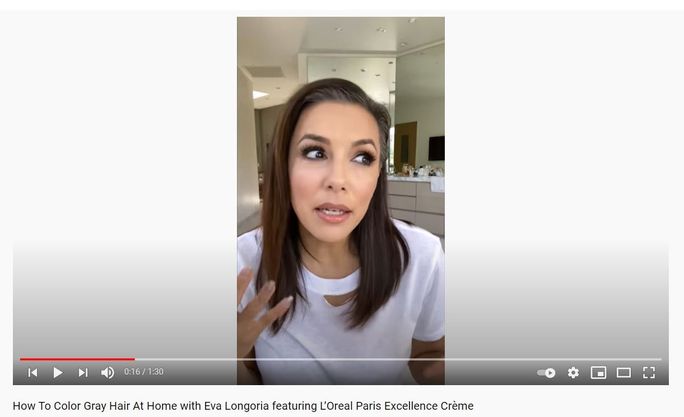 L'Oreal Paris features several celebrities who convincingly promote the brand. In this Youtube post, Eva Longoria shows how she dyes her hair at home without any professional help using hair colour from L'Oreal Paris. Now, this is something very relatable to their target audience, and she just showed the easy way to deal with the 'grey' matter.
3. Micro Influencing to reach its peak
Celebrities do have a vast audience base, but the impact of micro and macro influencers is exceedingly growing. They are rightfully called the 'Middle Power' and have higher rates of conversions. They target a niche audience and are, at times, more powerful than celebrity endorsements.
The regular audience instantly connects with such influencers. These ordinary people become heroes as the viewers look up to them for suggestions and advice. They don't necessarily need to be famous celebrities; they just need to make the right impact on the audience.
When searching for micro-influencers, tools like Grin are a huge help. Grin has organized millions of micro-influencers on Instagram by metrics important to advertisers. It's a simple way to find, outreach and get in touch with dozens of micro-influencers at once.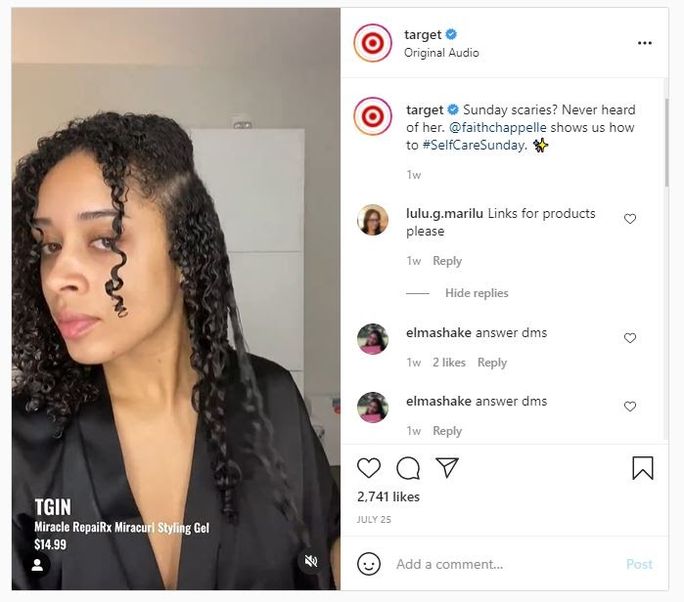 Here's how Target teamed up with Faith Chapelle and gave quick Self Care Sunday tips using her favorite products that are available at nearby Target stores. Isn't this so much better and practical when compared to celeb ads?
4. Celebrities and Tastemakers
Some conventional methods never go out of style. Celebrities like movie stars and models have been role models and will always continue to be so. A fashion icon best endorses an ad campaign of a beauty product/apparel.
These celebrities have millions of followers on all social media channels who crave to glimpse their divas and icons. Anything they endorse becomes an instant hit. So this trend will always stay gold.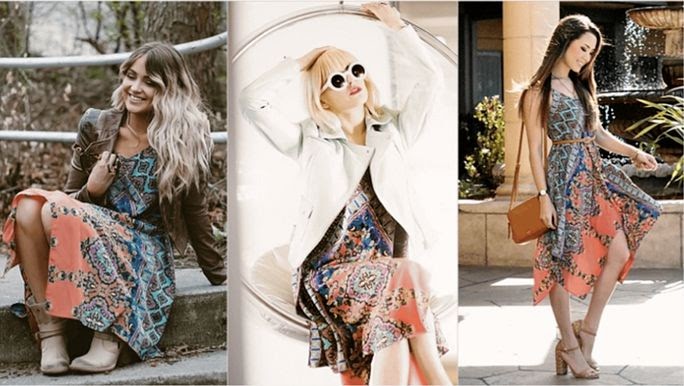 50 influencers on Instagram endorsed this Lord & Taylor dress. It sold out the following weekend. Influencers make the audience believe in the brand, which leads to conversions. Even lesser-known brands can sell out well if renowned personalities endorse them.
5. Authentic paid ads
Did you know paid ads have witnessed a 200% ROI? It isn't surprising that brands are spending a generous amount on them.
This is all because of the massive exposure of ads. Another study suggests that only 14% of people remember the last ad they were exposed to. The audience won't sell out to influencers if they randomly advertise a product without stirring any feeling.
There are numerous marketing platforms apart from social media which are used for influencer marketing. The consumer is tired of the conventional marketing experience and looks out for more. So when influencer marketing and paid ads are coupled together, it creates a unique experience for the target audience.
The upcoming trends see influencers, beauty bloggers and vloggers being tapped in for lucrative partnerships where they would be the spokespersons for the brands across various social media platforms. You can also check out Neil Patel's interactive video on entrepreneurial and content marketing insights to learn more about these.
6. Shorter attention span
People's attention span has declined, and they need to be swayed passionately to notice products/services. People are deaf to commercials and ignore billboards. There has to be something important that compels them to acknowledge brands.
That's why brands and influencers need to develop witty and crisp content to cut through the clutter. You can employ AI-based tools to navigate and search for experimentations. Your aim should be to keep content short, sassy, effective, and smartly portrayed.
The increasing popularity of AR/VR will also be evident in the coming times. It has already set its roots deep as face filters, but its full potential is yet to be realized. They will create immersive shopping experiences for your customers and elevate your branding. The time is still ripe for integrating these technologies into your marketing strategy.
7. Long-term partnership with Influencers
It's a small world with cut-throat competition. If you don't treat your influencers well, they will indeed be advocating for competitors. It's no use hiring influencers for short-term as the results will not be satisfactory.
An influencer must feel involved, understand the product and believe in it to promote it effectively. If you treat influencers correctly, they will look forward to working with the brand in future. Note that peer specialists are ruling over niche marketing, and that's why you should be building better influencer networking.
Have a look at this Charlie x Dunkin promotion for a merch selling campaign for the brand. Charlie is a well-known social media influencer with millions of followers and is often seen partnering with popular brands for intensive promotions.
Conclusion
Influencers use call-to-action, live videos, questionnaires, blogs, and contests to interact with the audience. These personalities effectively utilize their followings on Instagram, TikTok, YouTube, Twitter, Snapchat, Pinterest, and other platforms.
But we can't overlook the fact that influencers are consumers too. They use the brands they are promoting and give honest opinions. The consumer today is educated and aware and likes to receive authentic views about products.
This increases the work on the part of the brands as they have to strive harder to convince their audience. Companies will use defining voices as their brand influencers, and advertising campaigns will become more passionate than before. Bear these trends in mind and plan your marketing campaigns accordingly, and you are bound to see amazing results!