Around 77 % American workers use social media in the workplace (even against company policies)
– Pew research Center, June 2016
With practically the whole world sleeping, eating, and living on social media, it's impossible to restrain the company employees from using it at the workplace. Rather than considering the social media bug as a disadvantage, companies should give their policies a 360-degree twist and use the social media addiction to the company's advantage.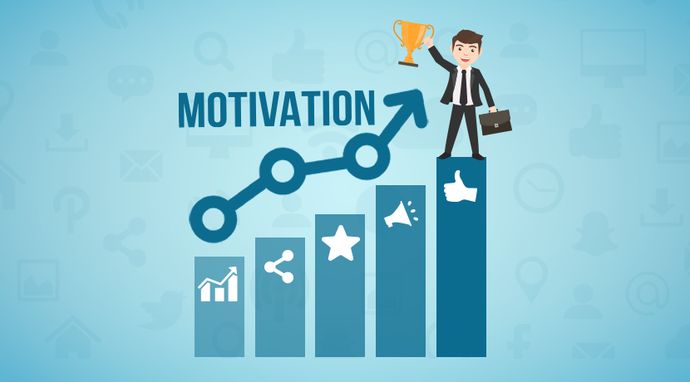 Social media is like our breathing tool these days and no one can imagine a day without posting some quality content. It's a fact that employees can tweet, post, and pin even while maintaining their performance. On an average, an employee has ten times more followers than the company's social page. Even though less than 5% of employees share the content, there is going to be more than 30% of the rise in the total outcome. If just 5% can bring such big change, how the activity of 75% or say even 90% will work.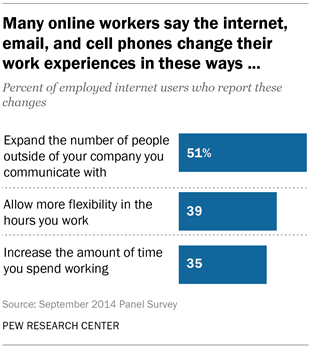 That's a whopping great ratio for sure.
But, the trouble here is:
Employers find it difficult to motivate their employees to participate in the social media activities. For effective results, a company purposefully needs to create an environment that promotes social media activities.
To help you out here we have some of the proven tricks in store. Let's find out what are those:
1. Provide social media training and guideline
What's social media marketing these days? It's a perfect mix of SEO, content, social media, and branding. For being a good marketer, you need much more than just having a social media profile and that is why everyone is not a successful marketer.
If you want to turn your employees into an entire sales force, you need to train them. From answering customer queries to content sharing, the employees have to be well-versed in all social media marketing traits. Educating them will open a new horizon of marketing possibilities for them. The problem here is companies go for limited knowledge sharing on a regular basis, but that is what makes the marketing suffer. You need to realize what good it can do for you in the future.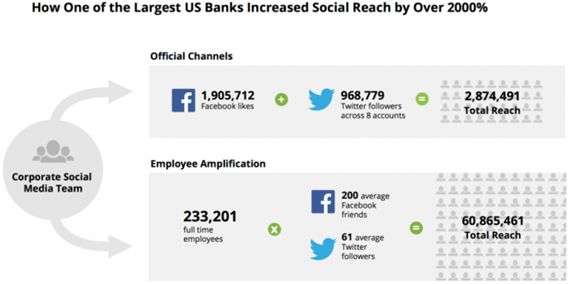 Expand your budget for education and training and let your employees gain some unrivaled knowledge. The best route is to hire the social media expert to train your employees regarding the matter deeply. Train them and they will subsequently find out a way to improve their skills, helping the company rise to newer heights.
2. Make social media sharing easy
Are you blocking the internet services for of your employees?
If you don't have the right way to lure your employees towards the social media platform, things can get difficult. Cutting off the internet will subsequently cut off the connections with potential employees. Encourage the employees to use social media or allot a specific time when they can access social media accounts. Make the service voluntary as a recreation during break periods.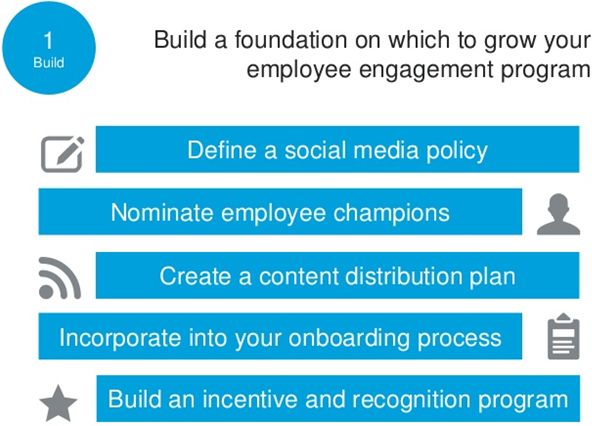 If you are planning to bring a change, make sure there is a super-simple way to proceed. The trick will be getting to use social media tools that can bridge the gap between content creation and distribution. Tools like SocialPilot help you to maintain the efficiency of social media with ease. You can manage about 9 social media platforms from one dashboard.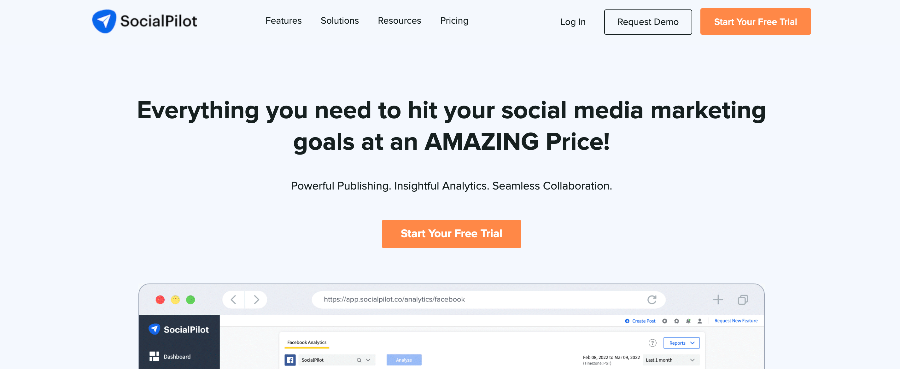 To keep a track on social media, you can add all your favorite external feeds and continue sharing the content without much hassle. The perks don't end here as it even has the feature of calendar maintenance.
Handling social media cannot be simpler than this, go for it and let your employees enjoy the promotion strategy.
3. Provide content to share
Once you are done with motivating the employees for content sharing on social media, it's the time to provide them some quality content. Along with creating your unique web content, curating the web content can also play a great role. Give your employees specific content they can share and make sure it's never the same boring promotional one. After all, no one will like to flood their social media page with some company content.

Try to come up with something that can go with the employee's interest or contain formal humor. Anyone will love to share such content on their web page. Or, it can even be an inspiring post or a motivational comment. Creativity and ideas have no limit here and the more creative you are, the better your employees will be inspired. The process takes this flow, and it's quite simple:
Google lets you find out trending posts and the most popular hashtags and if you can keep a count on the hashtags, there is no looking back from here.
4. Let them browse social media anytime
Some of the employers fear that social media browsing may affect the work efficiency of the employees. Almost 36% of the employers ban social media in the workplace, assuming that the staffs can post inappropriate content or may even start working less. But both the assumptions are false. Blocking social media sites are only limiting your customer base.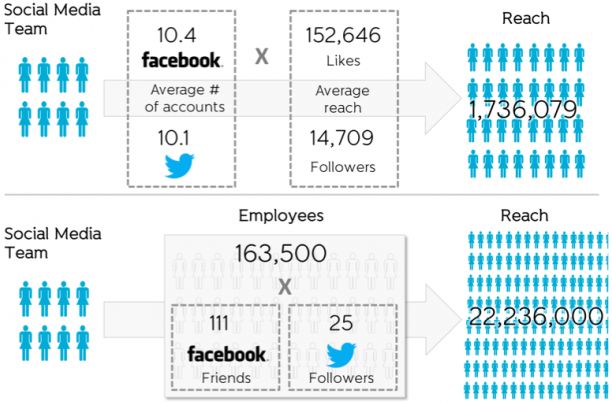 The strength and reach of your employees could become the backbone of all your social media strategies and campaigns. The above image shows the maximum number of social audience of a Global Fortune 100 company to the maximum achievable social audience of its employees. The amount of audience that a company can reach through its employees is far more than the brand's own social networking.
Here we come across another interesting fact. If the company employees are happy with their employers they will advocate the brand extensively on social media. Otherwise, they might not advocate your content on social media or even flood the company posts with negative comments. So employees have to be ensured that they are a vital part of the organization and value the contribution of the employees.
It's the time to get over this myth and create an unbeatable sales force. Studies even show that being active on social platforms boosts the work performance. And, even if you block the social media sites, it's a fact that employees will find a way to browse their profile during the working hours. Embrace the fact that social media can benefit your company and let the employees brainstorm the ideas.
5. Give them a reason to engage
The toughest question we come across is how to make the employees' buy-in this new concept. While some employees are active on Facebook, others are on LinkedIn or Twitter and there are even those who don't know a bit of social media. Recognizing the talent of the employees is going to be your master trick. Keep your expectations limited and train every individual according to their talent. For an example, if someone is good at customer interaction, let them do that only.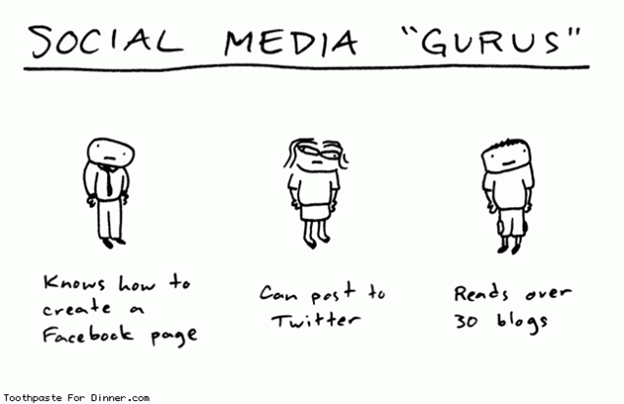 This is going to maintain the interest of the employees and your company will have a brand name for sure. Your motivation and their interest will combine together to yield some great results.
6. Weave it in the job description and incentive
Until and unless you weave social media participation in the company essentials, it is hard to convince employees to follow a daily routine of social media participation. Gently fold the social media activities in the job profile, not much, but at least you can inform the employees about a little social media involvement while hiring.
Also, designate social media responsibilities to few employees who fair well in media marketing. Not all employees can lead the pack. There has to be one leader who guides and directs the other employees in performing the social media jobs.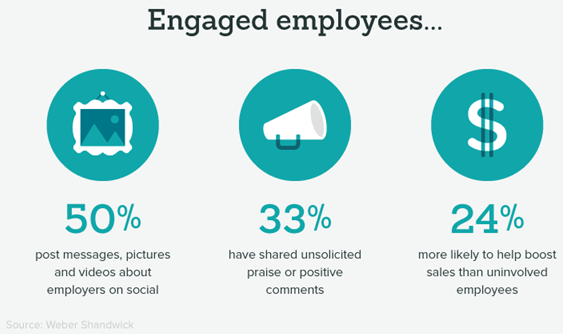 Some tips for boosting social media sharing amongst employees:
Make the social media sharing simple.
Do not force it on the employees- it should be voluntary.
Use technology- An app that could aid the employees in social sharing.
The employee advocacy should look natural. It should be done by employees in moderation to build trust slowly in their networks.
And, if they are working for the right, make sure you compensate for their extra effort. Figure out the performance of every employee and keep a bonus for the best performer. Incentives are the best-known motivator in today's industry and it is surely going to work in the company's favor. If done right, it's worth all the effort and penny.
7. Track, analyze and provide feedback on their activity
Brand messages are re-shared 24 times more frequently when posted by an employee rather than the brand's social media channels (source- PAM MOORE, MSLGROUP)
Once the employees are informed, motivated, and well-equipped with the right tools, the next step is management. You can't manage things that you can't measure. In order to measure the results, you will have to look for some great tools which would prove beneficial to the employees and the employers.
Every platform, whether it's Facebook, Twitter, or LinkedIn, each has its own statistics measuring tool. You can analyze the respective statistics measurement tools and review the performance of the last few weeks. It shows all the activities and engagement done, including latest posts, likes, comment, events, posts by other and every other stats.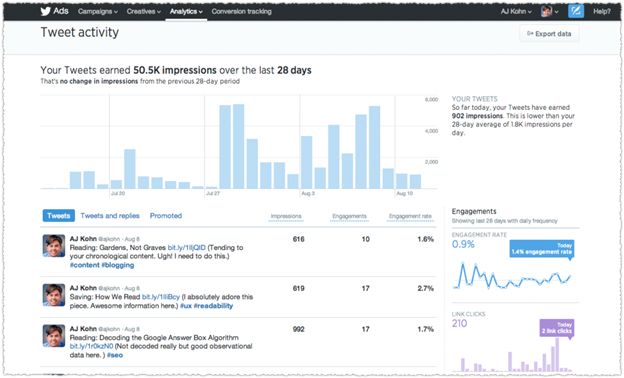 Google analytics can also be used to track the traffic generated from a particular social media profile. You can use certain social media insights tools to unleash the true potential of your social media strategies. Use this data intelligently for social media strategies and leverage the true potential of these analytics tools.
Wrap-up
Your employees can form the perfect support system for the social advocacy of your brand. Their authentic voice has the potential to convert the visitors of your website into loyal customers. And, to achieve all this you need to do is voice their opinion. Win your employees' trust and make them feel a vital part of your business. A bunch of happy and positive employees will automatically come forward to promote your company on social media.