Have you been struggling to figure out how Pinterest could help to market your eCommerce business?
No doubt, Pinterest provides a huge opportunity for eCommerce businesses to promote their businesses.
The visual nature of Pinterest makes it perfect for promoting products. In addition to sharing images from your store, you can pin other sites' products or links. It not only helps you to increase engagement and sales but also builds a strong brand name.
If you've been ignoring Pinterest until now, here are a few Pinterest statistics to get you thinking.
Shopping is a top priority for 48% of Pinterest users
Pins that show a product or service in action are 67% more likely to drive sales
Interaction with organic Pinterest shopping pins has increased by 44%
87% of people on Pinterest have bought a product because of Pinterest, while 93% use Pinterest to plan a future purchase.
If you want to make the most out of Pinterest for your eCommerce business, follow the below guide on how to use Pinterest for eCommerce to drive sales.
1. Categorize Your Product Under Different Boards
First of all, you need to start by setting up your Pinterest boards.
Start with categorizing the content on your Pinterest profile, just as you would on your eCommerce site.
Almost all eCommerce businesses deal with various products belonging to different categories. Therefore, you have to create different boards to pin different categories of products.
If you categorize the products, not only will it help people to browse through your products, but it also helps them to follow your board as per their interest. This way, people can find the exact products that they are looking for. This puts legitimate shoppers in your crosshairs.
Look at how Michael Kors, a top clothing brand, uses Pinterest for some effective naming inspiration and categorization.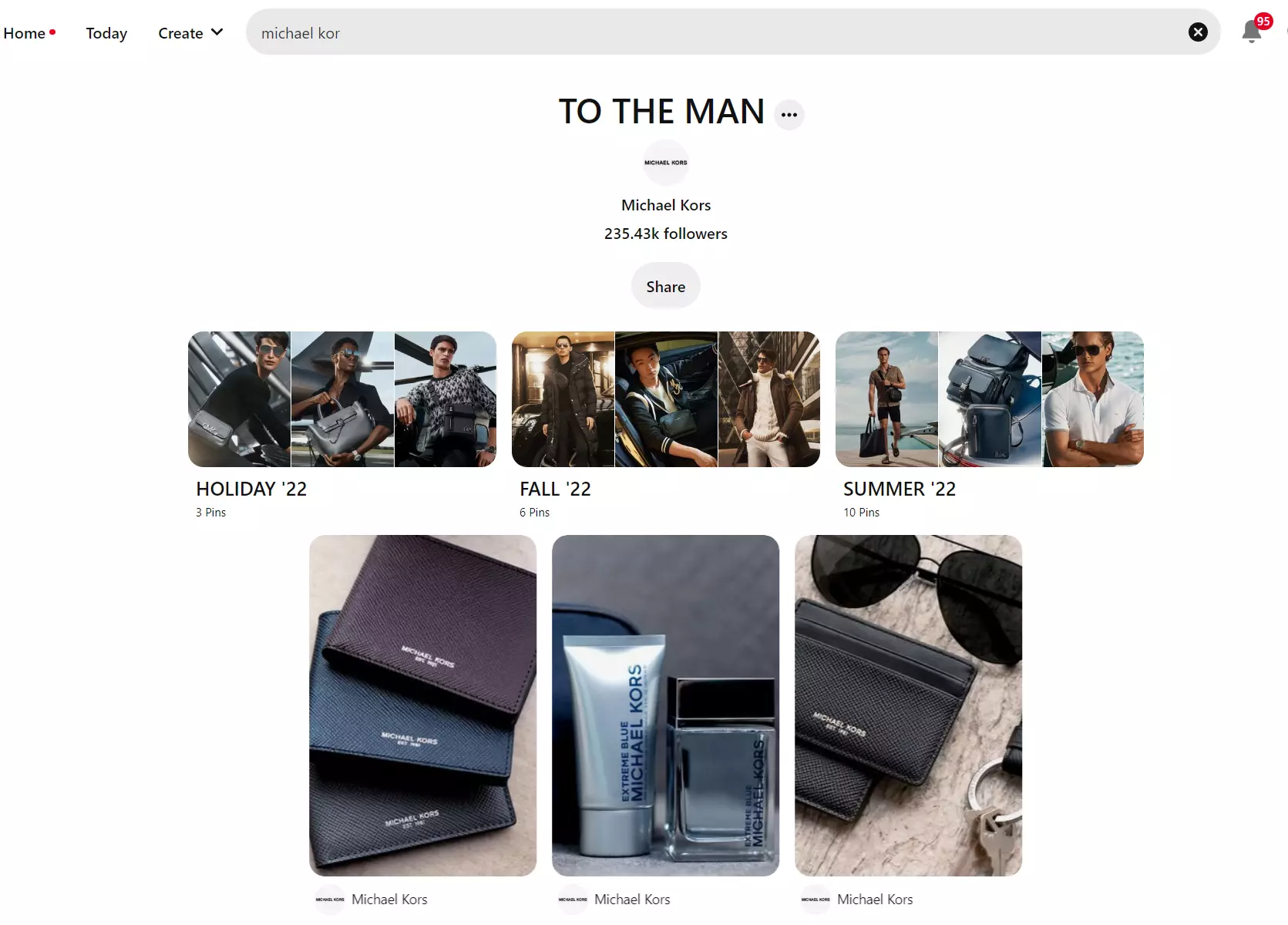 You can also create a simple board using keywords such as "Clothes For Women" or "Designs For Bedroom." Additionally, you may even name it using any seasonal approach, such as "Get Set For Festivals" or other ideas, depending on your brand or business requirements.
2. Share Appealing And Visual Content
Pinterest is a visual platform. Therefore, sharing interesting, engaging, and appealing content is important. It will encourage new followers to re-pin your content and help get more eyes on your products.
Here are a few tips to make your Pinterest content engaging:
Pick a strong cover image for video pins
Use overlay text and captions
Show your brand personality
Double-check your pin specs before posting
Write a clear and SEO-optimized (more on this later) pin copy and description
Look how Levi's checks all the points while creating its pins; an appealing right sized-image with overlay texts, along with the "Shop Now" CTA, is a perfect mix to drive shoppers to buy the products.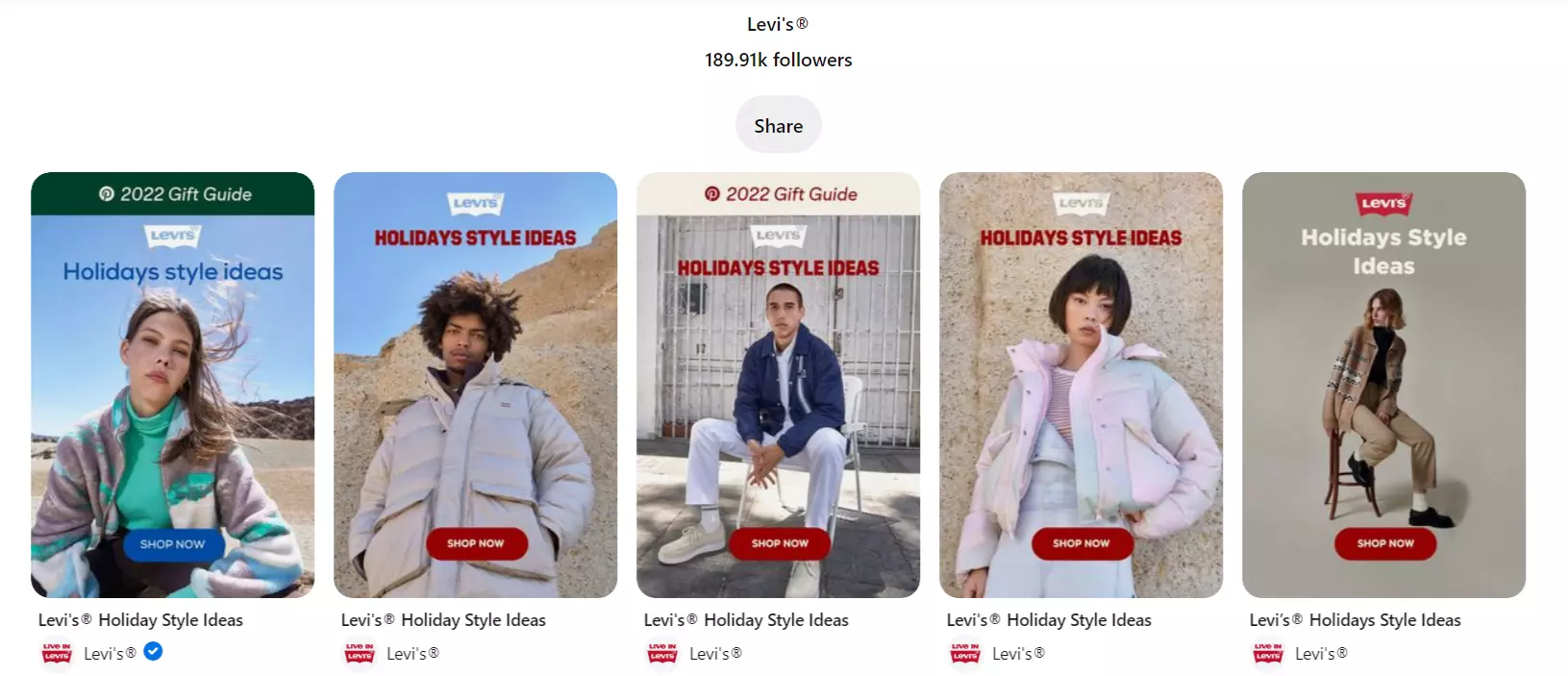 One more thing,
Be creative when sharing content on Pinterest and check which types of content gain more engagement from your target audience than others.
You can also use Pinterest analytics to find out what drives traffic most. If you have added the "Pin It" button, you'll be able to see what people are pinning from your website and re-pinning from your boards. Use this information so you can create more of it.
3. Add Relevant Keyword In Your Description
On Pinterest, the description of your pins does more than just summarize your product on display.
How? Remember, Pinterest is a mix of social media and search engines. And where the term "Search" is involved, the keyword concept will follow.
The same is the case on Pinterest.
If you add relevant keywords in your product description, people searching with the same query will find your pin to engage with.
Therefore, whenever you write your pin descriptions, ensure you apply the keyword most people would use to find your content.
Look how Ikea showcased their latest home decor products by simply adding the keyword "home decor" into their pin descriptions and titles. People searching for "home decor" will find their pins and follow them. More followers mean more exposure and more sales!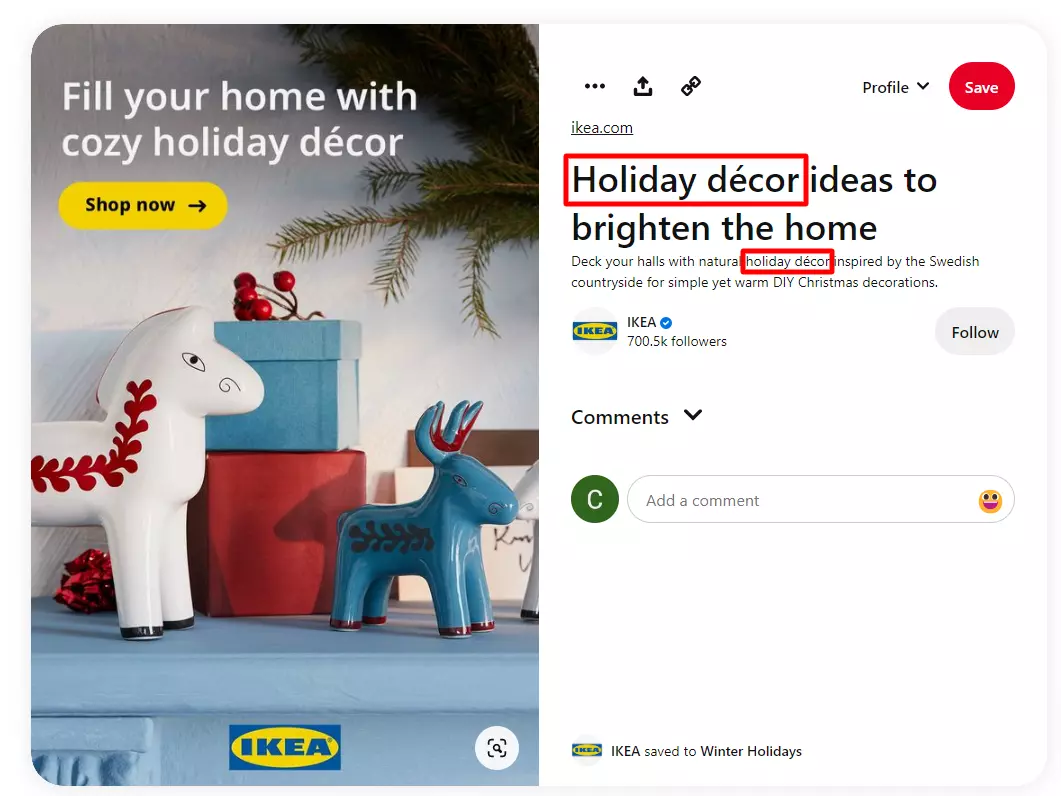 4. Use Rich Pins
Rich Pins are pretty helpful. There are different types of Rich Pins, and the ones most widely used by eCommerce owners are product pins.
With Product pins, Pinterest can pull additional information about the stuff you pin, making your pins much more dynamic and informative!
Product pins make shopping via Pinterest a lot easier. Unlike a regular pin, these pins show where the product you are pinning can be purchased, the current price, and the direct link to the product page.
Also, the product pins prices are updated in real-time, and if any user pins the product pin on their board, they will be notified when the price is updated. In short, it is a great way to convert your visitors into buyers.
To use Rich Pins, follow the two simple steps:
Step 1: Include the proper metadata to your website content. This metadata differs for each type of Rich Pin, so you must add multiple rich pin types to your site, and Pinterest will prioritize them.
Step 2: Authenticate your Rich Pins and apply to get them on Pinterest. Once you've completed step one, you must enter your site's URL into Pinterest's validator page to ensure there are no mistakes with the metadata. After everything is finalized, you can click "Apply Now." Find out more on Pinterest's developer's page.
5. Schedule Your Pins
Like all other social networks, a consistent sharing strategy is important on Pinterest to get in the eyes of your product aficionados.
But consistency is hard to get if your marketing arsenal is not stacked with social media scheduling tools, such as SocialPilot.
With SocialPilot's Pinterest scheduling feature:
You can save time and effort by evenly spacing out your pinning strategy throughout the day, week, or a month in advance inside a social media calendar
Schedule your pins to maintain your presence easily and engage with your audience
Onboard and collaborate with your marketing team for a smoother workflow
Whether you want to share your product image or content, you can easily create your posting strategies for the future according to your requirement. The good thing about SocialPilot is that it gives you a Pinterest alike experience to create and schedule your pins.
Look at its post-composer! You get specific tabs for each network, so you can take care of the nuisance of different platforms while scheduling posts for them all at once.
Loving what you just read? Wait till you try SocialPilot hands-on for free.
Are you ready to sell?
So there you have it! Tips to help increase your eCommerce sales through Pinterest.
While we've only scratched the surface here, we hope these tips will give you a good starting point for your own Pinterest marketing strategy.
And don't forget, if making pins and managing boards sound like too much work (or if you just want more traffic to your pins), SocialPilot can take care of all that for you.
With our easy-to-use platform, all you need is a little bit of creativity, and we will take care of the publishing part.