Yes, you are reading it right. Today we are proud to announce the integration of SocialPilot with Zapier to offer additional facilities for our users. With the help of this integration, you can use your Zaps with all connected SocialPilot accounts to reach maximum target audiences in less time.
As SocialPilot is taking care of Twitter, Facebook, and Linkedin social media platforms, there are a lot of other web tools and apps that are of equal relevance. Zapier in this case seems to be a leading platform to automate manually tedious tasks. Zapier allows easy automation from over 250+ of popular web application that can be automatically published through SocialPilot. The advantage? Well, you get all the require exposure and more for the least investment and in due time.
What is Zapier & SocialPilot Integration and how it can help you?
Zapier and SocialPilot integration is a winning combination. As already said, SocialPilot helps you share various type of content on multiple social networks, Zapier can help to collect content from various web apps and social networks. Zapier integration with SocialPilot allows businesses to automate their inter-apps communication very easy and effective. It's a great way to reach your audience and streamlining the marketing/promotion process.

Zapier will be able to resolve all kinds of integration, whether it is connecting you business Twitter account to the Facebook Page or pushing the different combination of Zap to your connected SocialPilot accounts. It offers:
Fast content publishing: Creating and sharing quality content never had so much of value than it does today. People love to come across "good reads". Zapier integration with SocialPilot makes the job easier for your marketing/administration team in reaching out to all.
Easy interface: Even someone with little technical knowledge will be able to shoot content across different platforms hundreds we mean) using this winning combination.
Save time and money: Manually sharing content across thousands of platforms and apps is a time consuming and expensive task. Zapier integration with SocialPilot will help you boost your brands face value within seconds and in an unbelievably low investment.
How to Integrate Your SocialPilot Account with Zapier
You can start using Zaps with SocialPilot either from Zapier's dashboard or from SocialPilot's Panel. Check our help document at https://zapier.com/help/socialpilot/ to begin your integration from Zapier's Dashboard.
You can also use Zap from SocialPilot panel. To begin, visit https://panel.socialpilot.co/accounts/create
Step: 1 Sign in to SocialPilot and Choose Zapier Integration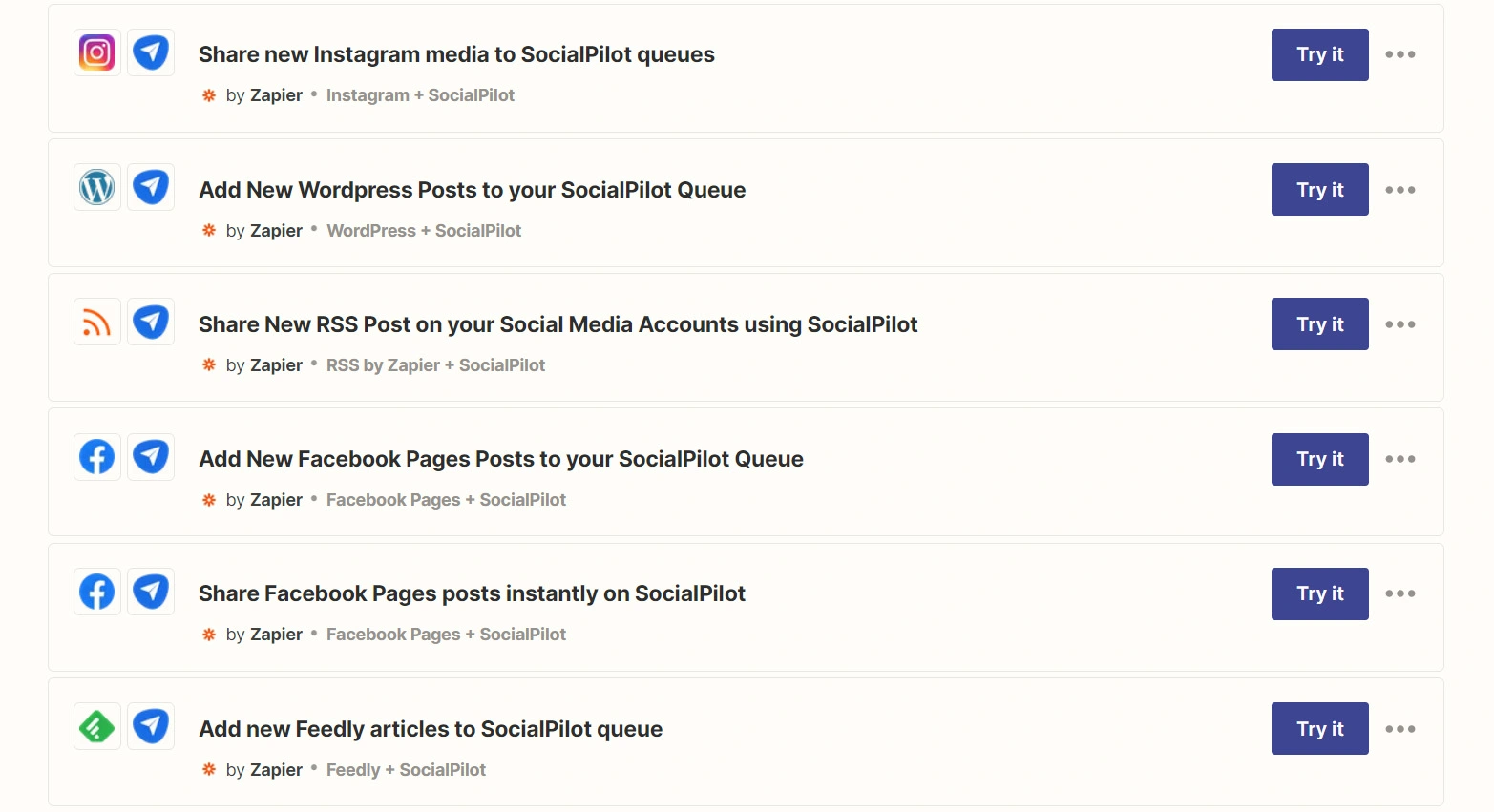 Once you click on any of the buttons, it will prompt to signup in Zapier.
Step 2: Sign up or Login to Zapier to active the integration
Once you complete the signup process, it will redirect to Zap creation step depending upon the app you have selected from SocialPilot. Here in this example, we are demonstrating an integration of Instagram and SocialPilot with the help of Zapier platform. This integration will help us to post Instagram updates or posts directly on our social media channels using SocialPilot.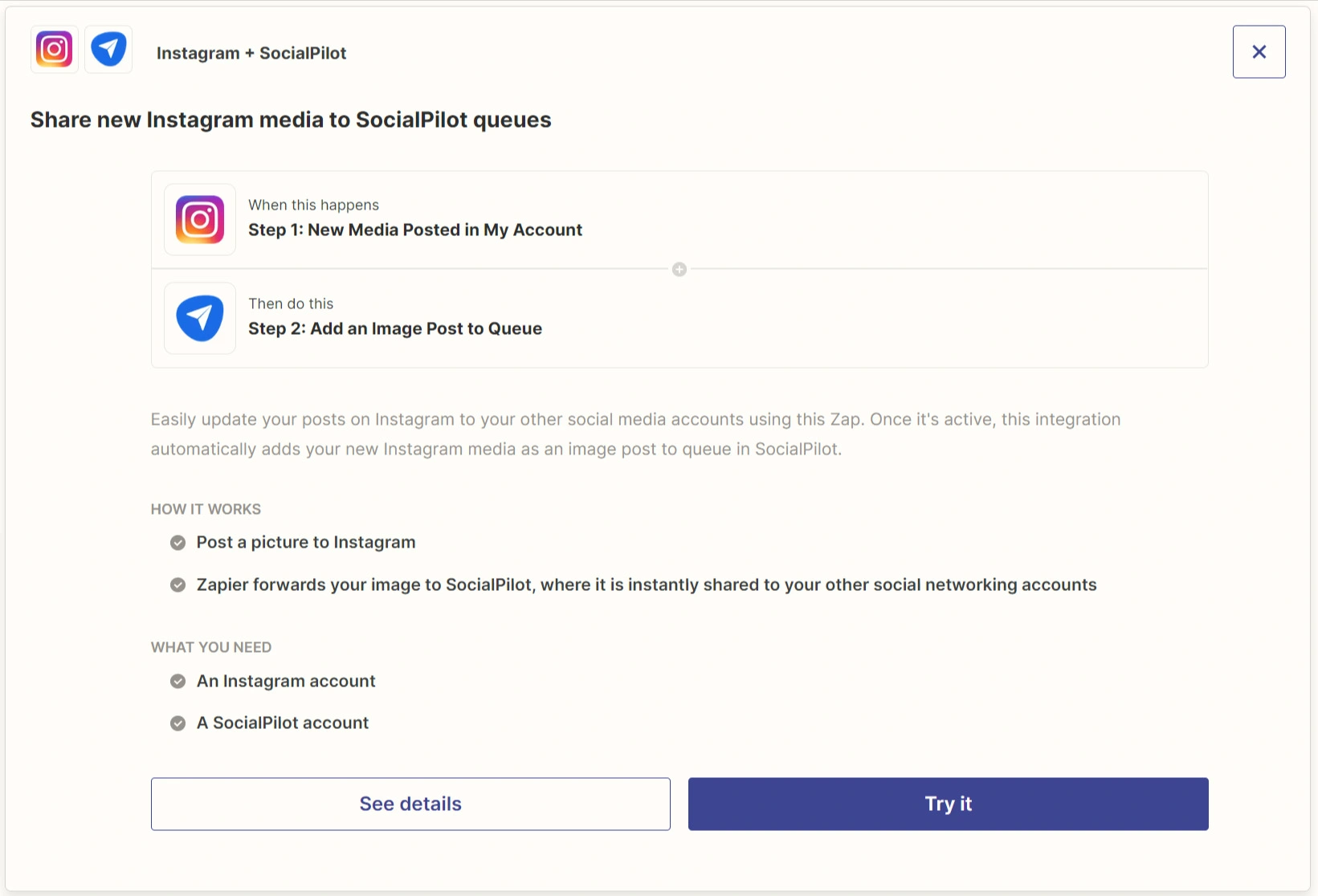 Step 3: After click on "Make this zap" just authenticate your Instagram
Follow given instruction to authenticate your instagram account with Zapier.
Step 4: Now authorize your SocialPilot account
Upon successfully completion of Instagram and Zapier connection, you will prompt to next step to authorized SocialPilot to use your account.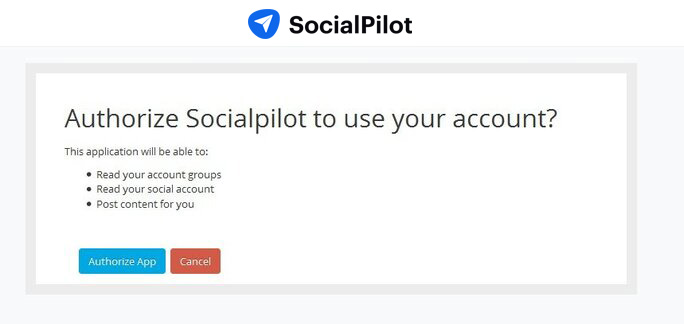 Step 5: Choose particular SocialPilot groups where you want to share Instagram updates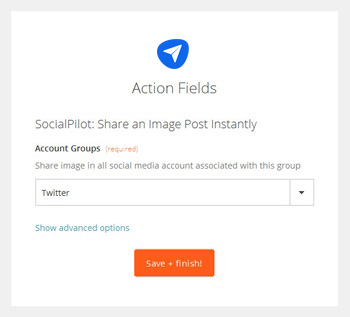 Step 6: Done! You are ready to Rock !
Now you are ready to publish your Instagram updates to all your SocialPilot accounts connected with Zapier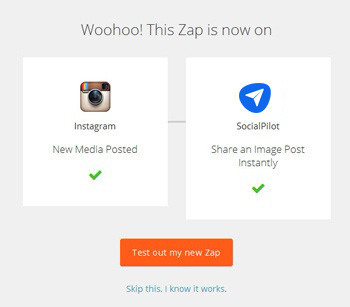 It's your turn now!
Login to your SocialPilot account start publishing your Zap now!