The success of your social media marketing efforts depends on the ability of your social media team to function efficiently. In order to take full advantage of social media, the team must work like a well-oiled machine. But with multiple people working on the same social media accounts, it can bring various challenges such as inconsistency, workflow issues, and confusion, among others.
So, how do you avoid such challenges?
To avoid these challenges and achieve the best results, a social media team needs certain marketing processes and a great set of social media marketing tools to help reduce time, avoid errors, and streamline efforts. Below are the most important things to help a social media team work efficiently.
Content Discovery & Curation
Content is the heart of any marketing strategy, and social media is no exception. Many brands fail to deliver the content that users are seeking from them when engaging on social platforms. But if you want to harmonize the power of social media, you must create content that your target audience wants to consume.
So, how do you create unique and interesting content that will help you maximize your social media success and business impact week after week?
1. Create Content: The first way is to hold brainstorming sessions to generate content ideas for your social media posts. Each member of the group is different and could hold a different piece of the puzzle. Therefore, to come up with new, engaging social media content, you must learn how to brainstorm and manage the newly generated ideas. Brainstorming also increases the team's cohesion.
2. Find third-party content (content curation): Content curation harnesses the power of third-party content to enhance and expand your content. It involves adding your brand's voice and values to a collection of content handpicked from different sources and relevant to a specific topic. Curating content from a number of trusted and informative sources not only builds your credibility but it also provides more value for your followers. Additionally, it provides opportunities for co-promotion. You can gather content from videos, blogs, infographics, presentations, posts, and many others. As easy as it sounds, content curation needs a good strategy because you can easily lose sight of your goal.
3. Share content from your site: The final way is to share content from your site. Social media is a great channel for sharing your blog content with your audience. Promoting and distributing content across various channels and platforms helps you to reach the widest audience possible. It also ensures your fans get new stuff right away and it will also help you build more followers. Additionally, it will help drive traffic to your site, and therefore, maximize your social media marketing results.
How SocialPilot helps:
1. Brainstorm content ideas: ShareIt is a free tool that enables you to search the latest content on any topic, curate content, and share it on your social media accounts directly.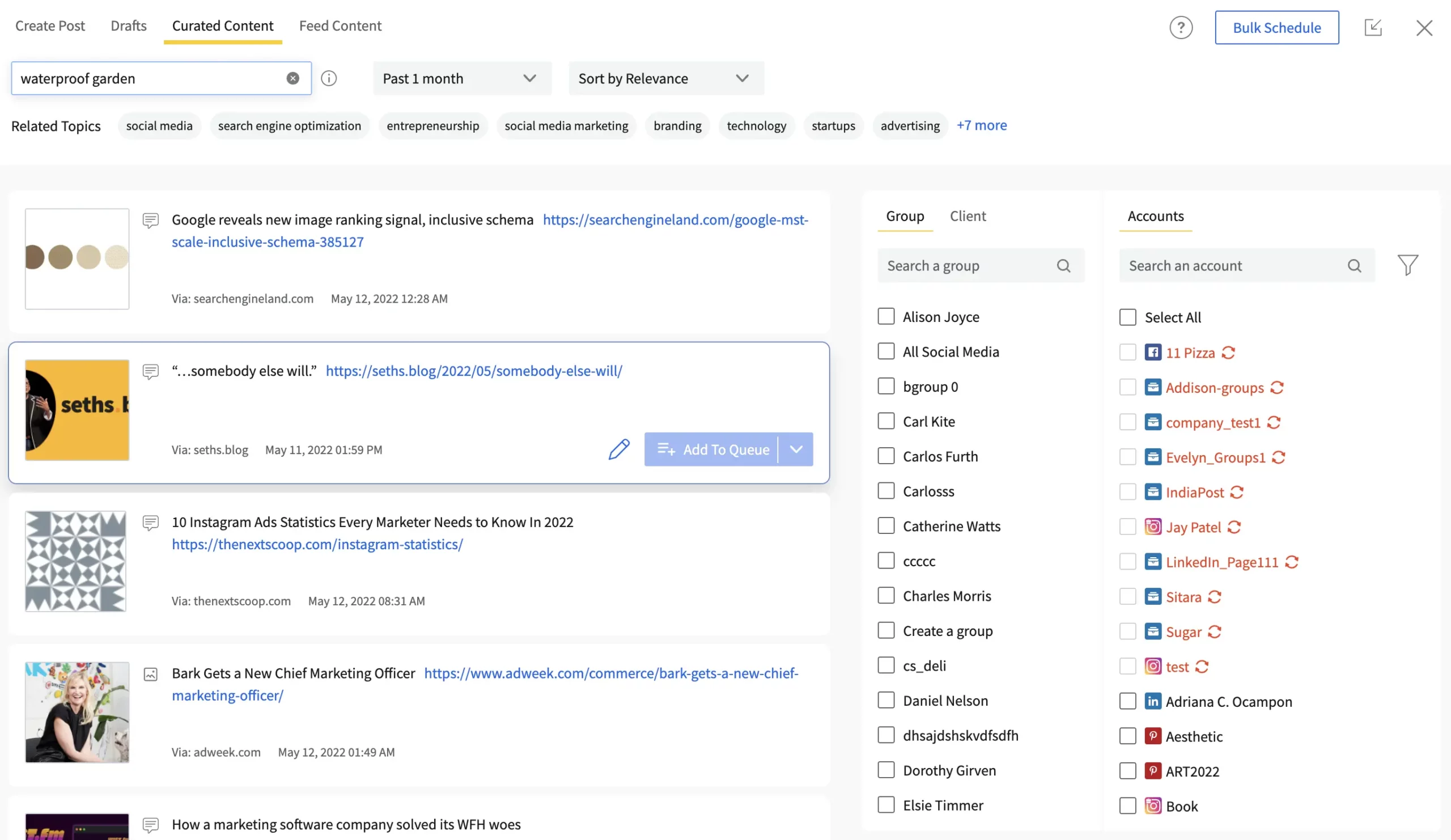 2. Curate content: SocialPilot enables you to discover and share content. The tool not only helps you with curated content for unlimited keywords but also allows you to schedule the right time to share the content.
3. Share content from your site automatically: This tool automatically publishes content from your favorite sites to your social media accounts. All you have to do is add the RSS Feed URL of your favorite sites, and SocialPilot will do the rest. You can also opt to publish the content manually. Additionally, SocialPilot helps you assign hashtags to your posts to maximize their reach.
Content Plan
It's very important to have a good content plan for your social media marketing. This involves planning your posts well in advance to ensure they are shared at the right time. With a good plan and the best social media tools, you will be able to organize, schedule, and publish content effortlessly, making your efforts effective and more efficient. Having a content plan also helps you to save time, improve collaboration, and ensure the content shared is valuable to your readers.
How to Create a Content Plan
The following are the steps to create a good social media content plan.
1. Decide on the type of content to create: Start by determining the type of content that will resonate with your audience. To get the content right, you need to understand your audience. Also, use different formats such as text, image, and video, and determine the most successful.
2. Tailor the content for each social channel: This step involves tailoring your content for each channel to ensure that you use the most effective content on each platform. Each social platform has its own personality and demographics, so it's important to tailor content to each platform. Understanding each platform helps you leverage platform algorithms and functionalities to better connect with your audience.
3. Decide on the frequency: You must decide on how often you post on each platform to have consistency. However, to figure out your ideal posting frequency, you will have to experiment with different schedules and see the results.
4. Plan your campaigns: This step involves creating the actual posts. Think about the message and the tone to use. Creating posts in advance gives you time to think strategically about the content and the best channels and time to reach your audience.
5. Use a social media calendar: Sharing all that content across various social platforms can be daunting. However, it can be very simple and seamless if you have a social media calendar. Once you come up with the content, schedule the posts using the calendar.
How SocialPilot Helps:
1. Flexible scheduling options: SocialPilot has multiple scheduling options for efficient implementation of your social media marketing strategies. You can share immediately, add to queue, or schedule for the next time slot. You can also repeat posts and save posts for later.
2. Customized posts: SocialPilot enables you to customize posts by what your audience wants on each social channel.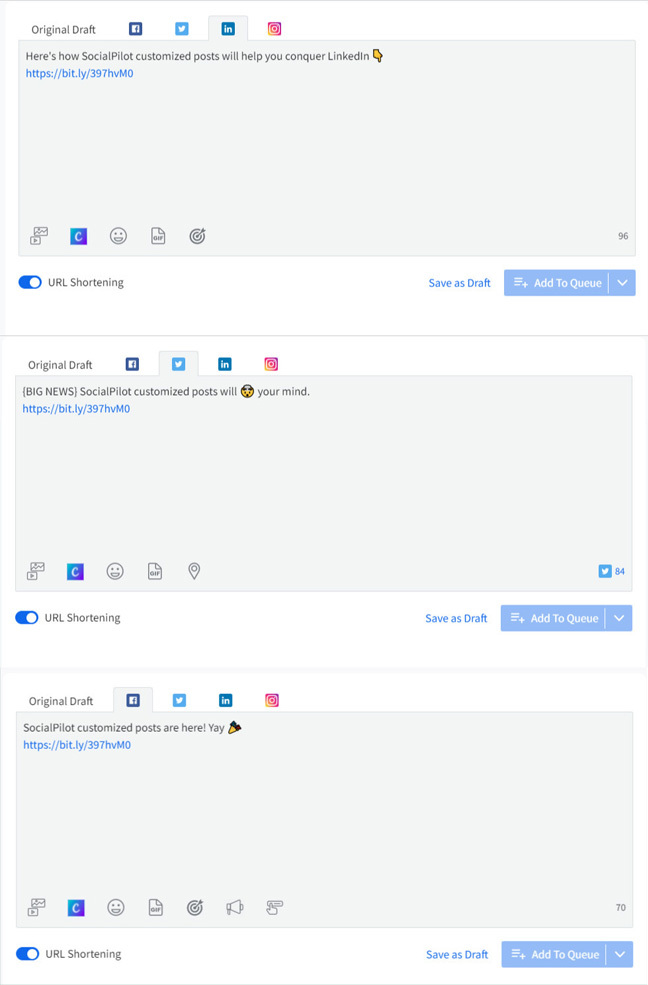 3. Mentioning people in posts: You can tag other profiles and pages to get more views on your posts.
Social Media Calendar
Organization is important for the success of your social media strategy. A social media calendar can be used to organize your content in one place for easier management of campaigns and set deadlines. It can be an application, software or spreadsheet. With the calendar, you will be able to organize your content, set goals, and monitor progress and important content to be posted in the future.
Before creating a content calendar, you must know where your audience engages with your brand and when they are most active. You also need to set some goals for each piece of content you post to monitor the success of your campaigns and know what you need to adjust.
Why Use a Social Media Calendar
Today, most brands are using a calendar. Working without a social media calendar forces a team to work in the dark, leading to confusion, lack of focus, and frustration, which makes your efforts ineffective. Therefore, a social media calendar offers the following benefits.
It gives your team an overview of the content to be published at a certain time and the strategy behind why the content needs to be published at a particular date and time.
It frees up time and mental energy to carry out other tasks.
It ensures consistency in your posts and schedule.
It helps you to keep a good balance of different types of content.
It promotes better collaboration among team members.
It makes it easy to divide roles and duties among team members.
It helps avoid cross-platform errors.
How SocialPilot Helps:
SocialPilot's dynamic social media calendar that allows you to plan, schedule, and publish posts from one place. The editorial planner tool comes with the following features: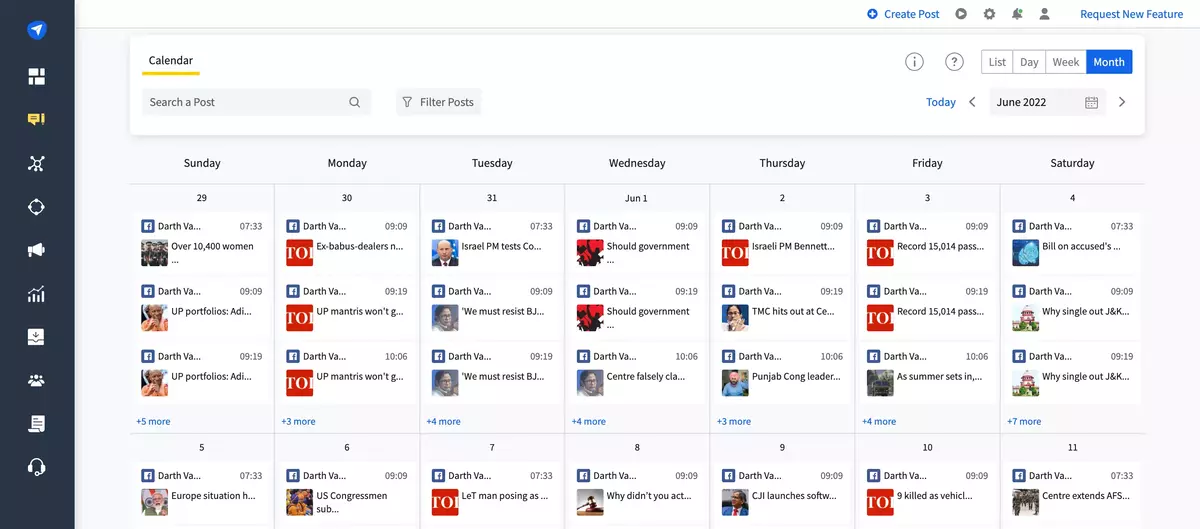 1. Social media planner: It helps you to view content by month, week, or day so you can visualize your schedule content at a macro level.
2. Content Filter: It enables you to filter your calendar view at account or group level. Therefore, when you choose a certain account, only posts scheduled for that particular account are displayed.
3. Reschedule posts: You can reschedule some posts from one day to another by simply dragging the posts and dropping them on the days you want.
4. Re-share: You can re-share your evergreen content without having to create a new post.
Content Approval Workflow
The approval process is a critical part of any social media marketing strategy. This is because something as small as a poorly-worded Facebook post can land your brand into some serious trouble. The approval process ensures you maintain the same brand voice and image across all platforms. Unfortunately, the time it takes for your social media content to get approved can cost you precious time. However, with a seamless content approval workflow, your team will be able to publish content faster.
In every social media team, there are members who write posts and others review them. A workflow defines each member's roles so everyone knows their role and when to complete it by.
How to Create a Seamless Approval Process
1. Define your approval process: Start by defining roles such as who is responsible for creating content, editing the content, creating graphics/videos, approving that content, and ensuring the content is published on time. Also, set guidelines that creators and approvers need to follow.
2. Set deadlines: Once every member knows their roles, set deadlines for each task assigned to ensure consistency.
3. Train your team on content expectations: If everyone involved in the creation, approval, and publishing of the content knows their expectations with each post, the process will go more smoothly. Therefore, create a guide for your posts specifying things like tone of voice, brand hashtags and mentions, colors and visuals, and media share.
4. Automate where you can: To further simplify the process, you should consider using automation tools such as SocialPilot to perform some tasks like sending emails and notifications when content is ready.
Benefits of a Seamless Approval Workflow
A seamless social media approval workflow offers many benefits for team collaboration. It can help you:
Save money and resources
Avoid errors
Publish posts smoothly and quickly
Identify areas for improvement
Increase team engagement and input
How SocialPilot Helps:
1. Assigning roles with different access: SocialPilot enables you to control who can add posts to queue by assigning an access level to every member.
2. Approving, editing, deleting posts: SocialPilot allows you to select members who have the authority to view, edit, approve or delete content.
Communicating with Clients
Communication is the key to any successful marketing campaign. If you are part of a social media marketing agency, you need strong and clear communication with the client.
Clients would want to keep up with what is happening with their social media campaigns. From the frequent updates on social media platforms to an ongoing promotion, the team, therefore, must involve their clients in every step. As a result, you may spend a lot of your time and energy in client management.
Typically, communication between the team and the client happens over long emails threads for:
Getting approval on social posts or campaigns
Getting approval for answers to their audience on social pages
Updating them about the progress and sharing marketing reports
How SocialPilot Helps:
SocialPilot enables you to add your clients to your team and grant them access to scheduled posts, Social Inbox, and analytics reports for all the social accounts they have connected. This makes it easy to communicate and coordinate since you won't have to share documents or seek permissions through emails anymore.
Bonus: SocialPilot also enables your clients to connect their social accounts directly without sharing their credentials with you.
Conclusion
Social media is undoubtedly one of the most powerful tools for promoting content. However, most content marketers are not able to maximize its potential. The success of your social media marketing efforts largely relies on the efficiency of your social media team. The key is to deliver content that engages your target audience and creates brand awareness. Content discovery, a content plan, a social media calendar, and approval workflow are the fundamental processes and essentials that you need to streamline your team's efforts and meet your goals much more efficiently.