Although it is not YouTube's biggest rival yet, IGTV is growing fast in its recently-carved niche, making it a highly appealing alternative for both consumers and content creators.
As a result, it has become a platform that brands cannot afford to ignore for their marketing and advertising plans.
If you came here looking for the perfect Instagram TV dimensions, this is the blog for you. We shall look into all the essential information you would need to know for optimizing your IGTV Ad content for driving engagement and sales!
What is IGTV?
Instagram TV, also known as IGTV, enables artists and content creators to post long-form and high-quality videos in a vertical format. Instagram users may utilize IGTV to create channels in which they can post videos of varying lengths. The typical IGTV video length ranges from 15 seconds to 10 minutes. However, large accounts may upload videos that can last up to as much as 60 minutes.
IGTV exists as a portal for Instagrammers to produce more interesting content in order to engage better with their audience. IGTV is worth trying since engaging content is what marketing on Instagram is all about.
What Are the Benefits of Using IGTV?
You might have been wondering at this point that IGTV is great, but what can you expect to use it for?
Instagram is already the most preferred social media platform worldwide. Its video feature, IGTV, comes packed with the platform's technological prowess and massive marketing reach that marketers have grown to love.
You can use IGTV to make promotional videos and ads to reach its 1 billion user base right from day one. Not too many platforms can give you access to that big an audience right away!
Experienced marketers already know that video is the king in digital marketing. However, if you are still in a dilemma about the effectiveness of video marketing, here are some stats and trends to point you in the right direction (We know these stats come out of the blue, but it's important for you to be confident about the efficacy of video marketing from the very beginning. Sorry for the bump!)
The typical individual consumes more than one and a half-hour of video content every day online, and 78 percent of marketers believe video content provides a decent return on investment.
Video is an excellent medium for building rapport and conveying a narrative. Since people value visuals over text, visual signals may increase your brand's trustworthiness. Video is a simple medium for your followers to consume, and it is quickly becoming a favored source of content, with 85 percent of consumers stating that they prefer to see more video content put out by businesses.
IGTV, though in a relatively nascent stage, provides a robust platform for video marketing and presents new opportunities for businesses to grow and engage better with their audience.
Now that your mind is clear about video marketing and how IGTV can help your business, let's learn how to get started with IGTV!
How To Create A Channel on IGTV?
You may post videos that may last for an hour on IGTV, but you must first create an IGTV channel for your brand. In this section, we will walk you through the process of creating an IGTV channel inside the Instagram app.
Step 1: Download the IGTV app and sign up. It's available on both the iOS App Store and Google Play Store.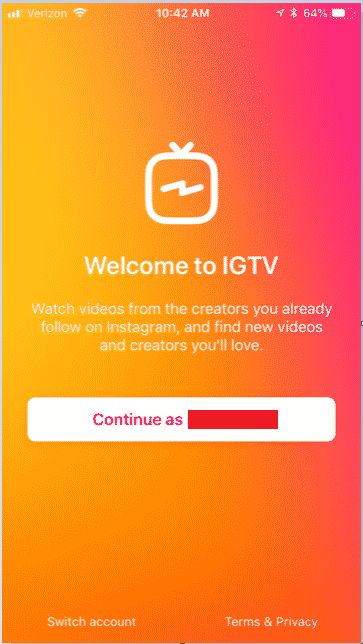 You'll be directed to your IGTV Home Page after signing up on the app. This page has a story-like style that lists Creators You Follow at the top. You may visit the IGTV home page of any of those individuals by clicking on their name, or you can watch the latest IGTV videos from the creators you follow by directly visiting their profiles.
Regardless of how you got there, once you're viewing a complete IGTV video, you can interact with it in the same way you would with any other Instagram post by commenting, liking, sharing, and saving it.
Step 2: From your Instagram feed, select the IGTV logo in the upper-right part of the screen by tapping on it.

Step 3: On the right side of the screen, tap the gear symbol.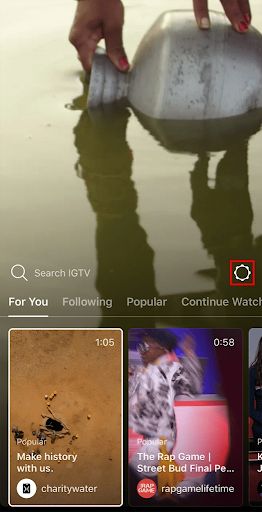 Step 4: Now the app will walk you through a few foundational facts for creating IGTV videos. Here's where you will discover that you can post lengthier videos and that IGTV is designed particularly for vertical, full-screen videos. Simply click 'Next' on each section and 'Create Channel,' and you're done.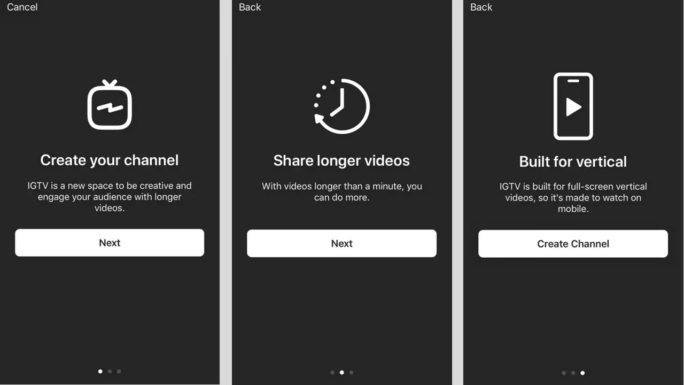 Your channel has been created, and you may begin posting videos to it right away.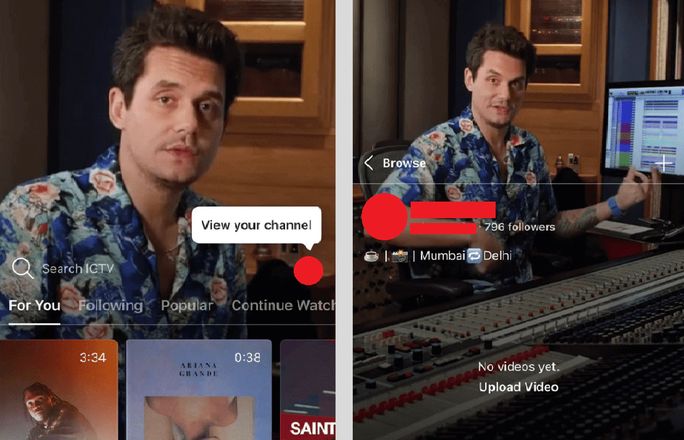 What is The Ideal IGTV Video Size?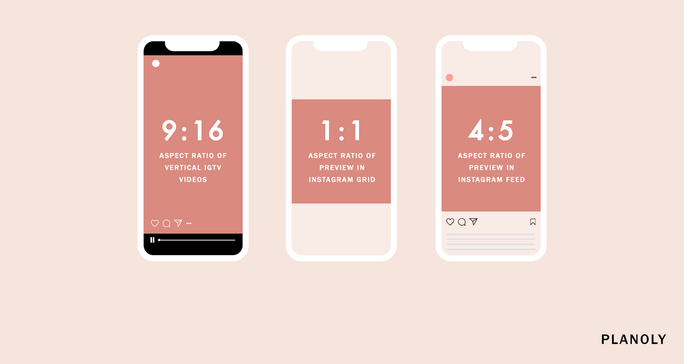 Since the majority of IGTV videos, just like Instagram Stories, are viewed in the vertical format, it makes perfect sense to align your IGTV content roadmap with pre-existing best practices for viewer behavior.
You can only alter the cover image, insert sound, and the runtime of your video once it has been posted (particularly if it is shorter than ten minutes).
Thus, you must adjust your video to the recommended specs before posting it, which is an important step in display optimization. Given below are the technical requirements for IGTV videos that you must consider:
The first important aspect to bear in mind is that you must keep your video size under 650MB for videos spanning 10 minutes or less. For videos that are shorter than 60 minutes, the maximum size is supposed to be 3.6GB.
Next, your IGTV video has to be compulsorily in the MP4 format, and the dimensions of your video must be 1080 x 1920 pixels. They must also fit within an aspect ratio of 9:16, which is the same size as the required dimensions of your Instagram story.
However, while viewing IGTV video previews in your Instagram feed, bear in mind that the video will get cropped to an aspect ratio of 4:5.
According to Facebook, IGTV videos must have a frame rate of at least 30 FPS (frames per second) and a baseline resolution of 720 pixels.
Such IGTV dimensions are ideal for uploading videos to IGTV if it's essential for your ad's purpose to display the entire screen space in your IGTV preview.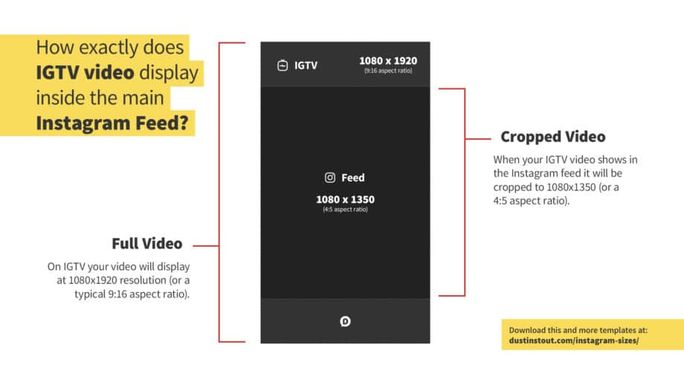 Speaking of IGTV video previews, content creators should offer these previews on their feeds to increase vertical video engagement rates. A minute-long video preview in your feed acts as a gateway towards your account's other videos. You would therefore not have to make separate posts or links to encourage people to click on your video.
What are the Best Practices for Creating IGTV Video Ads?
If you're a brand hoping to get a head start on IGTV advertisements, you'll have to wait a little longer. Instagram has already started offering the ads feature to influencers in a few countries and should be able to offer it to all by next year.
So, what if the ads feature is not available? As a brand, you can curate original video content strategies and use them to engage with your audience and achieve your marketing objectives.
Although you may be tempted to try out IGTV immediately, make a good plan beforehand. To maximize your Instagram TV strategy, you need to first decide what kind of content you must upload. Developing a well-thought-out strategy will provide you with some guidance on where and how to channelize your time and efforts.
Here are a few suggestions to consider for your IGTV strategy:
1. Make a video series
One of the most common applications of IGTV is the publication of a series of episodic films on a certain topic or theme. This enables you to be more detailed with your content strategy while being consistent with your posting schedule. It is also an excellent tactic to set up your audience returning for more.
Madewell, for example, offers a series of many IGTV videos showcasing prominent people. In their Sofa Show series, musicians present a mini-performance from the comfort of their own homes. In addition, several important food business professionals share their recipes in the Sunday Supper series.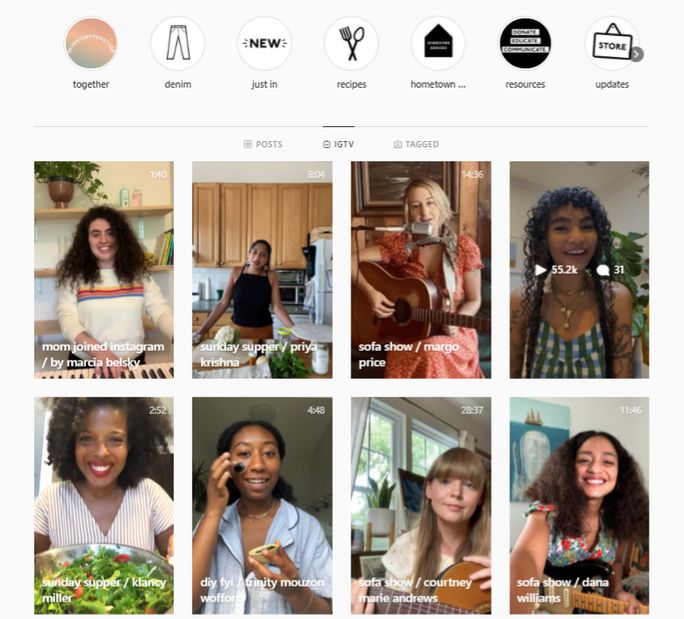 2. Provide comprehensive tutorials
What's a better method to educate your prospective customers about your business offerings than through a video tutorial? That is made possible via IGTV. Since IGTV enables you to post lengthier videos, you may simply share tutorials that demonstrate how to best utilize your product to your audience.
For example, the Lightroom Instagram account leverages IGTV to provide #LrInsiderTips: a series of instructional videos that demonstrate how to use specific Lightroom capabilities. Such tutorials enable people to enhance their existing knowledge and skills. They also provide an original and innovative manner of using their product.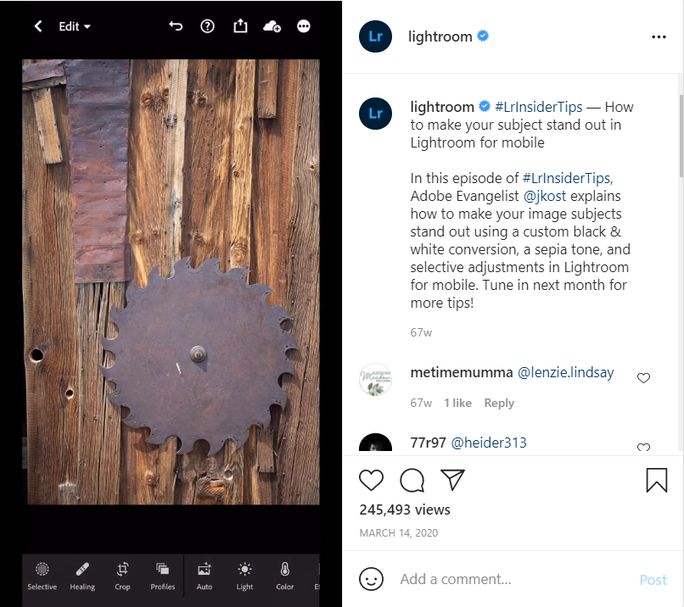 3. Consider taking your audience on a "behind-the-scenes" tour
With IGTV videos, you can give your audience a behind-the-scenes sneak peek at what's going on with your business. You can reveal to them how your products are manufactured, how and where your staff works, bloopers, and other specifics. This is an excellent method to retain honesty and create consumer confidence.
LEGO, for example, created an IGTV video to show its fans what goes on behind the scenes at their LEGO DUPLO Factory.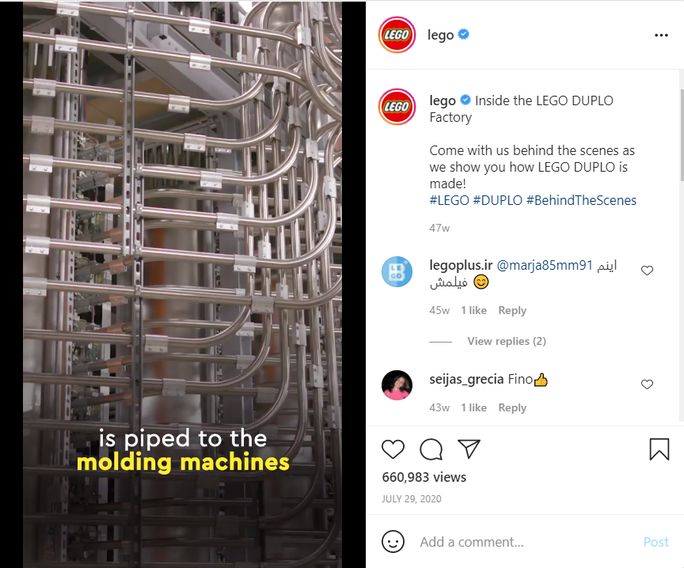 The Road Ahead with IGTV
Including IGTV in your regular Instagram marketing plan may be a wonderful approach towards increasing your brand presence and engagement with your target audience on the platform.
During 2020 and beyond, amidst the flurry of worldwide COVID-19 lockdowns, marketing based on digital video dissemination has really taken off, and, as a result, IGTV has risen with it. This makes IGTV a very important consideration for digital marketing, moving forward.
With the steady inclusion of more and more eCommerce functionalities within Instagram, there may come a day when your IGTV videos will need to give a direct, in-stream link to your products while playing.
Now that IGTV is poised to become Instagram's full-fledged marketing functionality of its own, that's one more online platform for your business to consider. Scheduling IGTV videos and uploading them at the appropriate time can get complicated, but luckily, there's SocialPilot.
SocialPilot's advanced analytics and social media scheduling features can streamline your IGTV advertising for you, saving you time and effort that can be channeled into other innovative strategies!
CTA Visit SocialPilot now to learn more!