Facebook Lead Ads are a great way to capture information about your potential customers through pre-filled forms. It provides an opportunity for your users to connect with you by giving their consent to downloading your promoted content, receive it in their inbox, subscribe to a newsletter, request a demo, or register for your upcoming webinar, etc.
Due to the continuous decline in organic reach on Facebook, marketers are spending a considerable part of their marketing budget on Facebook Ads.
To help social media marketers create social media posts for both organic and promotional purposes, SocialPilot has introduced the ability to publish and manage Facebook lead ads.
Managing Facebook Lead Ads With SocialPilot
With SocialPilot, in addition to boosting your Facebook post, you can now publish lead ads directly too.
To create a Facebook leads ad with SocialPilot, you have to go to the Manage Ads section from the left side menu, and click on the Create Lead Ad button. Then choose the right Ad account and the Facebook page for which you want to create, set-up, and publish a lead ad.
To create a Lead Ad, you have to select the lead ad type. SocialPilot allows you to create a single image/video ad or a carousel post with images and videos. You have the flexibility to add up to 10 images in a carousel post ad.
Once you have the graphic ready, input your ad copies with a display link, select the right Call-to-action button, and the form to collect the leads' information.
Click on "Next" to successfully create Lead Ad.
Now set up your Ad by defining the duration, budget, audience, and the placement of your Ad.
Once done, click on "Create Ad" to submit to Facebook for review.
Please note that due to Facebook's ad policies, it can take a few mins to a few hours to get it approved and published.
Once published, you can only modify the ad budget from SocialPilot. But, if not, then you can change other parameters of the ad as well, and resubmit to Facebook for approval.
Here's a small GIF showing the steps to create and setup Facebook lead ads from SocialPilot.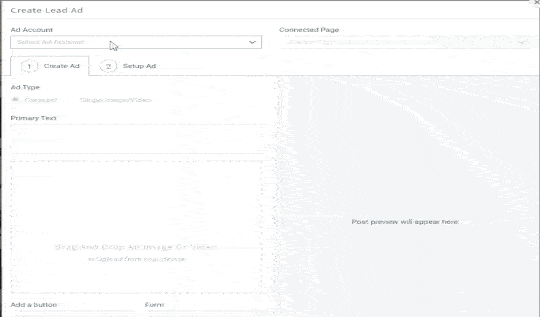 If you're looking to reach your target audience on Facebook and generate stunning growth through ads, check out our blog The Ultimate Guide To Facebook Ads Manager 2021.