Most of us spend endless hours and resources on social media marketing, but we end up ignoring the most preliminary step, and that's optimizing our search rankings.
No matter how many social media platforms you actively use, Google search still remains the favorite go-to option for making vital buying decisions. One of the first things that customers looking for your products and services online will do is an in-depth Google search.
In fact, Google has reported that 46% of all searches have local intent and that business location is the main piece of information sought by local searchers. But how do you make sure you pop up in their search results with relevant information across multiple devices?
The easiest and fastest way to show up in the search feed is to have a Google My Business listing.
Google My Business's ability to incorporate search engine results into marketing ventures is a huge advantage for all local businesses. It is not just any ordinary business listing but a robust tool giving you benefits from appearing on Google search.
But what is this hubbub all about, and how to enlist your business onto it? Let's find out!
What is Google My Business?
Google My Business is a free local marketing tool that allows business owners and marketers to manage how their business is displayed on Google Search and Google Maps. It also displays vital business details like your name, address, contact information, website link, and hours of operation.
To get your GMB listing, you need to verify your business data by creating your Google My Business profile or claiming an existing auto-generated profile. This is a critical step in any local SEO strategy as it makes it easier for customers to find information about your business and allows them to review it too. Therefore, it's important that the information provided is accurate, complete, and optimized.
How do Google My Business Listings work?
The first step is to create a GMB listing by either claiming your page or creating a new one and then verifying it. With GMB, you will be able to create a simple website that will drive more customers to your business. It's also essential to optimize your GMB listing by adding keywords, CTA, frequently asked Q&A, and relevant photos/videos.
When someone searches for products or services, the local search listings dominate the results. So the next time when users search for your products or services within your locality, your Google My Business page will be displayed among the listings. The information from your page will be shown in the following three different places:
Google's sidebar
Local results
Google maps
Therefore, potential customers will be able to see your location, contacts, and other details from your page itself.
How do Brands use Google My Business?
Millions of brands across the world are using GMB to stand apart from competitors and attract more leads. Brands use the platform to engage with customers and learn more about them.
They can know the kind of crowd that shows the most interest in their business, where they come from, and what appeals to them. Brands can also gauge their overall business performance with GMB.
Why you must use Google My Business for Local Marketing
Still having double thoughts if it's worth it? Here are 6 reasons to push you to start with GMB set up right away.
1. Increase your visibility on the Web
One of the biggest benefits of using a Google My Business listing for marketing is that it improves your business's visibility on the web. When you search for a product or service on Google, the first three listings are usually Google Adwords advertisements, followed by a map with the Local 3-pack, then the organic results appear.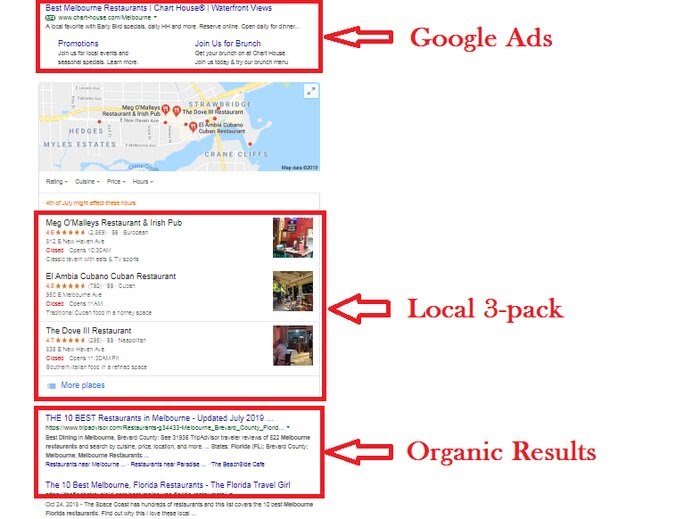 Now, what's the Local 3-pack? It consists of the top 3 local businesses based on the searcher's location. The best part is customers end up at your shop's front without even visiting your business website. The once inclusive 7-pack is now limited to only three local listings hence the title 3-pack.
Many businesses have been trying different SEO tricks to get into this special category. But what most don't know is that by creating a Google My Business listing, you can significantly increase your chances of making it onto the list. Having your business appear in the Local 3-pack can help you tap into potential revenue as Google not only shows customers your business on Google Maps, but it also places it before organic search results.
2. Share appropriate Information with your Potential Customers
GMB allows you to share information about your business, including your address, contact information, and working hours. It also allows you to share news, updates, announcements, offers, and more. These posts show up on Google Search and Maps, enabling you to keep in touch with potential customers and keep them updated.
However, before posting anything, it's always important to consider what you want to achieve. Do you intend to raise awareness about a new product or service? Or do you want to drive customers to visit your location? This will enable you to customize your post with the goal. Also, ensure that your posts have a Call-to-Action that compels potential customers to take action, such as Call, Visit, Buy, or Learn more.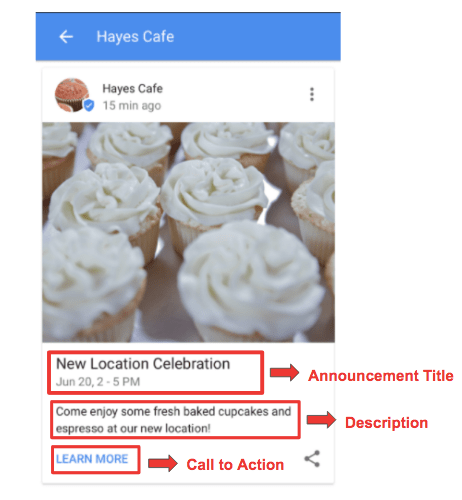 3. Answer the queries of your Potential Customers in Real-Time
Say a potential lead comes across your business in search results. But he has to give a customized order. How will he reach out to you directly from the search list? Remember, a business only thrives better when it removes multiple friction points by reducing steps to reach out.
Here comes Google's messaging feature that lets you chat directly with potential customers who find your profile on the search result's page. The feature enables you to quickly answer questions in real-time and help your current and potential customers.
Google gives you the option to either activate or turn off the messaging feature. When you activate it, users visiting your page will see a clickable Message icon, where they can initiate a chat. You will be able to respond to the messages through SMS or Google's messaging app. However, be careful not to ask or give sensitive information such as credit card or login credentials. That might seem like a red flag warning, so avoid it.
4. Boost your appeal with Reviews
Reviews are an influential factor when customers are making a purchasing decision. Most customers read online reviews to evaluate the quality of a local business and choose the product with the highest reviews.
Google My Business comes in handy at such times as it lets customers review your business and leave feedback. This not only boosts your appeal to potential customers, but you also get honest evaluations about the things you're doing right and the ones you need to improve.
Reviews also build trust and confidence among customers. According to a local consumer survey, 88% of consumers trust online reviews and believe they carry the same weight as a personal recommendation. Reviews are also a ranking factor used by Google to determine where to place your business on search results. According to a survey by Moz on local search ranking factors, online reviews make up 10% of how search engines determine their rankings.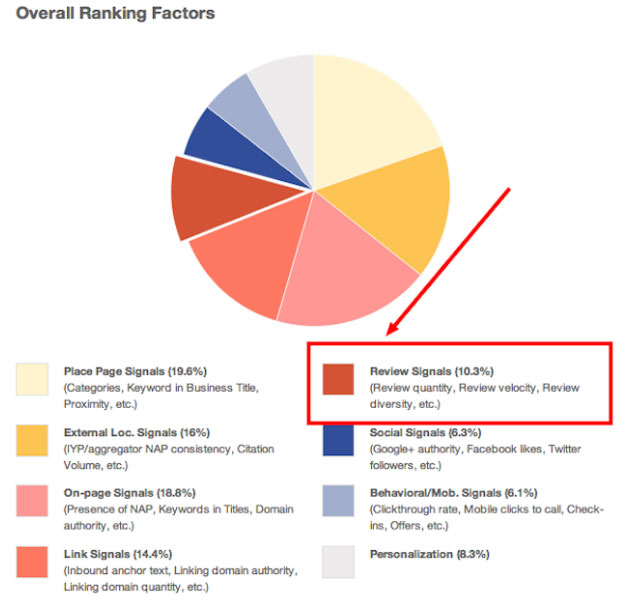 By delivering quality products or services, you'll collect more reviews and get a higher overall rating. This will make you stand out from your rivals. You can further improve your rating by responding to reviews.
5. Increase Traffic and Sales
According to Google, businesses are 70% more likely to attract local visits from browsing users by having a Google My Business listing, thereby increasing traffic and sales. The multiple verification steps that every business completes before appearing in local searches create trust among customers.
Here's a quick tip, though. Having appeared in local searches, your website needs to capitalize on the opportunity by loading quickly. If your site currently takes too long, take steps to reduce the time that users spend waiting for pages to load. You surely don't want them to leave your site even before entering your funnel and let all of these efforts go down the drain. So optimize your sites accordingly to spike your lead generation faster.
6. Free Google Advertising
There are several ways to promote your business and get it on the first page of Google. One way is to run a Google Ads campaign, but you need to have a hefty budget. The other way is to improve your SEO, but this takes time to build your authority and ranking. However, a GMB listing offers a faster and cheaper way to get targeted exposure on the biggest search engine. Creating, claiming, and verifying your listing costs you nothing.
The listing puts your business in front of potential customers and gives them easy access to your contacts, direction, website, and hours of operation. Therefore, having such a valuable asset without incurring any spending lets you invest your resources in other aspects.
How does SocialPilot help you in Local Marketing?
Getting your business into a GMB listing is just the start of your local marketing journey. To get more out of your GMB listing, you'll need advanced Google My Business tools like SocialPilot.
SocialPilot makes the entire process even easier, letting you manage your Google My Business listing, and reap the benefits of being active on the platform. Skip the hassle of going back to GMB each week to post something. Here's how it can help you.
1. Publish GMB posts on-time
Regular updates on your GMB listing enable your page to rank higher on Google's search results. SocialPilot allows you to schedule Google My Business posts right from your dashboard to keep customers updated. Therefore, you can post offers, announcements, news, and new products without having to go to your GMB page. You can add call-to-actions to the posts to encourage potential customers to check out your page, site, or social profile.
With SocialPilot, you can also choose how often you want your posts to be repeated. It allows you to schedule posts to be repeated up to 10 times, and you can set how many days you want between each post. The tool goes the extra mile by retargeting regular or occasional customers to buy other products from you. You can also add pictures and videos to your posts to attract more views on your GMB page.
2. Analyze Customer Journey
SocialPilot provides you with Google My Business analytics and insights, including metrics such as reviews, customer actions, views, and search performance. Therefore, you will be able to analyze customer journeys and understand their behavior and actions better. And by understanding your customer, you will be available at every step, helping them in the decision-making process.
You will have access to the number of customers who view your business listing, and you can use the data to amplify your popularity. You can also use the ratings and reviews to create a community of loyal customers to drive growth and sales with word-of-mouth promotion.
3. Compare your GMB Listing performance against Competitors
SocialPilot allows you to benchmark GMB listing optimization against your closest competitor. This helps you to know what you need to do to outrank your rivals. It also enables you to identify the areas that you're losing out on to focus on them.
SocialPilot also enables you to discover listing opportunities that your competitors or other high-authority sites are using and you're not.
4. Manage Brand Reputation
As we already mentioned earlier, online reviews are very important and play a significant role in customers' decision-making. SocialPilot can help you to monitor and grow your reputation by tracking and analyzing your Google reviews. You can guide customers to leave reviews and respond quickly from the SocialPilot dashboard.
Conclusion
Local marketing is about targeting people in a small geographical location, and Google My Business's features help you do just that. However, to rank in the local 3-pack, you need regular engagement, and you must keep optimizing your Google My Business listing. Using the top social media management tools makes it easy for you to maintain a consistent presence on GMB, helping your business beat competition, drive more traffic, and ultimately make more sales.