Bulk Upload Social Media Posts
With SocialPilot, you can bulk schedule posts in just 2 steps—upload, and review.
Effortlessly schedule up to 500 posts in advance to make sure that you never miss posting on the times that your audience is most active.
And there's the option to customize your posts too — you can bulk upload article posts as well as image posts. You can bulk schedule Facebook posts as well as twitter, LinkedIn, Tumblr, and Instagram posts. Make bulk posting effortless with SocialPilot.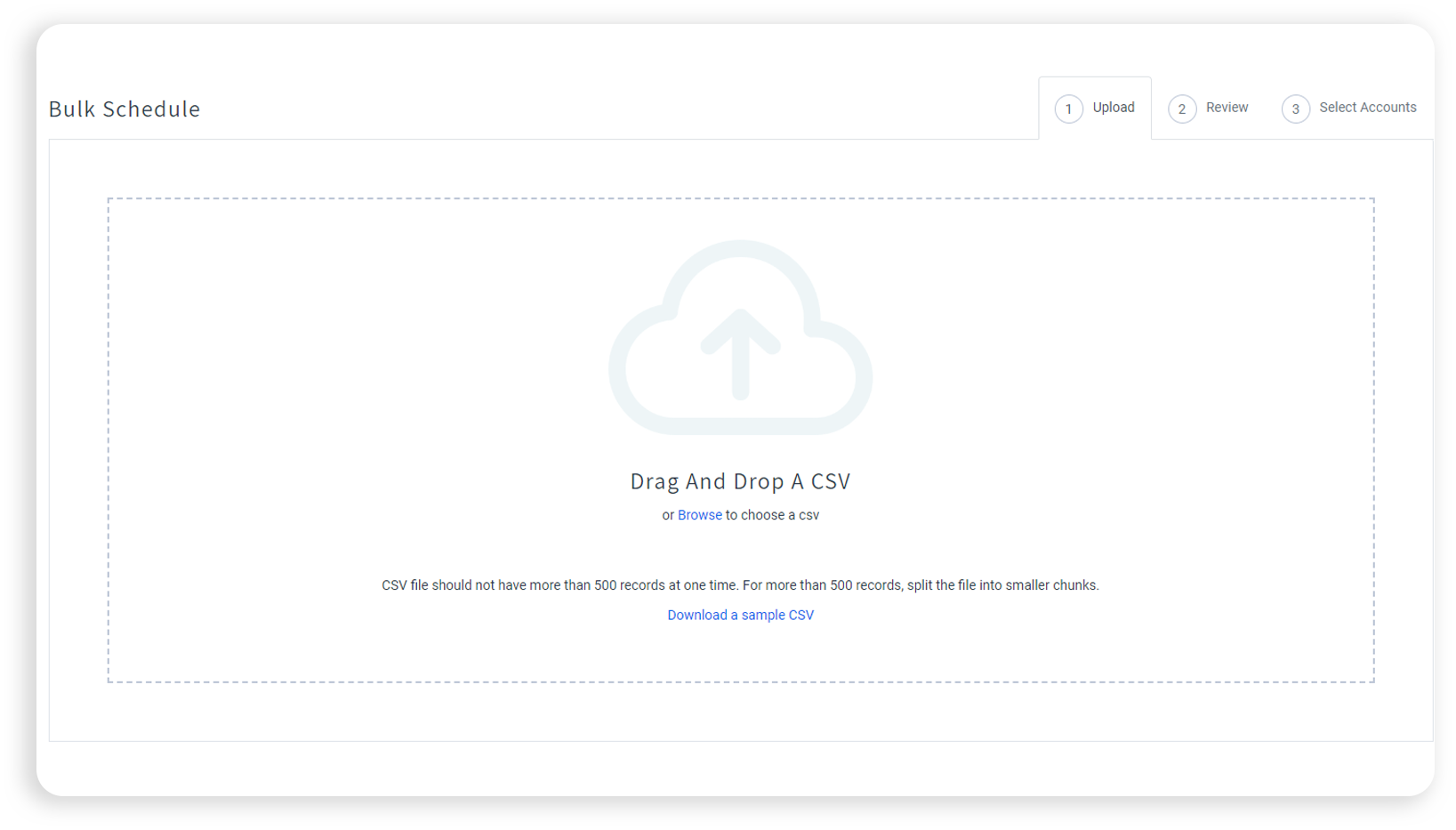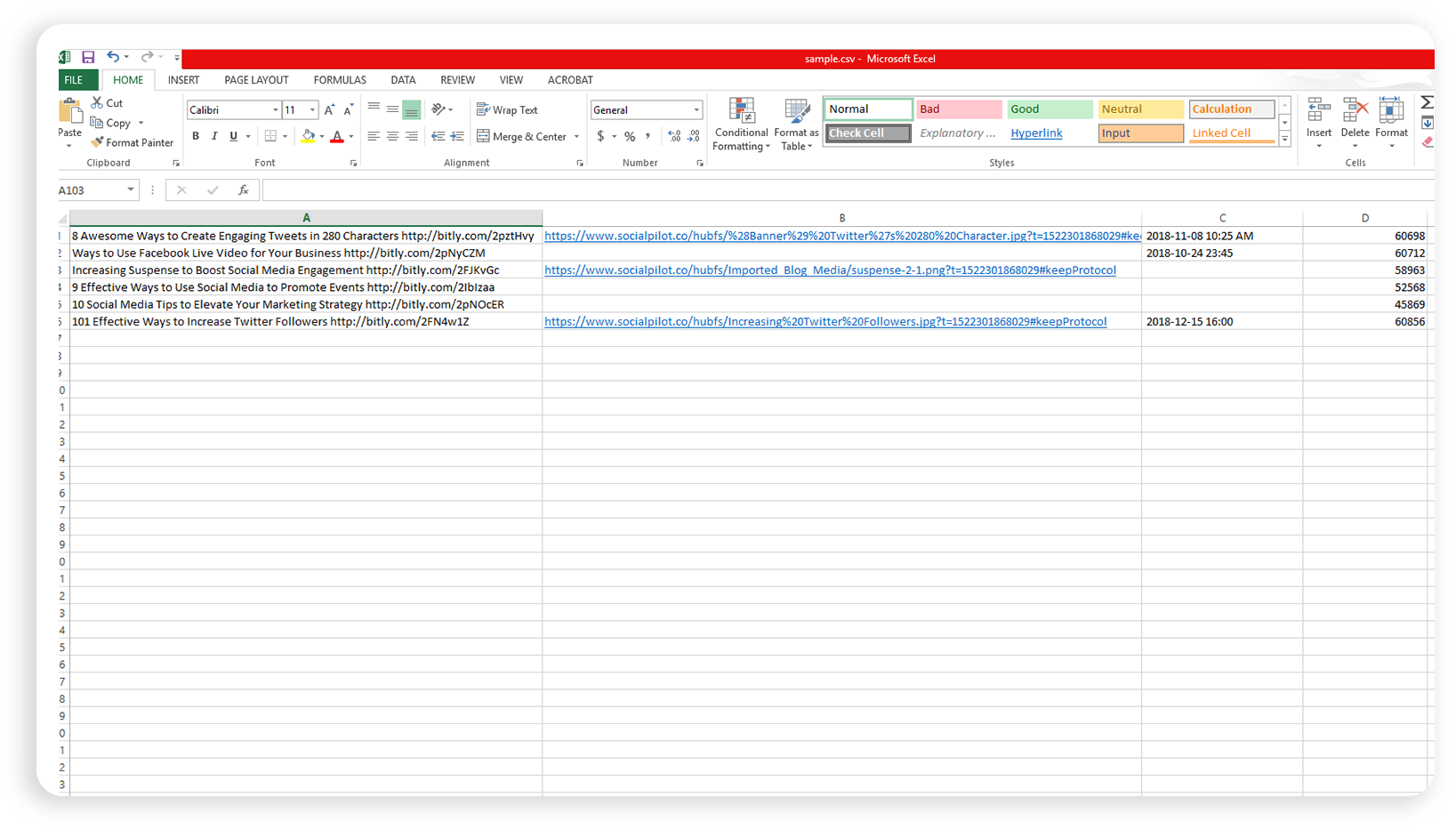 Bulk Upload With Images
SocialPilot's Bulk Upload feature enables you to schedule both articles as well as image posts unlike bulk upload in Buffer or Hootsuite's bulk upload capability.
With Hootsuite bulk upload you can add images in the review section, SocialPilot's bulk upload capability directly pulls images from the links in the .csv file.
Just add the public image URL in the .csv file that you are creating for bulk upload to schedule image posts. Learn more about it here.
Review Your Posts With Post Planner
The intuitive list view makes it extremely convenient to review all the aspects of your posts before scheduling. You can edit content for each post, change the scheduling date and time, and select the account for which the post is to be scheduled.
If an account id has already been mentioned in the .csv file then the account will be automatically selected.
In case you have a change of plans and don't want to schedule one of the posts, you can delete it directly from the review screen.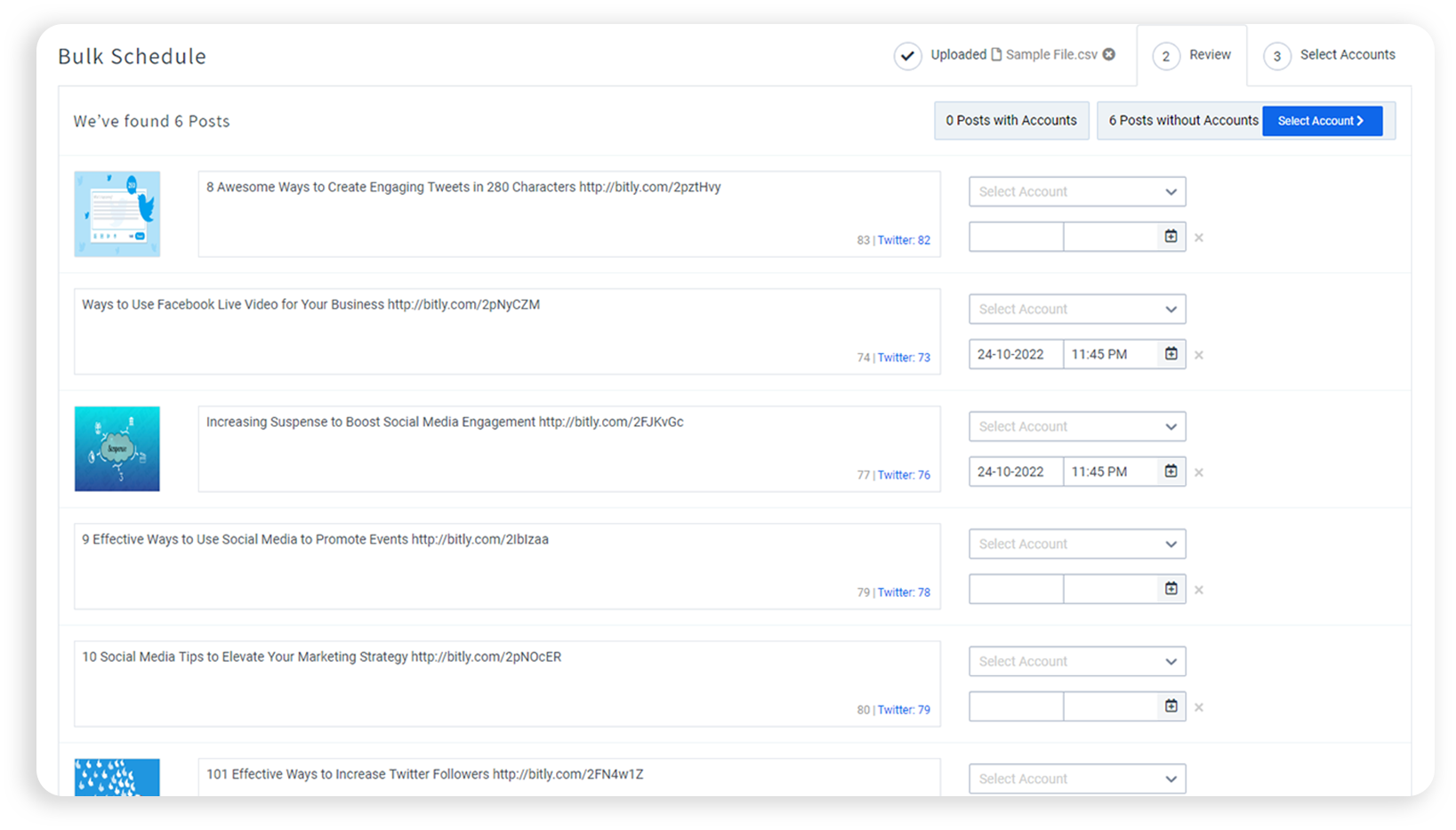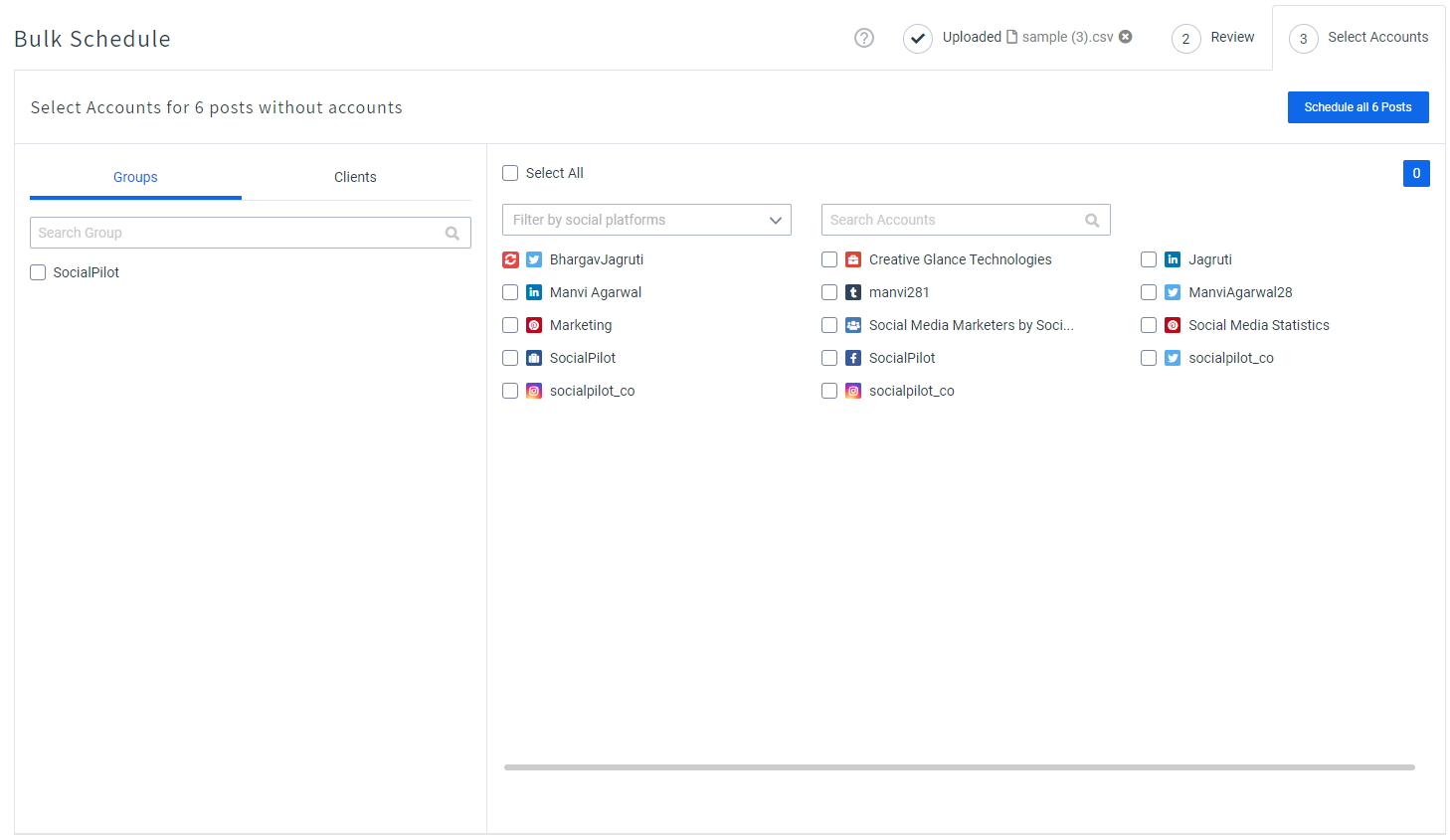 Map Posts to Social Media Accounts
To make your bulk social media posting even simpler, you can easily map each post to specific social media accounts on which it will be published.
Just mention the relevant account ids in the .CSV file and schedule up to 500 posts to their specific social media accounts.
The bulk scheduler allows you to change the accounts or even select one if you have not mentioned the account id in the .CSV file. This can be done after uploading your .CSV file in the Post Planner section.
Make Changes to Scheduled Posts with Manage Post
With Bulk Scheduling, you even get the option to add all your posts directly to the queue or schedule it at specific times.
By adding it to the queue, your scheduled posts will be automatically published at the next time slot in accordance with your queue.
You even have the flexibility to change the schedule or edit any aspect of the scheduled post from the Manage Post section.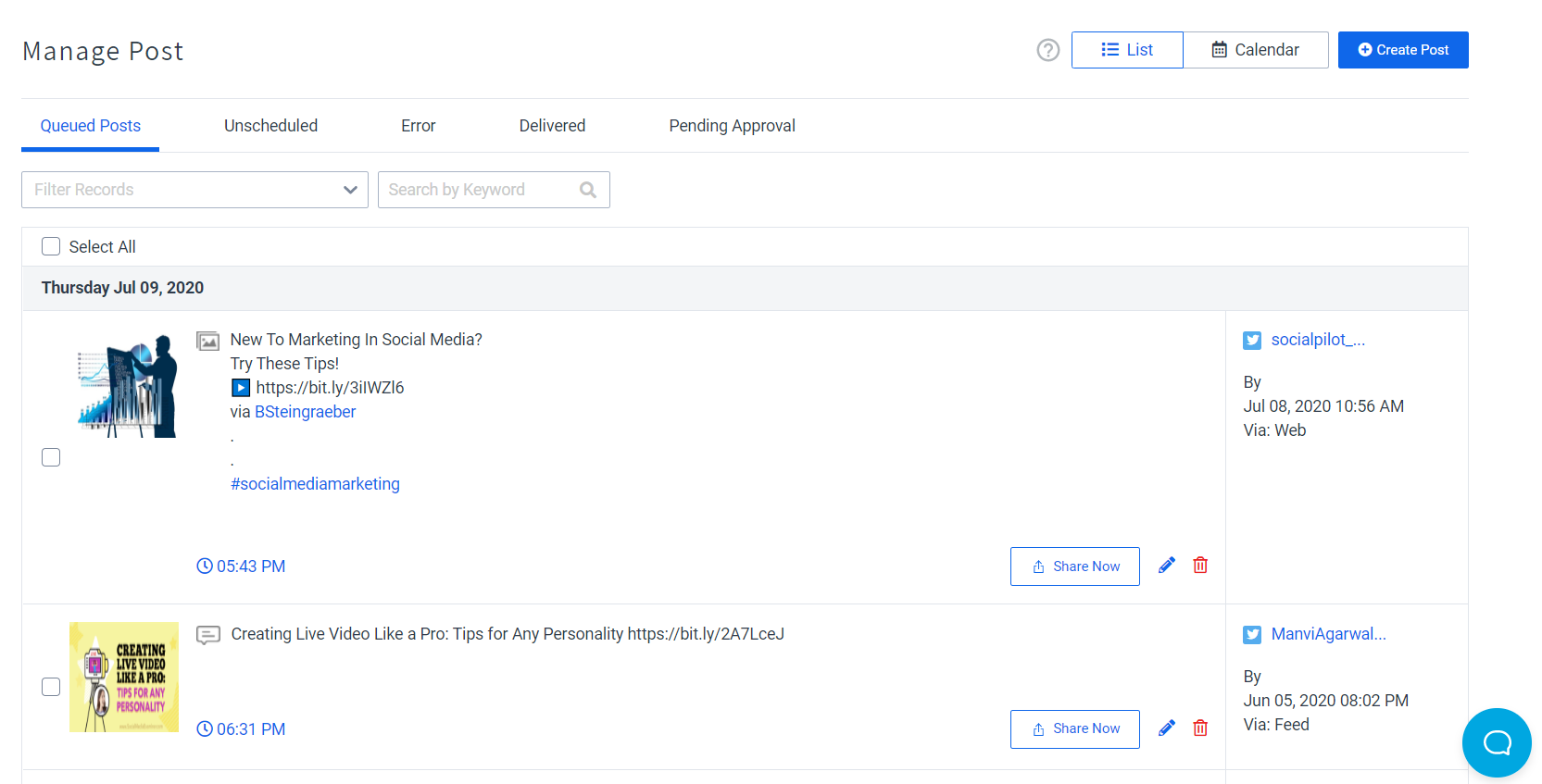 FAQs
🌟 How many types of posts can be scheduled using Bulk Scheduling in SocialPilot?
+
🌟 Do I need to specify the date and time with each post?
+
🌟 How can I get a Demo of this feature?
+
🌟 Can I bulk schedule image posts?
+
Be A More Productive Social Media Marketer
*14-day free, no credit card required