Customer service is essential to companies, especially when taking custom orders. If a customer emails you and asks you a question, you can't just ignore it. You have to respond, even if it takes a while.
In the past, this meant you could spend hours typing out long emails at your computer, but now this is simple with Google's Business Messages.
Google's Business Messages is a useful tool that ensures potential customers can receive help and support through real-time chat, no matter the hour.
Let us explain how you can use Google's Business Messages to engage with your customers.
What Are Google's Business Messages?
Google's Business Messages is a free chat service that offers instant customer support via real-time live chat. The service helps customers get in touch with your business directly from Google's results pages.
Being available out-of-hours to reply to customer queries will help nurture trust with potential customers and increase the chances of making sales.
And if your competitors aren't using Google Business Messages, you'll be offering a better value proposition to customers in the first stages of the buying journey.
How Do Google Business Messages Work?
When a user finds your business online, they'll see your Google Business Card if you have one set up (you can do this through Google Drive).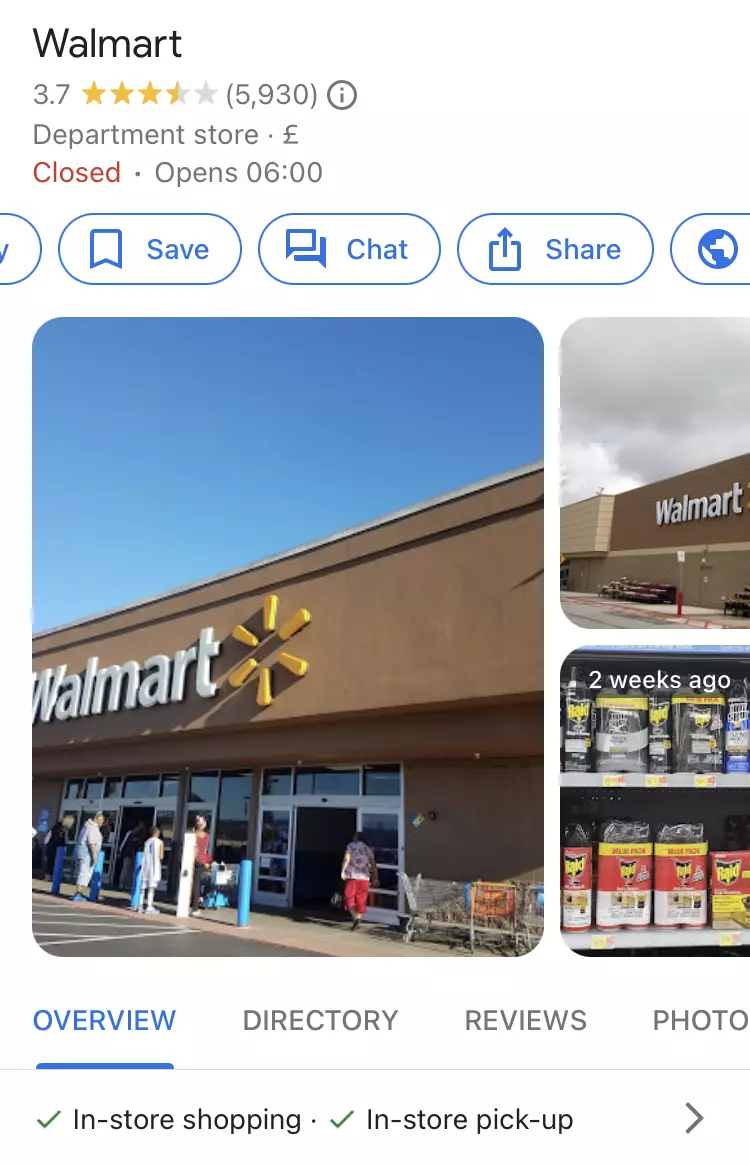 Your Google Business Card contains actionable buttons that users can click to contact the business, visit the website, or get directions. If you have Google's Business Messaging enabled, users will also see a button that says 'Message.'
By having a direct way for potential customers to contact you through the search engine results page, you'll be able to build better relationships from the get-go and increase your conversion rate.
How to Set Up Google's Business Messages
1. Setting Up Google's Business Messages on Desktop
Search for 'Google Business Profile'

Log in or create an account

On the left-hand side, select 'Messages' from the menu options.

A blue button will state, 'Turn on messaging.' Click that button, and your Google Business Messaging is set up. Potential customers can contact you directly from the search engine results page.
2. Setting Up Google's Business Messages on Mobile
Download the Google Maps app.

Tap "Updates"

Tap "Messages" and then "Business"

Tap "…" and then "Settings"

You can then turn messages on or off
5 Tips for Using Google's Business Messages
Let's look at how you can use Google's Business Messages to engage with your customers.
1. Respond to Messages Quickly
There's no time like the present. This has never been more true for modern-day consumers who expect instant solutions without waiting around. In fact, a recent survey found that 88% of consumers expect their messages to be responded to within an hour.
Google Business Messages facilitates these expectations by enabling instant messaging between businesses and new leads getting in touch for the first time.
For example, if a potential customer for a VoIP business asks 'what is VoIP' on the chat function, you'll be able to reply immediately and let them know.
By preventing users from clicking around frustratedly looking for ways to get in touch, they'll be able to get in touch instantly with the 'Message' button and begin their potential purchasing journey.
2. Constantly Check Spam and Report Them
Spam has become common online. Unfortunately, it can also make its way into your Google Business Messaging.
Spam messages usually serve to frustrate and discredit your business. The problem is that if you frequently reply to spam messages with frustration and confusion, it will not show your business positively to genuine users.
To get around spam messages, Google lets you block and report fake users as spam. Simply click the exclamation mark in the top right corner next to the trash can to Block/report spam.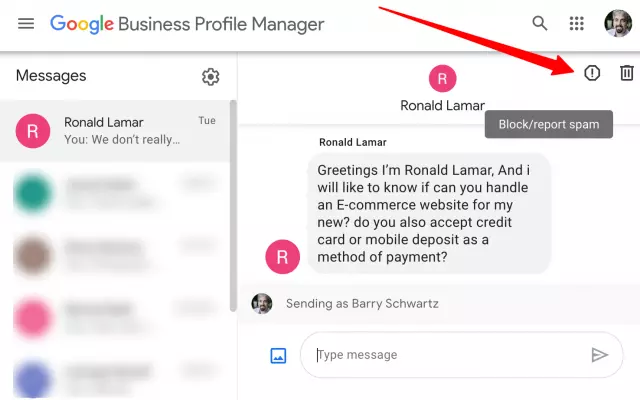 3. Turn On Notifications
With notifications telling you each time someone gets in touch, you'll never miss a customer query again.
You can customize your notifications to appear for the following:
When someone new makes a comment on your Business Profile
When you gain a new follower or a booking
Updates about your account
Updates regarding new features or updates
By enabling notifications, you'll always be able to respond to customer queries and complaints right away, without hesitation.
To enable notifications, sign in to your Google Business Profile and select View Profile. Tap Menu and then email notifications. Search for the notification you want to enable and toggle the switch on or off.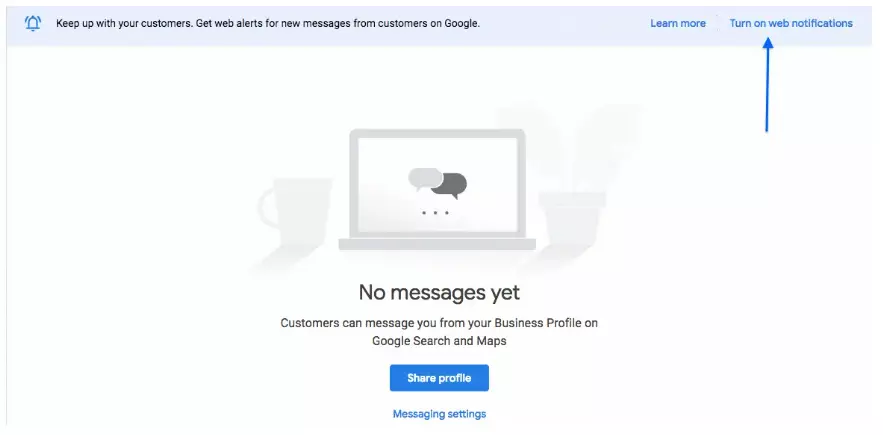 4. Create a Welcome Message
First impressions last, which is why creating the perfect welcome message is important. Interactive content will help you stand out.
You want to sound approachable and friendly as this will be the first impression customers form of your business. This could hugely impact your bottom line, as a successful welcome message can boost customer engagement by 33%.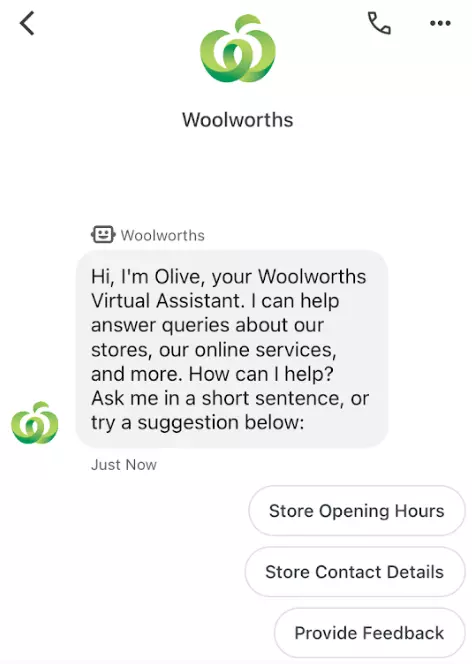 Welcome messages on Google appear when a user clicks the button to speak to your business. Create a message that thanks users for getting in touch and lists how you can help.
Remember, your welcome message is often the first interaction between your business and new customers, so you'll want to provide maximum value in this short snippet of information.
Here's an example:
Welcome! Thank you for getting in touch. We will be happy to assist you with your query. Please leave a message for an instant response. If we can't answer your query immediately, we will email you within 24 hours.'
5. Keep Answers Direct and to the Point
Customers shouldn't leave an interaction feeling more confused after being bombarded with information. Instead, answers should be direct and to the point.
Not only will this make it easier for customers to read and understand your messages, but it will also save you time by ensuring you don't go overboard with your responses.
For example, if a customer asks when your call center software will receive an update, your answer should be 'Hi Mark. We will be releasing the latest updated version next week on Friday. You can find out more here.'
Instead of 'Hi Mark, thank you for getting in touch with your message today. Regarding the software, this is a very popular question, and we are happy you have asked. Many customers have experienced issues with the last software version, which is why we have made an update to iron out the bugs. The software update should be available next Friday, we are hoping to release it between 6:00-08:00 am GMT, but cannot guarantee it at this point.'
Nine times out of 10, customers don't care for the extra information; they just want their query answered.
Benefits of Google's Business Messages
1. Provides Personalized Support
Google's Business Messaging lets users deliver engaging and personalized messages right on the Google results page. For a new customer, this can feel like speaking to a friend or family member rather than a stranger at a business.
Furthermore, businesses can add images, videos, and emojis to make messages more engaging and personal.
Today's consumers expect a personalized experience throughout their buying journey, so link your Google Business Messaging efforts with your CRM such as Capsule and other customer databases for the ultimate personalized experience.
2. Helps Automate Customer Touchpoints
It's possible to integrate Google's Business Messages into any existing e-commerce software, social media management software, or messaging service you already use.
You can create up to five welcome messages in Google's Business Messages to begin chatting with customers and supporting them through their journey.
For example, take a look at the example below from Levi's. They have integrated their Google Business Messages with a chatbot to respond to customer queries faster and more efficiently.
3. Improves Your Availability to Customer Inquiries
Being present on Google's Business Messages boosts your availability to customers. This means you'll be able to handle more customer inquiries, no matter where they're coming from.
Being immediately available is beneficial for both your business and your customers.
For businesses, being able to handle more customer inquiries means you can take on and satisfy a larger number of customers. For customers, receiving efficient service and support via Google's search engine will save valuable time and effort.
How Can SocialPilot Help?
Once you've set up your Google Business Messages, SocialPilot could be the next step in getting the most out of your Google Business Profile. With advanced scheduling, you can stay active on Google Business by consistently posting engaging content.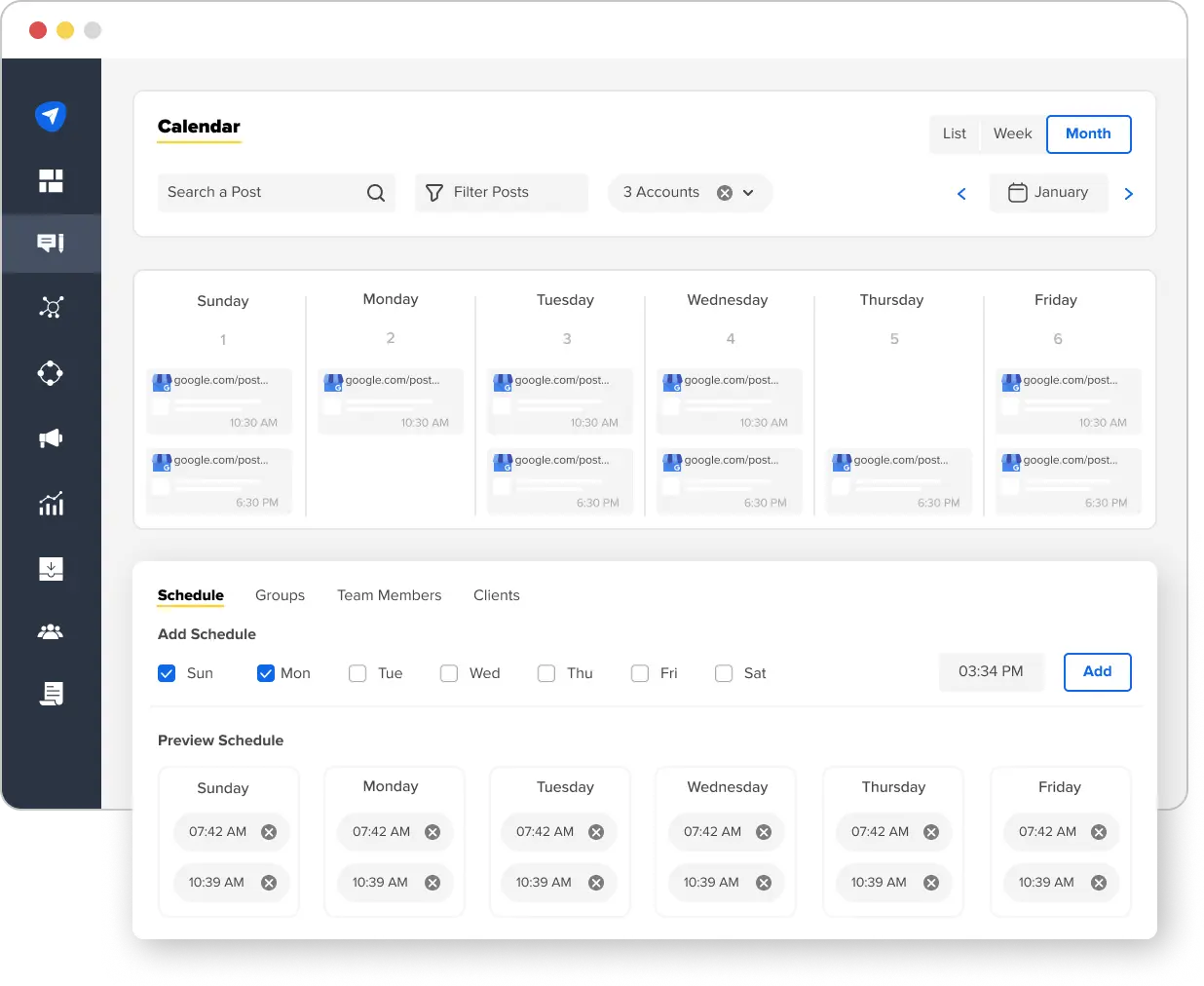 You can integrate GIFs, images, and emojis to curate content that is unique to your business. You can even integrate it with Canva and add custom CTAs to give your posts the edge over your competition.
It can also make your processes more efficient as you can create workflows, and with smart and bulk scheduling, you will never miss an opportunity to boost your Google Business Profile.
In Summary
Google's Business Messages is useful for providing top customer service and keeping potential customers engaged.
With the ability to set up welcome messages, automated responses, and personalization, your brand will stand out above the rest when it comes to reputation. It'll also help you deliver what your customers want by being easily accessible and available when required.
Setting up Google's Business Messages will show customers and prospects you go the extra mile. And, with the integration of automation, you'll improve your efficiency and increase your bottom line.