Yesterday, a friend of mine said, "I had the tastiest pizza for dinner today. Your city is amazing."
When I asked her the name of the pizzeria she had gone to, her reply shocked me. Not because the restaurant was bad or anything. But because that restaurant wasn't very famous. It was located in a secluded corner of the city.
So, my next question obviously was, "How did you find out about the restaurant?"
She replied, "Through Facebook. There were many good comments about the pizza varieties on their posts."
In the age when brands are competing to strengthen their online presence, Facebook offers a great medium for businesses to focus their marketing efforts on. With about 1.62 billion users visiting Facebook daily, it's the right place to be.
Facebook marketing isn't a cake walk where you post an advertisement and wait for the magical fairy to bring you customers. But with proper strategies and the right Facebook tools, the marketing recipe couldn't go any wrong.
9 Facebook Tools For Your Business
Where are your followers from?
Which type of content gets the maximum engagement?
What is the best time to post?
SocialPilot is one Facebook business tool that helps you find the answers to all these questions and much more. It helps you schedule, customize and discover great content. The best part about SocialPilot is its social media calendar. Instead of having a chaotic schedule, you can have an organized and detailed schedule so that there are no inconsistencies and confusion.
The magic of SocialPilot doesn't stop here. Not only does it help to increase Facebook's engagement, it is presently the only tool that lets you post on various social platforms ranging from TikTok, LinkedIn, Instagram (Direct Publishing), Twitter, Pinterest, Tumblr to VK from one dashboard.
Features:
Advantages of Using SocialPilot as your Facebook Tool:
It's your one-stop destination not only for increasing your Facebook organic reach but also helps in Facebook ads – boosting and lead generation.
The analytics feature is really powerful in SocialPilot as the content analyzed by this tool is not limited to the posts that come from the system but from other sources, accounts and pages as well.
The Social Inbox for Facebook never misses out a mention, tag or comment to your page.
You can customize your Facebook posts with GIFS, native video posts, carousel posts and Facebook album posts right from one place.
What Our Users Say:
Weronika K.
It is very easy to use and combines all your social media accounts. I used it to manage posting on my facebook page. This is the cheapest and most functional software that makes managing your accounts easier.
Kristyn F.
I've been using SocialPilot for a few weeks now (after using Hootsuite for years), and I gotta say that I'm impressed! What I like most are their ANALYTICS – by far. They save me a lot of time, they're detailed, and the reports are easy for me and my clients to read and understand. Their browser extension tool is also helpful too!
Christopher C.
The benefits are on going, the best part was the ease of onboarding team members and the high level of support we continue to receive from SocialPilot's team. Significant increase across the board in social engagement, increase in followers and conversion from social to our primary destinations.

---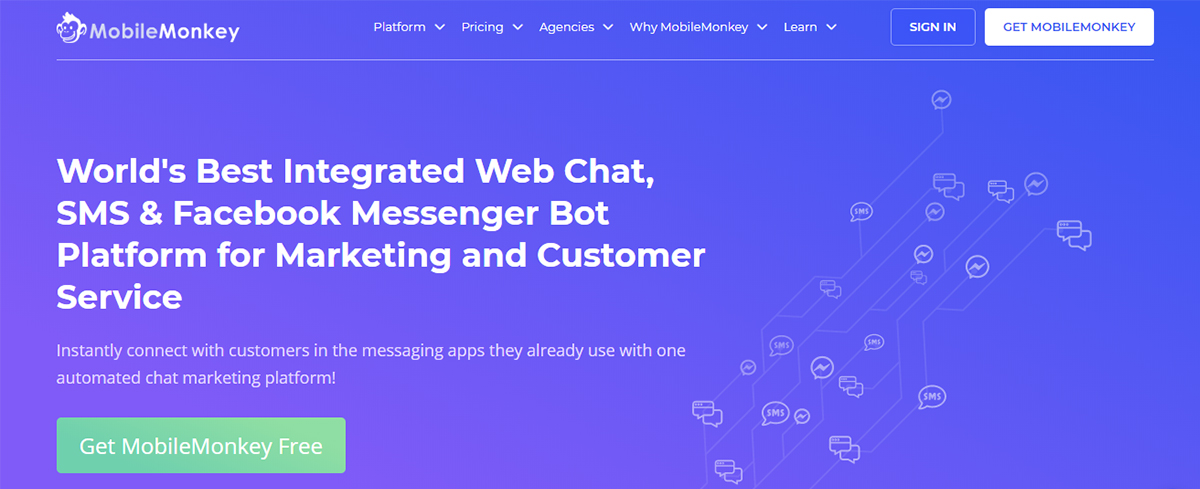 MobileMonkey is a chatbot that helps you with Facebook messenger marketing to generate user engagement. This Facebook tool allows you to build a list of Messenger subscribers, send out Messenger broadcasts and drip campaigns to your customers. It also offers support for Facebook Messenger ads, sponsored ads and other various chatbot tools.
Pros of MobileMonkey:
Helpful webinars, tutorials and live chat available that make it easy for the users to learn and grow their strategy.
With Zapier integration, you can move your data from MobileMonkey to other systems you use to run your business.
Yolanada H.
Excellent, easy to use platform to grow your messenger marketing game
Cons of MobileMonkey:
While MobileMonkey may be a perfect fit for your messenger marketing, it doesn't serve all your Facebook marketing needs. Thus, you'd have to use more than one tool for your Facebook marketing efforts which would become very time-consuming, expensive and cumbersome.
It does not have many features as compared to the other alternative facebook tools in their domain.
Manuel C.
The interface is not very intuitive and even though the pricing is affordable, there are other options out there.
---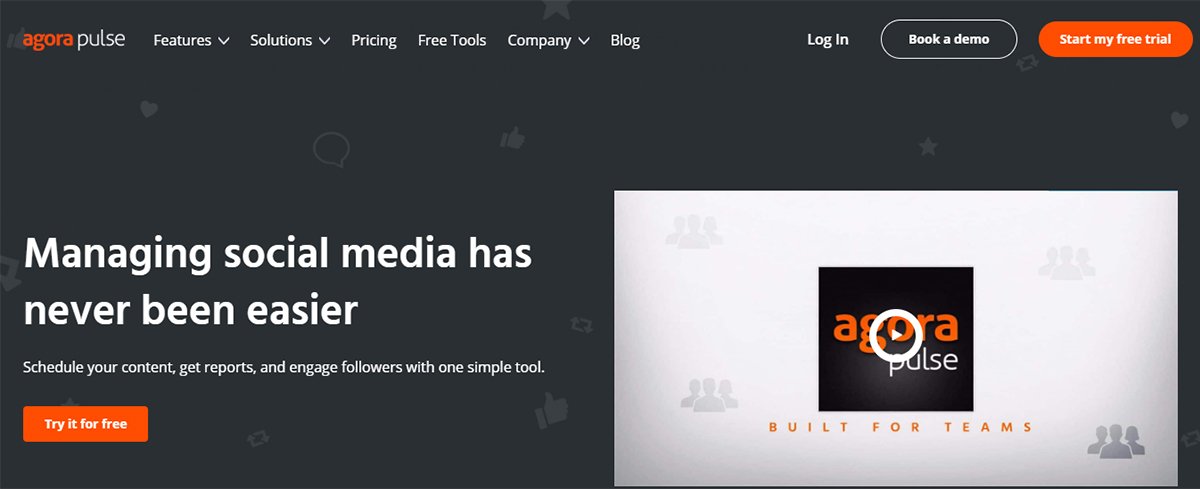 Agorapulse is a simple yet effective Facebook business tool. It helps you monitor engagement, schedule and publish posts, create Facebook contests, collaborate and get analytics reports. Agorapulse supports various other social media platforms like Twitter, LinkedIn, Youtube and Instagram.
Pros of Agorapulse:
With their in-built CRM feature, it helps you understand your audience better.
It has the ability to schedule and customize content on multiple channels at the same time. Tweaking the content for different platforms saves the user's time.
With the help of Social Inbox, the user can assign messages to their clients with a customized note or comment.
Garry Doran
Having all social media pages on the same platform. It is most useful for replying to comments and posting to multiple channels
Cons of Agorapulse:
The tool faces many bugs. For example, images posted to some social networks come out soft and blurry, the app doesn't allow to post images on LinkedIn, etc.
Though Agorapulse lets you download reports in a Powerpoint format, the reporting feature is very basic and isn't very helpful.
For the price it charges, Agorapulse's interface and some of the features seem quite underdeveloped as compared to the other Facebook tools in the market.
Ian P.
Our experience with AgoraPulse has been incredibly frustrating. Our team has experienced a range of issues. The customer service is responsive, but our problems are not being resolved.
Here's a detailed comparison of SocialPilot as an intuitive AgoraPulse alternative
---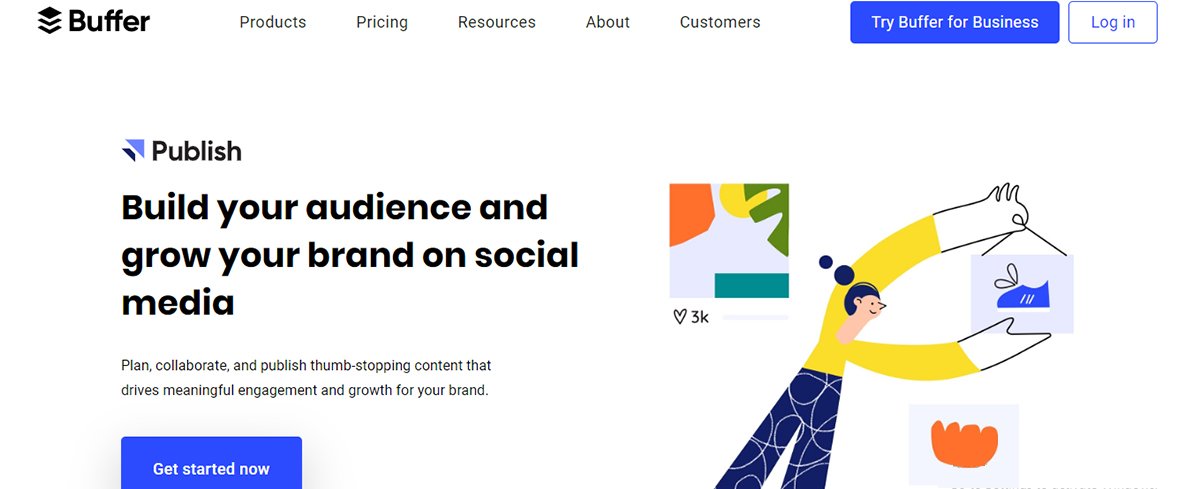 Buffer as a Facebook tool provides different features like analytics and insights on post's reach and likes. Buffer's Chrome browser extension also helps search for shareable content. It integrates with social media platforms like Twitter, Facebook, LinkedIn, Instagram and Pinterest.
Pros of Buffer:
Buffer gives you access to Pablo, a free image creation tool that helps you to create social media images for Pinterest, Facebook, Instagram and Twitter very quickly.
It has a clean and simple interface that allows users to navigate within the tool easily.
The customer support that Buffer offers is really good and quick so the user doesn't get stuck because of an issue.
Tony Cecala
The team at Buffer listens to their users and makes continuous improvements to the software. I love how the calendar feature has evolved over the years.
Cons of Buffer:
Buffer allows users to do a lot of things but it asks users to pay to avail services like Buffer Reply, Buffer Publish, Buffer Analyze and Tailwind which makes this Facebook tool very expensive for its users.
It does not have monitoring tools for searches, hashtags and mentions so you'll require another tool to monitor these.
Buffer doesn't have a content curation feature which is essential for companies and users to find fresh and trending content.
Jorge L.
Buffer is missing some crucial collaboration features offered by other softwares that makes it hard to use for working as a team. And the pricing is just too high for the present standard on social media pricing applications. If you have the money, it is not a problem.
Checkout the detailed comparison of SocialPilot vs Buffer
---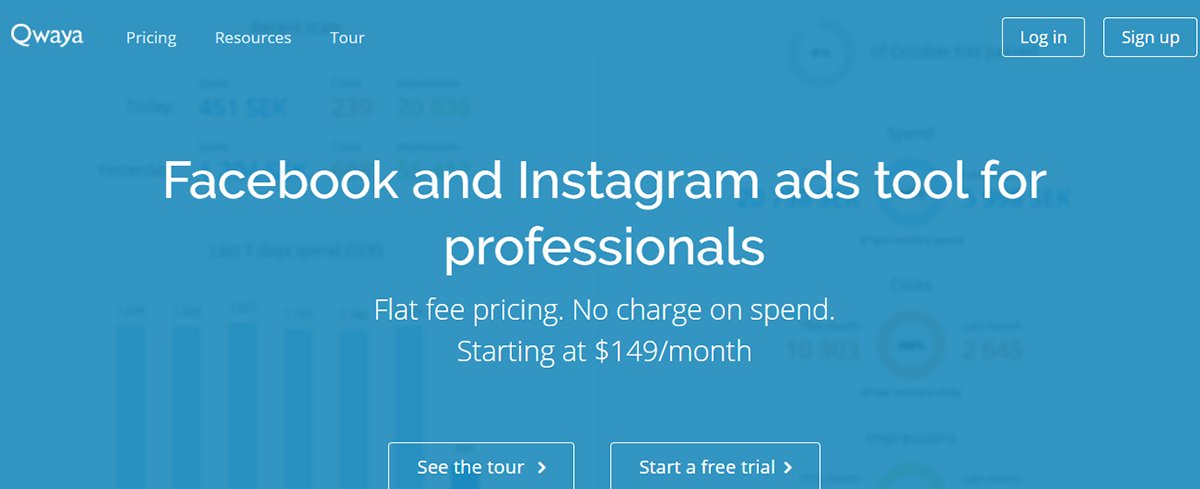 Qwaya is known as an Ad creation and management tool. Marketers are given an avenue to A/B test their ads and audiences to drill down the best possible combination. It also allows the users to optimize their campaign's results by setting performance-based rules that can be paused or stopped if the campaigns aren't doing well. The campaigns can be scheduled to run at specific times during the day.
Pros of Qwaya:
It integrates seamlessly with Google Analytics and allows users to effortlessly view conversations attributed to their ads, campaigns and brands in one place.
It has a graphical reporting feature that gives the users a bird's eye view of all their ads and its performances in one place so any flaws or trends could be easily spotted.
Verified Qwaya user
As an agency that does a lot of social media advertising campaigns for clients, Qwaya helped streamline the campaign management process. It made it easier to A/B test different ads and see results more quickly. The visualizations that the app provided were the coolest parts.
Cons of Qwaya:
It is a very pricey tool considering the fact that it solves just one aspect of your Facebook marketing need. If you buy another tool to fulfill your other needs, the final amount would be draining for your company.
There are some functional gaps in the tool like ads getting delayed, images not being saved, etc.
Verified Qwaya user
The software does it's job but they have terrible customer service and you'll find other softwares that are more robust at lower prices.
---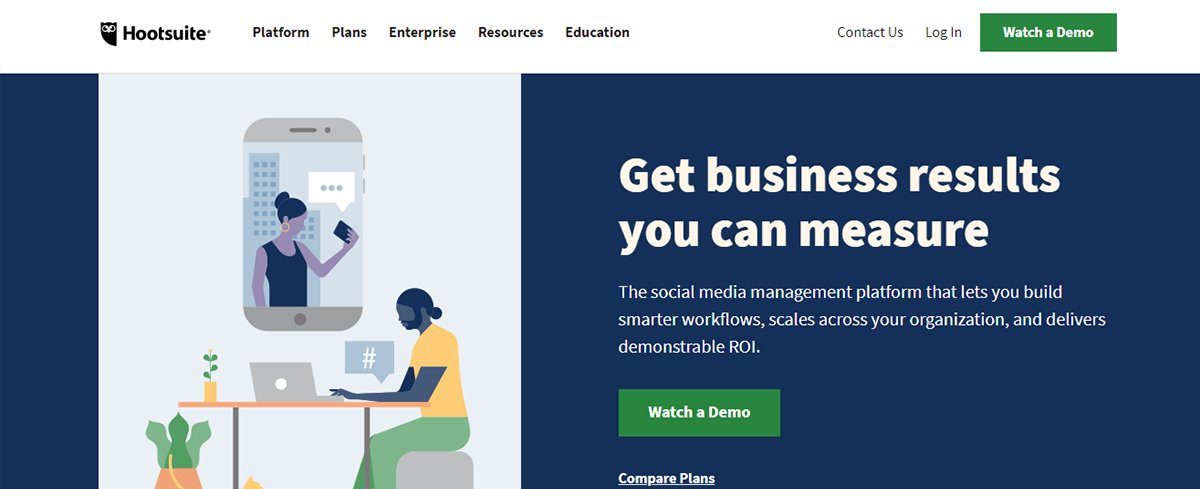 Hootsuite is a Facebook tool mainly used by enterprise-level agencies. This tool helps you optimize your Facebook ad campaign, target and retarget the right people for conversions and schedule your posts on different platforms like Facebook, Twitter, Instagram, YouTube, LinkedIn and Pinterest. While it has been in the market for a long time, it is comparatively a complex tool to use. Thereby we recommend other user-friendly hootsuite alternatives.
Pros of HootSuite:
Hootsuite lets you connect with more than 150 apps ranging from YouTube, Salesforce, Google Drive to SoundCloud thus helping you streamline your processes and collaborate more effectively.
It lets you view all your social media accounts on one dashboard.
If you don't know what to post on Facebook next, Hootsuite makes suitable recommendations that you can read to make relevant posts.
Sheila Z.
I'm able to efficiently see all of my social channels in one place. It makes it easier and less stressful to schedule, listen, reply to messages/comment, tag, etc. than having to go to each channel individually.
Cons of HootSuite:
There is a longer learning curve because of the number of components that Hootsuite offers coupled with their complicated interface.
Hootsuite is very pricey. They also charge additional fees for several analytics reports and services like using a different URL shortener, access to customizable reports, etc. To top this up, you also have to pay money to get priority support.
They do not have a queue feature which is essential to most companies these days.
Verified Hootsuite user
It's good for simple social media monitoring and posting, but if you want to really dive deep into analytics or scheduling then it's not the right tool unless you spend an arm and a leg. It's just overrated and expensive for what it is.
Here's a detailed comparison of SocialPilot being a cost-effective Hootsuite alternative
---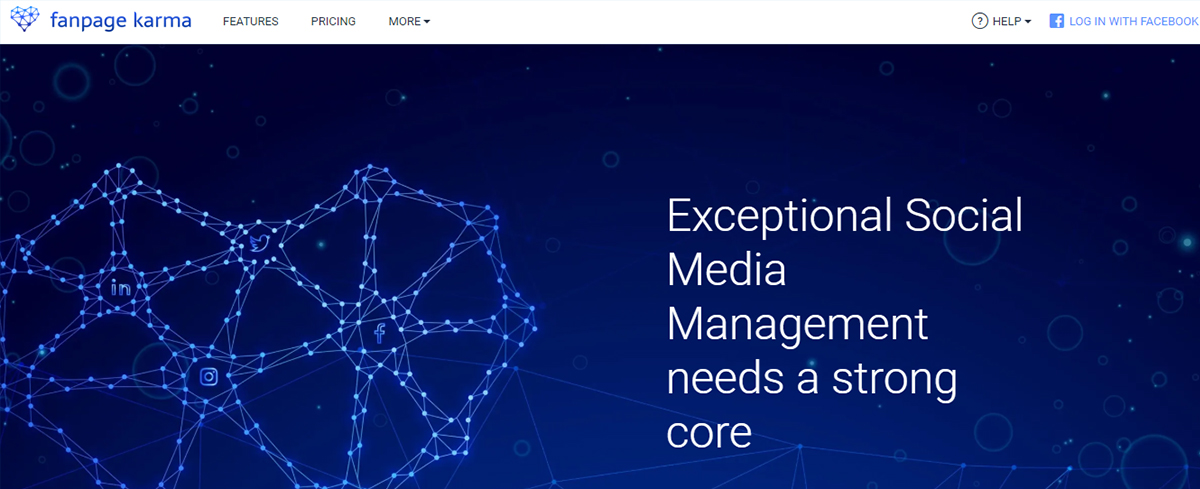 Fanpage Karma is a simple Facebook business tool that shows an overview and score for your page. With its help, you can compose and publish posts with ease. It also gives you useful insights on posting, helps you generate a detailed report which consists of details like page content, influencers, fan engagement, timing, benchmarking and so on.
Pros of Fanpage Karma:
It helps you export readymade reports in many formats which contains a variety of infographics to build a presentation.
It lets you compare your performance with the top brands in the field and learn how to outperform them.
John S.
Very simple to use, tracks selected competitors over time, useful time-of-day insights.
Cons of FanPage Karma:
If you opt for the pricing plan which consists of all their features, the price shoots up considerably. Above all, these plans are just for one user. So, if you want to have more than one user, you have to pay $54 more for each additional user. Like really?
The support they provide isn't that great.
Andrew A.
The support is not upto the mark, sometimes they take too much time to reply.
---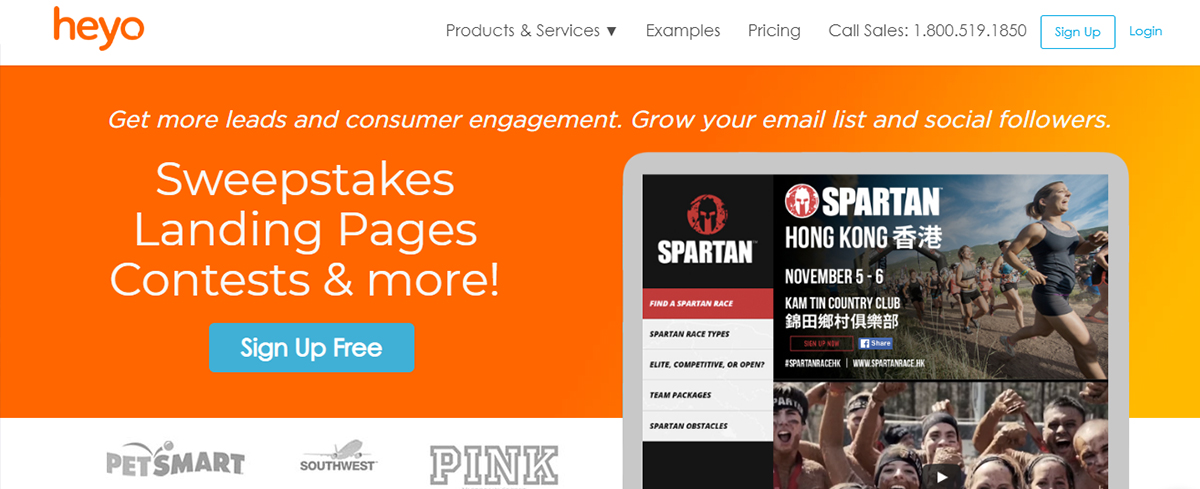 Heyo is that Facebook tool that gets your business leads in a fun way. It helps you create brand awareness and get more engagement by creating contests, sweepstakes and hashtag campaigns for Facebook. You can collect user generated content with such campaigns.
Pros of Heyo:
The software is easy to use even for those not skilled in tech which makes the set up and working easy for all present in the company.
It helps generate leads and export these leads in a downloadable file.
Kyle S.
Ease of use, the software easily integrates existing social media pages, making set-up extremely easy.
Cons of Heyo:
The pricing structure is a little difficult to understand as when you run a single campaign across multiple locations, where each location has its own facebook page, they consider that as multiple campaigns.
The customization features are very limited.
Verified Heyo user
I don't like the pricing model. It's tough to truly know how much I will use it from a 7 day trial.
---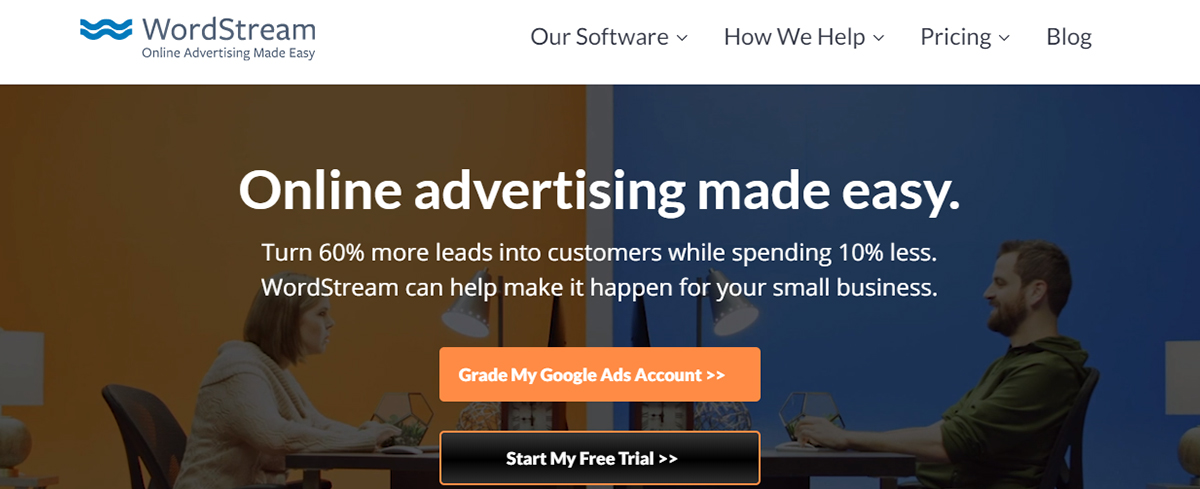 Making a Facebook advertisement could be crazy at times, especially when there's so many variables involved. Here's when WordStream can come to your rescue. WordStream assigns a grade to your ads and gives you tips for optimizing it. Since the price of Facebook ads can go up drastically, WordStream offers certain checks and balances that ensure you stay within your budget being one of the trusted Facebook tools for advertisers.
Pros of Wordstream:
WordStream allows you to handle PPC management processes with the help of Artificial Intelligence and Machine learning which helps in analyzing campaign data.
With the help of WordStream's 20-Minute Work Week, you can simplify your most time-consuming tasks with customized cross-platform alerts that display high-priority actions.
Brent R.
Managing PPC ads is a very difficult and time-consuming task, and Wordstream does a decent job of helping you save that time. The features are powerful and there is a little artificial intelligence there as well to help you make better decisions.
Cons of Wordstream:
The support isn't good to start with and they keep calling and mailing you trying to upsell their product.
The pricing structure can become a lot complicated and expensive as it is directly linked to ad spend and not necessarily campaign complexity.
It is cumbersome to use and sometimes takes so much time to load.
Ali B
Part of my package was the monthly assistance to look in to adwords and train me to optimize my profile. Obviously I have paid extra for this, I only used them for the first three months, and then I had no news from them. My PPC charges have increased almost 100% with their new and suggested campaign. I lost more than $1500 a month for a few months until I stopped the campaign completely and I am now back to square one.
Conclusion:
With so many advantages to Facebook marketing, it becomes imperative for your brand to build its presence on the world's largest social media platform.
While there are a lot many Facebook tools available, it's important to choose one that caters to all your social media marketing needs and provides you with a comprehensive list of features.
That's exactly what SocialPilot does. Without wasting time, money and compromising your efficiency, this Facebook tool helps keep everything about your social media in one place and makes work a lot easier and effective for your social media management team.
Don't wait any longer. Activate your 14-day free trial period now!
Frequently Asked Questions
🌟 What are Facebook tools?
+
🌟 What are the best Facebook tools?
+
🌟 Which tool helps you with Facebook management and ads?
+
🌟 How does Mobile Monkey help in Facebook marketing?
+