The whole marketing venture has already taken a paradigm shift, and brands are spending more time and money on social media. With an aim to go viral and earn more recognition, businesses rely on social media hack tools.
Now, for a growth hacker, it is important to know the perfect brewing of an unconventional set of acquisition techniques and the right stack of tools that will lead you to your growth hacking success.
By getting your hands on the best social media hack tools, you can do your job faster while catapulting your engagement rates.
But the question is, which social media hack tools are worth your time and spending? To help you cut through the noise, we've segregated our list of 11 social media hack tools to help you attain diversified objectives.
Let's assess them one by one!
Growth Hacking Tools for Social Media Distribution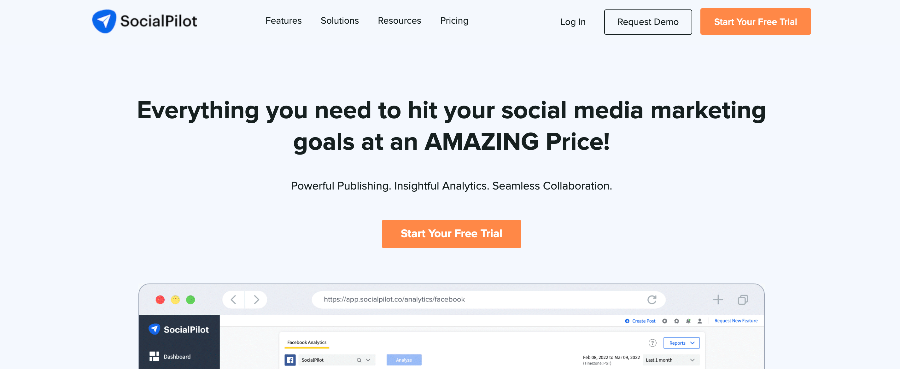 SocialPilot has emerged as one of the most efficient social media hack tools. No matter what the size of your business, SocialPilot eases your marketing game by allowing you to connect as many social accounts as you want for your customers in a single place. You can post on multiple social media platforms, including Facebook, Twitter, Instagram, LinkedIn, TikTok, Pinterest, and Tumblr.
Optimizing your social media campaigns is no more a challenge with SocialPilot. While the tool saves your time spent on scheduling and sharing posts on different platforms, you can focus on increasing your engagement and traffic.
Salient Features
Connect 50+ social profiles and use a single scheduling tool to post on each of those profiles.
Use the Groups feature to group all social profiles effectively.
Share a maximum of 1000 posts every day.
Put as many as 10,000 posts in the queue.
Bulk schedule no less than 500 text or image posts.
Add and define the roles of as many as 10 members and control the access for post approvals.
Use the easy-to-use analytics tool to track data and enhance performance and efficiency.
Use the Social Inbox feature to reply to any posts or messages, or comments in real-time.
Leverage RSS feed automation to stay up-to-date on social media.
Share access for Social Inbox with the content creator or manager as appropriate.
Visualize your social media strategy using the social media calendar tool and track your posts on a daily, weekly, or monthly basis.
Shorten your URLs with SocialPilot Link Shortener and easily share and track those links on various social media platforms.
Pros
No matter if you have 10 social media accounts or 100, you can post to all those accounts at once.
The toolbar plugin allows you to create or share the posts you like.
SocialPilot allows you to connect to Canva and other tools and share your posts even faster.
Compared with other social media distribution tools like Buffer, SocialPilot is a more affordable choice for small businesses.
SocialPilot comes with a 14-day free trial and allows you to leverage its features while promoting your posts at zero cost.
This tool helps you save time as you can bulk schedule your posts, and rest assured that all your content is in the right place, on the right date, and at the right time.
It lets you repeatedly promote your best content pieces on future dates of your choice via the Post recycling feature. It lets you repeatedly promote your best content pieces on future dates of your choice via the Post recycling feature.
Cons
You can schedule your posts in a queue but with a limited number.
If the queue fails, SocialPilot does not provide an automatic alert.
You can leverage the Social Inbox feature only in higher plans.
Post recycling allows for a limited number of reposts and requires you to log in to the SocialPilot dashboard every time to add any new dates.
What do People Say About SocialPilot?
Tal T
What can you not do with SocialPilot? I honestly do not have a clue! The ultimate friendly all-in-one marketing platform. I highly recommend any marketer check it out and give it a chance to prove its massive powers.
Hannia F
I love SocialPilot's bulk scheduling feature the most. Its customization and UI allow the creation of hundreds of posts without any issues. It saves a lot of time for my digital marketing team and me.
---
Post Planner is one of the social media hack tools to manage your social media posts. Initially introduced and optimized for Facebook, Post Planner now helps plan and post content for Twitter, Pinterest, Instagram, and LinkedIn too.
Thus, it takes the burden off your shoulders and allows you to focus on more important business activities such as engaging with users, building relationships, reaching out to new target customers, and boosting sales.
The tool stands out from the crowd because it provides access to the most viral videos and useful content to marketers.
Pros
It allows for content recycling.
It helps you save time in finding status ideas.
With the Post Planner tool, you can analyze the performance of your content in real-time, such as which posts are working well and which not.
Post Planner comes at a discounted price, hence, an affordable solution for small businesses.
Post Planner provides a complete refund for the first 30 days.
Cons
Unlike SocialPilot, Post Planner does not offer you a free trial.
The two lower-priced plans are for a single user.
Post Planner has plans to support TikTok in the future, it currently supports only limited platforms.
Compared to SocialPilot, which provides live online training and 24*7 support, Post Planner lacks any support or training.
What do People Say About Post Planner?
Shannon C
Great product for posting on Facebook and Twitter. It saved a lot of time off of managing social media profiles. Setup was quick, and their tutorials and blog are excellent resources to grow your pages.
---
Outfy helps you meet all your social sharing needs in a single place. You are in control of what you share and when. Outfy allows the integration of your e-store with 12 social networking websites. This social media hack tool provides you with an auto-syncing feature that lets you post your products automatically.
You can also schedule your posts in advance. Use the Autopilot feature of Outfy to plan future posts. Outfy saves you a lot of time when it comes to sharing and promoting your products on your social accounts.
Pros
If you already have a large following on your Facebook page, Outfy will help you save a large amount of time.
Outfy lets you connect all your stores online to your eCommerce platforms.
Outfy supports all social media platforms and eCommerce websites.
Cons
Outfy does not allow you to post automatically on Instagram.
What do People Say About Outfy?
Vintage Cappadocia Rugs
Outfy helps me a lot, it is like a virtual assistant. It has a lot of features like creating collages, animated GIFs, and videos of your products and posting them.
Growth Hacking Tools for Content Marketing
Enabling its users to find engaging and popular content on the web, BuzzSumo is known as a powerful content marketing tool.
BuzzSumo is your one-stop-shop for any kind of content research or social media analysis. Just enter a keyword or domain name, and the application will come up with the relevant and most shared content. After that, sort the content by content type, date, or view backlinks.
Exploring the trending content, you can provide similar content to your target audience and convert them into repeat customers.
Also, using the tool's Find the influencer feature, you can find a list of influencers, including those who have the same target market as yours and those who are industry leaders that can help you increase your following.
Pros
Though BuzzSumo is a paid tool, it also lets you use its free version.
The tool has an easy-to-use interface.
It helps find hot topics by clicking the Content Research tab.
You can set up alerts for any new content posted by influencers in your field.
Cons
BuzzSumo does not search for influencers beyond Twitter.
At times, you may encounter broad search results, which may not be helpful.
Lower plans come with many limitations, whereas higher plans offering advanced features demand huge bucks.
What do People Say About BuzzSumo?
Leonor S
BuzzSumo is the best solution to measure how much an article has been shared on the web. Its alert and media monitoring are excellent. The only drawback is its high price-point for a small company.
---
HubSpot is a renowned marketing and growth platform that provides companies with the necessary growth tools via its Marketing Hub, Sales Hub, Service Hub, and a free CRM. A number of these tools, such as popup tools, chatbots, WordPress plugins, and form builder, are available for free.
In addition to this, you get a powerful CMS and automation platform using which you can streamline all your processes.
HubSpot also allows for integrating marketing with CRM, which simplifies how you monitor your leads coming from social media.
Pros
HubSpot accurately tracks emails opens and clicks.
You can filter contacts by geographic location or technology they use.
HubSpot offers a huge library of resources and knowledge, which includes courses, live training, and video lessons.
HubSpot has a flexible pricing structure, which allows you to use the free and paid tools according to your business's requirements.
Cons
With HubSpot, creating workflows can sometimes be very confusing and difficult.
Using this tool requires a lot of configuration at first to suit your business needs.
What do People Say About HubSpot?
Diane M
Powerful for seasoned marketers, easy enough for marketing newbies. Huge list of integrations. Best in class support along with documentation.
Growth Hacking Tools For Social Media Engagement
If you want to run multiple promotions from a single point without hassle, then Woobox is the application for you. This social promotion tool lets you do anything from running sweepstakes to running contests to creating polls across various social channels, such as Facebook, YouTube, Twitter, Pinterest, and LinkedIn.
With Woobox, increasing your following is easier as there is no limit to what you can do with the tool. Promote an offer or a post, create custom ad triggers, and manage your target audience to finally streamline your Facebook ads. Also, you can track your contest's performance in Woobox's interface.
Since building brand recognition for products becomes simpler, social media hack tools like Woobox are suitable for eCommerce businesses.
Pros
Running contests is easier and faster with Woobox.
You can pick from a wide variety of contests.
Integration with social media platforms is hassle-free, even when running promotions.
The tool is very affordable, even for small companies.
Cons
Adding extra entry questions may be complex.
You can't get people to follow you on other platforms like Twitter.
Some apps provided by Woobox may be completely unnecessary.
What do People Say About WooBox?
Verified User via Linkedin
Easy to use, never had a reliability issue so far, love the custom tab and the export comments features. Picking out a Facebook contest winner has never been easier.
---
Hootsuite is the popular social media management software that helps you track and manage all your social media profiles. Using this social media hack tool, marketers can publish content, schedule and automate posts, engage with users, find interesting content, and analyze their content's performance.
While Hootsuite helps you know about your brand mentions online, it also helps you respond to your community without any delay.
Hootsuite Inbox is specifically designed by Hootsuite to simplify how you engage with people on social platforms. You can manage the conversation details, conversation list and how you view your Inbox. Therefore, the Inbox feature helps you amplify your customer relationships.
Pros
Hootsuite provides free training to all its users.
Hootsuite offers you extensive training on purchasing a higher plan.
The tool comes with an easy-to-navigate dashboard.
Hootsuite supports integration with multiple social media platforms.
Hootsuite has a large app library.
Cons
Hootsuite provides you with a limited set of URL shorteners.
Once you have purchased a Hootsuite account or an add on, the vendor does not offer any refund.
A 24*7 support is only provided on higher plans.
What do People Say About Hootsuite?
Shanna T
I love Hootsuite for its social media monitoring and reporting capabilities. The other feature I enjoyed the most is the Feeds setup, it allows me to monitor all platforms and mentions, as well as certain keywords.
---
No matter if your goal is to monitor your competitors, online conversations, or your marketing campaigns, Brand24's dashboard lets you do it all. The tool is best known for collecting brand mentions.
This social media hack tool also allows you to filter how you find your mentions based on sentiment, social media reach, and influence. Thereafter, you can boost your brand engagement by indulging in conversations with those people.
Pros
Its user-friendliness and ease of use call for no technical skills or knowledge.
Just one glance at your dashboard and you know which products you need to focus on and promote more.
Turning unhappy customers into happy ones is easy as you can reach out to and provide them with appropriate solutions.
Brand24 provides you with a fast alert about any mentions so you can immediately respond to the relevant mentions and address people's concerns. Therefore, you can expand your customer base.
Cons
The tool seemingly doesn't detect any spam posts.
You can't respond to every negative comment or feedback.
Brand24 is expensive for individual users.
What do People Say About Brand24?
Roman E
It's a simple but powerful social listening tool that covers not only the analysis of mentions on social media networks but also mentions of brands and social media profiles, blog topics, and digital media.
Growth Hacking Tools for Social Media Lead Generation
Want to run contests on social media? ShortStack could be the most comprehensive tool that helps you run hashtag contests on Instagram and Twitter and giveaways on Facebook.
Contests are a cool and engaging way to create a buzz around your brand and boost your following. ShortStack understands how difficult it could get to set up contests and therefore, offers numerous built-in templates and themes with drag and drop functionality to help you start right away. You have the freedom to use custom URLs too.
Decide whether your goal is to increase your engagement or gain more leads. Therefore, you can offer extra winning chances to entrants on referring a friend or simply ask for their information such as phone number or email address.
Pros
ShortStack has templates that you can customize to instantly set up a contest or giveaway.
The tool lets you send emails to your target audience at once.
It lets you fetch all data related to your and your audience's online activities.
Cons
There is no guarantee that your traffic will increase.
Too many updates from the vendor may leave you perplexed if you should continue with your campaign or update first.
Sometimes, you are automatically upgraded, which gets frustrating.
What do People Say About ShortStack?
Shelley F
Setting up a site via ShortStack is quick and easy. This allows you not only to collect important data but also to re-market to the visitors. It has allowed us to collect survey questions and encourage social media engagement with our brand that allowed us to discover new acquisition strategies.
---
Renowned as a lead capture platform, Poptin aids marketers and digital agencies in attracting more traffic and converting it into leads and customers. With Poptin, you can track users' behavior, thereby presenting them relevant content.
Poptin has the provision for web and mobile overlays that can be customized for increased engagement. The team knows what power pop-up windows hold, which is why they provide you with enticing windows in various formats, such as social widgets, countdown pop-ups, lightboxes, slide-in pop-ups, full-screen overlays, and top and bottom bars.
You get a range of templates from which you can choose according to your business needs. You are then free to move elements, add images, and change colors.
Pros
Pop-ups take only a couple of minutes to implement.
Pop-ups are responsive in nature and fit to all devices.
You can opt for a free version first to see how Poptin works.
You get 24*7 live chat support.
Cons
You get no more than 1000 views per month in the free plan.
Reading analytics may get challenging, for these are fairly detailed.
What do People Say About Poptin?
Verified User
It allows you to define specific triggers allowing us to insert easy checks and interruptions along the visitor path. The built-in stats are pretty decent, avoiding the need for complex integrations.
---
Prospecting takes a lot of time for businesses, which they could use in other essential processes. That's where Datanyze finds its usage.
Finding emails and contacts is anytime faster with Datanyze. It saves your precious time and helps you quickly reach prospects with the technology they use.
How? The tool uses its discovery tool to monitor websites across the web and check which technologies are currently in use. Using this promising lead generation tool, you can focus more on following up with the collected leads and studying the competition thoroughly.
Pros
With Datanyze, you know about all the technologies a product uses. Therefore, generate the right leads.
You can sort the data out based on the revenue, employee size, or funding that Datanyze shows.
Cons
Datanyze is too expensive for small businesses to afford it.
The data it provides is 80-90% accurate and is sometimes outdated.
What do People Say About Datanyze?
Samuel M
It allows to quickly access inbound accounts and continue a conversation without delay in discussing what tools prospects are using. It's fast and allows marketing automation to be set up quickly.
Summing It Up
While it is wise to use the resources at your disposal, you need to keep looking for innovative solutions to go way beyond what anyone could imagine. Rather than focusing on a specific platform, plan a way to span out as much as possible.
Complement your conventional ways of growth hacking with tested techniques and popular tools. Experiment with multiple hacking tools to monitor your overall progress and automate your tasks further.
You can start with a tool like SocialPilot. This is an all-in-one solution for social media marketing, right from creation to analytics.
Take its free trial and post on more than 8 platforms and lead your branding to new heights!