Ahmedabad, September 26, 2019: Inc42 and Digital Ocean hosted BIGShift Startup's 5th edition in Ahmedabad. A meeting of more than 70 leading figures from the startup ecosystem gathered to discuss innovations and the city's role in supporting entrepreneurs.
The discussion focussed on how Ahmedabad's startup-friendly culture is making it compete with the more famous startup hubs in the country. The event saw industry experts talk about scaling startups, from an idea to an established space. It highlighted the importance of mentorship and the right environment for startup lifecycle.
The conversation then moved towards building a robust startup ecosystem with the help of accelerators, incubators, and enabler communities. The importance of building a content engine and simplified products were also talked about.
This was followed by the panel discussion on the differences between Tier-1 and Tier-2 cities for building startups. Jimit Bagadiya, Co-Founder and CEO of SocialPilot, joined the panel discussion with Aditi Gupta, Managing Partner and Cofounder of Menstrupedia. While Jatin Chaudhary, Co-Founder, and Salesman of eChai became the moderator.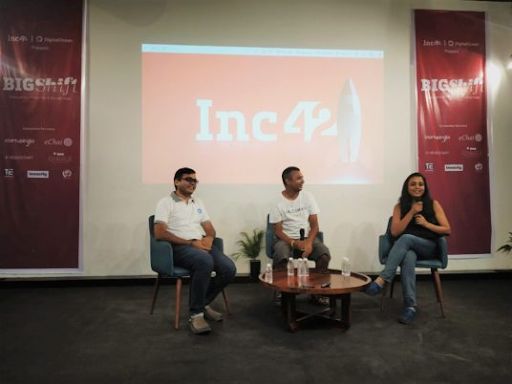 Jimit Bagadiya (Co-Founder & CEO of SocialPilot), Jatin Chaudhary (Co-Founder & Salesman of eChai), and Aditi Gupta (Managing Partner & Cofounder of Menstrupedia)
Both of them shed light on how Ahmedabad served as a nurturing playground for realizing their dream and kickstarting their entrepreneurial journey. The duo addressed the hassle of growing the audience and setting a base in a Tier-2 city.
BIGShift wrapped up the evening with the final six startups pitching their ideas to the jury. The first was MakeMyTrans, founded in 2016, that offers a B2B solution that enables companies to obtain operational visibility and manage end-to-end logistics. Second in line was Indian TTS, launched in 2015, that claims to be the first Indian business to commercialize text-to-speech for Indian languages.
Next up was Torchit that planned to empower differently-abled people to live more independent and purposeful lives. Fourth being, STEMpedia started in 2017 making learning fun with cutting-edge technology while equipping youth with 21st-century skills for a tech-driven future.
The fifth was Reelo – a loyalty reward program that assists hyperlocal businesses in growing their enterprises by acquiring clients at a lesser cost and retaining them for longer periods.
And the last one was Gridle that provides agencies with client lifecycle management software to handle all client interactions in one location, from sales CRM through proposals and client management to billing and revenue realization.
Gridle was declared the winner of the BIGShift Pitch winner. The meetup was a great success in recognizing the Tier-2 city as hubs of startups and celebrating the spirit of innovation.