Tired of keeping up with post-it notes, color-coding files, and finding details through your email threads? You need a good agency project management tool that works in your favor.
Project management tools can offer several benefits to you and your teammates to improve collaboration, time management, and productivity. Of course, there's a plethora of them, so we don't blame you if you feel overwhelmed and confused about which is right for your company.
To make it easy for you to decide, we've compiled a list of the 10 best agency project management tools we love. We'll give you a list of features and their pricing to help you easily select one.
Top 10 Project Management Tools for Agencies
1. SocialPilot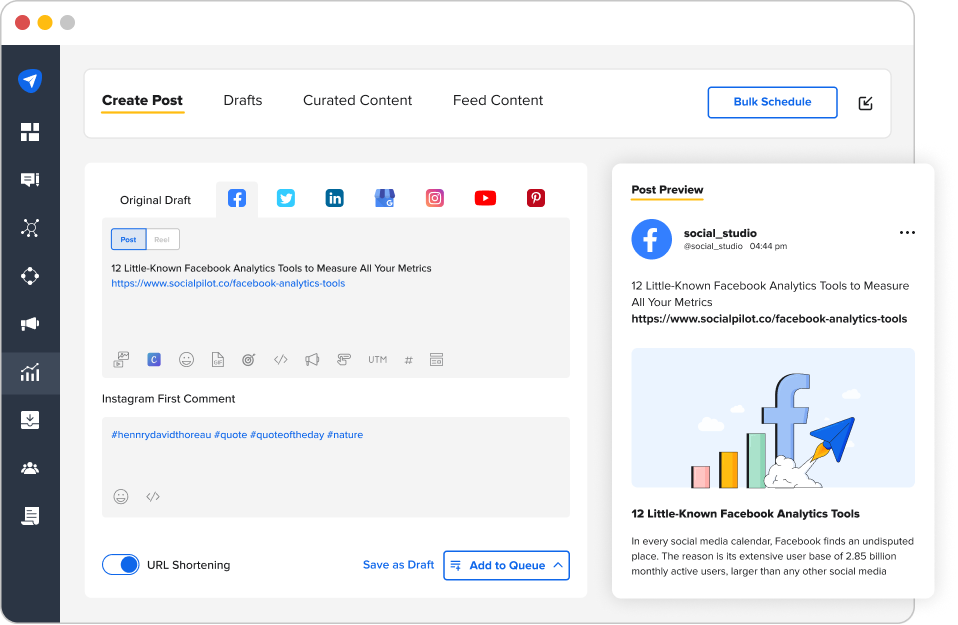 Social media management has become a marketing necessity for all kinds of businesses. The time at which you post or upload a story can be a game changer in getting likes and follows. But we know it takes work to create and remember to go online every time to post it right on time.
Thankfully, with SocialPilot, you can easily manage your social media team's workflow by scheduling when to post.
Features
Social media scheduling for multiple platforms, including Facebook, Twitter, Instagram, LinkedIn, Pinterest, and Google My Business.
Content discovery and curation with access to a content library and RSS feed integration.
Team collaboration and approval workflows for social media posts.
Analytics and reporting, including social media ROI tracking and engagement metrics.
Social media listening and monitoring for brand mentions and competitor analysis.
Social media ad management for Facebook and Instagram ads.
Customizable white-label reporting and analytics for agencies.
Integration with Canva for easy creation of social media graphics.
Client management and approval workflows for agencies.
Mobile app for iOS and Android devices to manage social media on the go.
Pricing
Starts from $30/month with a 14-day free trial. Save 15% when you choose to get billed annually.
2. Monday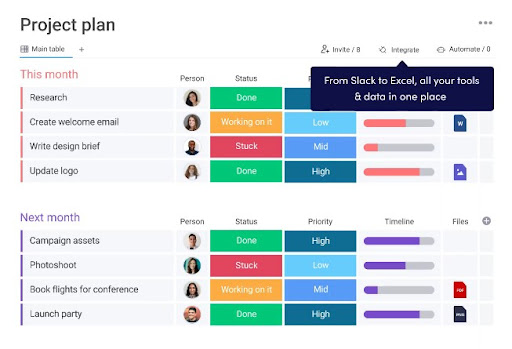 With more than 152k customers like Canva, Coca-Cola, and Hulu worldwide, Monday is a platform that will transform your team's workflow.
From setting tasks and keeping track of progress to managing the team budget, Monday.com has great features that make it second on our list of project management tools.
Features
Its custom dashboard allows you an overview of progress, project timelines, budget, and more.
It allows you to share files, set tasks, and monitor teamwork.
Breaks down the team's workload to improve productivity.
Allows integrations with various tools like Microsoft Teams, Zoom, Google calendar, and more
Automates various things to increase your team's efficiency, such as status updates, task assigning, due date alerts, progress updates, etc.
Use Gantt charts or Kanban boards for easy planning, execution, and tracking with visual flow charts.
Pricing
There's a lifetime free plan for two users with limited features, while the basic paid plan starts at $8 a month. There's an 18% discount if you opt for yearly plans
3. Wrike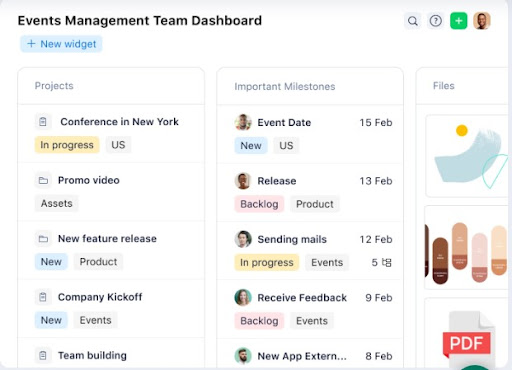 Is communication within your team in need of a little boost?
Wrike is a great tool for a team of five or more to enhance collaboration and communication. It promotes transparency with great features such as prioritizing, document management, proofing, etc. Companies like Google, Nickelodeon, Lyft, and more attest to Wrike's efficiency.
Features
Combines the intake process with the ability to customize and prioritize team functions.
You can configure your team's shared workspace with various tools.
Create limitless items like tasks, subtasks, folders, and projects with access and viability control.
Dynamic request forms allow you to request information for the project.
Pre-built templates for projects based on your industry requirements.
You can cross-tag team members for complete visibility.
Over 400 app integrations like HubSpot, Zoom, Slack, etc.
Pricing
There is a lifetime free plan for beginner teams with limited features. Paid plans start at $9.80 for each user per month.
4. Asana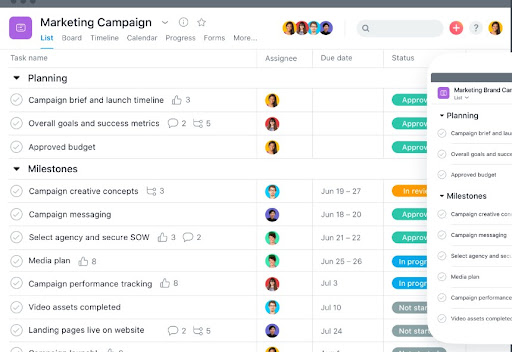 Asana is one of the most popular project management tools because of its beautiful visuals and numerous features that ease teamwork. Big corporations like Airbnb, Amazon, and Google use it to organize workflow. With Asana, you can easily track a project from the beginning to the end and watch how team members hit those KPIs.
Features
Visualization of the project with different eye-pleasing structures and templates.
Use boards for transparent collaboration and sprint management in the agile process.
Create to-do lists for the project and assign them to the team.
Map timelines for projects and set milestones to meet for the team.
Visualize the project and tasks over a calendar to meet the deadlines.
Use kanban boards for organizing shared work.
Use rule automation to automate certain actions in the workflow.
Get reminders and notifications on your phone to stay on track.
Pricing
There is a basic lifetime free plan for individuals or teams just getting started with project management. Premium plans start at $10.99 a month with an additional discount if you opt for yearly plans.
5. ClickUp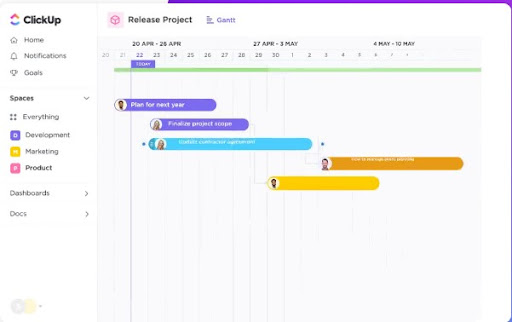 ClickUp is used by many known businesses, like Samsung, Booking.com, and IBM, to keep track of their projects, customers, and procedures. With guest access, outside freelancers and clients may all access and contribute to your project, and your team can work together more efficiently.
Features
Communicate with clients and project teams on the dashboard with a chat view.
See how your campaigns and tasks interact using a Gantt chart or timeline view.
You can provide feedback on team documents with features for proofing and commenting.
Inspect repeated processes and tasks and automate them.
Sync your calendar to get reminders for tasks, events, etc.
Over 1000 integrations with tools that you may already be using.
Pricing
The basic plan is free forever, while the unlimited plan starts at $5 for each member per month.
6. Basecamp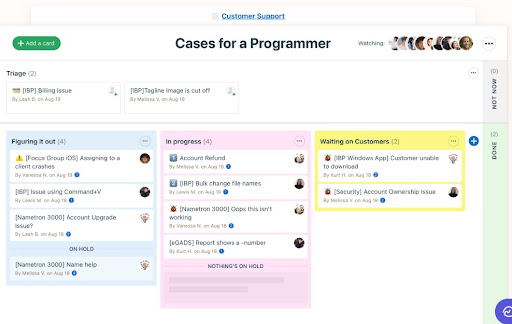 Basecamp is not only a project management program but also a powerful team communication tool. It has a variety of features that make it easy to keep track of customers and freelancers or team members, as well as to assign work and monitor progress. Big and small enterprises use Basecamp, including Decca contract furniture, Wildfire Studios, and more.
Features
You can create to-do lists and delegate specific tasks to specific team members.
Chat within the application with message boards to communicate over a project.
Get analysis reports to understand the capacity of the teams to manage projects better.
Get different project management screens to work with clients.
Share project-related files within the application.
Set deadlines, track project time, and track the work of your teammates.
Pricing
Plans start at $15/user with a free trial for 30 days.
7. Workamajig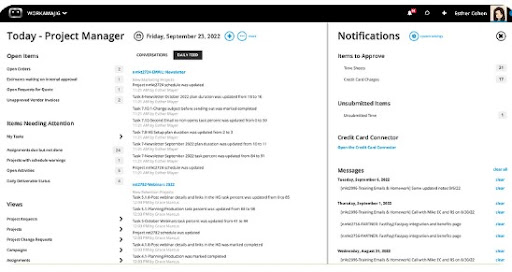 Workamajig is a fantastic project management tool for businesses that use a sales CRM and need resource management features. Starting with the initial proposal and continuing through the final billing, this program may be used to organize and monitor the whole project. Top agencies worldwide simplify project management with this tool like WebMD, Wilson, and Legoland.
Features
Plan the schedule for the whole project on Workamajig with just some clicks.
Use ready templates to create projects for easy management of the project.
Use the financing and accounting features to ensure the healthy finances of your business.
Get insight into revenue growth and financial forecast.
Enjoy great transparency in task management amongst team members.
Hour tracking for the project to determine billable time.
Provides reports on data that can be used to improve productivity and budget management.
Pricing
For each user, plans start at $50 per month with a one-month free trial when you bill annually.
8. Nifty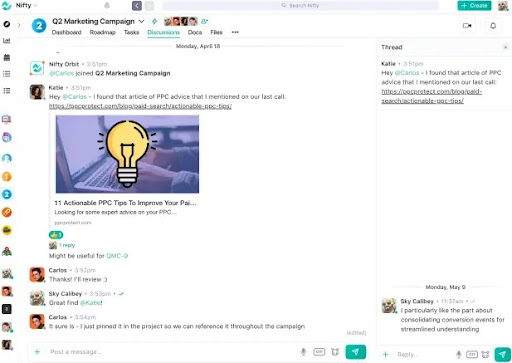 Nifty is a project management tool that offers task management, collaboration, time tracking, and reporting features for digital marketing agencies. Its interface is intuitive and easy to use, allowing users to assign tasks to team members, set deadlines, and add comments. Nifty also offers integrations with popular tools like Slack and Google Drive, making it a versatile choice for managing projects. Big names like Verizon, IBM, L'Oreal, and NYU use Nifty to boost workflow management.
Features
Discuss, share ideas, get feedback, and take action on the project's tasks in a single interface.
Enjoy easy organization with the Kanban view.
Check who's doing the work, when it's completed, and what needs to be done with the tracking feature.
Turning on and off certain aspects of the task allows you to get information about the project in a targeted manner.
Set milestones for team members to achieve with automated progress.
Organize and share project files and documents with the team.
Pricing
Free trial for 14 days. The paid version starts at $39 monthly with a 20% additional discount when billed annually.
9. Smartsheet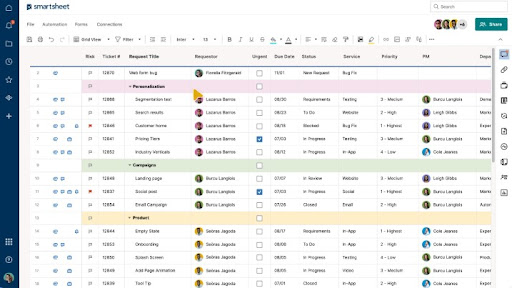 If you're used to working with Excel but need a break from complex calculations, Smartsheet is one of the great project management tools. It boasts clients like Lego, Pfizer, P&G, and Nasa.
Smartsheet helps digital marketing agencies manage projects, tasks, and team communications. It offers project templates, Gantt charts, and collaboration features to streamline project management. Smartsheet is highly customizable and can be used for projects of any size, making it a flexible choice for digital marketing agencies.
Smartsheet app is available on any device and merges the efficiency and convenience of your team's time management needs.
Features
This management software has drag-and-drop capabilities to facilitate the modification of schedules and projects in response to changing requirements.
Managers can track the status of the project's expenses, time, and fees.
Get graphs of team, customer, and project performance versus set KPIs.
You can simply export documents and data from the emails sent from your client.
Keep track of your employees' activities with history and activity logs.
Get notified by setting up automated reminders and alerts.
Pricing
There is a free plan for a user with two editors. Paid plans start at $7 monthly for up to 10 users shared with unlimited viewers when billed annually.
10. Airtable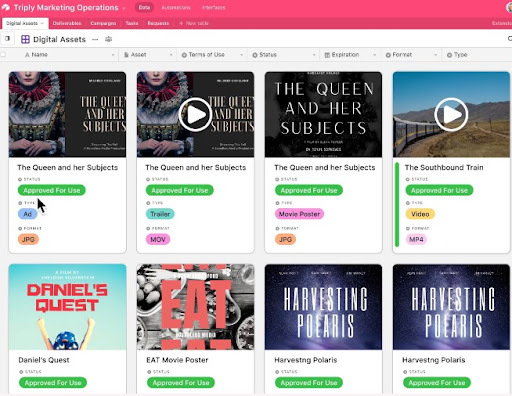 Airtable's robust app ecosystem allows you to streamline processes and maximize productivity by integrating your team's data, activities, and workflow. You can create solutions that reflect your company with Airtable's no-code applications, which can be as flexible and scalable as your workforce. Companies like Medium, Expedia, and Shopify utilize Airtable as their project management tool.
Features
Connect every component with a silo that combines all the data and workflow.
Sync data from any source, so your team can use it in their projects.
Use templates to get various formats for the representation of the information.
Reduce grunt work with automation features.
Get features to grant permission or limit visibility without losing agility in the process.
Integrate various software programs like Google Drive, Salesforce, Microsoft Outlook, etc.
Pricing
Get Airtable for free for teams with less than five creators and editors. Other plans start at $10 per user per month with a limited free trial.
Why Do Agencies Need Project Management Tools?
Agencies need project management tools to help them streamline their workflows, manage their projects efficiently, and collaborate effectively with their team members and clients.
With the growing complexity of digital marketing projects, it can be challenging to manage tasks and deadlines without project management tools. These tools allow agencies to keep track of tasks, set deadlines, and monitor progress, ensuring that projects are completed on time and within budget. In fact, research shows that project management tools are being extensively adopted in numerous government and corporate activity sectors.
Project management tools also help improve communication and collaboration among team members, reducing misunderstandings and ensuring everyone is on the same page.
Many project management tools offer features such as task delegation, file sharing, and team communication, making it easy for team members to work together even in different locations.
Here are some benefits of project management tools that make them a necessity for agencies in this day and age:
Increases efficiency and service quality by streamlining the workflow.
Simplifies workflow with various features that bring in the power of automation.
Allows businesses to spot challenges beforehand as they can monitor the progress.
Helps delegation of work and organizing processes of each team member.
Ensures timeliness with the ability to set deadlines and milestones.
Supports scalability when you add more members to your team.
How to Pick an Agency Project Management Tool?
We've given you the list of the top 10 project management tools we love. But how do you know which will suit your business and its need?
Use the following pointers to judge each project management tool we have listed to decide whether it checks all the boxes for you.
Features: Identify the specific features you need in a project management tool, such as task management, team collaboration, time tracking, reporting, and integrations with other tools.
Ease of Use: Consider the tool's user interface and ease of use, as a complicated or confusing tool can lead to low adoption rates among team members.
Scalability: Consider whether the tool can grow with your agency and accommodate larger projects and teams.
Pricing: Evaluate the tool's pricing structure, including any additional fees for additional features or team members, and consider the tool's cost-effectiveness.
Integrations: Consider the tool's ability to integrate with other tools commonly used by your agency, such as email clients, CRM systems, and marketing automation tools.
Support and Training: Consider the level of customer support and training available for the tool, as well as any online resources, user communities, or user manuals.
By considering these factors, you can choose the right project management tool that aligns with your specific needs and workflows, helping you to manage your projects more efficiently and effectively.
Conclusion
Due to technological developments, businesses no longer need to use traditional methods of organizing projects and teams with pen and paper.
A good agency project management tool can automate repeating tedious tasks, remind your team of their responsibilities, and keeps project progress on track. Just analyze your needs from a project management tool and choose the one that works best for you from our list of recommendations.