So, you decided to put some more work into your customer service experience? Have you given a thought to social media customer service? It was about time!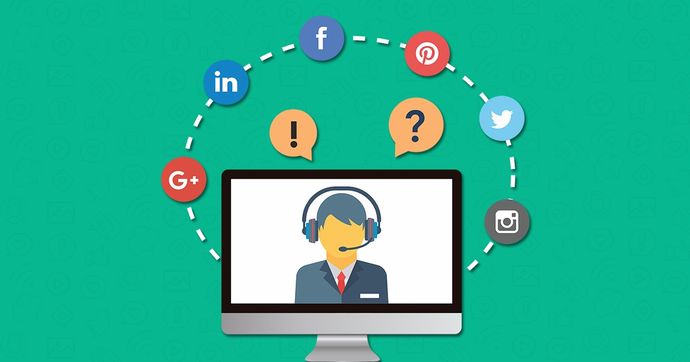 You should know by now that a good customer service is one of the keys to success of any business that has clients to serve. You should also know that in the days of internet and, well, social media, people turn to it much rather than taking a phone or finding your website. If you're still not convinced, take a look at this survey.
To sum up the findings:
67% of customers decided to use the company's social media site for customer service
87% of the highly-satisfied consumers stated that the likelihood to purchase from a company was positively impacted by the company's online social
1 out of 10 customers who were less satisfied indicated that social interaction negatively impacted their desire to purchase
Alright,
Now that we understand the impact of social media on customer service, let's take a look at some advice I can give you to improve your social media presence.
It is highly important to do this right, so you may even want to consider hiring a professional to write your social media content. By following the tips we have to offer, you can ensure that your customers will be happy with your social media customer service, and that they'll use your other services more eagerly.
1. Pick the Right Social Media Platform
Regardless of your personal preferences, it is very important to think about where in the vast variety of social media networks your company should be situated. The best advice I can give you here is – ask your customers.
That was simple, right?
Different ways to ask your customers about their favorite social media networks:
Post a Simple Survey to Your Website
Send Email to Users
Send Survey through Email
Send Newsletters
Ask Personally on Chat or Call, etc.
Just try all the approaches you can think of and see the results.
And, don't be surprised if it turns out that the social media platform of their choice is not Facebook or Twitter. Even though these are the most commonly mentioned and most widely spread, your customers may prefer something completely different – like LinkedIn, for instance.
2. Reply in a Timely Manner
One of the main reasons many people take their concerns to social media is time. If they wanted you to reply in 5 days, they would have probably sent you a letter. Carried by a pigeon.
Make sure to always have staff monitoring your accounts – otherwise, what's their point? Of course, people do have to sleep, but you never know what kind of an emergency could happen.
Take this for an example: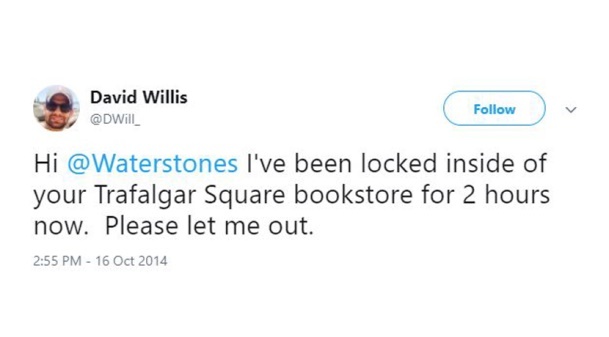 The poor guy could have stayed locked in for who knows how long if it wasn't for the person who was in charge of monitoring the bookstore's account. Only 80 minutes later, they reported that the captive has been released.
Phew!
Even if it's not a crazy coincidence like this case, your customers still expect a timely response to their social messages. In fact, a study conducted by Edison Research states that 42% of them expect a response within 60 minutes! Think about this when choosing your staff – there can never be too many.
And they can never be too devoted and engage your followers on a daily basis.
Most companies, unfortunately, aren't ready to put so much into this cause, which is exactly what will help you stand out. Investing into your customer support is never a bad idea, and training your staff to do it right will be a big bonus compared to your competition. You can also use a social inbox to keep a track of social media messages and mentions at all times. eClincher, Sendible are some tools used when we talk about managing a unified social inbox. But they go way out in pricing a small business or agency can afford. Here's are some eClincher alternatives you can check for an affordable and easy social inbox management.
3. Be Real
The only thing worse than no customer service, is an automated one.
Yes, you read it right.
Not replying to your clients will make them angry, but responding them in a robotic way will make them furious. And, they will take it out on social media. Do you really want to be that company that's all around the social media because of a bad customer service?
So, what's a good way to handle this?
Respond to your customers personally – this is the number 1 rule of marketing. They will appreciate it more than you would have guessed. Various stories about random acts of kindness performed by big food chains, hotels and others have become viral – and you probably know what the outcome was.
Pay attention to the needs of your loyal users and make sure they feel appreciated, and they will appreciate you more.
Take Peter Shankman as an example. He requested Mortons to come on airport with Porterhouse Steaks. And a guy from Mortons actually arrived with ordered dish.
Have a look on Tweets by Peter Shankman: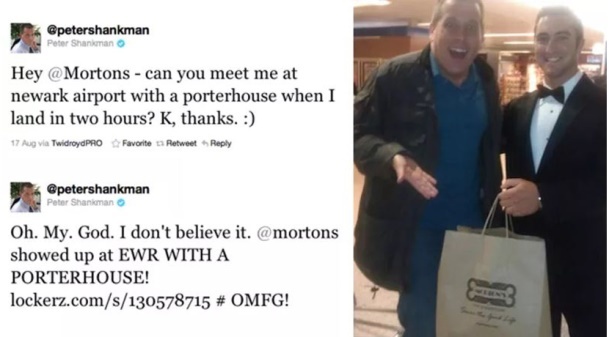 Train your staff right:
Teach them how to make the right decisions in a timely manner
Give them the freedom to make a few jokes and
Let them make a friendly relationship with your social media followers
Your support team need to be empathetic and kind, friendly and open for anything that may come their
way. With this approach, you may end up earning new customers as well. It will pay off, big time.
4. Monitor Mentions (Even the Ones that are Not So Obvious)
No, this doesn't mean you (or your staff) get to spend the entire day staring at your social media page. There are lots of online tools (both free and paid) that can do this job for you. Using them will help your customer service staff respond to the mentions of your company in a quick and targeted way.
Unfortunately, that's not enough.
As you are probably aware, there are people who won't tag your company when they mention you. In fact, only around 3% will. Others will just mention your company name or maybe the name of one of your products or services. Some may even misspell it.
So, how will I know?
Well, you'll have to do the research the hard way. Search the social media for all the "keywords" that may lead to a post mentioning you. Also, search the variations of misspelled keywords. You never know what you may find – maybe the next opportunity to end up who is extremely happy with your amazing services.
Still, pay attention!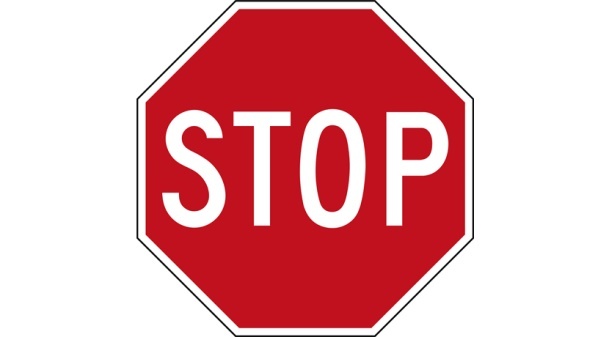 Nobody likes to be spied on, and you'll need to learn the fine skills of knowing when (not) to reply.
Netbase conducted a survey that shows that 32% of your customers don't have any idea you are reading their posts… and it suggests that 51% of your customer base want to be able to talk behind your back without you listening in.
What should you do, then?
The study says that UNDERSTANDING is crucial. Also, you should consider the context of the posts to deliver mutual value.
Last, but not least – show that your intention is not to intrude, but to build your relationship with the customer.
So, be sure to reply to direct requests and complaints, and very, very careful not to make the crucial mistake of intruding.
5. Be Proactive
According to Accenture's survey, 55% of the customers that switched brands said that the company could have prevented this if they had "contacted me proactively to let me know about ways to enhance my experience with them".
Wow.
That means that, by being proactive, you could make more than half your customers stay instead of going.
Retaining customers is hard as it is, even without seeing them leave because of something you could have so easily prevented. So, pay attention to the "word of social media", see what the repeating concerns are, and do something about it.
Find out what it is that you could be doing better, that would make your customers stay for life.
6. Learn from Customers
Back in 2008, Starbucks decided to start learning from their customers and "My Starbucks Idea" was born. The Twitter followers also share their ideas there – and the company staff is listening, replying, and bringing some of their ideas to life.
Think of a way to make it easy for your fans to reach out and share their thoughts and ideas with you. Especially if you have a large follower base, you have so many opportunities to learn from them. It would be really stupid not to take advantage of this.
Whether it is your Twitter page or Facebook profile, or another social media platform, make sure to let your customers know where they can reach out and share their best with you.
7. Know When to Move Offline
Taking into consideration all the previous advice, sometimes it is just better to take the problem outside of the social media. So, listen and advice when you can, but also be aware of the fact that not all the problems can be resolved through these channels.
Sometimes, we still need to use the "old-fashioned ways".
Whether you need your customer to tell you personal information (which they shouldn't, and probably won't feel comfortable sharing online), or it's just a process too complicated to explain through a comment or a tweet, what you should do is give the customer a phone number or an email address they should use.
Be careful of how you do this, though:
Keep a friendly tone
Promise that the customer service team is ready to provide assistance.
Show them that you're not just shuffling them around
Show them that you care and understand
And make sure to do it right when they do.
Over to you:
The best possible option is to answer your customers right where they reached out to you. It can be a social media platform, email, call or anything. Solve their problem in a best possible way. And don't forget to share your experience with us in comment box.