The success of marketing lies in the art of persuasion. And that, in turn, depends on the quality and quantity of your content. No wonder 90% of digital marketers use content to convince their customers.
But this isn't a cakewalk! Producing content every day without fail is stressful.
That's when content creation and content curation tools enter the scene, so you never run out of quality posts and continue nurturing better customer relationships.
Businesses that succeed at content marketing stay on top of their audiences' minds and feeds. They establish themselves as thought leaders of their respective industries and win unanimous trust.
So here we are to help you choose the best content marketing toolkit that will amplify your brand voice and double your efficiency streak. Look at this list of 10 incredible content marketing tools that give you the most value for your money.
1. Hire Freelance Writers: Narrato.io
Narrato is a great platform to hire quality freelance writers at affordable rates. Narrato's workflow is set up for maximum efficiency. Content gets delivered quickly, and you only pay if you like it.
Narrato uses smart algorithms to match your requirements with writers' skills. This eliminates the time-draining process of picking good freelance writers through proposals.
Be rest assured of original content as each work goes through an automatic plagiarism check before the final delivery. To top it all, Narrato also offers a free tool to search copyright-free images to add a much-needed visual appeal to your content.
You can use its trial offer to decide if the platform fulfills your needs. Ordering on the platform is quick and straightforward. Add credit and place multiple orders or pay as you go.
Its learning process is refined and finds you better writers each time you place a content order. Overall, Narrato is a very handy platform to get quality content quickly.
2. Graphics Creator: Canva

Canva is one of the best content marketing tools. Creating eye-pleasing visuals doesn't require editing skills. Make logos, invitation cards, photo collages, social media banners, posts, certificates, and more in a few minutes.
Canva can be used for making informative infographics, the third most used type of content marketing. Canva's predefined templates let you break down information and present them in a digestible format.
It is a user-friendly tool that lets you tweak any design in just a few clicks. Canva also enables you to share your content with team members for final edits and approvals. Once done, you can even share your posts from the tool itself. Canva also offers tutorials to help you get started.
On the free plan, you get 250,000+ free templates and 100+ design types. You can even upgrade it to a Pro plan at $12.99 or an Enterprise plan at $36.
3. Stock Images: iStock by Getty Images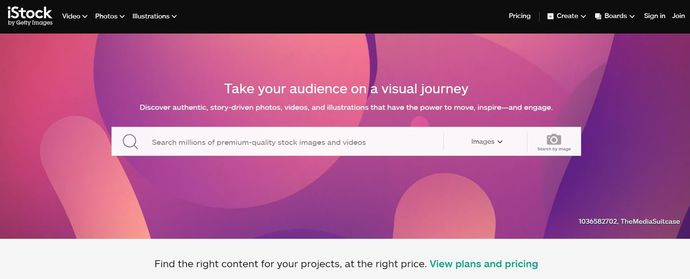 It is difficult to imagine content marketing without images. Even email marketing campaigns that include images have a higher click-through rate than those without.
iStock gives you access to fantastic stock photo galleries that you can use in your blogs, social media posts, and more to hook your audience to your brand. iStock by Getty Images offers 88 million royalty-free photos, vectors, illustrations, videos, and exclusive images.
Images and particularly illustrations on iStock win you over with their technical and creative quality. Look for high-quality stock videos for your website or social media using their AI-powered search.
iStock offers two payment methodologies. You pay for images with credits, and each image file costs a certain number of credits, starting at $12 for one credit. You can also buy a subscription plan instead of credit to download 10 images a month for $40.
4. Content Discovery: Feedly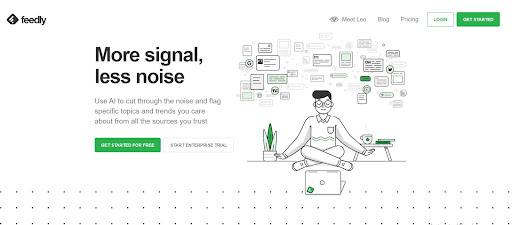 If your way of discovering awesome content is to browse the internet or bookmark your favorite blogs, you're missing out.
There's a far more efficient and rewarding way of staying on top of new and interesting content in your industry. And that's a feed aggregator named Feedly.
Feedly curates content aligned to your topic keywords that you can organize into feeds. Preview a source to determine if it publishes articles related to your industry or not.
Save your favorite articles to boards or share them across Twitter and Google news feeds, LinkedIn, Evernote, or an SMM tool (currently supports Hootsuite and Buffer).
As your one-stop RSS feeder, Feedly has over a hundred sites feeding content by the hour for a steady read. Feedly's AI research assistant Leo further helps in meaningful board curation. Set priority topics and trends for tracking and get recommendations. It beats the efforts of sifting through a sea of information.
Feedly's Pro package starts at $6/month when billed annually for 1000 sources and without AI assistance. For your own Leo, upgrade to Pro+ at $12 to access 2500 sources.
5. Website Feedback Software: Qualaroo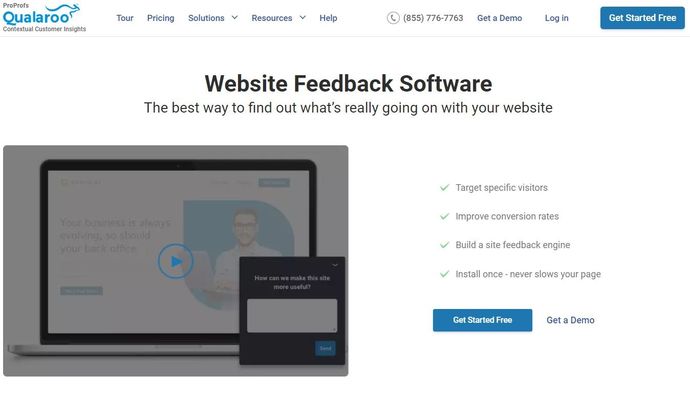 Well-written website content optimized to search engines and people is crucial to the success of any online business. It is extremely helpful if the users of your business website can tell you what it's missing and where it shines.
While you can send out surveys via email, the response rate of email surveys is low, preventing you from getting the full picture of how visitors perceive your website.
Qualaroo takes a different approach to customer and website user surveys by engaging them. The tool offers different templates for page-level customer feedback and lead generation. In the context of content marketing, you can gauge the usefulness of your content by choosing predefined questions for your survey, like 'Did you find what you were looking for?' and 'What encouraged you to visit our site?'.
There are 10 question types, including checkboxes, dropdown, and text-based. You can target the questions to specific audiences. As the tool offers several targeting options, you can be sure that the right people view your forms and aren't turned off by surveys irrelevant to them.
The survey responses shed light on the aspects of your website that can be improved and reveal what topics customers and users would want to read on your website. Consistently improving your website's content will help you drive more conversions and deepen your understanding of customer intent.
As far as user-friendliness is concerned, Qualaroo gets a full score. It has a knowledge center that helps you get started with the tool.
Used by eBay, Shopify, and Udemy, Qualaroo is an excellent addition to your content marketing toolkit. The Essential plan is available at $100/month for 100K pageview tracking. You can leverage features like survey customization, advanced reporting, and audience targeting of Premium plan at $200/month.
6. SEO Audit: Ahrefs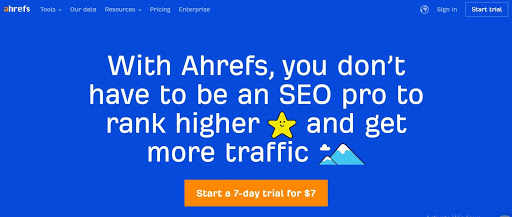 Ahrefs is a comprehensive SEO research and analysis tool, which would be a great addition to your content marketing toolset. You can use Ahrefs for checking backlinks, conducting keyword research, and monitor your competitors.
Along with these basic tasks, the Ahrefs tool can be used to identify technical SEO issues, monitor the internet for unlinked mentions, monitor backlinks, check URL rankings, prepare audit report, and find guest posting opportunities.
The tool uses SEO metrics to provide quantitative data for every website analyzed. If you are new to this tool, try out the various core functions and side features.
You can start a 7-day trial for $7 and choose any of the plans as per your team size and needs.
7. Social Media Marketing: SocialPilot
SocialPilot stands out as a must-have social media management platform for its compelling set of features and affordability for small businesses.
You can schedule and publish social media posts on popular social networks like Facebook, Instagram, Twitter, LinkedIn, TikTok, Vk, Tumblr, Google My Business, and Pinterest. Shorten links with popular URL shorteners without switching to another browser tab.
If you're a social media marketer managing numerous clients, you can use SocialPilot's bulk scheduling feature to schedule a bunch of posts in advance across time zones. Upload a CSV file containing your posts, URLs, dates and times when the posts must be published, and social media account IDs the posts need to go live on, and you are set.
Launching a new product or reminding people of an upcoming event on social media is a tried and tested way to create buzz and encourage rigorous sales or event registrations. That's why SocialPilot allows you to repeat an important post across all social channels up to 10 times a day for many days in a row.
The content curation feature is a savior during times of content crunch. You can add the topic of interest and automatically get a list of relevant articles. You can also add a website or blog feed and set the number of new posts you want to send out.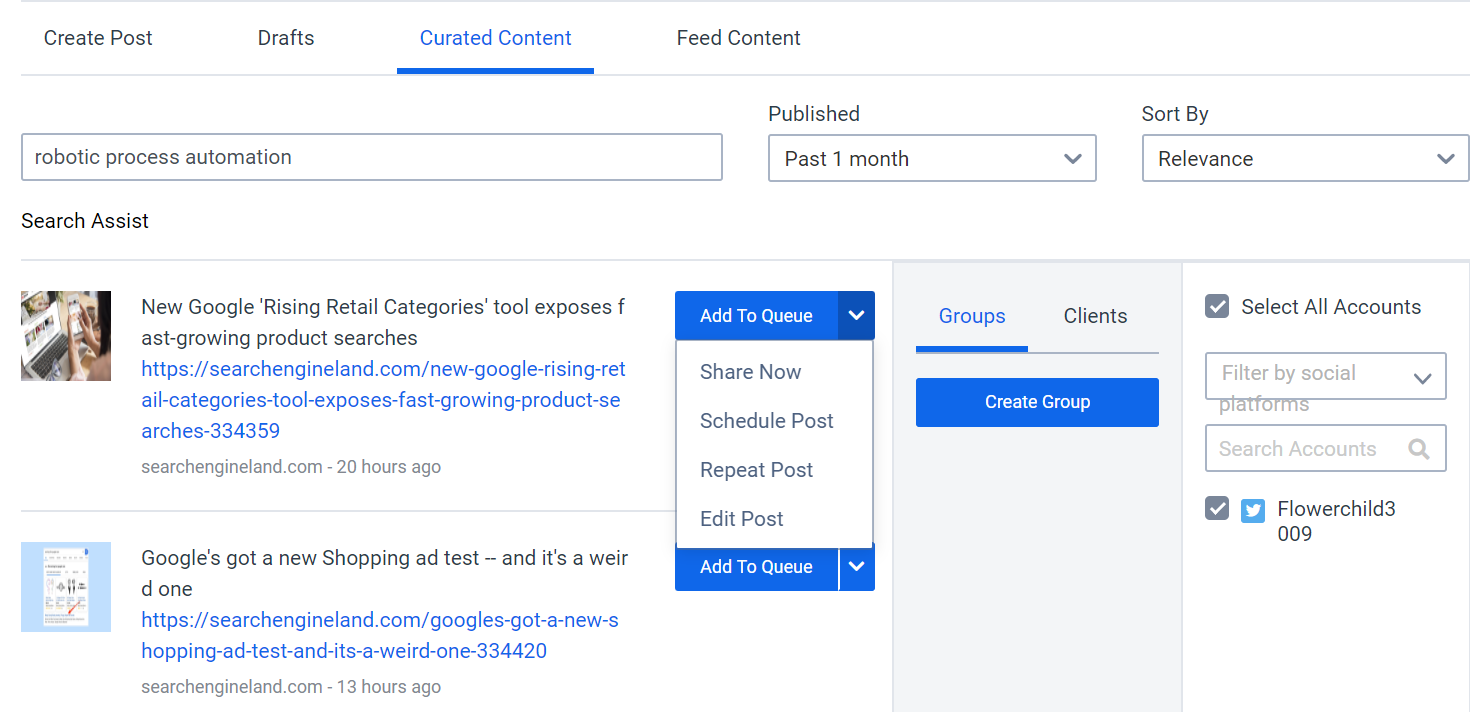 The entry-level plan starts at a reasonable price of $30/month, dropping to $25.5/month on a yearly billing. It lets you set up the tool for 10 social media accounts for 1 user and includes the vital content scheduling and publishing features.
8. Email Marketing: SendGrid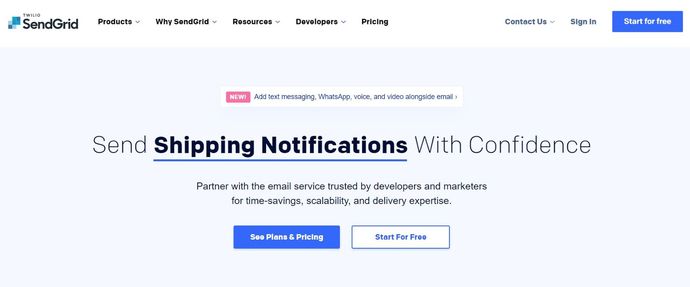 As your business picks up momentum, automating your email saves time on repetitive email writing and sending to leads and customers. With the email marketing solution SendGrid, you can set up recurring newsletters to customers or a drip campaign to guide prospects down the sales funnel.
As a free SendGrid user, you can send 100 emails a day as long as you use the platform. You can also opt for its Essential plan at $14.95/month and send 100,000+ emails each month.
Creating an email is super easy. Use modules to add the building blocks of your images with drag and drop or upload them directly.
Similarly, create a signup form and select the contact list to add new signups. This way, you can stay in the loop about who has opted-in to your email newsletter or advertising.
Setting up automation is also a breeze. Choose pre-built automation or define your custom automation. SendGrid offers built-in spam testing and link validation, so only regulatory-compliant mail goes out.
There's also a ton of useful analytics to help you monitor email campaign performance, like the number of emails sent, opened, bounced, link clicks, and unsubscribers. Get statistics by the email client, device, browser, and geography. Opt for Expert Insights to your plan for monthly reports on your campaign along with recommendations on improving results.
9.Graphic and Video Creator: Placeit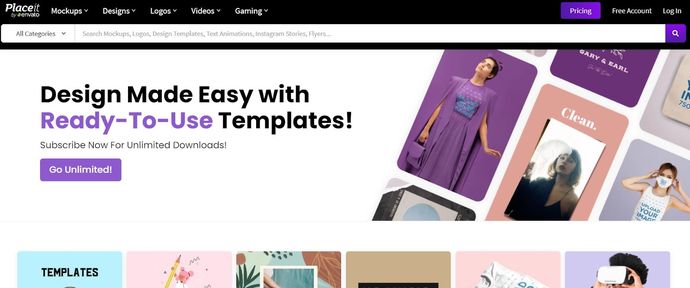 This content marketing tool is very helpful for marketing teams, business owners, or startups because it does everything for you!
Placeit is a powerful design tool that will help you accomplish any design task as per your needs. Create logo, business card, and social media campaign designs with ease. Save time by choosing a design template and filling in your information. Placeit also has an unlimited library of mockups, from mugs, apparel to responsive devices.
Choose your template, mockup, or video
Fill in your information
Customize colors, fonts, and images
Download
With Placeit, you can also make videos in seconds. Choose your favorite video template and customize it. You can add up to 10 slides, access their original soundtracks, and preview your video as you create it. Try their free templates to see the magic for yourself.
10. Project Management Tool: Trello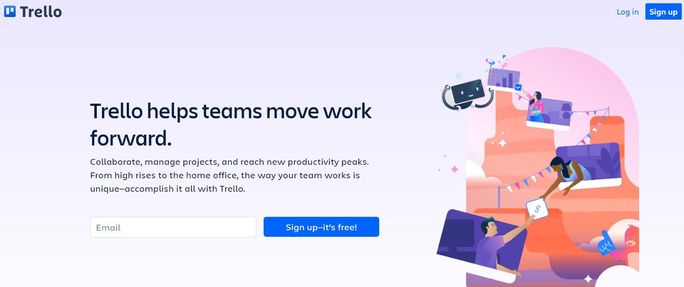 Trello is another content marketing tool that you must use to streamline your content efforts. With so many responsibilities and deliverables, it is easy to lose track of the status of each one. Trello is a simple project collaboration tool that sums up your project status in a dashboard.
Add projects, teams, tasks, and stages. Your team just needs to drag and drop deliverable cards at relevant stages. It's easy to visualize your task progress with the intuitive features of Trello.
The tool is so easy to use that you need no demo. Even beginners can pick it up and use it hassle-free. Trello also offers automation triggers to eliminate repetitive tasks.
Trello also supports several integrations like Google Drive, Microsoft Teams, and Slack for file sharing. You can even use it from its mobile app, which is equally efficient.
Trello provides a free plan, but you can only add up to 10 boards. You can upgrade it to Business Class or Enterprise for just $12.5/month and $17.50/month respectively.
Ready to roll?
Whether you're getting started with or are planning to level up your content marketing, the right tools can help you get more work done in less time.
Save time to focus on higher-value marketing tasks with new content marketing strategies. Share eye-catching visual content at the best time in one go. Automate repetitive email marketing and content discovery tasks. Lastly, never miss out on any opportunity to engage with your audience.
The tools mentioned above are suitable for businesses of any size. They are easy on pocket and grow with your team and needs. So don't wait anymore and leverage these tools to elevate your branding.
Frequently Asked Questions
🌟 What are the types of content marketing?
+
🌟 What is the value of content marketing?
+
🌟 What is the role of content?
+
🌟 What kind of businesses can take help of these content marketing tools?
+
🌟 When can I see the results from using these content marketing tools?
+
🌟 In what ways are these content marketing tools advantageous?
+