You just can't ignore Facebook. Can you?
The platform has indeed seen some changes or shifts in popularity over time, but still, it holds the crown of being the most-used social media platform with close to 3 billion MAUs.
From its iconic rebranding into Meta to the powerful ads capabilities and the integration of popular Instagram features, Facebook has always reinvented itself to curb the competition.
If you want to hit the jackpot on Facebook, you must be well-versed with the latest Facebook statistics.
We have listed 70+ Facebook statistics so you can create a perfect Facebook marketing strategy for 2023. You can also use Facebook publishing tools to stay consistent with your plans.
Facebook Demographics Statistics
Facebook statistics prove that the platform is still the top player when it comes to demographics, with an extensive user base of 3 billion monthly active users. And it's a 6.2% y-o-y jump from 2021 stats.
Also, India continues to rank first in terms of Facebook audience size, followed by the U.S., Indonesia, and Brazil.
As per Statista reports, females in the age group of 25 and 34 forms 12.6% of total active Facebook users globally, while men between the ages of 25 and 34 constitute the largest demographic group on the social media network.
Check out more Facebook stats on demographics here:
Facebook has 2.96 billion monthly active users, a 2% increase year-over-year.
In the third quarter of 2022, the daily active user number on Facebook reached 1.98 billion, an increase of 3% year-over-year.
81% of all adults in the U.S. have a Facebook account.
India is ranked first in terms of Facebook audience size, with almost 349.7 million users.
The United States, Indonesia, and Brazil also have 182.3 million, 133.8 million, and 114.7 million Facebook users, respectively.
According to Statista, between the ages of 25 and 34, 12.6% of all active Facebook users are female, and 18.4% are male.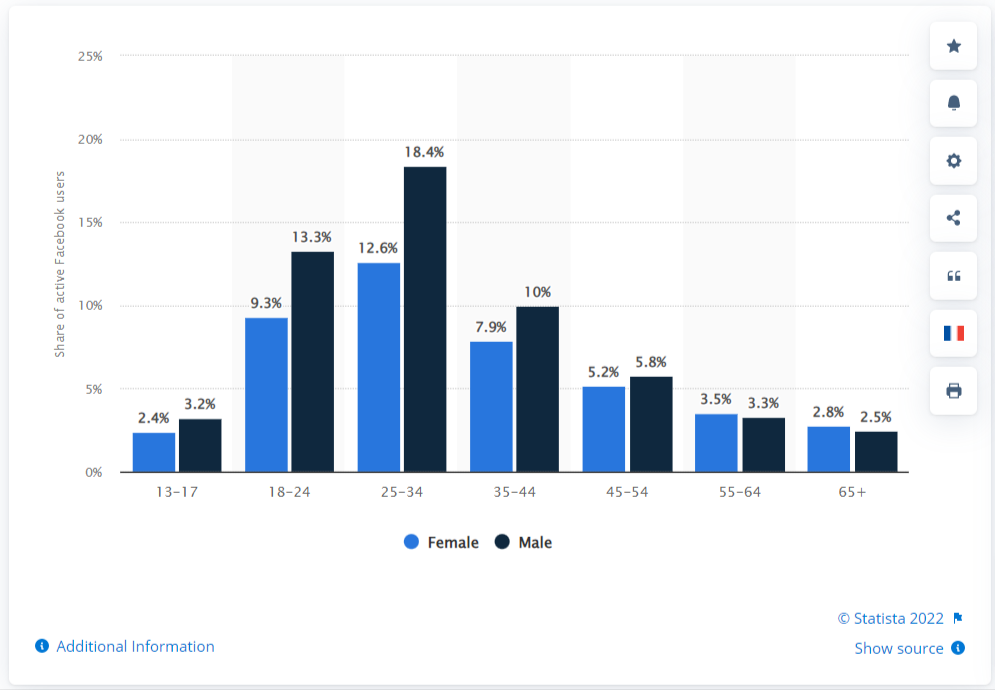 With 11.2 billion visits, 1.5 billion unique visitors, and an average visit time of 31 minutes, Facebook is the third most visited website globally.
75% of high-income earners use Facebook.
Facebook Usage Statistics
It's true that Facebook is not as a bigger deal for GenZ as it was for millennials. But still, Facebook has not lost its charm for the Adult demographics. The average U.S. adults spend 30 minutes a day on Facebook.
And that's not it!
Nearly 2 billion people log in to Facebook every single day. All this while, Facebook groups continue to grow, with more admins and moderators joining the platform.
Have a look at more of such Facebook statistics to understand how people are using the platform:
1.98 billion people, on average, log into Facebook daily.
Facebook is the world's third-most downloaded app.
1.3 billion Facebook users use Facebook messenger.
The average U.S. adult spends 30.1 minutes a day on Facebook.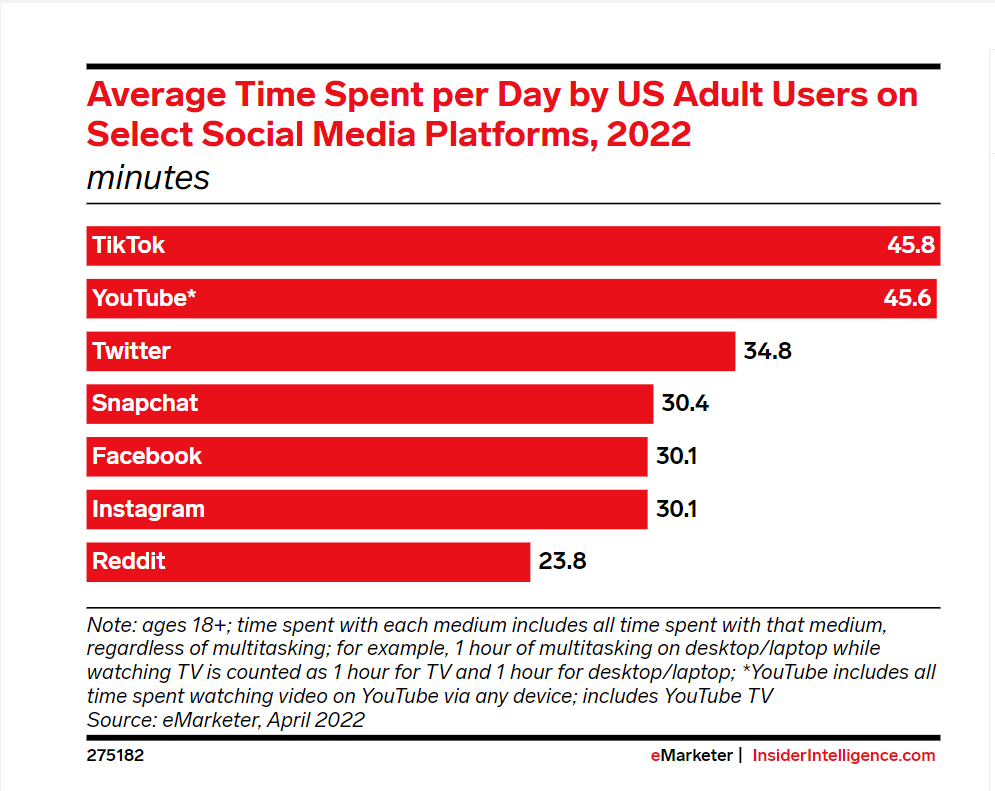 Users spend an average of 19.6 hours a month on Facebook.
People spend 33 minutes a day on Facebook.
39.8% of the total world population uses Facebook every month.
98.5% of users access Facebook from mobile devices.
The percentage of teens in the United States who used Facebook had decreased from 71 percent in 2014/15 to 32 percent in 2022.
85% of smartphone users have the Facebook app.
71% of U.S. adults use Facebook.
There are over 10 million groups on Facebook.
There are more than 70 million admins and moderators running active Facebook groups.
1 billion Facebook Stories are shared daily.
The U.S. adult population on Facebook uses the social media platform daily, while 49% of them use them several times a day.
31% of American users use Facebook to read the news.
16% of Facebook users are fake or duplicates.
Facebook Engagement Statistics
Each interaction on any of your posts or comments in your ads, groups, or pages is referred to as Facebook engagement. This also includes reactions, shares, and clicks.
Facebook keeps track of engagement on individual posts as well as for your entire group and page.
This year, Facebook engagement statistics revealed the love for videos by Facebook users continues, with more than 4 billion video views each day.
Also, 60.8% of U.S. people aged 16+ prefer Facebook over TikTok to watch short-form videos. No wonder Meta made the right choice by introducing Reels on Facebook as well.
Moreover, around 57% of businesses also feel that Facebook stories have been pivotal in promoting their products.
So make sure to add Reels and stories this year to get the best out of the Facebook reach and garner more engagement.
Here are more Facebook stats so you can develop better engagement strategies for your Facebook audience.
Over 1 billion Stories get posted every day across Facebook apps.
1.8 billion people interact in Facebook groups every month.
57% of the brands feel Facebook stories effectively promote their products.
A video post increases interaction by 600% on Facebook.
90% of Facebook users post native videos.
85% of videos watched on Facebook are on mute.
81% of businesses share videos on Facebook.
Each month, the typical user averages 12 likes, 5 comments, and 1 share.
More than 4 billion video views take place on Facebook every day.
Facebook generates 4 million likes every minute.
35 million people update their Facebook statuses every minute.
There are more than 350 billion photos already uploaded on Facebook.
Influencer-published videos accounted for about 60% of Facebook video views in the US, while media company videos garnered 30%, followed by brand/aggregators videos at 10%.
Live video engagement is 26% on Facebook, higher than any other social media platform.
26% of U.S. adults preferred Facebook Live as their live-stream shopping platform.
Facebook Gaming watch hours plunged down to 382 million from the 1.29 billion hours of streaming in the 2021 Q3.
Facebook videos with captions increase the watch time by 12%.
As per the latest Facebook statistics, 49.9% of all posts are link posts, making it the most common Facebook content. This is followed by images and videos.
Status posts show a 0.14% engagement rate which is the highest for any content on Facebook.
The average engagement rate of Facebook posts is 3.91%.
Facebook Business Statistics
Facebook is a great fit for businesses of all types. After covid, Facebook Shops gained immense popularity and made Facebook the best social commerce platform.
With more than 1 billion monthly active users flocking to Facebook shops globally, it's a brainer to create a Facebook marketplace for your products too.
But Facebook inherently is a community-building platform. So make sure you don't put the engagement part at bay while selling your products.
Businesses are beginning to realize the importance of the platform in engaging with customers. Be it via Messenger bots or ads, marketers from varied industries continue to use Facebook as their promotional channel.
Here are some of the encouraging Facebook statistics:
87.1% of U.S. marketers use Facebook.
A Facebook Page post's typical organic reach is 5.2%.
More than 200 million businesses use Facebook's applications and free tools.
18.3% of American individuals aged 18 and over have used Facebook for business in the last year.
Over 70% of Facebook users view local business pages at least once every week.
Customers who engage in Facebook live chat are 53% more likely to make a purchase from a business.
On average, 36% of Facebook page postings are photos.
There are 250 million Facebook Shops worldwide.
33% of Gen Zers are interested in purchasing digital-only art.
Facebook shops have more than 1 billion monthly active users.
44% of users admit that Facebook influences their shopping decision.
There are over 80 million business pages on Facebook.
15% of Facebook users shop on Facebook.
More than 160 million businesses use Facebook to interact with their customers.
84% of video marketers use Facebook to promote their videos.
96% of B2C marketers and 91% of B2B marketers use Facebook.
Facebook ads are crucial for lead generation as more than 2 billion people can be reached out via Facebook advertising. Also, using CTA buttons and video ads can bring you phenomenal reach.
You can also measure offline conversions on Facebook to see how effective your advertising is at driving offline sales. Employ this tracking data to create custom audiences who interact with your business offline so that you can better target them with future adverts.
Optimize your ads strategy with these Facebook statistics.
2.11 billion individuals are potentially reachable through Facebook advertising.
Facebook has over 10 million active advertisers as of 2023.
34.1% of adults worldwide over the age of 13 see Facebook advertisements.
63.7% of Americans over the age of 13 are exposed to Facebook ads.
On average, Facebook charges $0.97 per click.
Facebook ad revenue as of Q3 2022 is $82,387 million.
On average, a Facebook user clicks on 12 ads every month.
Audiences aged 18-24 spend 75% of their time on Facebook watching video ads.
71% of shoppers feel they see relevant video ads on Facebook.
A Facebook user clicks on an average of 8 ads a month.
In a survey done among global advertising, marketing, and media agencies, 44 percent of respondents believed that image ads and short video ads on Facebook were the most successful.
43.5% of the ad audience is female, while 56.5% is male.
Facebook ads have an average CPC of $1.72, an average CTR of 0.9%, and an average conversion rate (CVR) of 9.21%.
Adding a CTA button boosts the conversion rate by 2.85 times.
A CTA in the middle of the video has witnessed a higher conversion rate of 16.95%.
Conclusion
Since Facebook initially entered the marketing world, a lot has changed. Facebook's features are designed for businesses that want to build genuine customer relationships.
It enables marketers to develop and distribute high-quality, user-friendly content. It also helps sales representatives to engage with customers interested in their brand.
It's true that Facebook is losing its share of the GenZ and millennials audience gradually.
Still…
These Facebook statistics are convincing enough that marketers shouldn't be abandoning the platform just yet. Facebook is still a market leader when it comes to social media ads and commerce.
But Facebook is one of many platforms that can make a difference for you. You need to understand the behavior of other social media channels as well with the recent statistics curated here: