Maintaining an active presence on various social media platforms from Facebook to LinkedIn is a necessity for businesses that want to move to the top and have a way to amass an engaged audience in the form of loyal, potential customers.
LinkedIn is emerging to be a very powerful social media platform for businesses these days. It has million monthly users and 30 million companies and gives you access to the world's largest professional market.
To garner the benefits of this platform and save time, you need to have LinkedIn tools that do the work for you. From discovering content, managing your LinkedIn profile or page, curating content, these LinkedIn scheduling tools can automate a lot of your processes.
We have formulated a list of 9 LinkedIn scheduling tools that will help you turn into a result-oriented social media marketing expert.
Top LinkedIn Scheduling Tools To Amplify Your Marketing
SocialPilot is that tool that will cater to every social media need of yours. From bulk scheduling posts, discovering relevant and amazing content that drives engagement to setting up visual media campaigns, it has all the features your team needs.
It also offers LinkedIn analytics that can be easily converted into a pdf report and shared over an email with your clients and colleagues.
The best part is here to come. It lets you manage not only LinkedIn scheduling but all your other social media networks from Facebook, Instagram (Direct Publishing), Twitter, Tiktok, Pinterst, Tumblr, Google My Business to VK. Thus, it helps your social media team escape from the information overload that comes with using too many tools and strategize easily as everything is in one place.
Features of SocialPilot:
Advantages of using SocialPilot:
The comprehensive analytics feature of SocialPilot gives you audience insights, information on what type of content gets the most engagement, helps discover influencers, find out the best time to post and so much more.
Bulk scheduling helps you schedule up to 500 posts in advance which means you can plan your LinkedIn strategy for weeks or even months in advance making it one of the best LinkedIn scheduling tools. If you change your mind anytime, you can always edit, delete or move your scheduled posts.
What SocialPilot Users Say
Dan Fuoco
SocialPilot's ability to bulk schedule content is a giant time-saver. When you have the ability to write everything out on a spreadsheet and then upload into the platform with the click of a button, having all of your content in the right place, on the right date and the right time, that, my friend, is magic! -it's peace-of-mind.
Cindy Calvert
SocialPilot is amazing! I usually lineup and schedule my content to my social feeds for when I know that I will either be stuck in a meeting or for the hours in which I know I will be asleep. So the fact that SocialPilot makes postings for me on my behalf even when I am too busy to do so, counts very much in their favor! I love how SocialPilot does most of the work for me!
JoAnn Johnson
I discovered SocialPilot after reaching my frustration threshold with several other social media scheduling platforms. Several were difficult to navigate; some were not responsive; the most recent software, prior to SP, could never get a grasp on their Instagram push notifications. So relieved I discovered SocialPilot!

---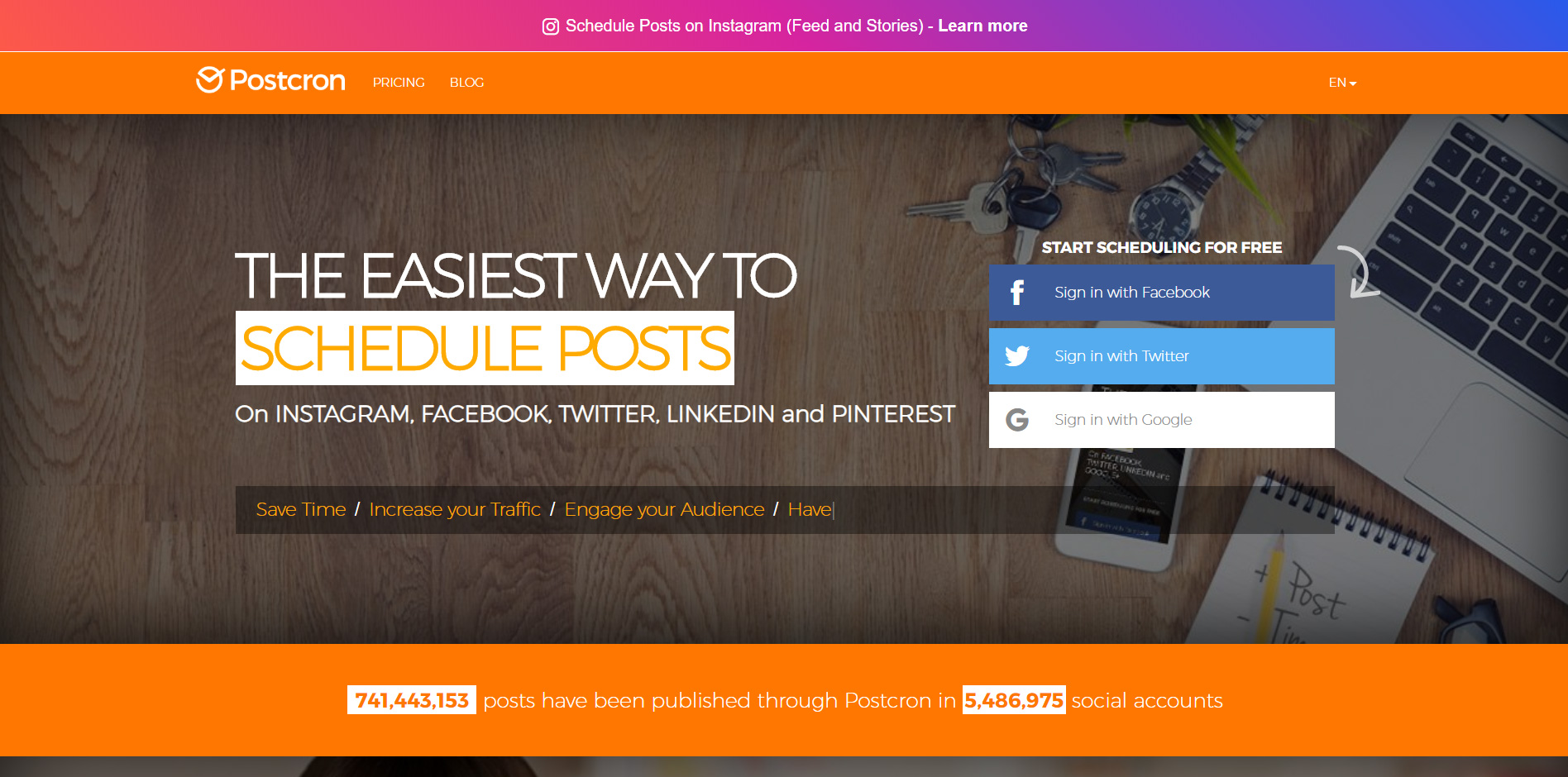 Postcron is a LinkedIn scheduling tool where you can schedule your LinkedIn posts from desktop or mobile. With the help of bulk posting, you can schedule hundreds of LinkedIn posts from an Excel or Google docs file. They also have a context gallery where you can find content for LinkedIn.
Pros:
You can personalize your images with the automatic addition of a watermark (logo or personal brand).
It is easy-to-use, especially for those who are not tech-savvy.
Alicia E.
It's easy to use and it works properly.
Cons:
While they do have mobile applications for both Android and iOS, they are very buggy and the user experience is not up to the mark.
For the price it charges, the features they offer are quite limited.
Susan B.
The iOS and Android apps are abysmal. The iOS app being the worst, and seemingly full of bugs – unexpected, random closing of the app in the middle of one's work. Similarly the Android app is buggy and difficult to rely upon on a daily (or even weekly) basis. The UX/UI design is clunky and not as intuitive as one might expect if you've used social media tools for more than a minute.
SocialPilot proves out to be a better Postcron alternative. If you'd like to have a detailed comparison of these two tools, check it out here.
---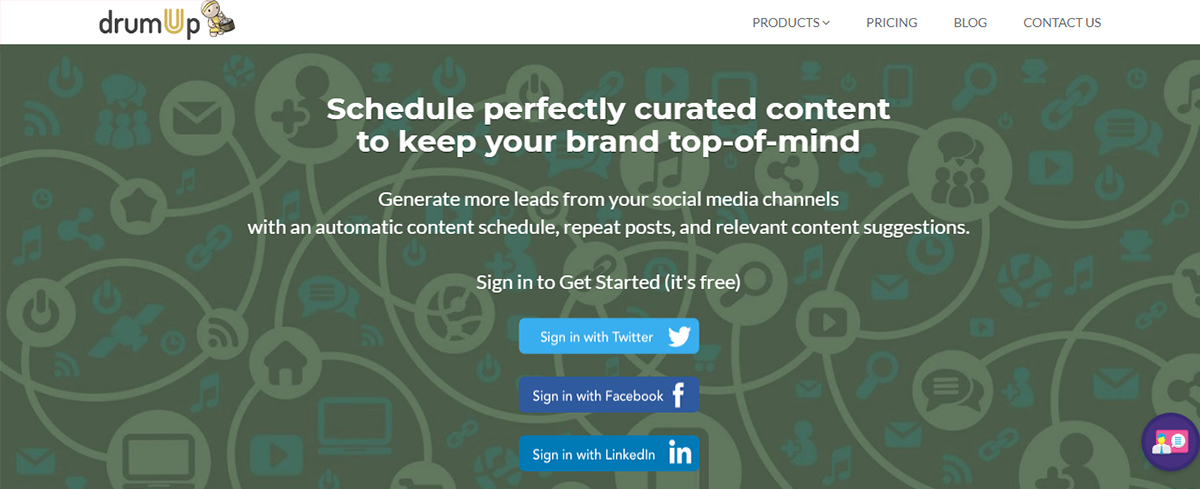 This LinkedIn scheduling tool helps you do quite a lot of things. DrumUp schedules and publishes posts on LinkedIn, reaches more people with hashtag recommendations and repeats schedules, discovers new content and measures social media engagement and the effectiveness of your strategies with the help of their analytics feature.
Pros:
You can add multiple accounts to your dashboard and customize the settings according to your requirements.
Their recommendation engine allows you to see what is recommended to post so that you get more engagement on your posts.
The tool is easy-to-use and has a good interface.
John L.
DrumUp is very intuitive and easy to use. The ability to post and schedule content posting is something that makes life very easy, especially when you want to advertise or post on a regular basis.
Cons:
They only offer email support which can be a problem when you need to get some issue resolved urgently.
They do not support social media channels such as Instagram and LinkedIn, thus you'd have to buy another tool for those platforms which would really shoot up the overall amount.
The feature list isn't as comprehensive as other scheduling tools.
Enid B.
The content seems redundant, like it all comes from a small handful of websites. Since everything is a direct repost, if you are not supplementing with quality tweets, it's not at all original.
---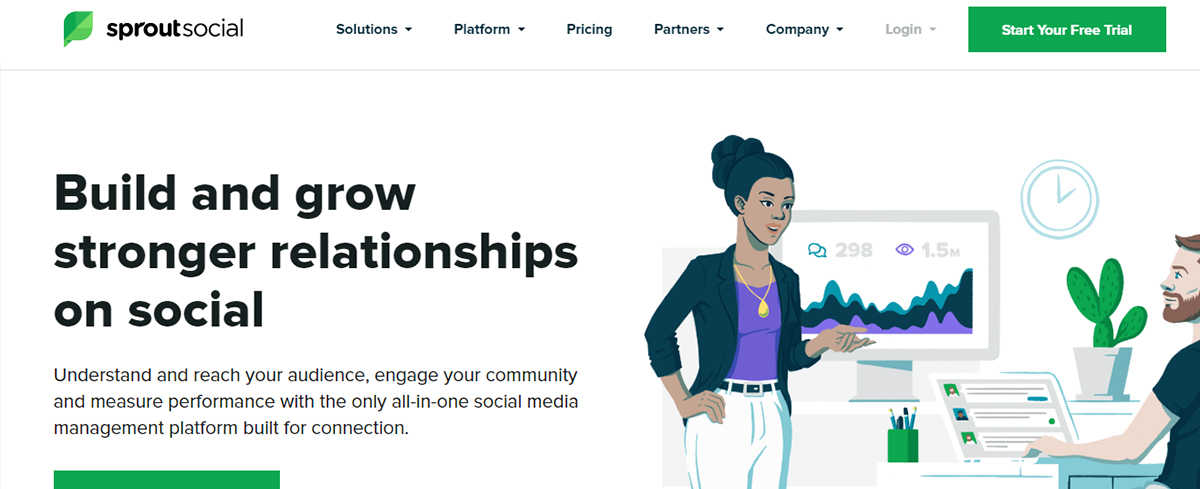 Sprout Social is that LinkedIn scheduling tool that helps you schedule posts, engage with your followers, use message tagging to organize and keep track of your marketing campaigns, analyze post and page performance with audience engagement insights, organize and store images, set approval workflows and so on.
Pros:
You can reach the right audience by applying audience targeting to posts based on industry, company size, job title, etc.
You can use the readymade templates for content creation and marketing.
The learning curve isn't very steep and the interface is good.
Nathanly W.
Definitely enjoyed the user friendliness of the platform and their support was also really great. I enjoyed the smart inboxes, competitors social analysis and scheduler. I would say the platform is easy to get into straight away and is easy to build a well formed strategy from. Not much else to it.
Cons:
It does not support scheduling in many social media networks like LinkedIn Showcase Pages, LinkedIn and Facebook Groups which means you'll have to use another tool for these platforms.
Some user reviews state that they face a lot many bugs in the software and although they get resolved soon, it can be frustrating at times.
The pricing is very steep, especially if you have teams with more than 2-3 users.
Jocelyn P.
It is VERY pricey for what you receive. They provided limited customer service and are totally unhelpful when there are issues with any of the integration issues for the platforms. We also had an issue with them overcharging us for a service they've discontinued. It is painful to get anything resolved and phone support is only available at a premium price.
SocialPilot proves to be a cost-effective and intuitive alternative to Sprout Social. Here, we have compared it in detail.
---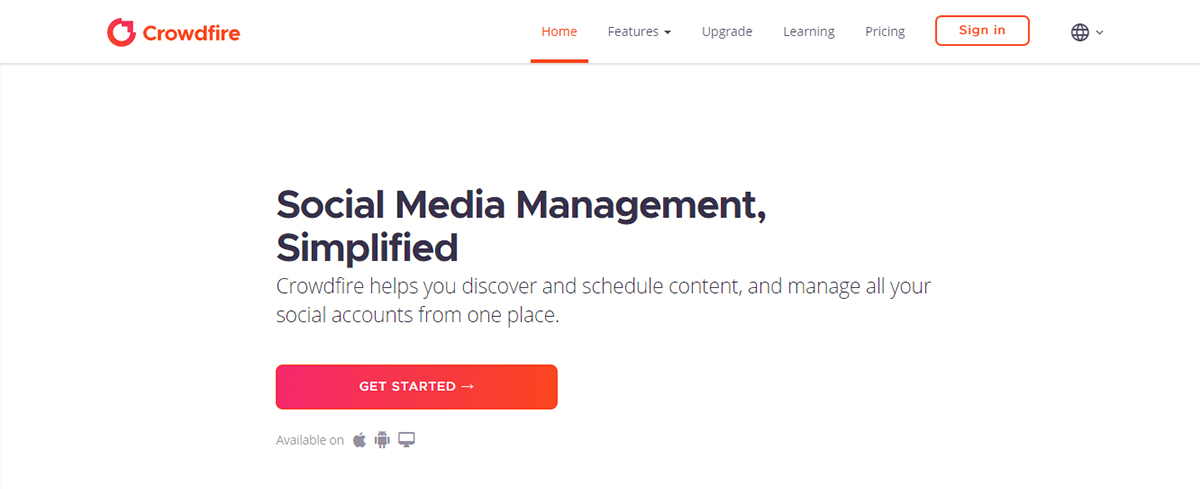 Crowdfire as a LinkedIn scheduling tool lets you know the best times to post everyday so you can schedule your LinkedIn posts for the entire week accordingly. The queue meter shows you if you have enough content scheduled for the entire week, whether your timeline will look active for the next 7 days or so. They also have various other features such as analytics, content curation, etc.
Pros:
Your posts will be tailored for each social media platform and you can preview them before publishing.
With Crowdfire's competitor analysis, you can understand what's working for competitors and strategize accordingly.
You can download the analytics reports in ready ppt and pdf formats.
Verified Crowdfire User
I like that I can easily see who follows and unfollows in one easy place. I also like the competitor features.
Cons:
Many user reviews state that although Crowdfire has a content discovery feature, they find it difficult to find good content.
While they do have a free plan, it's basically useless as all the features you really need aren't there and you'll need to pay individually for each of them which will shoot up the price.
The support team isn't good. Sometimes, they don't reply to emails. Many user reviews state that they weren't even refunded their due amount.
Chris
Customer service mostly ignores emails, then offers hope by replying and then disappears again. Basically fobbed off. Cannot get any clear communication. Still waiting for a reply and a refund.
---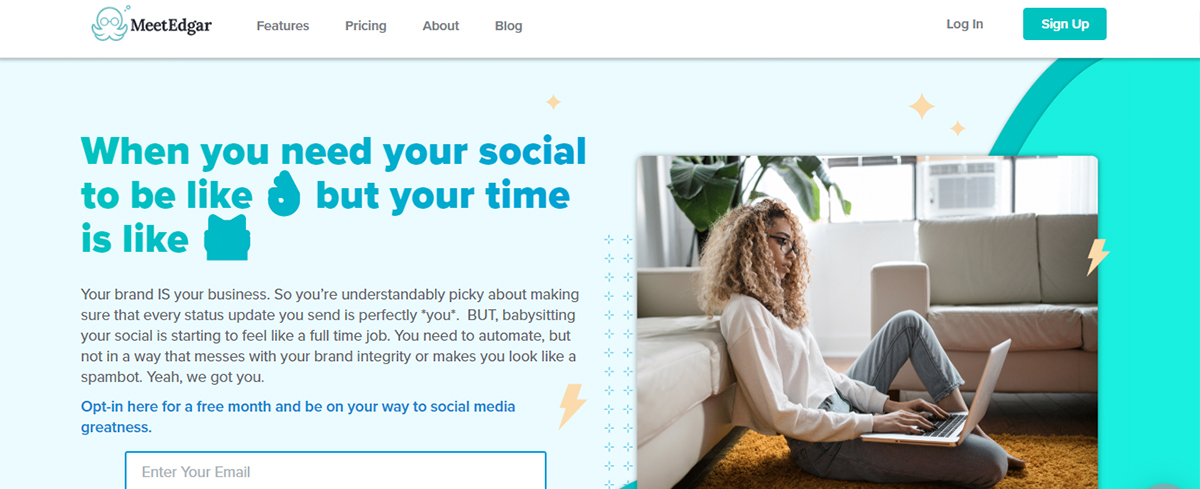 MeetEdgar is that LinkedIn scheduling tool that allows you to have category-based scheduling i.e. it takes your content and sorts it into colour-coded categories like "Quotes" or "Blog posts". You can then set your calendar such that the Quotes category is posted every Saturday and so on.
Pros:
With A/B Test social messaging, you can test different messages to see which ones get the most engagement.
It helps you share and cycle evergreen content.
Its Auto-variations feature automatically writes status updates from articles or blogs that you select.
Vert Hsu
Edgar enables us to further categorize our evergreen content and set up a schedule for distribution according to the nature of the content.
Cons:
The reporting feature is very limited and there's no dashboard to track how all of your posts are performing.
It doesn't let you tag other people or businesses on your posts which means you'll have to manually edit all your posts after they have been posted.
The tool is quite expensive and it doesn't have a lot of features.
Adriana L.
I don't like that I can't just "stop" a calendar. If I need to stop my posts I will need to erase the calendar. This is very annoying if I'm thinking about stopping my posts for a couple of days but I want to go back to my calendar later. I also think it is very expensive.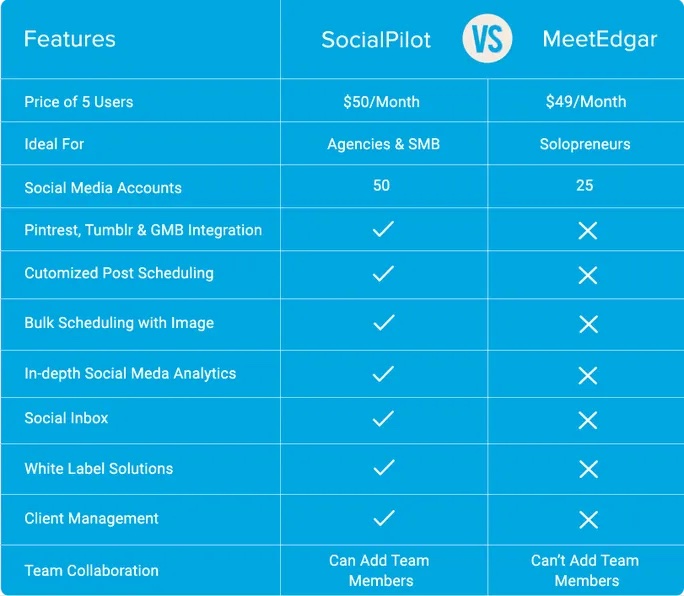 Here's a detailed comparison of SocialPilot as an effective MeetEdgar alternative
---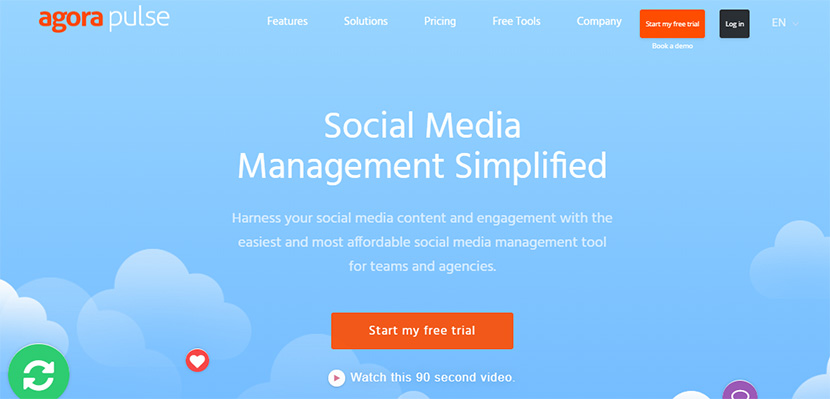 With Agorapulse, you can respond quickly to comments using their optimized reply feature, bulk upload posts from desktop or RSS feeds, send content to a queue timeslot, republish content regularly, have insights on your published posts, audience, engagement and response time.
Pros:
You can load your evergreen content into queue categories for later scheduling.
With the help of colour-coded post types, you can easily find scheduled, approved and queued posts.
You can download the analytics report on your computer.
Verified Agorapulse User
Agorapulse is very straightforward, notifying you of comments and interactions with customers on social media, and allowing ease of replying to each one of them.
Cons:
The tool has quite some bugs like sometimes the app doesn't post images to LinkedIn, the images come out to be blurry, etc.
The reporting feature is quite basic and doesn't meet the requirements of the users.
For the price it charges, its interface and some features seem quite underdeveloped as compared to the other linkedin scheduling tools in the market.
Ian P.
Our experience with AgoraPulse has been incredibly frustrating. Our team has experienced a range of issues. The customer service is responsive, but our problems are not being resolved.
---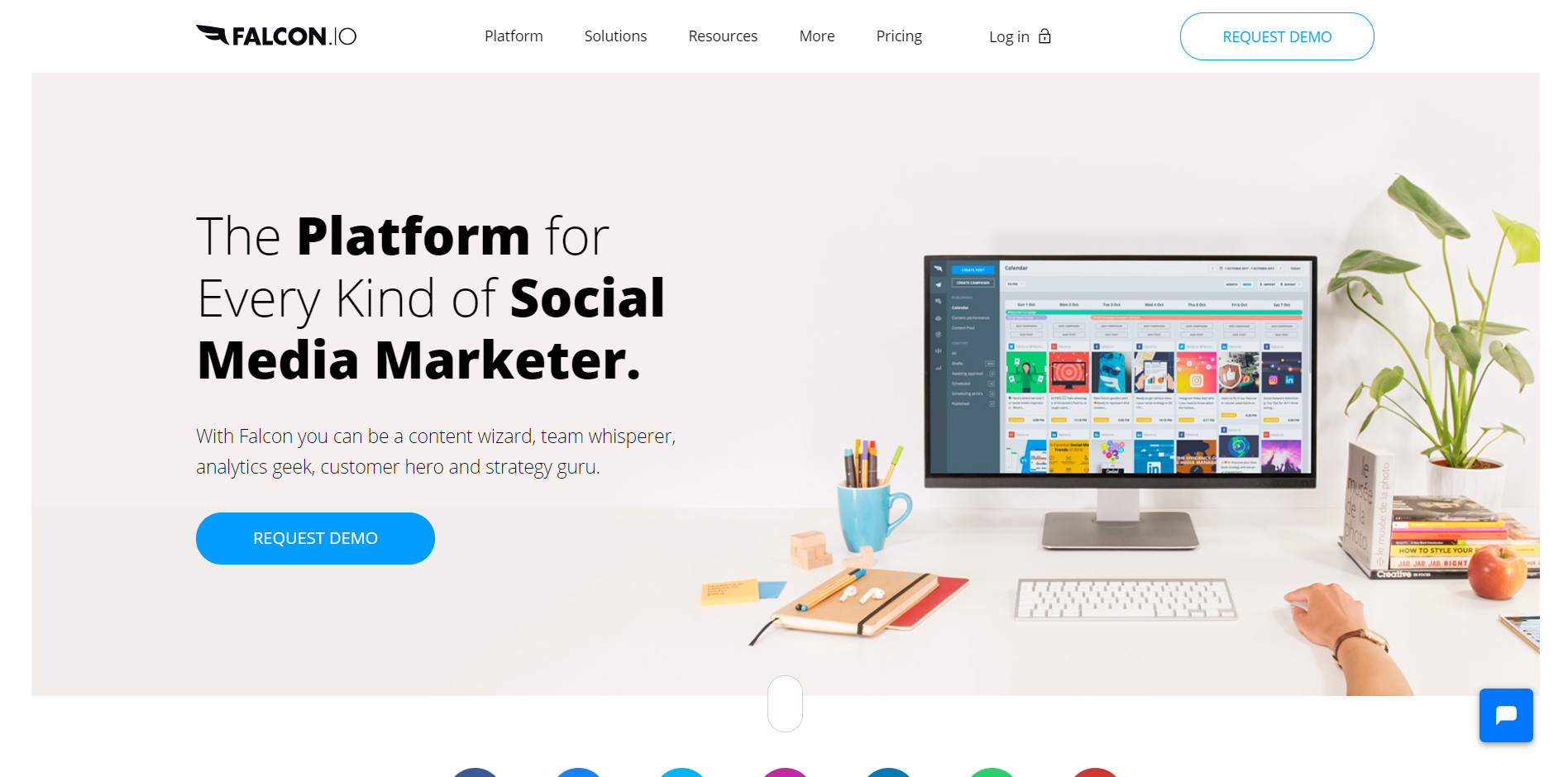 This LinkedIn scheduling tool, Falcon.io takes care of scheduling your posts, audience management, social media calendar, setting approvals and task management settings, having rapid responses to potential customers and so on.
Pros:
The internal communication options make sure that your social media team is connected and can strategize easily.
Custom URL tracking allows you to add parameters to every URL you post so they can be easily tracked in Google Analytics.
The support staff addresses all your concerns very quickly.
Joakim K.
The service of Falcon Social is very good – you will get a personal contact that you can get in touch with at any time if you have any requests, feedback or concerns.
Cons:
There are quite many bugs that users face, both in the mobile version of the site as well as the mobile application.
There is no support for gallery posts or multiple image posts on Instagram and LinkedIn.
It's very expensive, especially for businesses that are just starting out.
Suzanne M.
There are constantly API and posting errors. There are some features I was sold on but weren't actually what I asked/needed. It's very high maintenance to upkeep. Reports weren't as customizable as expected.
---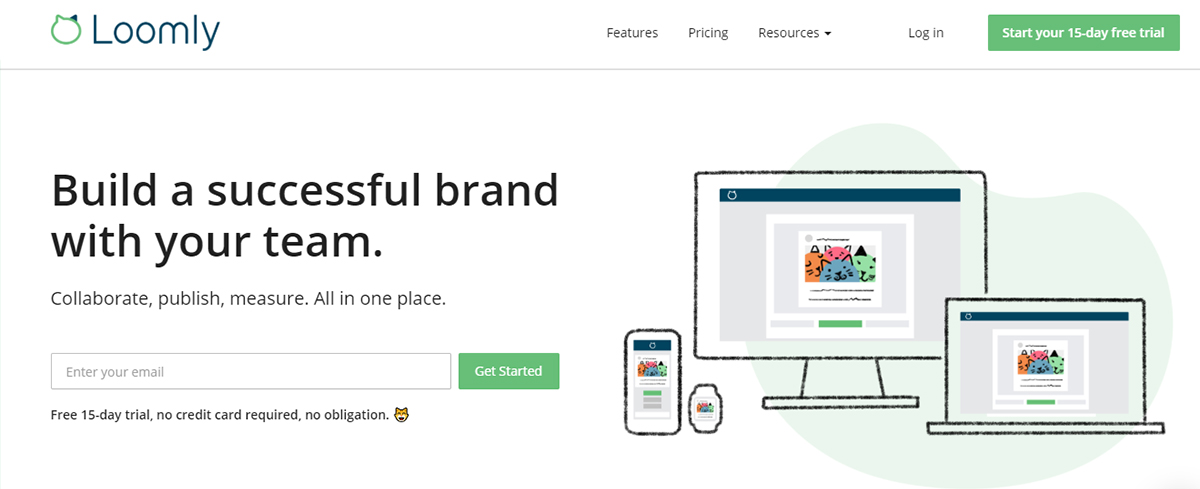 Loomly takes care of your post scheduling, generating post ideas and post previews, guiding you on how to create engaging posts, analyzing your LinkedIn performance, storing and organizing photos, videos, links and post templates in a central library.
Pros:
Loomly has approval workflows for your team to conduct its work seamlessly.
You can split the calendar by type of posts to ensure that you are focusing on different topics.
Rachel C.
I really enjoy the calendar layout feature. They also have list features if you are trying to get a comprehensive view of all of your social posts.
Cons:
The auto-publishing feature doesn't work effectively for Instagram and users would feel the need to use another tool just for Instagram.
Some user reviews state that if the picture isn't the right size, it just won't post to LinkedIn which can be quite frustrating at times.
Verified Loomly User
The interface is not very intuitive and there is no instagram publishing as yet
Conclusion
There are a lot of free LinkedIn scheduling tools as well as paid LinkedIn scheduling tools on the internet these days. Using the right one will give your business the ammunition it requires to unleash the benefits of being on the world's largest professional market.
So, which should your business pick?
The answer is simple. The one that has a comprehensive list of features, is cost-effective and handles every social media platform.
SocialPilot is just that tool for your business. Work with SocialPilot becomes much more effective and hassle-free as everything about your social media is in one place.
To see the benefits for yourself, activate your 14 day free trial now.
Frequently Asked Questions
🌟 Can you schedule a post on LinkedIn?
+
🌟 What are the best LinkedIn scheduling tools?
+