Listen to this blog
Since its launch in 2002, LinkedIn has evolved from just a job-searching, resume-flaunting platform into a brand-building machine.
It is a great place for B2B and B2C marketers to promote their content and build strong connections.
Now with the latest LinkedIn features like a native video feed, robust targeting tools, and stories, small businesses and agencies have good resources for engagement with the audience on LinkedIn. Yet, many people don't get to experience LinkedIn's organic fame.
Statistics say 91% of executives rate LinkedIn as their first choice for professionally relevant content. But with over 300 million monthly active urs, it is also true that traffic on the platform can keep your content out of the spotlight from your audience.
So, what's the solution?
Post on LinkedIn at
the best time, every time.
Post when your audience is most active
and get more engagement with SocialPilot.
One of the factors that can help you get maximum engagement is finding out when is the best time to post on LinkedIn.
To drive conversation and earn better engagement, it is important to post while your audience is online.
But finding the best time to post on LinkedIn can be a tricky business. Fret not! We have gathered some data-backed facts and tips to help you in your quest.
In this blog, you will find the study we conducted on over 50,000+ LinkedIn accounts to help you zero down on the best time to post on TikTok.
But in case that time doesn't suit you, we have also explained a sure-shot process of discovering your own best time to post on LinkedIn.
Best Times to Post on LinkedIn in 2023
In our recent studies on:
We have found that it is rather more suitable to test and find your own data than sticking to a fixed template of best times.
But the general guidelines can be a good start in the course of testing for your personal best time to post. There are fair chances that these fixed times can work wonders for your brand on LinkedIn.
That's why at SocialPilot, we conducted an in-house study to determine the best times to post on LinkedIn. This study enabled us to narrow down the best times to post on Linkedin for each day of the week.
How we've identified the best times to post on Linkedin?
​​Our team conducted a comprehensive study to determine the best times to post on Linkedin, analyzing around 7,00,000 LinkedIn posts published from around 50,000+ LinkedIn accounts connected to SocialPilot. The study analyzed the performance of these LinkedIn posts, specifically observing how their engagement rates varied depending on the exact hours and days of the week they were shared. The findings pinpoint the best times to post on Linkedin every day of the week.
Here's a list of the best times to post on LinkedIn you can use to get more engagement on your post:
| | |
| --- | --- |
| Day | Best time to post on LinkedIn (PST) |
| Monday | 11 am |
| Tuesday | 6 am to 8 am |
| Wednesday | 12 pm |
| Thursday | 2 pm |
| Friday | 8 am |
| Saturday | 4 am to 5 am |
| Sunday | 6 pm |
Before we move on to find your personal best time to post on LinkedIn, check out data from popular social media marketing companies suggesting when brands should post. Their data also aligns with our findings on when to post on LinkedIn.
Oberlo suggests the time frame between 10-11 a.m. on Tuesday, Wednesday, and Thursday as the best choice.
Quintly favors posting between multiple time frames; 7-8 am, 12 pm, and 5-6 pm.
Hubspot favors the time between 10 a.m. and noon and Wednesday as the best day to post on LinkedIn.
SproutSocial claims that Tuesday, Wednesday, and Thursday, from 9 a.m. to noon, are the best posting times for LinkedIn.
thebalancesmb puts its bets on 7-8 am and 5-6 pm.
Buffer suggests the time frame between 7-8:30 am and 5-6 pm on Tuesday, Wednesday, and Thursday are the best for posting on LinkedIn.
Based on all the data, we can say that it is always safe to post on LinkedIn during:
Work Hours (10 am-6 pm): Interaction with LinkedIn has been seen in the first half of office hours when people cruise through the network to look for new research, opinions, and inspiration before indulging in their office work.
Office commute hours (7 am-9 am, 6 pm-8 pm): Well, that's not surprising. People turn to see their LinkedIn feed while traveling to work in the early morning or coming back home.
Also, the worst times to post on LinkedIn are:
Weekends are the worst days to post on LinkedIn. The majority of your audience will be out, socializing in the real world or spending time with their families. So it is important to schedule your posts for weekdays mostly.
Monday showed very little engagement as compared to other weekdays. It makes sense that due to catch-up and weekly plan meetings on Monday, people would hardly get the time to check their feeds.
Outside of business hours are also the least recommended for posting. Most people tend to switch from professional social media platforms to more personal ones after work hours.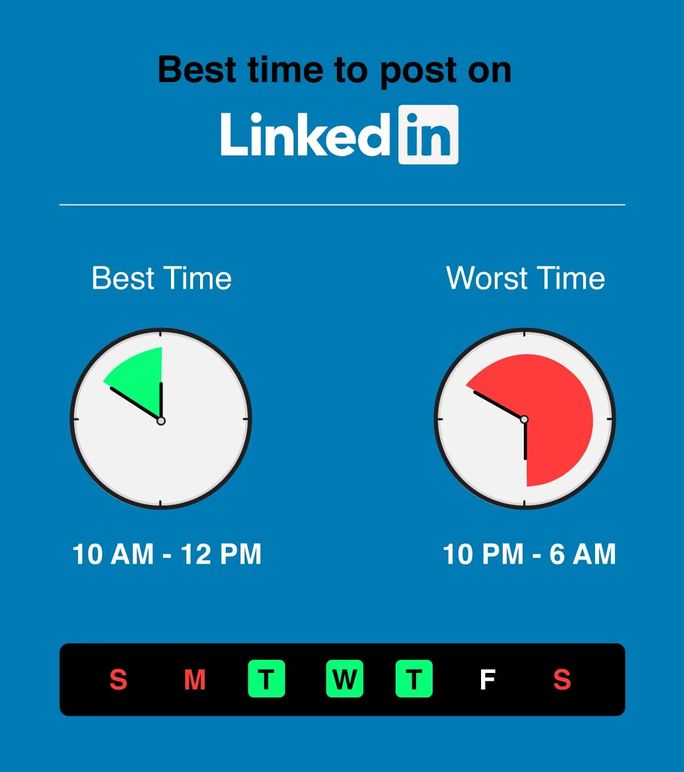 Our data backed time-frames have been proven to be super engaging for thousands of LinkedIn accounts, and they are likely to work for you. However, it's always a good idea to dive into your own analytics to determine the best times to post on LinkedIn.
How to Find the Best Time to Post on LinkedIn for Your Business
The above timings are a good starting point, but the most reliable way to find your personal best time to post on LinkedIn is to analyze your profile data. This is true for any social media platform. Just like Facebook analytics and Twitter analytics, there is a LinkedIn analytics tool as well.
LinkedIn analytics helps you monitor deeper insights about your LinkedIn profile, but apart from knowing what it does, it is also crucial to understand how we can really use this amazing feature effectively.
So we have planned 2 experiments that you can carry out to find the best time to post on LinkedIn.
The following steps will also inform you about the working of every feature in LinkedIn analytics.
Let's get started.
1. Using SocialPilot as Your Scheduling and Analytics Tool
To make a strong policy around posting on LinkedIn, we have to first test every possibility of the best time slots throughout the day across the whole month.
First things first – break down your experiments over one month. Each day of this month, post your content in the morning, noon, and evening at specific time slots.
It might as well be good to use the above-mentioned average best times.
Say, we breakdown our time slots, for LinkedIn, into four parts:
7-8 am.
10-12 am
5-6 pm
And any evening slot after working hours – to see if your brand can burst out of the old LinkedIn myths.
Now, posting on these many time slots seems to be a tedious job. But scheduling tool such as SocialPilot can aid you with this.
SocialPilot is a social media scheduling and management tool that lets you schedule your posts way ahead and automatically post them on the time and date you have chosen without any error.
So this automatic scheduling and posting tool will help you experiment with different time slots and find the best time to post on LinkedIn without any hassle. All you have to do is select multiple time slots for every day of a month in its content planner, and your created posts will be published on the platform automatically.
After a month of experimenting with different time slots, you can check your data within the tool itself and get a detailed report with all crucial performance metrics. You will be able to access these engagement metrics for all types of LinkedIn content, including text posts, images, carousels, videos, polls, articles, etc.
Zero in on the time and day during which your content generated the most engagement and repeat the top-performing ones to garner more attention with just a few clicks.
2. Dig into your LinkedIn analytics page to assess the performance
The analytics section gives insight into the performance of your LinkedIn Page with detailed metrics, displaying trends over time-periods.
LinkedIn analytics also provides rich insights into audiences' demographics with filters like job function, seniority, and company size.
You will see the "Analytics" button at the top of your LinkedIn profile page. Clicking on it will open up a drop-down showing you the following:
You will see the "Analytics" button at the top of your LinkedIn profile page. Clicking on it will open up a drop-down showing you three broad categories:
Visitors
Followers
Leads
Content
Competitors
Employee Advocacy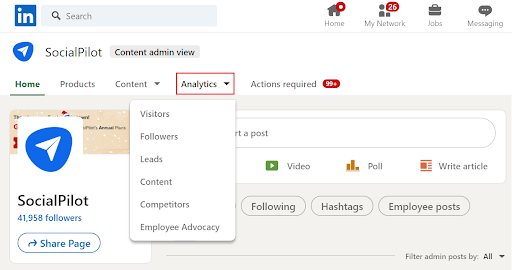 There is an overview of analytics available for the last 30 days of your page's performance available on the left hand of your LinkedIn homepage.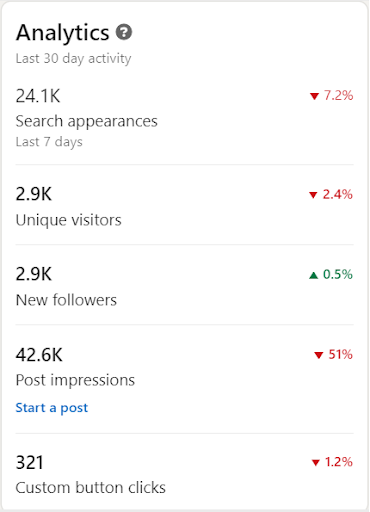 But for this blog, we will only cover the "Content" section of the LinkedIn analytics Page, which will help you recognize the impression, click-rates, and other engagement metrics received on your posts.
First, you will see the 'Content highlights' section that shows you general data of the previous 30 days of reactions, comments and reposts you have received on your experiment.
Second, under the 'Content metrics' section, you can get aggregated engagement metrics over a specific period. In the top bar, you can choose how far back you want to see the activity data of your posts.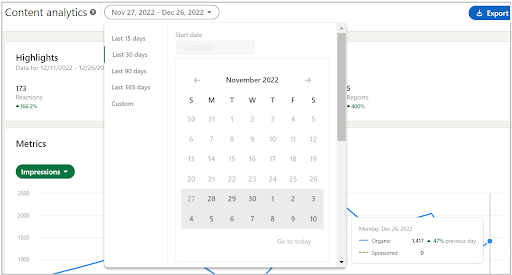 Also, you can select the type of engagement metric. Based on that metric, the data will be represented. Based on the selected time period, you can determine which one proved to be the best day to post on LinkedIn.
After selecting the period and metrics, hover above the graphical representation to see the exact percentage of engagement you have on the organic and sponsored post on a particular day.

So using the 'Update metrics' the right way will give you precise information about the best days to post on LinkedIn.
The third section, 'Content engagement', gives you a plethora of engagement metrics information in a tabular form for each post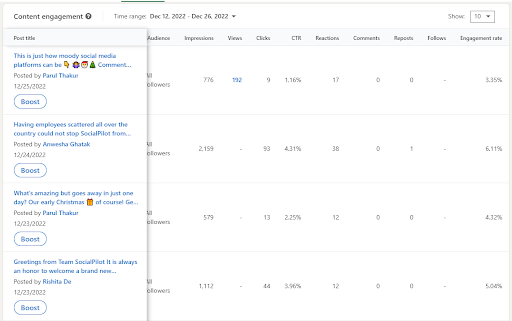 You also get the "Time range" filter here to choose how far back you want to see the activity data of your individual posts.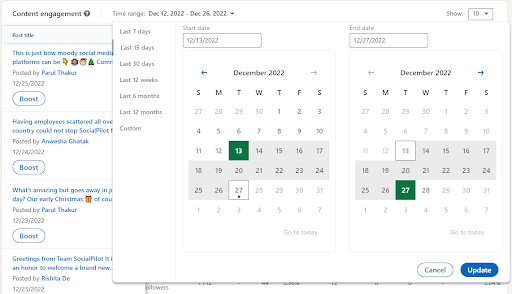 With the help of this section, you can find out the best times to post for your brand.
Now you have the means to find out the best time and day to post. But here's the catch. The "Content engagement" section does not show you a fixed time of posted content.
So how would you get the best time to post on LinkedIn?
I'd suggest organizing your data, time, and day on a spreadsheet and later going back to it to compare what day and time brought you the most engagement.
Since you would already have the best day to post on LinkedIn with you, it won't take much effort to just probe the times of the posts done on that day.
By organizing your data this way, you will be able to compare the average engagement gotten by the morning, noon, and evening posts. There may be multiple times that bring you good engagement.
After that, keep using the scheduling tool regularly to post on your best times.
Wrapping It Up
With LinkedIn's ever-growing possibilities, it is crucial to post your content when your audience connects maximum with your profile.
Also, don't forget that posting at the best times is just one factor in getting you in the spotlight. Consider it more as a chance to show the high-quality content you have tailored. In the end, it all spirals down to one thing – creating quality content for your audience.
Don't forget to use a LinkedIn post scheduler like SocialPilot to schedule your LinkedIn posts. Not only LinkedIn, but it will also help you simplify your marketing efforts on every social media platform that you can count on. Get your free trial and start posting!