Podcasts have been in existence for the past decade. But what this medium has managed to do in the last four years is just remarkable.
All credit goes to the tons of podcasts shows, the participation of celebrities, the support of large companies like Spotify and Apple, and the emergence of new technology in the podcasting field.
An eMarketer report projected that the US podcast listeners count will reach 144 million monthly by the end of 2025.
Isn't that great? Wait, there is more!
Businesses also have their hands-in-deep when it comes to leveraging the power of podcasts and sharing their brand voice.
If you are looking to grow or start your podcast to engage with your audience even when they are jogging, driving, working, or relaxing, you need the right podcast tools at your disposal.
So we have scoured a list of the best podcast tools you will need to boost your talking game.
Let's dig!
15 Essential Podcast Tools You Should be Using
The process of creating a podcast includes 3 phases – recording, editing, and publishing. To create a high-quality podcast experience for your listeners, you require the best-in-class podcast tools and services needed in each phase.
So we decided to break down our list of essential podcast tools into 4 categories.
---
Podcast Recording Equipment
---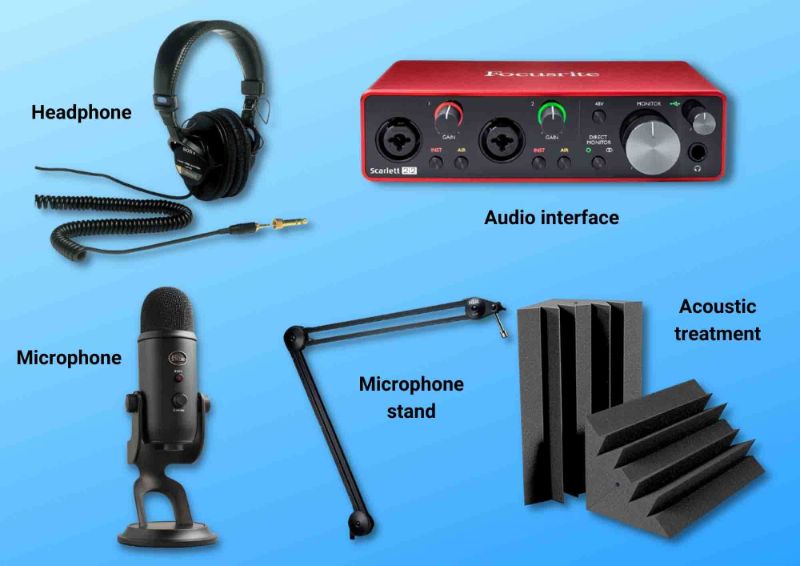 1

Recording Bundle

Surely you can't use the built-in computer microphones to record your voice. We are talking about quality audio content, so you must invest in a recording bundle.

A recording bundle includes a microphone and a headphone.

A microphone is the most essential part of your podcast recording equipment, as the quality of your audio mostly depends on it.

You can either get a USB microphone or go with an XLR microphone. The significant difference between USB and XLR microphones is in how they capture audio signals.

Here are the best podcast microphones to buy:
Audio-Technica ATR2100x: It's a dynamic microphone with USB-C digital output and XLR analog output. The price and the ease of use make this product a perfect choice for beginners.
Blue Yeti microphone: Blue Yeti is a popular three condenser capsule mic within twitch and youtube creators for its superb sound, easy-to-use features, and average price.
Shure MV7: The Shure MV7 is the real MVP in the world of podcasting. If you have been doing podcasting and have money to invest to grow, this microphone is your best pick.
The need for headphones is self-explanatory when you are talking to someone online or face-to-face and want to check the quality of their voice.
But what about the quality of your voice? Headphones also allow you to check the quality of your voice and help adjust your voice and presentation style.
Here is the list of good podcasting headphones you can buy:
Sony MDR 7506: With replaceable ear cups and rugged design, these headphones are built to last. They are affordable and have quality sound to offer without tempering the original audio frequency.
Audio Technica ATH-M30x: This well-known headphone is a fair deal for people looking for a high-quality listening experience and comfortable fit at an affordable price.
---
2

Audio Interface

An audio interface works as a bridge between your computer and microphone to process audio signals into digital signals.

But if you want total control over the output sound, then having a mixer is a must. The mixer gives you more control over the sound quality and enables multi-channel recordings for your co-hosts or guest podcasts.

Our best choice for an affordable and easy-to-use audio interface is Focusrite Scarlett 2i2 (3rd Gen). On the other hand, if you are willing to get more control over your audio, then go with the Yamaha MG series mixers.
---
3

Microphone Stand

Everything about podcasting is super fun except the hours one spends chained to the desk and chair.

A decent boom arm or tabletop mic makes your life easier here. Besides keeping the microphone to your mouth level, a stand is useful in eliminating the chances of knocking or rubbing.

Here are some of the best microphone stands:

You can also pair a shock mount with your microphone stand to minimize unwanted sounds such as tapping the desk or noise occurring from moving the microphone.
---
4

Acoustic Treatments

Your recording room can be a big enemy of your recording quality.

To save your audio from natural echo and reverberation of the room, acoustic treatments, such as bass traps, acoustic foams, and diffusers, are a necessary checkmark.

For beginners, DIY options such as a closet full of clothes, a heavy blanket, or sheets can do the work.

If you can invest, go for acoustic products from Auralex. If on budget, try products from the foam factory or ProSoCoustic.
---
Podcast Recording Tools
Once you have all the necessary equipment in your tool stack, it's time to record your voice with the right podcast recording tools.
---
5

Zoom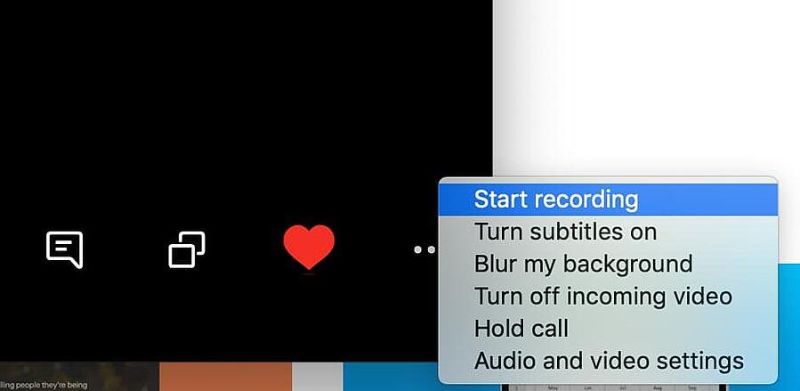 There are fair chances that you are already using Zoom for video meetings. Why not use it for recording your audio files too?
However, Zoom does not have as many features as the other tools in the list, but it is a great tool for kickstarting your podcasting journey.
Features:
Dual file recording
Cloud recording
Price: Zoom offers a Free plan with plan prices ranging to $20/month
Pros
You get the recording feature in the limited free plan
Cons
Limited feature as compared to other tools on the list
Audio quality is average
---
6

Ringr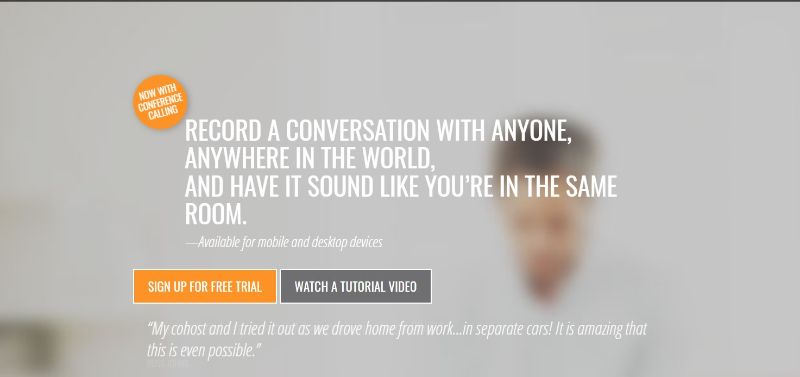 Ringr is a pretty affordable tool for recording interviews through mobile or desktop. If you want to bring a high-quality audio experience at an affordable price in your guest interviews, then Ringr is an excellent choice.
Features:
Call resuming
Conference calling
Enterprise dashboard
Mobile supported
Supports multiple audio formats
Price: Ringr provides a basic and premium plan at $7.99/month and $18.99/month, respectively.
Pros
Simplified onboarding
Professional audio quality
Easy configuration of audio formats
Best for remote interviews
Cons
No in-meeting chat option
The basic plan doesn't come with the best of Ringr features
---
7

Squadcast

Squadcast is a well-appreciated podcast tool for its seamless collaboration and recording solutions.
Its audio-save feature automatically saves the audio and video files to your cloud and local storage and eliminates the risk of losing the recordings.
Features:
Cloud recordings
Dolby integration for recordings
API/Zapier integration
Recording time analytics
High-quality video recording
Auto-backups of your audio and video recordings
Separate tracking for each participant
Price: Squadcast offers four different plans, which start from $10/month and go to $150/month.
Pros
Super easy guest onboarding process
Decent green room to configure interview recording settings
Auto-backup is a real saver
It eliminates audio drift and simplifies editing
Cons
Three guest limits in starting plans
Higher-end plans are comparatively expensive
---
8

Reaper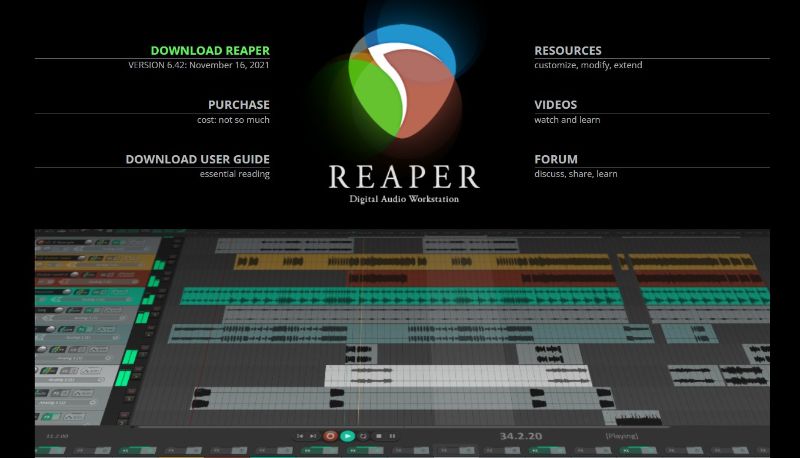 Reaper is an all-in-one digital audio workstation that offers you multitrack audio recording, editing, processing, and mixing functionality.
Its recording feature offers you simultaneous recording inputs, multiple audio formats, and recording tracks to make your recording sessions prolific.
Even after having a plethora of features, Reaper is known as a very lightweight and faster tool that doesn't hog much computer memory and gives you crashing nightmares.
Features:
Audio and MIDI recording
64-bit internal audio processing
Multitrack recording
Flexible editor
Real-time network FX processing
Multiple plugin support
Price: You can get Reaper for a license fee of $220 or a discounted fee of $60, which lasts for two full versions of the software. Reaper also gives you a free 60-day evaluation before buying.
Pros
Compatible with Windows, Mac, and Linux
Supports VST, AU, JS many more third-party plugins
Inexpensive
Fast operating
Customizable UI/UX
Cons
Steep learning curve
No mobile app
The noise reduction plugin is laggy
---
9

Logic Pro
Logic Pro is a top-shelf audio editing tool by Apple that can be used on Mac, iPhone, and iPad. Its intuitive and easy-to-use UI makes your recording session easy peasy.
On the other hand, its mixing and editing board can be a little daunting for a novice. However, folks using the Garage Band will find things a lot easier on the Logic Pro.
The Logic pro was made while keeping the music industry in mind, but with unique built-in features and compatibility with multiple plug-ins, it's a suitable tool for your podcasting sessions.
Features:
Integrated Dolby Atmos tools
25 software instrument plug-ins
Up to 1,000 stereo audio channel strips
Record AIFF, CAF, and WAV (BWF)
Surround mixer configurations
Price: Logic Pro's standard plan comes at a one-off payment of $200. It also provides a 90-day trial period.
Pros
Remote recording on iPhones and IPads
Supports plethora of plugins
Huge library of virtual instruments and effects
Cons
Only available for Apple users
Mainly created for music composers and singers
Comparatively expensive and complicated for simple podcasting
---
Podcast Editing Software
Perfect! Your podcast audio files are recorded. It's time to edit them to perfection. Here is the list of Podcast tools especially famous for their editing prowess.
---
10

Adobe Audition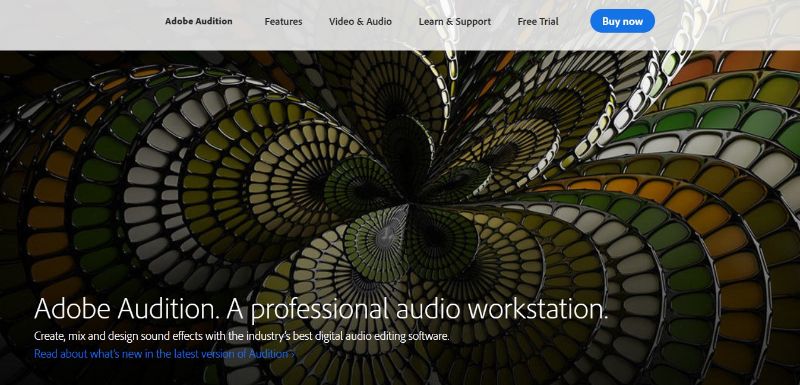 Adobe is already an established name in the world of digital creation. With the Audition, Adobe has also proven its place in the audio world.
Adobe audition is an excellent toolset with comprehensive functionalities to help you record, edit, mix and restore your podcast audio. Its waveform and multitrack editors offer you a seamless editing experience.
The cherry on the cake is its podcast template that enables you to record, edit and export your multitrack recordings to a suitable format.
Features:
Waveform and multitrack editor
Library of royalty-free music
White noise eliminator
Essential Sound Panel editing tools
Automatic strip silence
Loudness meter
Price: The Adobe audition subscription comes at the price of $31.49/month.
Pros
Powerful sound editing features
Great noise/hiss reduction feature
Podcasts dedicated templates
Helpful presets for EQ and reverb
Available on Windows and Mac
Cons
The Monthly subscription is pricey
The Steep learning curve for beginners
---
11

Audacity

Audacity is a free and open-source audio editing and recording tool that can run on Windows, Mac, GNU/Linux, and other operating systems.
It's a treat for beginners looking to create a quality podcast for their audience. The podcast tool offers simple cut, copy, paste, splice, and mix functionality to get the job done.
However, the program is not as intuitive as others if you want to make rigorous editing cuts.
Features:
Essential editing feature with unlimited undo and redo
Spectrogram view mode
Speed ramping
Silence finder
Sync-Lock
Saveable EQ

Price: It's Free.
Pros
Plenty of support tutorials available
Supports 16-bit, 24-bit, and 32-bit audio quality
Compatibility with almost every operating system
Easy-to-use workflow
Cons
The UI is not customizable
It doesn't have advanced editing options
Some feature requires expensive third-party plugins
---
12

Alitu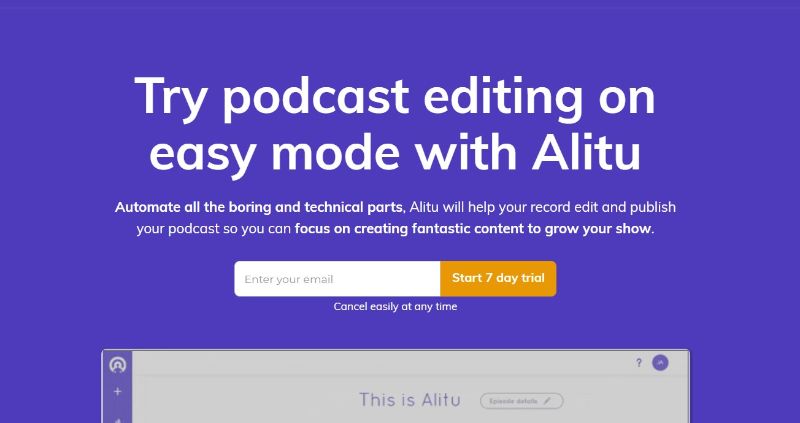 Alitu is a web-based tool focused on creating and editing podcasts. Its simpler workflow and easy-to-use functionality make the podcast editing process super easy.
With its drag and drop feature, the task of cutting and editing audio becomes effortless even for a beginner.
The automatic audio leveling feature is a great help in cleaning background noises and leveling up audio to create a consistent sound.
Still, Alitu is a simple program apt for creating and editing five minutes podcast snippets. Overall, it's the best tool for creating solo podcasts that don't require complicated edits and creative touch ups.
Features:
Drag and drop interface
Remote call recording
Automated audio cleanup
Id3 tagging
Music library
Price: Alitu provides a monthly plan at $32/month.
Pros
Podcast oriented tool
Easy to use interface
Automated audio leveling is helpful
Podcast host integration makes publishing easy
Cons
Limited functionality compared to other DAW
Not suitable for lengthy podcasts
---
Podcast Hosting Tools
Now that you have turned your scintillating ideas into high-quality podcast sessions, it's time to share them with the world. Here you will need the best podcast tools or services to host your podcast.
---
13

BuzzSprout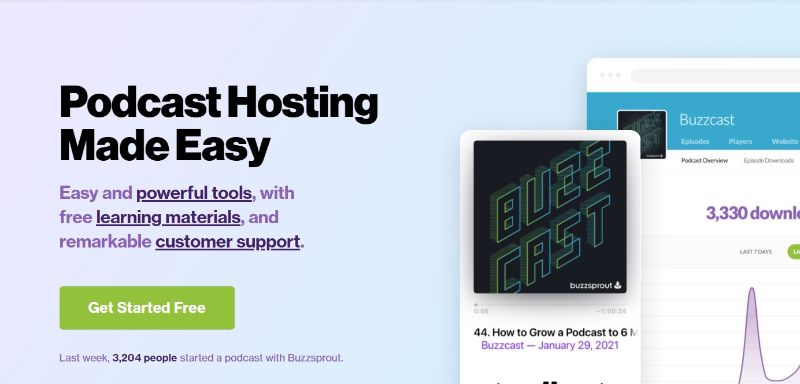 Buzzsprout gives you a seamless experience to host, promote, and track your podcast.
Are you looking to reach millions of potential listeners?
Buzzsprout provides listings on popular podcast directories, such as Apple Podcasts, Spotify, Google Podcasts, iHeartRadio to increase your reach.
Moreover, You can check the performance of your podcasts using its advanced podcast statistics dashboard.
Buzzsprout also provides you with a visual sound bite which is the best way to share your podcast on social media.
Features:
Podcast statistics
Magic mastering
Automatic episode optimization
Auto transcription
Team collaboration
Visual soundbite
Price: Buzzsprout has a free plan that allows you 2 hrs of podcast hosting for 90 days. If you are serious, choose from their three monthly plans at $12, $18, and $24, respectively.
Pros
Easy uploading to all the directories
Decent podcast analytics
Embedding player and transcription feature
Pre and post-roll addition is easy
Magic mastering features improve quality to the next level
Cons
Magic mastering feature comes at an extra price
No advance analytics
---
14

Libsyn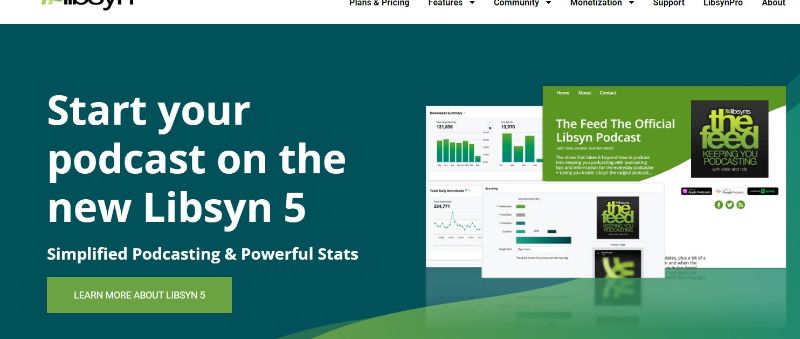 Libsyn is another excellent choice to host your podcast.
They are in partnership with many popular directories and provide custom episode publishing and optimization unique to your podcast.
Besides podcast analytics and customized player, one unique thing that Libsyn offers is a customized mobile app solution.
Yes, you read it right!
Libsyn makes a custom app for your podcast supported in Google Play, Amazon, and iOS App Store markets.
Features:
Audience insights
Custom Episode Publishing
WordPress Libsyn publisher hub
Podcast page mini-site
Custom podcast application
Libsyn desktop and mobile player
Double Opt-in Advertising
Price: Libysn's pricing packages are based on the monthly storage quota. Libsyn offers 4 monthly plans at the pricing of $5. $15. $20. $40 with different storage sizes, respectively.
Pros
Platform-specific customization is a great feature
Podcast dedicated application
High-quality uploading
Versatile pricing
Cons
Dated website
Not the easiest to use for beginners
No free trial
Extra cost for advanced statistics feature
---
15

Podbean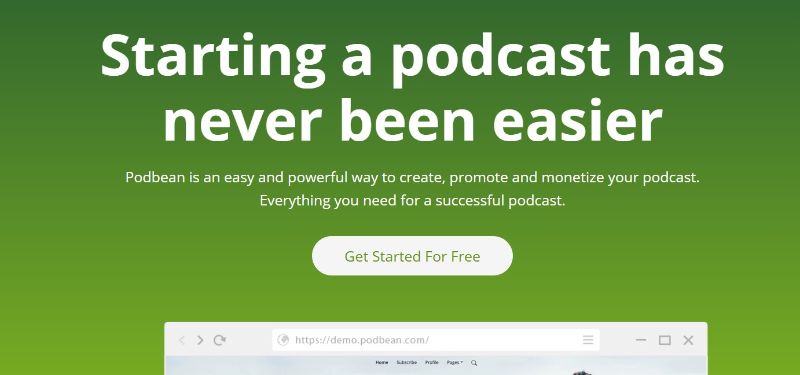 Podbean is a one-stop destination to start, promote, and monetize your podcast.
If you are looking to get an affordable hosting service without compromising on the feature, Podbean must be your pick.
I'd recommend starting with Podbean if you are new to the game. With its free feature, you get 5 hours of storage time and 100 GB monthly bandwidth. It's enough to test the waters and decide if the podcast genre is working for you or not.
Features:
Dedicated podcast app and website
Embeddable players
Custom Design
Ads Marketplace
Scheduled publishing
Extensive directories
Podcast statistics
Live streaming
Price: Podbean offers a free plan and three paid plans at the monthly pricing of $9, $29. $99, respectively.
Pros
Unlimited storage and bandwidth in paid plans
Free plan
Great for beginners
Easy to publish workflow
Cons
Basic statistics as compared to other services
Limited security features
Comparatively fewer templates
The growing power of podcasts has opened doors for marketers to engage and provide value to their audience in an immersive way.
The task is to harness the power.
In the age of the creator's economy, everyone has the means to start a podcast. That's why you need to level your game by creating quality podcasts.
Podcast tools in our list will sort out all technicalities and make your journey to record, edit and publish your podcast effortless so you can focus on the content part more.
Speaking of effortless, don't just stop at publishing your podcast. Use a social media scheduling tool to automate your podcast promotions.
SocialPilot is a one-stop solution to make your social media marketing campaign a success.
With the best-in-class scheduling, analytics, team management, and reporting features you can enjoy effortless social media marketing.
Start your free trial or schedule a demo today!