Live streaming has been popular with audiences and brands alike.
You see content creators going live to chat with their audiences, musicians performing live concerts, and brands taking their viewers behind the scenes.
Ever wondered why almost every content creator or brand is making use of a Livestream?
Live streaming is a great way for brands to have two-way communication with their audiences in real-time. In fact, 82% of the audience prefer watching live videos from a brand instead of engaging on social posts.
Facebook Live, in particular, is one of the more dynamic platforms for live streaming.
If you haven't heard much about it, fret not! In this guide, we'll cover the benefits, talk about setting up a Facebook Live and give you additional tips as well.
Let's get started!
What is Facebook Live?
Facebook Live, as the name suggests, is a feature on the social network Facebook that allows you to broadcast real-time videos. Launched in 2016, Facebook Live clocked 3.5 billion live broadcasts within just 2 years of its launch.
Its popularity and effectiveness are only increasing with every passing day, and it is estimated that the Live feature will be an integral part of around 32% of the digital marketing strategies worldwide.
And why not? Reports suggest that Facebook live videos gain almost six times more interactions when compared to a regular post or video, making it an obvious addition to digital marketing campaigns.
What Can You Do With Facebook Live?
Launch videos for workshops or tutorials to share the benefits of a product or service
Create a Q&A to educate your audience about your brand
Take your audience behind-the-scenes
Give a sneak-peak for new launches
Start a video series for consistent engagement from your audience
Livestream an event highlighting your brand's power (Facebook allows you to hold a live broadcast for up to 4 hours)
The possibilities are endless! As long as you abide by Facebook's guidelines, you can use a Livestream to create any video content.
So, Why Should You Use Facebook Live?
Facebook Live allows your brand to create free real-time videos quickly. You can go live on Facebook to converse with your audience, live stream performances, or simply hold a virtual event. The scope is infinite!
Let's browse through some of the major benefits of integrating Facebook Live in your social media strategy:
1. Increased Brand Engagement
We've discussed how customers are opting to engage in live content. Statistics show that more than 82% of the audience prefers watching live content to scrolling through posts.
So, with Live, not only are you approaching your audience through their preferred mode, but you are also increasing your chances of engagement as a Live session can go on for up to eight hours. Brands can easily share information with their audience and establish a better relationship with them.
2. Content becomes Permanent
When you finish broadcasting a Live, Facebook lets you save the video to your feed. If your viewers have missed one of your stream campaigns, they can still watch the saved video. You can continue getting views and interactions on the video as well.
3. The Simulcast Feature
Facebook has this awesome feature that lets you Livestream to more than one page at a time. You're allowed to simulcast to up to five destinations (pages, profiles, and groups) on Facebook. This is a fantastic way to expand the brand reach and garner more engagement.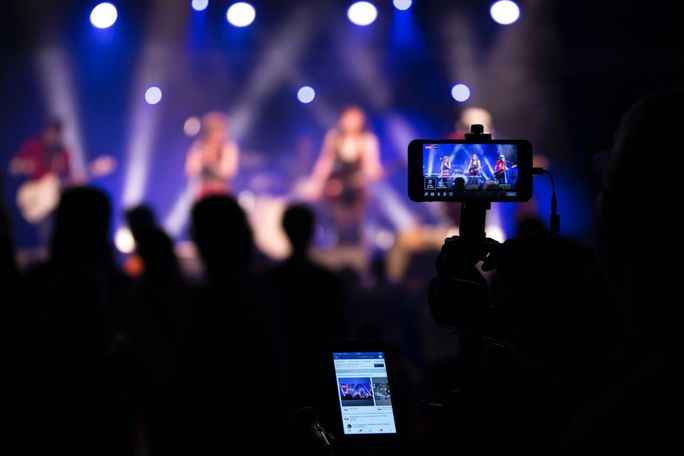 4. Customer-preferred Option
The most important factor to consider while selecting Live is that your audience prefers it. In 2020, the views on Facebook Live increased by approximately 50% from the previous year. Livestreams create transparency by sharing unedited content. Viewers find live videos more credible because they can see what is really going on. Additionally, viewers get the opportunity to directly interact with brands through these lives.
5. Access to Interactive Features
Features like filters, live comments, and analytics makes it easier for brands to generate fresh and engaging content. Marketers get to communicate with the audience and get real-time feedback as the video is playing.
The Live analytics offer statistics about the total reach, views, and shares on a video. With these analytics, you can check what works and filter out what doesn't.
6. Facebook Live can Save Time and Money
You don't really need much to start a Facebook Live. It's free to use and helps you cut down on the time that could've gone into recording or editing a video. Sure, you can spend some money on better video equipment. But it's still easier and more cost-effective when compared to pre-recorded videos.
Steps to Go Live on Facebook
By now, you understand how beneficial Facebook Live is and you may be wondering how to go live on Facebook. You can access Facebook Live through your computer or mobile. Here are the steps for you to set up a Facebook Live.
To go Live on Your Computer through the Facebook Website
Step 1: Go to the Facebook web page and sign in.
Step 2: Tap on the 'What's on your mind, (name)?' option at the top.
Step 3: Choose the 'Live Video' option.
Note: Depending upon your browser, you may find the 'Live Video' option on the left side of your screen.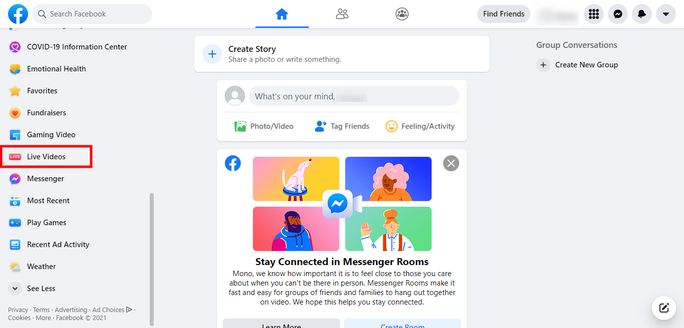 Step 4: Choose if you want to go live or schedule a live event.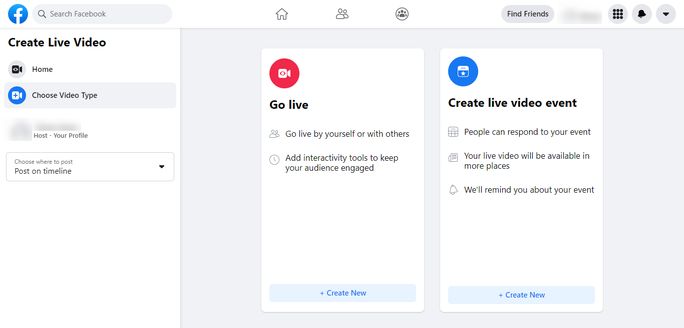 Step 5: Click on 'Create New.'
Step 6: Write a caption for your Livestream and go live.
To go Live Using the Facebook App on Phone
Step 1: Log in to the Facebook mobile application.
Step 2: Tap on the 📹 icon to go live.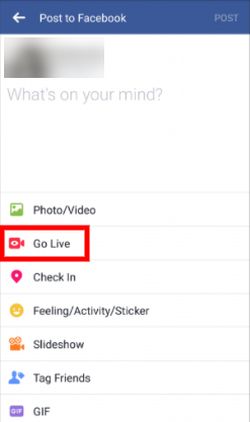 Step 3: Click on ⭐ to add effects or filters on your Livestream video. You can add filters when you're active on a live as well.
Step 4: Click on 'Start Live Video.'
Step 5: Tap on the 'Finish' button when you wish to end the Livestream.
Note: You can also go live in a group by clicking the 📹 icon.
To go Live Using the Creator Studio App
Step 1: Download the Creator Studio application.
Step 2: On the homepage, choose the 'Compose' icon from the top right.
Step 3: Select the Live post option.
Step 4: Enter a Livestream description.
Step 5: Click on 'Start Live Video.'
Step 6: Click on 'Finish' to end the live.
Note: Make sure to check the updated Live guidelines on Facebook.
Best Practices for Facebook Live
Now that you know the basics of Facebook Live, it is time to up your game with some effective and easy-to-use best practices for your Live videos. Incorporate these tips into your strategy to make the most of the Livestreams.
1. Test the Live
Facebook allows you to switch your privacy set-up to 'Only Me', where you can check if your broadcast quality is good. Instead of running into issues when you're live with an audience, it's best to test it out before going on air. You can even save this video on your account and review it.
2. Interact with Your Audience
The biggest asset of a Livestream is the ability to communicate with an audience actively. Ask questions so your viewers can respond via comments. Don't miss out on answering any questions or checking people's suggestions on a video.
Sometimes your audience may be unable to hear you, or there may be issues with lighting. The comments can help you figure out any ongoing tech issues.
3. Be Consistent
Don't disappear after you host a Livestream. The audience loves consistent creators who actively interact with them. Review your analytics and find a schedule that works for your audience.
Once a viewer attends your Livestream, they're more likely to return to another one. Ask your audience to sign-up for notifications, so they get regular updates.
4. Upcycle Videos
Promote your Facebook Live content on other social media sites as well. Make the most of the Simulcast feature and share your videos through emails or other social media accounts.
You can save your Livestream and then upload it on IGTV or YouTube too. That's not all. You can use tools to even transcribe Livestream videos and turn them into written posts.
5. Create a Theme
Structure themed videos or create them in parts for consistent storytelling. You can focus on one topic at a time and build anticipation for the future video. For example, if a musician is promoting their album through Facebook Live, they can
Discuss the album concept
Do a live Q&A before the release
Perform live tracks
6. Don't Forget the CTA
Interacting with a live audience can be exciting. Make sure that you end your streams with clear CTAs. Thank your audience for joining you and then guide them to your website or services. Include any actionable links in your video description as well.
Are You Ready to Become a Facebook Live Pro?
A Facebook live stream can assist you in increasing brand engagement with ease. Through behind-the-scenes snippets and live Q&As, you can humanize your brand and build lasting customer relationships.
If you haven't scheduled a Live yet, we suggest that you add it to your social media marketing strategy, and watch its impact on your marketing growth. Keep our tips in mind, and you'll master Facebook Live in no time.
Facebook can add immense value to your entire social media marketing strategy. So, why stick to just Live?
Go one step further, and boost your Facebook posts using SocialPilot. This social management tool allows you to maximize your Facebook post reach, integrate promotional activities, and access analytics, all in one place.
So hurry up and get started with its free trial now.