Social media has changed the way brands connect with their potential and existing customers. Though the process seems straightforward, Social media marketing in itself is a complex process. It takes your team's enormous efforts to ideate and executes strategies without an error. If not managed properly, it may eventually lead to employee burnout and generate fewer leads.
Now you can step up and make your social media marketers' lives easier by improving their efficiency with some top-rated project management tools. These tools can help them quickly manage and grow social presence across various platforms, like Facebook, LinkedIn, Twitter, Instagram, YouTube, Tiktok, and Pinterest.
Without using the right project management tools, you may risk falling behind your fellow competitors and disconnecting with your peers, customers, and potential customers, something which you would not want to happen in any case.
Why You Need Project Management Tools For Social Media Marketing
Here's why using the best project management tools is critical for the success of your social media marketing strategy.
Ability to control and monitor your campaigns as a whole
Streamline the content posting process by eliminating the need to juggle multiple platforms
Get informative insights into your competitors' strategy and their response to trends and developments within your market sector
Cut costs and labor time
Simplified content management
To monitor relevant keywords for leads and valuable information
To schedule posts ahead of time
To prove ROI to superiors
But before you daydream of these benefits, you need to complete the most crucial step first. And that is choosing the right tool! So let's have a look at 9 project management tools that will lessen your burden and increase productivity. This list can help you make the apt choice.
Finding a Reliable Project Management Tool for Social Media Managers
Finding the right project management tool for social media managers is not easy as many tools are available. It takes thorough research and in-depth analysis of every project management software before finalizing the one you consider would serve your needs. Here are some best in the industry tools for you to choose from.
1

SocialPilot

A cost-effective social media marketing tool specifically designed and developed for social media marketing teams and agencies to automate their social media management.
Used by over 75,000 marketing and media agencies, small businesses, professionals, and enterprises, SocialPilot provides you with a single platform to manage all your social media accounts. This way, you can improve your social media efficiency as you don't need to post updates on multiple, stand-alone websites.
SocialPilot covers the most popular social media networks, and users can share as many as 500 posts and link them to as many as 200 social profiles from a single account. The best part is SocialPilot helps right from curating, creating, scheduling, and post-publishing tracking too. Onboard your teams and clients with roles and share white-label reports with ease.
Powerful features of SocialPilot include:
Reports & Analytics
Collaboration
Social Inbox
Post Scheduling
Automated Publishing
Content Management
Multi-Account Management
Facebook Ads
URL Shortening
Free Content Curation
Canva Integration
White Label Solutions
SocialPilot offers a free 14-day trial and offers 4 pricing plans, starting at $25.5 per month (billed annually). Users can downgrade or upgrade plans and cancel anytime.
---
2

ProofHub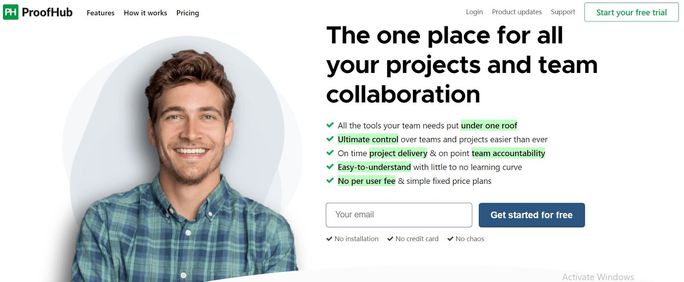 A comprehensive, all-in-one project management software that simplifies the way projects are managed at every stage.
When it comes to project management, ProofHub is a complete package. It is an easy-to-use, all-in-one tool with built-in features that will help social media managers quickly plan, organize, and collaborate on projects of all sizes at one centralized location. You get a clear, holistic view of all the activities and instantly communicate with team members, managers, or clients.
You can create tasks and subtasks, collaborate on designs and documents, and see work moving through multiple stages to ensure all your projects are completed on time, every time.
ProofHub offers a wide range of powerful features, which include:
Proofing
Custom Roles
White-Labeling
Tasks
Kanban Boards
Gantt Charts
Reports
Timesheets
Discussions
Chat
ProofHub subscription starts at $50/month, and the premium version is available for $99/month. A free 14-day trial is also offered.
3

CoSchedule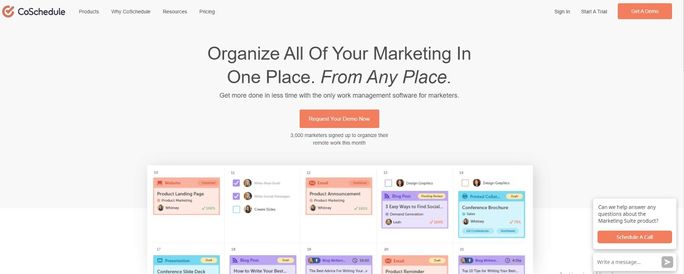 One of the best marketing calendars that connects your content and social media accounts in one view.
CoSchedule is considered one of the best social media management tools. Social media managers can manage their projects on a single dashboard and simultaneously share and publish content, saving time and improving productivity.
Besides helping with marketing and task organization, CoSchedule is also ideal for professional marketers looking to collaborate and communicate with their teams to deliver projects on time. It helps with content planning, content organization and enhances your content quality with headline analyzers.
CoSchedule offers a range of useful tools for social media managers, which include:
Automated Publishing
Social Media Monitoring
Customer Engagement
Post Scheduling
Reporting/Analytics
Content Management
Portfolio Management
Collaboration Tools
CoSchedule pricing starts at $39.00 per month. They offer a free trial with a demo version.
---
4

Sprout Social
Sprout Social is a professional platform for social media management for brands and agencies of all sizes.
Sprout Social is a Saas tool ideal for advanced scheduling of social media posts and tracking their performance across the various platforms. Social media managers can attach all their social media accounts easily and quickly.
Sprout Social's clear and intuitive interface offers a quick snapshot of your social media accounts. Several tabs help users schedule and publish social media posts, pull analytics reports, and monitor social media campaigns.
Sprout Social offers a range of tools which include:
Smart Inbox
Publishing
External Integrations
Customer Relationship Management
Analytics
Real-time Brand Monitoring
Comprehensive Reporting Tools
Engagement
Sprout Social pricing starts at $99 per user/per month. They also offer a free 30-day trial.
---
5

Buffer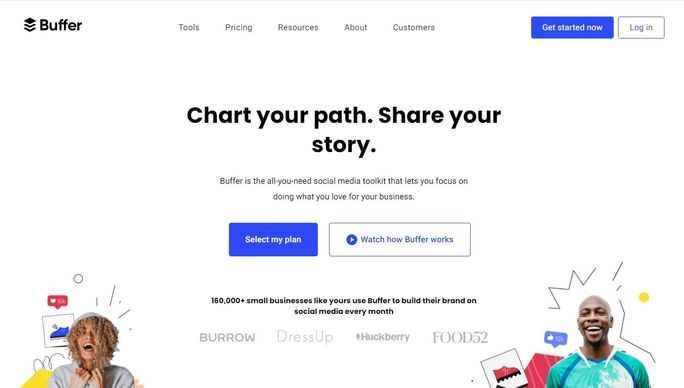 Buffer is exclusively designed for social media content management for authentic engagement with the audience.
Trusted by over 73,000 brands and businesses worldwide, Buffer is a social media management tool to plan and schedule social media campaigns across all platforms visually.
The primary feature of Buffer is to help users line up updates and make content sharing as easy as possible in the future across a range of social networks.
Buffer is much more than a scheduling tool; you can measure and report the performance of your content, build the Instagram community, and save you time and money by eliminating manual handling of all your social media posts.
Some of Buffer's powerful features include:
Social Profile Sharing
Team Management
Analytics and Insights
Automated Publishing
Collaboration
Content Management
Post Scheduling
Buffer's pricing starts at $15.00 per month. A free 14-day trial is available.
Buffer is a favorite social media tool of many small digital marketing agencies, but for many it is out-of-budget. For those agencies, check out the list of best buffer alternatives.
---
6

Hootsuite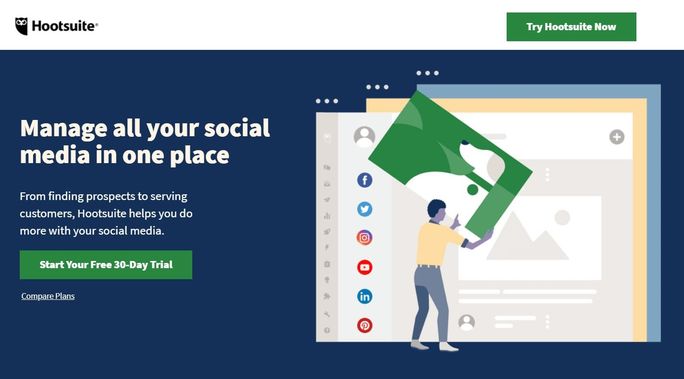 Hootsuite is one of the best social media management tools for executing social media strategies across multiple social media networks.
With over 16 million users worldwide, Hootsuite has all the tools you need to execute marketing campaigns, identify and connect with your audience, and send them targeted messages via multiple channels. Social media managers can create and manage business campaigns from a single dashboard, which can also track conversations, schedule messages, and engage with customers.
Some highly functional features of Hootsuite include:
Content Curation
Scheduling
Social Analytics Reports
Conversion Tracking
Customer Targeting
Team Management
Monitoring
Optimize Delivery
Hootsuite pricing starts at $49 per month, and a 30-day free trial is also available.
---
7

Teamwork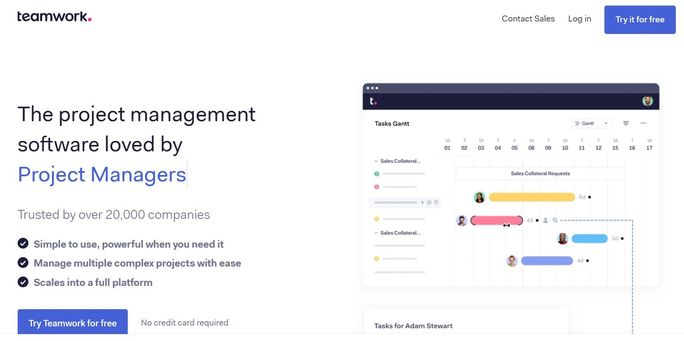 A powerful, feature-rich Project management platform with an intuitive user interface, perfect for businesses of all sizes and needs.
Teamwork is actually created by 2 former digital agency business owners. You can trust it will have everything you need to manage your projects in one centralized location effectively. It allows you to efficiently and effectively track and manage tasks, team members, milestones, deadlines, workloads, and much more.
Teamwork has a range of powerful and useful features such as
Panoramic view of all ongoing projects
Track team and team member workloads
Manage client permissions
Time Tracking
Chat
Gantt Charts
Task and Sub-Task Creation
Calendars
Reports
Teamwork pricing ranges from free through to a variety of premium options, there is also a 30-day free trial.
---
8

NapoleanCat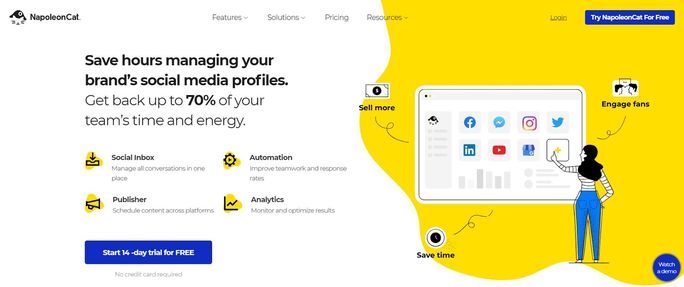 A social media management tool that makes management and tracking analytics accessible.
NapoleanCat is another social media automation tool that can save your draining team effort. It offers a single inbox for multi-platform communication. It also automates customer support services, so you don't need to. NapoleonCat is great for benchmarking and monitoring competitors.
Some of the amazing features of NapoleanCat are:
Social Inbox
Analytics
Reports
Engagement Tracking
Campaign Optimization
Social Publishing
Napoleon Cat pricing starts from $27 per month with a free trial of 14 days.
---
9

Monday.com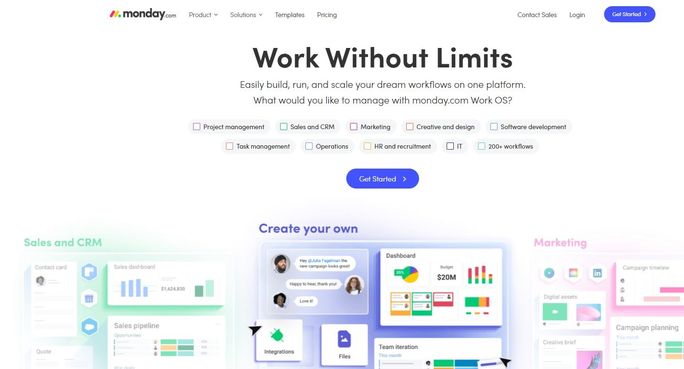 A project management tool that works with accuracy, improving productivity, and projects organized.
Monday.com is a simple yet effective project management tool that manages all your projects. It is fantastic for striking collaboration to multiply team efficiency. You can track right from project planning and track all workflow stages with absolute transparency. The intuitive interface has visual elements for quick insights. It also supports quite a few integrations and a handful of use cases. Overall, it is a flexible tool that just makes delegating and progress tracking simpler.
Monday.com gives its users the following features:
Customizable Automation
Task Creation
Task Management
Popular Integrations
Project Management
Inventory Tracking
Kanban and Gantt
Real-time Dashboard
Monday.com pricing starts at $27 per month and can be upgraded anytime. A free trial of 14 days is also available.
To Sum It Up
While each of the top project management tools for social media managers listed here is designed to help achieve efficiency, the one fact that needs to be remembered is that no one application can suit all users. Some tools are ideally suited for large teams and agencies, while others are better for small businesses and freelancers. It's essential to choose the right tool after assessing your situation and budget. Teams are responsible for overall business success, and making their lives simpler should be the top priority.
Tools like SocialPilot allow them to troubleshoot the redundancy to achieve better results and perform to the best of their abilities.