Social media has emerged as the showstopper in every marketing regime. While individuals have made it a part of their daily schedule, brands are pulling up their socks to impress all.
Marketers are investing in social media posting tools to play a consistent game. These tools help them post regularly, engage with their audience, track analytics, leverage social media listening benefits, manage ads, and much more.
But often, they end up with heavy bills for different social media posting tools.
So we have handpicked the industry's best social media tools that will help you cover a wide array of social media networks without costing you an arm and a leg.
Top Social Media Posting Tools for your Business
Price: $35/month for 1 user
SocialPilot is one of the most affordable yet highly functional social media posting tools with powerful cross-posting features. It has deep analytics and collaboration features as well. This social media sharing tool lets you minimize your efforts by allowing you to add all your social media accounts for maximum engagement with no limits! Create customized reports and mail them to your team or client from the tool itself. This is indeed your go-to social media posting tool.
Why select SocialPilot as your social media posting tool?
Save time, create and schedule customized posts for each social media platform from one place.
Schedule 500 social media posts at one go with the bulk upload feature.
Come up with new content ideas with the content curation feature.
The effortless tagging feature lets you grab more eyeballs and engagement on your social posts.
With advanced social media scheduling, you'll have all the flexibility to post as you like with the Add To Queue option and other scheduling options.

Schedule and post carousel posts for Facebook and LinkedIn to gain more engagement.
Add emojis and GIFs to your social media posts making them more attractive.
Let your content go the extra mile and reach your target audience with advanced post creation features like Facebook and LinkedIn audience targeting.
Make the process smooth and workflow easy for your entire social media team with team collaboration.
Save your posts as drafts and use them later.
Visualize your social content strategy with the social media calendar.
The RSS feed automation makes sharing your favorite content easy.
Analyze your social media account and mark your progress with the deep social media analytics and reporting feature.
Schedule Facebook boost posts and manage your lead ads with the Facebook ads feature in your SocialPilot account.
What do people say about SocialPilot?
Luis Ignacio C.
I implemented SocialPilot as the main tool for content management. SocialPilot is truly amazing. Apart from all that, they also offer you a complete section of analytics, which allows you to show the orderly evolution of your work.
Dan F.
SocialPilot's ability to bulk schedule content is a giant time-saver. Having that feature plus an intuitive dashboard that was friendly to the new and intermediate user is a recipe for success. Lastly, SP is at the forefront of advancements and new technology. This is evident by the partnership they have with TikTok that allows SP to schedule TikTok videos.
Brian W.
SocialPilot fit a perfect price point and got me connected to all of my social media accounts very quickly. I can make my posts and schedule them as I like. Thank you!

---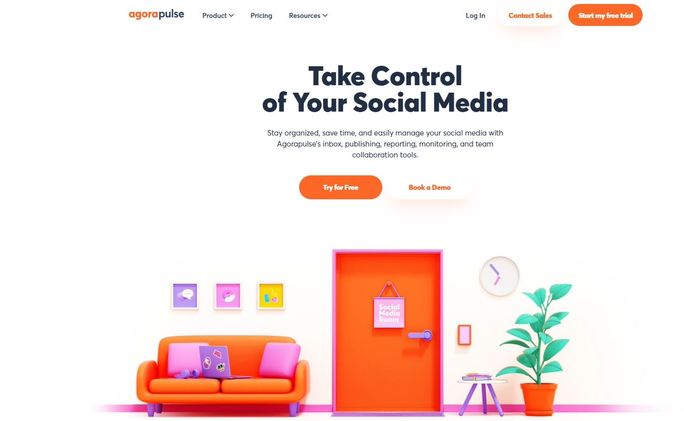 Price: $199/month for 4 users
Over 17,000 social media managers actively use AgoraPulse to schedule and post their social media content, get all analytics reports, and engage with users from one platform. This social media posting tool also offers CRM integration.
You can also keep a tab on all conversations from a unified social inbox. Apart from the usual scheduling features, you can use Agorapulse for competitor analysis. Agorapulse helps in building your community stronger with consistent posting abilities and analytics.
Pros
Agorapulse offers a free trial for 30 days.
It lets you listen to all your brand relevant conversations.
It provides CRM integration for better team collaboration and visibility.
Lene A.
The ability to actually see "Inbox 0" is insanely motivating and always makes me feel good.
Cons
The reporting feature is basic, with scope for improvement.
This social media posting tool is too costly for the features it has to offer in the subscription plan.
The inbox is a bit clunky.
Bobby B.
One thing I miss is the possibility to boost/advertise through the platform.
To have a more detailed comparison, please check how SocialPilot proves out to be a great AgoraPulse alternative
---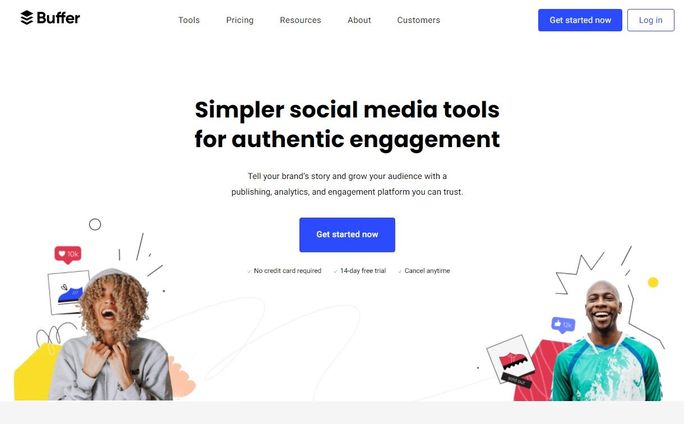 Price: $10/month per social channel
Buffer is a social media posting tool that is simple to use, helps you tell your brand story, and drives in lots of engagement with efficient publishing and analytics tools. Buffer also offers a free version, but it may not cater to business needs. You can include various additional features like Buffer Analyze and Buffer Publish to leverage its full potential in its paid version.
Pros
You can run the program manually or automatically.
Everything can be managed from the cloud, so you don't need to save anything.
Soraya E.
Buffer is software designed to program your publications in your social networks or computer platforms, allowing you to stay connected in some without neglecting the others.
Cons
The mobile version has a lot of bugs. It can be improved.
Buffer structure is quite confusing and leads to shelling out a lot of extra cash. They have all different subscriptions of Publishing, Analytics, and Replying. So if you want to manage everything under one roof, be ready to spend a handsome amount.
Verified Buffer User
It is quite confusing (from the social media apps) to know what is triggering what. Buffer does not help in clarifying that either.
SocialPilot is the perfect alternative to Buffer app. Check the detailed comparison yourself!
---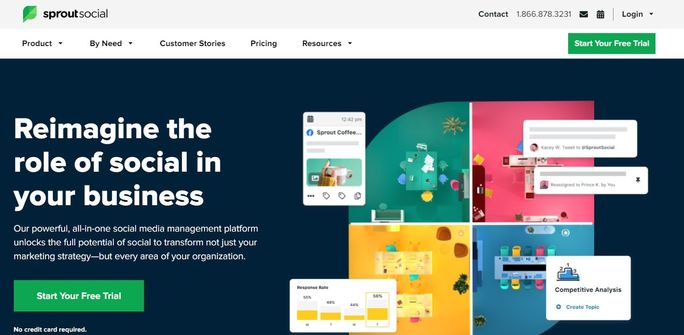 Price: $169/month
Sprout Social is an all-in-one social media cross-posting tool that helps you grow your network and engage on social media platforms. It supports several helpful integrations like UserVoice, Zendesk, CRM tools, and more. Sprout Social has excellent social listening tools, so you leave no stone unturned and engage at every possible opportunity.
Pros
This social media posting tool has good listening capabilities. You can even customize your social media streams.
It has a bot builder that helps you in managing chatbots on Facebook messenger.
It has a rich asset library.
Stephanie M.
I like that I can rely on Sprout to post my content for me after it's scheduled. I like the listening capabilities.
Cons
It is a bit pricey as the pricing model is per user, which is unsuitable for large companies.
There are additional charges for including more features on your account.
Though they have an inbox to manage messages and mentions, they aren't entirely intuitive as they don't have a unified inbox.
Fernando C.
It is a bit expensive for companies with many workers since the program is per user. In addition, the cost rises if you want to have more functions. Another element that interferes with the total productivity of the program is that it needs consistent interaction metrics on all social platforms; it would be ideal that it could cover all, not just some.
Have a look at how SocialPilot compares to be a budget-friendly Sprout Social alternative.
---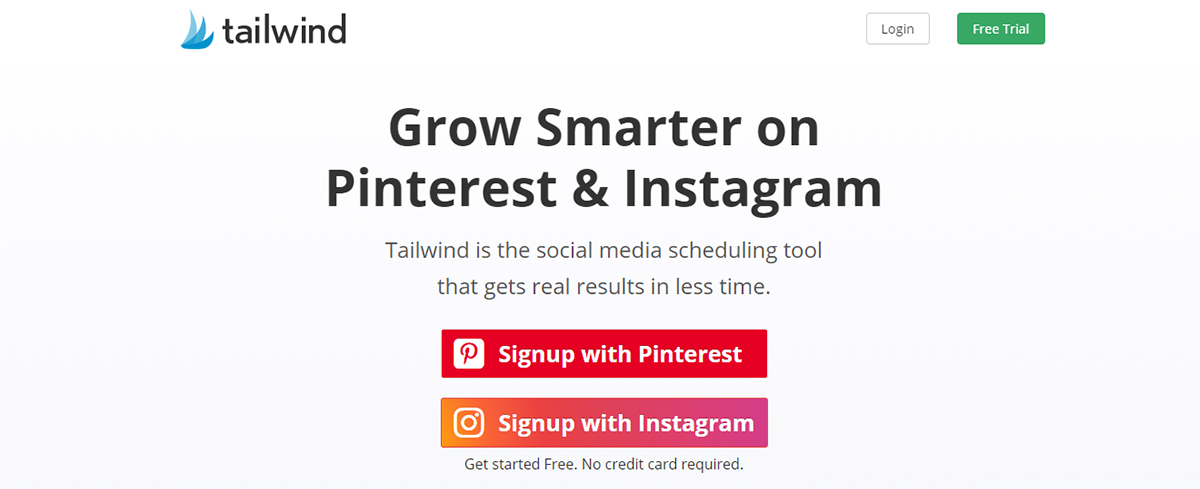 Price: $39.9 for 2 users
Tailwind is the official Pinterest Partner for content marketing and Instagram partner for community management. From scheduling pins and discovering relevant content to growing reach and measuring results – this tool lets you achieve all this and more. Apart from Pinterest management, Tailwind also helps you manage and grow your presence on Instagram.
Pros
You can create a new pin every time instead of repinning your content.
Its automation function saves you time while helping you maximize reach.
Its powerful analytics and reporting features offer deep insights, lets you measure impact, and optimize your strategy to accelerate growth.
Sara D.
Tailwind allows me to spend my time creating content because it saves me time pinning to Pinterest. It finds the kinds of posts that I want to pin to my boards.
Cons
It does not allow you to toggle between Tailwind accounts, which could be a challenge if you are working for multiple clients simultaneously.
It does not let you post on Twitter, LinkedIn, and Facebook.
It is considered to be one of the costlier social media posting tools as it supports limited social media networks.
Verified Tailwind user.
It took a while to get used to how things are done, and you can not post to Twitter.
---

Price: $24
CoSchedule is a real-time planner for your blog and social profiles like Facebook, Twitter, LinkedIn, Tumblr, and Pinterest. It helps you organize and centralize your social media strategy. It also includes planning, publishing, automating, engaging, and measuring. This tool enables you to create full-scale social media campaigns and create reusable templates, thereby saving time and improving productivity.
Pros
It offers agile marketing products for syncing projects and processes with teammates.
It gives a visual representation of all your content in one centralized place.
This tool seamlessly integrates with WordPress, making it easy to plan, publish, and promote blog posts and social media messages.
Casey
CoSchedule is useful for keeping me on track with everything I'm trying to accomplish. Reposting my best work regularly without needing to lift a finger.
Cons
It is costly compared to other content calendar alternatives.
It is difficult to share the editorial calendar with the rest of the team. It isn't even available in a print-friendly version.
Scheduling blog posts is not as user-friendly as its alternatives.
Jessica H.
Coschedule is more expensive than the normal content calendar alternatives I have found. Social media programming exists, but we find publication errors more often than we would like.
---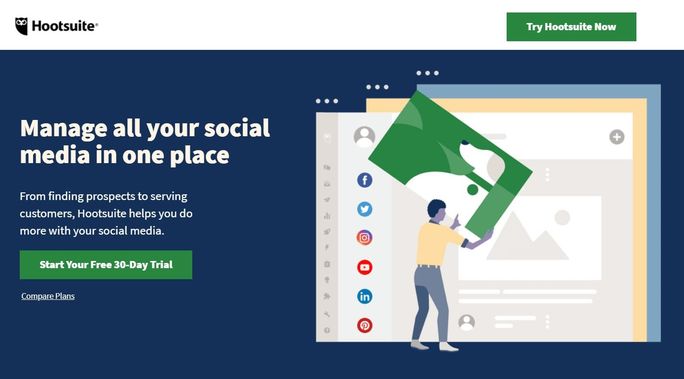 Price: $129/month for 3 users
Hootsuite is a complex social media posting tool meant for large organizations. It is one of the oldest market players supporting Facebook, Twitter, Instagram, LinkedIn, Pinterest, and Youtube. With over 18 million customers, Hootsuite delivers the global scale and insights one needs to succeed in social media marketing. Apart from daily schedules, you can use Hootsuite for phenomenal ad campaigns too.
Pros
Its powerful analytics features give you a clear understanding of how your posts are performing across channels.
It supports a range of social networks (without installing any applications) such as Facebook, Twitter, LinkedIn, WordPress, FourSquare, and Instagram.
It has an all-in-one interface that allows you to add multiple accounts across multiple channels.
Harry W.
Using the streams Hootsuite offers, I can set up one for all posts to check consistency and monitor engagement, one for competitor research, and one for searches, and then more platform-specific streams so I can really dive into the nitty-gritty if I need to.
Cons
While the starting price is affordable, it tends to get expensive as you add extra apps and team members.
The crowded interface can get confusing and overwhelming.
It limits you to using the ow.ly URL shortener. If you have your short URL or use another service, Hootsuite might be a hurdle.
Brie S.
The user interface is weak; it's not user-friendly, nor is it practical or modern looking. It has a tendency to leg, it also isn't mobile-friendly, they do have an app, but again it's not easy to navigate.
Know how SocialPilot proves to be an intuitive and cost-effective alternative to Hootsuite.
---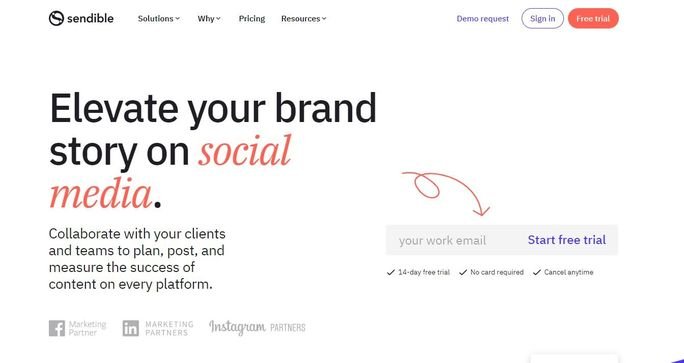 Price: $89/month for 4 users
From engagement to analytics, Sendible is built to help agencies manage social media marketing for multiple brands. This is one of the social media posting tools that supports Facebook, Twitter, Instagram, LinkedIn, Google My Business, Youtube, and Pinterest, along with blogging platforms like WordPress, Medium , and Tumblr.
Pros
The social listening feature lets you keep track of your brand along with key industry terms and competitors.
It offers a simple, easy-to-use interface that does not require any training.
Apart from boosting audience engagement, it also helps you generate quality leads and improve ROI.
Scott N.
It has an awesome user interface (UI) which is easy to use and generally a great user experience (UX).
I don't think there is another software I would use for social media management or analytics. Due to the ease of use, I find it costs down on the time I have to take in order to get work done on Social media – which frees me to get other things done.
Cons
The mobile app tends to crash often, making it difficult to use and schedule posts effectively.
There are instances when scheduling fails, and administrators are not notified about the same.
Reporting and analytics features are limited and can be improved.
Verified Sendible User
The Reporting section has quite a bit of bugs, mainly for Google Analytics connections. Not quite sure if Sendible is to blame or the API to google, but our reports tend to not pull 50% of the time. Sometimes the integrations don't work 100%. Instagram often doesn't pull featured images even when fetched. Hashtags sometimes run together after they're added to various services.
Checkout the detailed comparison of SocialPilot being an easy Sendible alternative.
---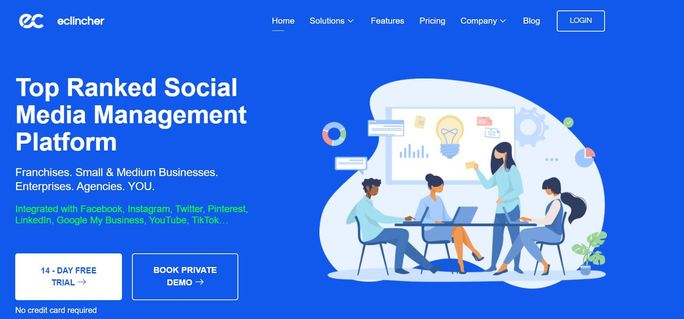 Price: $119/month for 3 users
eClincher is an amazing social media posting tool that helps businesses increase their social media ROI. eClincher supports all major social media platforms like Facebook, Instagram, Twitter, LinkedIn, Pinterest, Google My Business, and Youtube. It is suitable for individuals and small teams. It also provides RSS feed integration for easy content sharing capabilities. The best feature of eClincher is its inbuilt library of images, so you don't need to design a creative each time you share social media posts.
Pros
eClincher has monitoring and listening features which are helpful for branding at large.
eClincher has impressive customer support, which is prompt at solving issues and taking feedback.
Gina B.
I liked the simplicity of the platform and the social features that were available at the time.
Cons
Scheduling posts is a clunky feature of eClincher.
It lacks intuitive bulk uploading features.
Verified eClincher User
We loved using Eclincher until we got to the point where we were managing over 50+ profiles. Once we got to that point, the system was always buggy, and the support started to lack. We'd have problems and issues, and support couldn't help us out. Most times, it felt like we'd ask them something, and they couldn't comprehend what the issue was; it was kind of frustrating.
As a social media marketing team, your ultimate aim is to effectively manage your brands' social presence and drive organic traffic to your website. You should be able to post across multiple social media platforms without spending too much time on each platform. For this, you need a robust solution that is easy on your pocket without compromising on features.
Out of all the tools, SocialPilot seemed to be the best fit overall. You can try it out for free to know better!