Social media is an uncharted avenue for most businesses. Many fail to understand that its potential lies way beyond the barricade of bringing you just views and website traffic.
But thanks to social media listening tools, brands can explore more efficient branding methods than the traditional post shares.
Yes, you guessed it right! They are leveraging the mammoth power of social listening by active monitoring activities.
So whether it is pre-purchase research or a quick scan for recommendations, your brand name might pop up on the web anywhere. It is also possible that somebody took your product's trial and wants to share their experiences on social media.
Whatever the intention be, people are talking about you and your competitors even as you're reading this. For any marketer, these are crucial insights into consumer behaviors. The future of market research is here, and it's automated to perfection with social media listening tools.
But how does it help you exactly? Well, social listening lets you collect and analyze mentions of your company, brand, products, hashtags, and whatever that can be found on social media on the whole and the web at large.
Social media monitoring and analytics are a massive help in making both marketing and business decisions. Every insight you get is reliable and actionable because it comes from honest user feedback.
So here's the list of top social media listening tools in the market for some jam-packed action. The list has several social listening tools reviewed, considering the wide range of budget and marketing needs.
Let's roll!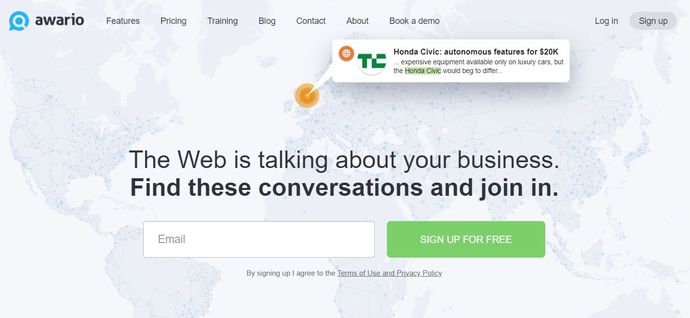 Awario is a social listening tool that offers the best of both worlds — Enterprise-level feature set and good value for your money. Starting at $29/mo, you get full coverage of all social media, blogs, forums, news, and the web, so that no brand mention is left unnoticed. Use Boolean search to create complex queries and get spot-on results.
With every mention of your company pulled in real-time, you can improve customer support and retention. Awario will also bring you leads and influencers — potential customers and brand allies. You can engage with them right from the app, leveling up your social selling and influencer marketing as you go.
Possibly the most exciting part, Awario does comprehensive market research. The tool measures your share of voice, brings competition intel, analyzes the sentiment of conversations about you and other brands in your niche, delivers language and location insights about your customers, and then some.
Supported platforms: Twitter, Instagram, Facebook, YouTube, Reddit, news, blogs, forums, review websites, web
---
SocialPilot is an all-in-one social media management solution with publishing, engagement, and analytics features. The tool is a perfect fit for bigger teams handling content, customer care, and strategic communication.
To refine your marketing workflow, make use of SocialPilot's social inbox management tool to respond to messages, comments, and posts across Facebook Pages in real-time.
Also, monitor team activity with the team and collaboration feature, measure your efficiency through its analytics function, and delegate tasks right from the app. To further engage your team, promote brand advocacy by employees, and boost your social selling.
SocialPilot brings you effortless automation, competition insights and uncovers more opportunities for your brand.
Supported platforms: Twitter, Instagram, Facebook, Pinterest, LinkedIn, Tumblr, Google My Business, TikTok
$199/mo
5 trackers and 20,000 posts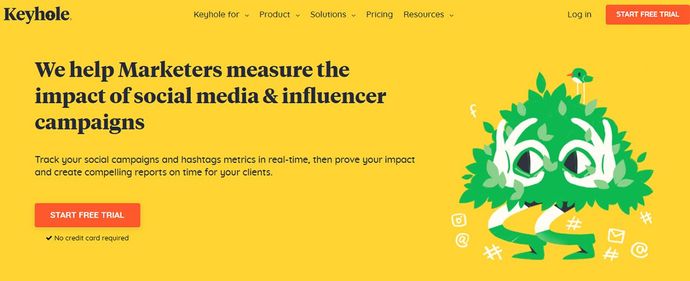 Keyhole is a social listening tool that offers effortless management of social media and influencer campaigns. Similar to other social media monitoring tools, Keyhole delivers real-time data, pulling reach and engagement metrics along the way.
The tool boasts the ultimate hashtag tracking and analytics functionality. It relies on artificial intelligence to predict hashtag performance, impressions, and reach. Furthermore, for every hashtag you track, Keyhole suggests other relevant hashtags in a word cloud.
Keyhole also relies on advanced machine learning for market research to deliver anticipated trends and keywords with the biggest potential.
Supported platforms: Instagram, Twitter, YouTube, Facebook, blogs, news, forums
---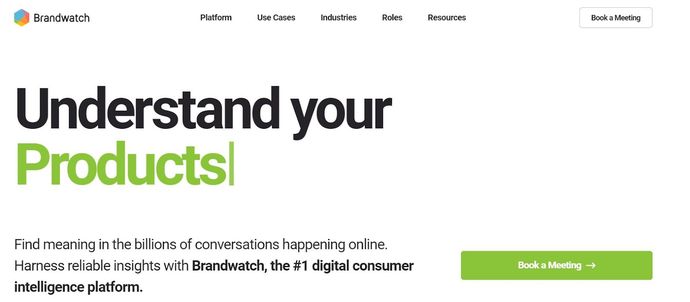 Brandwatch is Enterprise-level only, which means you can rely on it in both B2B and B2C marketing. The tool offers advanced social media monitoring and analytics, sorting all brand mentions for your quick overview and immediate feedback.
With Brandwatch, you also get insights on the trending topics and content your audience resonates best with. Combined with customer demographic analysis and influencer suggestions, you have all the tools for maxing your content performance and user engagement.
To elevate your internal reporting and turn social listening data into stunning visuals, use Brandwatch's own visualization toolkit Vizia. It lets you create custom dashboards and share marketing insights in style.
Supported platforms: Twitter, Facebook, Reddit, Instagram, Tumblr, blogs, forums, review and video sites, news
---
$9600/year
10,000 results/mo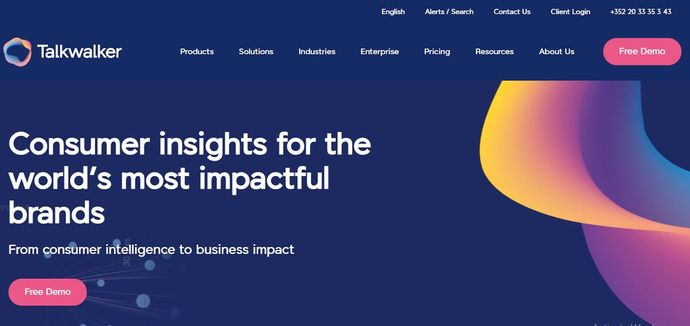 Talkwalker is a go-to option for multinational brands. It lets you monitor global marketing campaigns, measuring your impact by scanning social media, TV, broadcast, and print. Under the Enterprise plan, you can also use image recognition and track your logo across the web.
The tool is brilliant for translating your visibility campaigns performance into KPIs, linking marketing efforts to business metrics. You can then customize dashboards and present social listening findings to colleagues in different locations.
Like other social media listening tool kits, Talkwalker offers in-depth analytics. Make a note of any fluctuations in your reputation score or sentiment of conversations around your company to promptly address any reputation crises.
Supported platforms: Twitter, Facebook, YouTube, Instagram, LinkedIn
---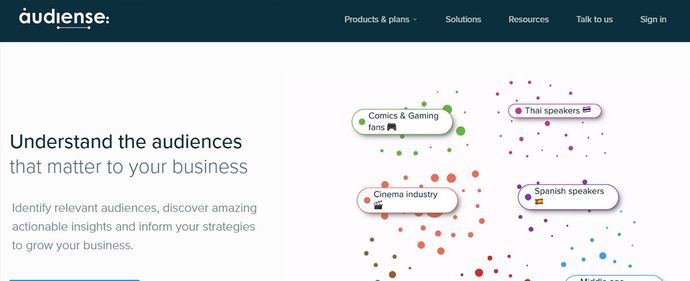 Audiense is the tool to mine audience insights to utmost precision. This social listening tool will help you understand your demographics with appropriate segmentation. Each segment is further broken down into useful categorizations like age, gender, locations, interests, brand mentions so you can plan a perfect target-focused campaign.
Audiense can also help you find relevant influencers of each segment so you can take their help to amplify your branding. Its AI technology scans through all data points to give you a peek at the mindset and psychology of your followers and target audience.
It also notifies you about your competitors and their real-time status. This game-changing information bridges the gap and can be used to create better digital marketing strategies.
Supported platforms: Twitter, Instagram, Facebook, YouTube, TikTok
---
$199/mo
20,000 mentions/mo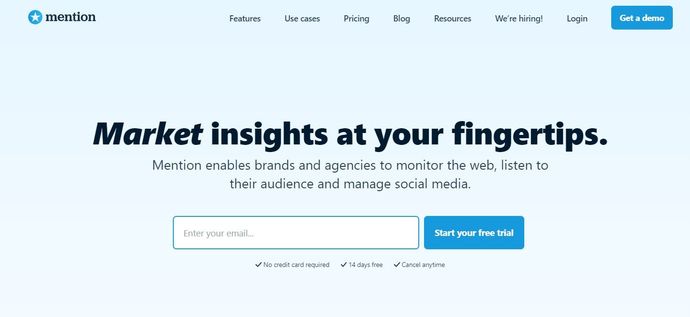 Mention is a social listening tool for real-time monitoring on the web at all times. The best part about Mention is its custom insights, so you only track what you want to with specific filters. Elevate your brand name by being a customer-centric and prompt responder of every brand mention across multiple channels.
Its competitive and sentiment analysis benefits will also let you win over your potential customers before your competitors do it effectively. Its keyword tracking feature also has boolean alerts to keep a tab on all the plausible combinations of your keywords.
You can also use its advanced features like engage which lets you send messages and reply to your brand mentions. Apart from these, Mention also offers API and slack integrations with social media management capabilities.
Supported platforms: Instagram, Twitter, news, forums, blogs, review and video sites, web
Social media is full of meaningful conversations abound with great opportunities. Using social listening tools is the most brilliant way of tapping into these conversations for learning more about your brand's existence.
These tools can also help you manage your brand reputation, filtering out the false claims and feedback of all shades. The beauty of social media monitoring is that its use cases are as many as you can think of.
As long as people are talking, there's always something to learn. So pick a tool that's right for you and make sure you get every insight social listening has to offer.