"Identifying your competitors and evaluating their strategies to determine their strengths and weaknesses relative to those of your own product or service."- Entrepreneur
Social media is the new battleground for brands.
They are leveraging and experimenting with all possible social media strategies to establish a meaningful relationship with their audience.
Still, some brands succeed, whereas some struggle.
To know why your competitors are getting traction; where you should play to hit your social media goals, start with social media competitive analysis.
But first…
What is Competitive Analysis?
Social media competitive analysis is the constant monitoring, tracking, and analysis of the competitor's activities on social media, to formulate winning marketing strategies.
But, Why Competitor Analysis?
Below image can you help understand that: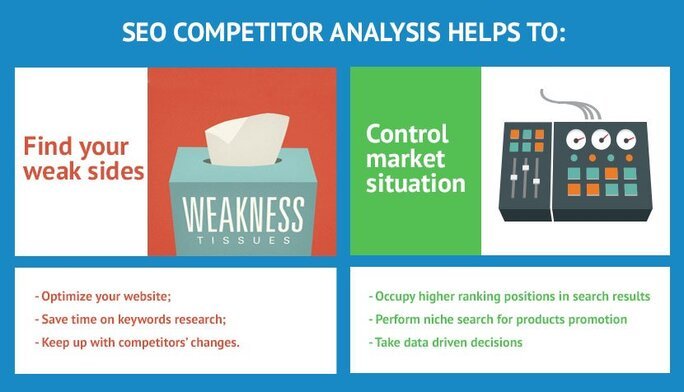 Now, you must be well aware of why you need competitor analysis.
I know, your next question is how can you perform it.
Let's explore in sections given below:
Step 1: Identify Your Competitors
While some people call it spying, I would term it as intelligent monitoring of your competition.
The first step in your competitive analysis involves:
Create a list of your competitors

Find your potential competitors on Google using the right keywords

Identify businesses that buy pay-per-click ads based on the keywords

Identify marketers advertising on similar industry platforms

Search for competitors on eCommerce stores like Amazon or eBay

Locate your competitors on social media platforms like Facebook or Twitter
So have you made your list of the competitive analysis elements?
If yes, then we will now learn how to explore the competitor's website and social media marketing strategies.
Step 2: Track Your Competitors' Social Media Activities
What does this mean for you?
You have to actively listen and monitor conversations that your competitors have with their audience.
But how?
You can find this conversation in the form of comments, likes, discussions, etc.
How is it going to help you?
By actively listening, you will be able to determine your competitor's audience size; it will also lead you to them. And if they are unhappy with their current supplier/service provider. ( Make use of the best AgoraPulse alternatives – social media monitoring tools, to manage your spying easily)
Bang on!
It's an opportunity knocking at your doorstep. So, keep an eye on your competitors' social media activities and how users' respond to them.
Let's start with gathering data on Facebook, Twitter, LinkedIn, Instagram, and other social networks.
a. Gather Competitor Data
Which social media platform should you start with first?
Don't overthink, start with Facebook.
With over 2.45 billion monthly active users, Facebook is the ideal platform to start tracking your competitor's audience.
Take a look at your competitors' Facebook posts and the "total number of likes" located at the bottom left corner. Here's an example of Titan's Facebook post with the total number of likes.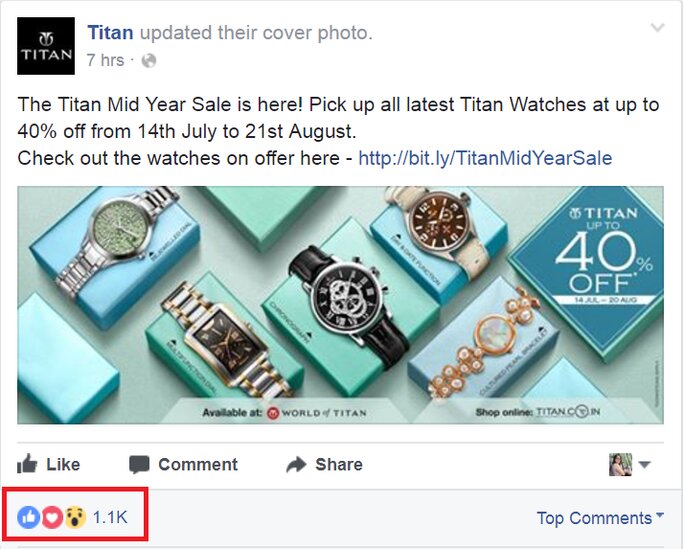 Click on it, and you will see the list of customers who liked the post (these are your new potential customers).
Also, click on "Top Comments" at the bottom right corner, and you will get information about the audience with real engagement. These are the people you have to target.
Tip: Leverage the power of Facebook newsfeed ads to be more specific about content strategy. Re-targeting is another option where you pay when users click on the ad to reach your website.
After Facebook, let's move to Twitter.
On Twitter, you should track your competitor's audience metrics like audience behaviour, demographics, likes and preferences, using competent social media competitor analysis tools. Once you analyze your competitors' social media marketing moves on twitter, proceed to other social media platforms like Instagram or Pinterest, where you are likely to gather competitive analysis data.
Now you have gathered the required data, What's next?
b. Analyze the Collected Data
Create a spreadsheet and note down all the data that you have accumulated by tracking the competitor's social media accounts. Some vital questions will spring up while analyzing the competitor's statistics.
When was the last time they posted?
What is the frequency of posting?

What response do they get through comments, discussions, queries?

How responsive are they? (to comments, discussions, queries)
These four vital questions are yardsticks that help you determine how active your competitors are.
Active brands usually post at least twice a week. You have to analyze the kind of content they are posting carefully.
Is it promotional?
If yes, check out the frequency plus the way they publish promotional posts enriched with offers, discounts or calls-to-action.
But wait…there's more
Another area you should analyze is your competitors' blog content.
Do your competitors publish blogs frequently to interact with the targeted audience?
You can take blog ideas from competitors and develop improvised content based on similar topics. You can plug your competitors' posts to Buzzsumo to find out which blog posts have the maximum shares.
Perform a content audit where you should find out which blog topics resonate the most with the audience. Pay great attention to the structure of the blog.
Finally, compare your blog content with your competitors. You will get answers as to where you lag behind and weak areas you need to work.
But alone data analysis will not help you? Next is 👇
c. Perform SWOT Analysis
Now:
If you want your business to reach the exalted realm of the top marketers, perform the SWOT(strength, weaknesses, opportunities, and threat) analysis.
Here you will understand your strengths and weaknesses; you can also do that for your competitors, and identify the threats and opportunities in the industry.
This data analysis has to be evaluated by making a spreadsheet and noting all key factors.
Tip: You can try some visual techniques to conduct your competitive analysis.
After the SWOT analysis, you have identified the growth opportunities. Next is how to put that analysis to use.
Step 3: Leverage Insights from Competitor Analysis
It's time to take some action.
You can now use free social media analytics tools to gather your social media marketing profile data and then stack up that data against the competitors.
The analysis data helps marketers in more ways than one.
Businesses can evaluate their position in the social media market
You can identify the key influencers who are advocating your brand
Measure the success and achievements of your competitors
Find opportunity areas where your competitor is lagging.
Competitor Strengths and Weaknesses: A Comprehensive Overview
Your competitor will have some niche areas where they always manage to stay ahead of their competitors.
Study it carefully and understand their stronghold. Make that your benchmark and start working towards achieving it.
Use your competitors' strength as your source of inspiration. For e.g. your competitor makes a video, you make a better one.
Your competitors' weaknesses could become your opportunity areas to experiment and tap. Try and provide plausible alternates to the customers where your competitor lags.
How?
Follow the comments section and engage in discussions with the target audience on your competitor's blog.
This is one of the best ways to find out customers' problems and the company's pain points. Use all the gathered competitive analysis data to device better social media strategies so that you can drive more traffic to your website.
Simply put
Take inspiration from your competitors' strength and be good at where your competitors are not performing good.
Doesn't it all sounds overwhelming? Worry not. It is time to automate competitive analysis.
How? Let's explore 👇
Step 4: Use a Tool for Effective Social Media Competitor Analysis
Performing competitive analysis and monitoring every move of your competitors could be a tedious task.
Here are some excellent online tools that help you spy on your competitors' marketing strategies.
SEMrush:

To track the position of the keywords of your competitors.

Alexa: To track and monitor your competitors' website.
BuzzSumo: To measure the social shares of your competitors' posts.
SE Ranking: To monitor competitors' search results on Google and other search engines.
Simply Measured: To gather information about competitors' branding strategy.
OpenSiteExplorer: To analyze the backlink profile of a website.
Step 5: Drive Success with Competitor Analysis
You have conducted a social media competitive analysis, and the data is present with you. As a business, you clearly understand the weak and strong areas of your competitors' products.
It's now time for some self-analysis.
Understand your niche and get inspired by competitors' moves that could apply to your business. And then devise the strategies that help you stand out.
There are just two options for a business – Be different or be better than your competitors.
Once you incorporate the strategy, you might not necessarily be successful. At every step of implementation, access and compare the results with your competitor.
Do not waste time on strategies that are not working. You have to observe, listen, learn, and improve.
That's a wrap!
So, what did we learn?
Online Social Media Competitor analysis tools are effective in measuring your competitors' performance. You have to dive into a sea of information to learn and improve for the benefit of your business.
The copy, keywords, and traffic information on the competitors' content are all crucial data that will aid you to devise your social media strategies strategically.
What do you think about the information shared in this blog post? Feel free to share your thoughts in the comments' section below.