How do you know, for example, whether your brand's online reputation is positive or negative?
How do you know whether your social media campaigns are generating desirable results?
Without social media monitoring tools, you risk being left in the dark about online conversations surrounding your brand.
Social media monitoring gives you real-time visibility into every online conversation that your audience is having about your brand.
When used strategically alongside your social media marketing tools, social media monitoring helps you reach more customers, build brand loyalty, improve your marketing campaign ROI, and even mitigate the impact of negative online conversations.
Before we get into the best social media marketing tools to use in 2023, let's explore what social media monitoring is and why it's so important.
What is Social Media Monitoring?
Social media monitoring is the process of tracking conversations across multiple social channels in order to know what's being said about your brand's product, campaigns, customer service, etc.
It's a strategy that's often combined with social listening, which is the monitoring of industry-related information like trending topics or competitor activities.
According to SocialMediaToday, social media monitoring and listening are significantly underutilized by marketers. That said, almost 61% of businesses surveyed now have a social listening system in place. Of those who have implemented social listening, over 30% use it for brand sentiment and reputation management. This is followed by brand awareness, industry trends, and competitive and campaign analysis.
No matter what your goals are, there are numerous benefits to implementing a social media listening strategy. Perhaps you are launching a new product and want to gauge customer feedback. Or you might be working with an influencer marketing agency and want to analyze your latest campaign by monitoring the number of brand mentions.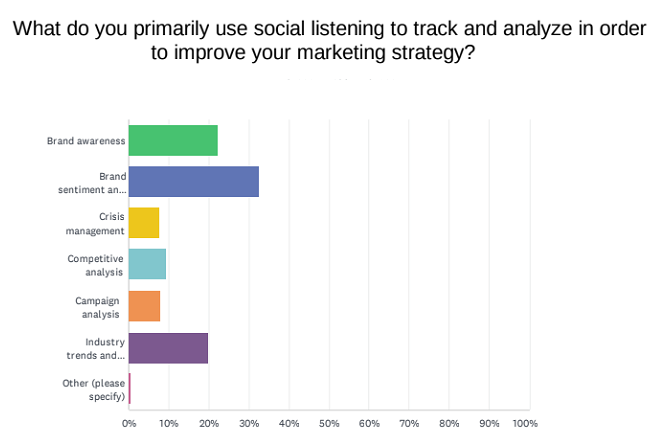 How can you pick up conversations, pinpoint mentions, and gauge sentiment on such a large scale? Social media monitoring tools let you search for and track keywords, mentions, phrases, and hashtags across social and online channels.
Social media monitoring tools can even integrate with your CRM and CCaaS solutions to enhance your social media communications and omnichannel customer journeys.
Most social media monitoring tools can also help you schedule tweets and other social media posts in advance, allowing you to optimize your content strategy and reach your audience at the most effective times.
How Social Media Monitoring Benefits Businesses
Your brand's social presence, campaigns, and communications depend upon effective social media monitoring. How? Let's discuss.
Tracks Your Campaign and Communication Effectiveness
Like most brands, you're probably active on multiple social media channels. It's important to establish whether your campaigns and communications across these channels are garnering attention. You can do this by analyzing engagement metrics like comments, likes, and shares.
However, simultaneously tracking the effectiveness of your Facebook, Instagram, Pinterest, and other social campaigns can quickly become overwhelming.
Social media monitoring tools streamline this process, using automation to extract and centralize performance metrics. You can leverage this real-time data to quickly and accurately gauge the success – or failure – of campaigns and communications.
Monitors Your Industry Trends and Competitor Activities
Creating content that relates to trending topics is a reliable way to garner organic traffic. Social media monitoring helps you capitalize on trends by ensuring that you stay up-to-date with popular industry topics and audience interests, which can then be used for content inspiration.
Your competitor's social activities can be used as a source of inspiration, too. Thanks to social monitoring, you can get the latest scoop on what your competitors are talking about and use these insights to fuel your own creative process.
For example, by aiming to generate content that fills in gaps left by your competitors, you can offer your audience additional value and drive more potential customers your way.
Boosts Audience Reach
Influencer marketing is a powerful social media marketing technique that can help you reach your target market and boost brand trust on social media.
50% of Millennials and 52% of Gen Z shoppers trust the brands and products that influencers advertise on their social platforms. As a result, influencers have impressive swaying power over their followers' purchasing decisions.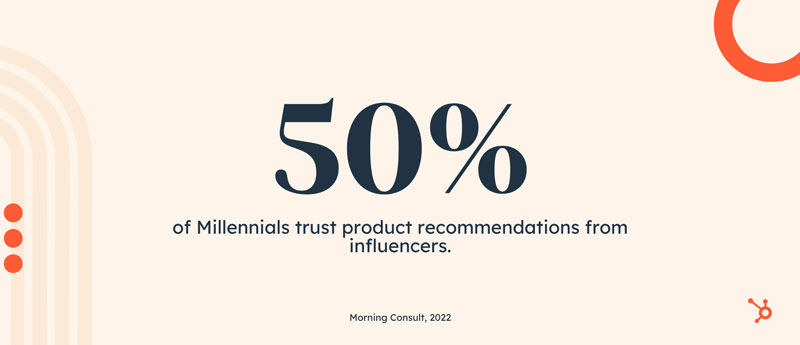 Social media monitoring tools can identify influencers whose online follower base consists of your target audience. From there, you can reach out to these influencers with a partnership opportunity. This collaboration can significantly accelerate your brand awareness, build credibility, and drive conversions.
Social media monitoring tools can even help you track the engagement of your Instagram followers, which can be a valuable metric for measuring the success of your social media marketing efforts. This information can be used to refine your content strategy and build a stronger relationship with your audience.
Helps Improve Marketing Strategies
Your marketing strategies should be continuously evolving in response to the demands of your target audience. But, instead of having to individually ask every potential customer for feedback, you can use social monitoring and listening tools to gauge audience pain points, interests, and preferences on a massive scale.
Essentially, you can use what your customers are saying about you online to influence your marketing strategies. If customers respond to your latest Instagram ad with positive comments, tags, and reviews, you can use these insights to strengthen the successful elements of your campaign.
Similarly, if you're receiving negative feedback, you can adapt your strategy accordingly. Complaints about a lack of brand consistency or trustworthiness could be solved with the help of a brand kit generator.
Helps Keep an Eye on Your Brand Reputation
A few negative sentiments expressed online can have far-reaching consequences if you're not careful. Social media monitoring tools meticulously observe online discussions surrounding your brand, assessing the tone of conversations and alerting you of mentions as soon as they are posted.
By keeping a close eye on positive and negative sentiments, you can accurately gauge your brand's reputation and perform swift damage control if necessary.
Don't forget to respond to positive comments too! Promptly responding to both good and bad feedback humanizes your brand and makes your customers feel heard and appreciated.
So, now you know the benefits of social media monitoring, let's take a look at the tools you need to leverage them.
All pros and cons are based on reviews listed on capterra.com.

Best for:
Professionals, Small teams, Small-medium businesses, and Enterprises.
About Hootsuite
Hootsuite , a multifaceted social media marketing solution, has been adopted by a diverse array of users across industries. It can also be used as a social media monitoring platform that centralizes social media mentions, conversations, and content into one user-friendly dashboard.
Hootsuite empowers solo marketers to establish and curate their online presence effectively. Marketing agencies also find the tool indispensable for seamlessly managing multiple client accounts. With a worldwide user base spanning industries like education, finance, government, and healthcare, Hootsuite has proven invaluable in optimizing social media strategies on a global scale.
With deeper insights into brand mentions and industry trends, you can confidently make pivotal social media marketing decisions. However, due to its considerable prices on higher plans, smaller brands and solo entrepreneurs are unable to afford the tool.
Pricing:
Hootsuite offers five pricing tiers after a 30-day trial, ranging from $99/month to $249/month, catering to different social account and user needs.
Key Features:
Social Listening: Use the social listening features of Hootsuite to stay updated on trends, track brand mentions, keywords, and hashtags to gauge brand perception.
Scheduled Posting: The tool helps you plan, craft, and schedule social media content to auto-publish at specified times.
Customer Engagement: The social inbox can be used to monitor, interact, and automate responses with AI chatbots.
Analytics: Access analytics data from multiple platforms in a centralized dashboard.
Team Collaboration: Collaborative functionalities in Hootsuite allows seamless teamwork with defined roles for clients and colleagues.
AI Writer: AI assistance simplifies and speeds up your social media caption creation.
We went through a hundred user reviews for Hootsuite, gathered from trusted review platforms like G2 and Capterra. After carefully analyzing each of them in respect to all the features of the tool, we have gathered these insights.
Pros
Hootsuite's 37.40% of users find the unified inbox very useful since it enables them to manage all their audience interactions from multiple social channels on a single dashboard.
The efficiency of handling messages, and comments from the social inbox of Hootsuite has proven to be an asset for at least 25% of its users.
The feature in Hootsuite that allows assigning team members to reply to messages has proven helpful for collaboratively responding to their audiences.
There are inbox tools in Hootsuite that let users automate the answers to common queries. This helped 10% of users to scale their responses faster.
53.85% were impressed by the support tools provided by Hootsuite to them.
Cons
Nearly 22% of reviews have expressed dissatisfaction due to the inability of Hootsuite to integrate external messaging platforms with their social inbox.
When it came to organizing the Hootsuite inbox, many users said that managing and categorizing a high volume of messages became very difficult for them.
During the time they used the Hootsuite mobile app, users faced constant hiccups, which shows a gap between the web version and the app.
With delayed message retrieval, slow loading, and difficult organization, some users have expressed frustration with the overall performance of Hootsuite's social inbox.
The advanced designs of the tool are unpopular amongst almost 100% of its users.
---
2. Sprout Social
Sprout Social is a social media monitoring tool that lets you listen to customer conversations around your brand and products, tracking the most popular keywords, hashtags, locations, and profiles associated with your brand.
Together with detailed reporting and essential analytics for Facebook, Instagram, Twitter, and LinkedIn, you can gather audience and brand health insights to inform your social campaigns.
Pros
High-quality templates for content creation.
User-friendly and intuitive dashboard.
Easy to manage multiple social media accounts.
Cons
One of the more expensive tools on the market
It doesn't support YouTube monitoring, which might negatively impact your video marketing strategies.
Advanced features can be complicated to get to grips with.
---
3. Zoho Social
Zoho Social is a cost-effective social monitoring tool for small businesses. It lets you monitor multiple streams from one centralized dashboard, including Facebook, Twitter, Instagram, LinkedIn, Pinterest, and TikTok.
Coupled with its native CRM integration and automated daily reporting, teams can effectively and collaboratively customize streams, stay on top of trends, and monitor social media health and growth.
Pros
Great value for money as it is much cheaper than other tools.
Easy to set up and use.
Wide range of features, including social listening, scheduling, and detailed analytics reports.
Cons
The range of integrations on offer is limited.
There could be more options for brand customization.
There have been complaints about the level of customer service available.
---
Mention
Mention is a solution dedicated to real-time social listening and monitoring. It gives you a birds-eye view of the perceptions, sentiments, and conversations around your brand and products.
Along with your main social media accounts (like Facebook, Instagram, YouTube, etc.), you can also listen to blogs, forums, and other social channels.
Mention's filtering feature allows you to filter your searches (e.g., mentions or public figures) by language, channel, and date. You can even get notified of real-time spikes in brand mentions, allowing you to quickly rectify negative sentiments or strategically capitalize on positive sentiments.
Pros
Great resources and customer support to help with onboarding and continual use.
Customizable filters and alerts. You can set up email alerts on competitors' accounts.
It supports a wider range of social channels than some of the other tools we've mentioned.
Cons
Limited API integration options.
The free version is quite limited. YouTube, Pinterest, and TikTok monitoring is only available if you opt for their highest-priced plan.
Analytics could be more in-depth.
---
Cyfe
Cyfe performs reliable social monitoring functionalities in its analytics solution. It pulls metrics from your social channels – including keywords, topics, mentions, and likes – and centralizes them on a pre-built or customizable dashboard.
This is all performed in real-time, so you can immediately leverage internal and competitor data to drive decisions. Like Mention, it also has a feature that alerts you of significant spikes in mentions.
Pros
Easy-to-use with built-in Google Analytics integration.
A spark catalyst optimizer can help you make the most out of your social analytics, allowing you to leverage data lake houses to build open, standardized data platforms across clouds.
Quick and easy access to historical data that can be searched by date and metric.
Cons
The number of built-in integrations could be more extensive.
Difficult to customize the dashboards.
Cyfe focuses on visualization. So, if you need interactive functionalities, such as centralized responding, it's not ideal.
---
Social media monitoring tools simplify your monitoring process. Rather than having to manually track data across all of your platforms – and inevitably miss out on lucrative opportunities – you can sit back and let your valuable data come to you.
And, with full visibility into your audience's conversations and invaluable analytics at your fingertips, you can spend more time utilizing social data to drive pivotal business and marketing decisions and improve your overall business performance.
Whether you need to build brand awareness, track the ROI of social campaigns, or perform damage control on a PR mistake, you can do it all with the help of social media monitoring tools.
Frequently Asked Questions