Social media is the space for most brand activities. It's the hotspot of the latest trends to lionize the promotion of small businesses to affluent brands.
But the only problem with social media posting is that it is demanding!
Churning and posting newer content to delight your target audience isn't a piece of cake. That's why marketers have ditched the traditional posting drill for the higher good.
Social media tools make managing multiple social media accounts from a single dashboard incredibly easy. The good thing is that the best tools for social media management are really affordable.
Not just enterprises, even small business owners benefit tremendously and create a social impact.
Business owners can quickly spread the word about their offerings to gain visibility in a limited span.
Small and medium businesses that aren't recognized brands per se leverage social media marketing to become household names.
eCommerce businesses can reach specific tiers of the target audience by delivering the right message at the right time.
In this blog, we have listed 11 social media tools that even small business owners can use to kickstart their social media marketing journey.
Let's assess each one of them!
What are the Best Social Media Tools worth Considering?
Price : $35 for 1 user
If you are a small business owner who's about to commence your social media marketing journey, then select a tool that is easy to use. Not all of us have the patience to climb a steep learning curve.
That's exactly what SocialPilot aims to do for you. It has a rich feature set. The complete setup is quick, connecting all your social media profiles to the tool in no time.
If you are a budding agency, SocialPilot can fulfill all demands of your social media marketing clients, right from multiple posts creation to scheduling on different hours. You can even post content or schedule it on hundreds of accounts in just one click. Using this social media tool will keep you on top of your audience's mind and their social media feed at all times.
Want to know more from our users? Here's what they have to say about SocialPilot on Twitter and other credible sources.
Luis Ignacio C.
SocialPilot is the main tool for the content management of the accounts for which I work. SocialPilot is truly amazing. Apart from all that, they also offer you a complete section of analytics, which allows you to show the orderly evolution of your work.
Brian W.
I had been using another company to facilitate all of my social media posts; however, the number of accounts I needed took me out of the search for the free products and jumped up pretty quickly to some prohibitive pricing. SocialPilot fit a perfect price point and got me connected to all of my social media accounts very quickly. I can make my posts and schedule them as I like. Thank you!
Note: Both reviews are from people working in small-sized businesses. Brain W. works with a retail company that has 1-10 employees. And, Luis Ignacio C. is with a company that has 11-50 employees. These reviews establish credibility that SocialPilot is a smart social media tool for small business owners.
Why Should You Use SocialPilot as a Social Media Tool for Business?
The tool is extremely intuitive and easy to work with, designed to keep in mind the needs of small businesses with little idea about social media marketing.
The tool makes the work easy by ensuring smooth team collaboration and management. You can give admin access to team members working on social media marketing. You can also provide them selective access to Social Inbox and analytics reporting for brand engagement.
The tool is budget-friendly and is cheaper than most other established as well as new social media tools.
---
Price : $129 for 3 users
Hootsuite has made it to the most lists when searching for social media tools for business. In fact, it is one of the oldest social media management tools. Hootsuite is quite famous and has a vast customer base of over 16 million users worldwide.
Enterprises and large agencies prefer to use the range of features this social media tool provides. Several app integrations run smoothly on this platform. Hootsuite also offers customizable and scalable solutions for fast-growing companies to manage their increasing social media needs.
Though it has been in the market for a long time, Hootsuite is comparatively a complex tool to use. Hence, we recommend other user-friendly Hootsuite alternatives.
Pros
It tracks trending topics by geocode, using the Geosearch feature. This allows you to engage with your audience based on their location.
The tool integrates with more than 20 social media platforms and over 150 apps like Trello and Slack.
Kara D.
I am a digital marketer, and I love using Hootsuite because it allows me to schedule my content, review my analytics, and engage with my audience all in one platform!
Cons
Hootsuite does not offer the kind of ease small-scale businesses are looking for. Its interface is quite complicated for beginners.
Every top-up service comes with an additional charge. Even its custom URL shortener costs extra, making it quite pricey.
Zachariah K.
The platform does have errors, or sometimes can be buggy. I also dislike how you can't do more interactive content through Hootsuite. Finally, its analysis of negative and positive feedback in its analytics is not always accurate, which skews results for reports at times.
---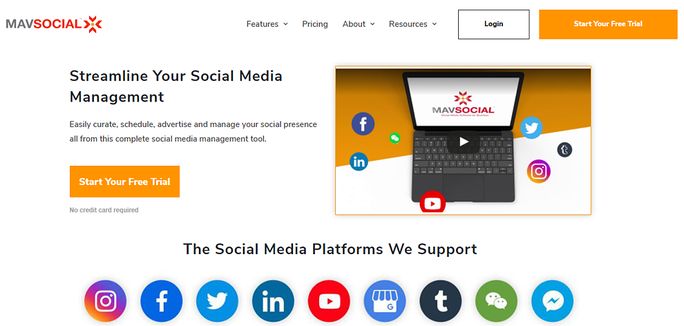 Price : $78 for 3 users
MavSocial is designed for marketers whose primary focus lies on sharing visual content. It is one of the most sought-after social media tools for business.
It simplifies the process of publishing visual content across multiple social networks by maintaining a centralized database. This database stores massive content in formats like images, videos, infographics, etc., making them instantly accessible.
Pros
MavSocial lets you visually enrich your posts by adding effects and filters to images, making them more shareable.
You can join campaign-related conversations by tracking comments and messages received across all networks from a single window.
Jennifer H.
I love the campaign planner and calendar. The ability to move posts around by dragging on the calendar is very helpful.
Cons
While reporting is an important feature, MavSocial's reports lack depth. You cannot customize reports as per specific metrics and might end up missing out on critical details.
MavSocial can sometimes throw unexpected errors. The root cause lies in the frequent change of APIs to access different social media networks.
Sandra G.
The idea of a campaign was great, but I had to either let it run forever or set an end date. This was tough. Also, although it's great to have the cloud library attached to my account, it was horrific to organize. I regularly work with hundreds or thousands of images. Incredibly time-consuming to add metadata to each individual file. They also had to be moved to directories individually.
---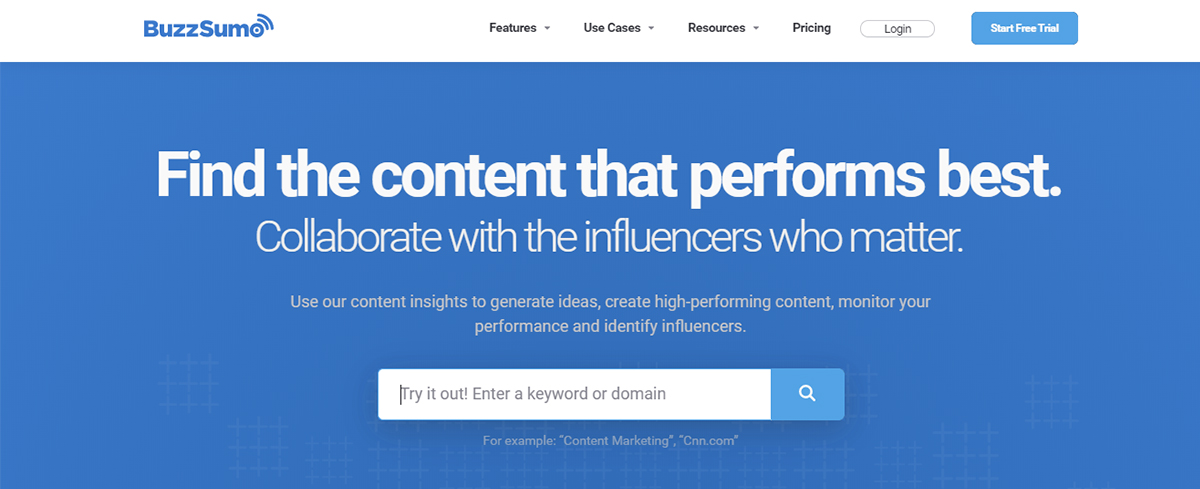 Price : $179
If you are falling short on content, BuzzSumo can help you right away. It is a data analytics and content research tool that analyzes massive data sets pertaining to social media posts and interactions.
Identify the top-performing posts on any topic or industry. This social media tool figures out what kind of content will suit you or your clients the best. Add a competitive edge to your branding and reach out to your audience effectively.
Pros
Identify thought leaders and influencers in your niche for marketing campaigns with this social media tool.
Create alerts for the latest updates and trends in your industry on BuzzSumo.
Volodymyr B.
Developing good content means you need to do a lot of research, and sometimes that can be a dubious process even if you have all the tools. Hopefully, BuzzSumo is one of those social media tools that make the process of content research much easier and much more insightful in just a couple of clicks.
Cons
The learning curve is complicated. Users take time to get used to the tool.
BuzzSumo plans are not affordable for all small and medium-sized businesses.
Alina M.
The value is undisputed, but the price of 99$ per month is very high. I think they are just focusing on big companies.
---
Price : $149 for 1 user
With Sprout Social, social media management seems like an easy job. Its team collaboration features are commendable. Opt SproutSocial as your social media tool for business for managing customer relationships with a seamless CRM system.
It easily integrates with Zendesk, UserVoice, and Salesforce to enable sales, support, and social media teams to work in collaboration. If you are looking for other options, look at these SproutSocial alternatives.
Pros
The tool facilitates communication of sales, social, and support teams. You can even create a Facebook messenger bot to connect with your customers round the clock.
The dashboard presents the data in an organized manner.
Charise S.
Reporting is what sold me on Sprout. I love the variations that I can put together to pull custom reporting for my clients.
Cons
You can manage fewer social media platforms on Sprout Social. Hence, you can't reap the benefit of social engagement and social commerce for all platforms in one place.
The dashboard isn't comprehensive. You need to toggle between different pages to retrieve data and insights for every social media platform.
Stephanie M.
I dislike the new layout completely. I don't like having the navigation bar on the left side; it's not as intuitive. I wish I could click and drag posts to different days on the month calendar view instead of having to click the post and go in and manually change the date.
---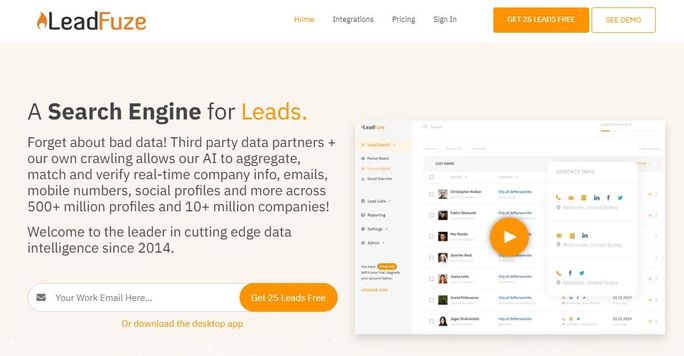 Price : $132.30 for 1 user
Leadfuze is not purely a social media tool for business. But, it does enable you to manage your social media work. The core focus lies on lead prospecting.
If you are a small-scale business and are currently using social media just for publishing content, daily engagement, and overall promotion, you can consider other tools instead.
But accessing necessary business information and identifying prospects on Leadfuze is a cakewalk. So if you are looking for lead nurturing and prospecting, this is definitely worth a shot.
Pros
Early-stage eCommerce companies or small SaaS startups can benefit from LeadFuze's lead generation and prospecting capabilities.
The interface is easy to use and simple to learn. Integrating with Hubspot is also possible and trouble-free.
Seth C.
I was actually really impressed with their marketing, and I switched from another lead-grabbing software to use LeadFuze. It has a great cold email builder, and they provide helpful training to make sure you're using best practices. They give you plenty of leads on a daily basis, so it keeps us busy.
Cons
Unfortunately, Leadfuze doesn't pull out phone numbers for the leads generated.
Onboarding for Leadfuze isn't effective. There is a lot of scope for improvement on this front.
You can't add specific tags to records when added to CRM.
---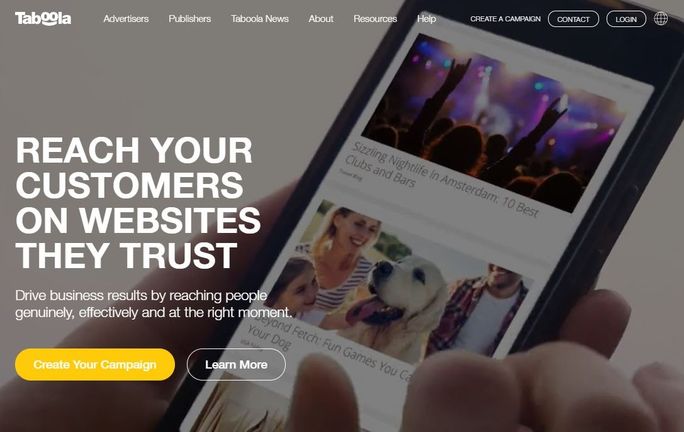 Want your content to win over your followers? Then Taboola is the right social media tool for you. Design creative native ads for different social media platforms using Taboola.
Bring out your best content in front of your audience on Facebook and other social media channels with retargeting features. In a nutshell, Taboola is a content discovery tool that reaches and engages with your target audience globally.
Pros
The platform's interface is easy to understand and intuitive. Reports can also be generated quickly without having to follow too many steps.
This social media tool gives you the freedom and flexibility to exclude those devices and segments that aren't working too well when running content promotion campaigns.
The pricing of this social media tool is affordable for small businesses.
Verified Taboola User
I believe this tool offers a good scale of distribution as it has some large publishing partners within its network (such as Huffington Post and BusinessInsider). It's been easy to get the content ads up and running, and the reports you get are easy to digest. The interface is well designed and doesn't require much training to use.
Cons
The quality of customer support is declining day by day. It can even span over 3-4 days to get a campaign approval.
Their account managers are difficult to work with. They often don't guide their users on improving landing pages or creatives for approval. They straightaway reject if guidelines aren't followed.
Javier J.H
It is still a very simple website; to sign in the first time, your rep needs to register you in, at least that's how it was in my case, and it took a while. Also, even though their simplicity does help at times, you wish you could have more data to analyze.
---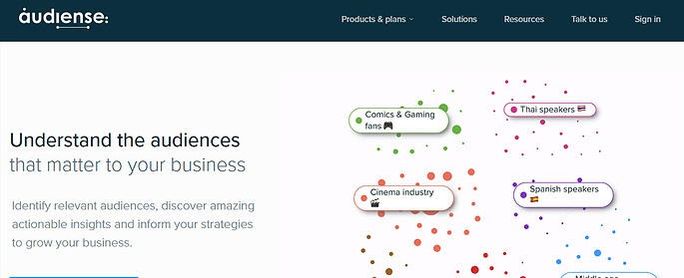 Price : $99
Do you often wish to know more about your leads? Their usual behavior on different social media platforms, the kind of content they like or dislike, what they share, where they share content from and on.
Well, now you can. Tools like Audiense help you dive deeper into such actionable insights. With Audiense Connect, you can create a custom chatbot for Twitter to engage with subscribers and customers via direct messaging. Aid your social media strategy with Audiense to skyrocket engagement.
Pros
It's tough to help clients understand how their campaigns are performing without reports. Audiense makes this complex task relatively easy.
You get a complete picture of your target audience's personality. Valuable insights like these are beneficial, especially to eCommerce merchants, who want to make the best out of consumer likes and dislikes.
Eduardo B.
It provides deep psychographic data powered by IBM Watson's Artificial Intelligence. No configuration or training is needed. If you are looking to have your entire team make data-driven decisions easily, this is the tool for you.
Cons
The free analytical capabilities are limited. Customization capabilities in the free version are also few.
The UX is a bit confusing, and so is the in-app navigation. It could have been improved.
Verified Audiense User
There is much more in the application than comes out in the default reports, so we have to manually take application screenshots and copy them into Powerpoint. Also, it would be great if the default PPT reports were able to export the 16:9 format.
---
Price : $120 for 10 social channels
Buffer is another popular social media tool that is used globally. Buffer helps in scheduling and publishing to your social media accounts. You can also analyze and engage with your social media audience. This social media tool for businesses supports Facebook, Instagram, Twitter, Pinterest, and LinkedIn. Just set up a schedule and see your posts automatically published to the social media platforms.
Pros
The user interface is quite friendly and easy to use.
Buffer lets you customize posts for each account you've connected at once.
The social media tool offers a completely free plan (best for solopreneurs) where you can manage up to 3 social media profiles with a limit of 10 posts on each platform.
Caroline K.
The interface is easy to use. You can pick up how to navigate everything very quickly. We connected to several social media channels and can schedule and post with relative ease. Their customer service has always been friendly and prompt with responses.
Cons
Buffer offers tools of its own – Publishing, Analytics, and Engagement. One needs to buy different plans to have a complete social media management dashboard which can be pretty expensive for a small business or agency owner.
Charles F
If you're using this platform from an agency perspective, meaning you have multiple clients and multiple internal and external stakeholders, this platform falls short. It lacks in critical areas, including not supporting multiple users, not having an option for client access, and not providing a useful view for routing or reviewing materials. Specifically, the preview function doesn't show an accurate representation of how content will actually look once posted, which is extremely troublesome.
---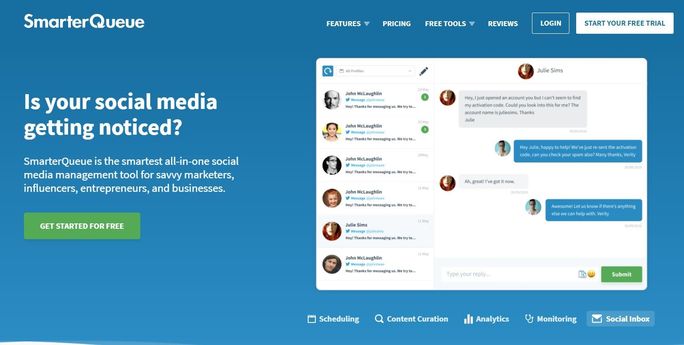 Price : $39.99 for 1 user
Do you often share your blogs on social media? Then SmarterQueue will become your new favorite. This social media tool for business schedules your posts on popular platforms like Facebook, LinkedIn, Instagram, Pinterest, and Twitter.
SmartQueue provides top-notch analytics. There is also a methodology for recycling for evergreen content. You can also categorize your content for easy accessibility. Another feature of SmartQueue is its custom schedule creation based on your social media profile analytics. Now that's indeed smart!
Pros
Customer support is proactive in solving issues.
You can search for media like gifs and graphics from the tool itself.
RSS feed integration is available.
Walt S..
This program has an excellent capacity and ability to adapt social media programs in your own way and according to your needs. Authorizing the publication of content on social networks is quite simple and without any problem.
Cons
Interface and reporting can be improved.
Users need time to learn how to leverage this tool better.
Eli R
The biggest issue I found is that it is easy to create posts and a bit more difficult to go back and edit them. So you can create a single post and associate it with several social accounts. Because it creates a separate record for each post on each social profile, if you have to go back and edit them individually, it can be a tedious process to find them all and edit them one by one.
---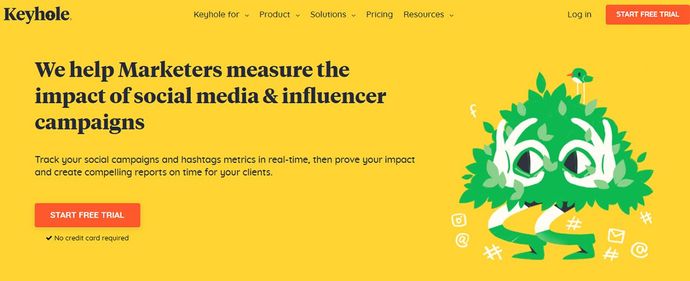 Price : $199/month
Making it simple to manage social media and influencer marketing, Keyhole joins the ranks of the top social media tools for business. Keyhole provides real-time data giving you regular insight into reach, engagement, and more.
You can even track hashtags and access historical social data to ideate promotional strategies. It also utilizes AI and machine learning techniques to suggest keywords, so you participate in the trend.
Pros
The interface has no steep learning curve.
The content analysis feature is quite useful to create relevant content.
You can get campaign reports for effective performance.
Ashia S.
I like how easy it is to use Keyhole. I also really like how easy it is to understand the hashtag engagement reports. It really made that part of the reporting process really seamless.
Cons
Information is limited because of API restrictions.
If not planned, you run out of credits without reaping any benefit.
Verified User
We work with small to medium-sized businesses, and the cost to benefit ratio makes it difficult to justify using Keyhole for our clients on an ongoing basis.
Though there are tons of social media tools for business these days, only the right one can help you perfect your overall strategy. It's best to opt for tools that support multiple channels so you can manage it all from a single source without much hopping.
And one such tool is SocialPilot that lets you do the insight digging at a pocket-friendly price. Take the 14-day free trial to use this social media tool to create a wave on social media.