Social media is the playground for marketers to compete with their rivals. Consistent posting and quality content decide the ultimate winner with the most engagement.
But there's a lot of activities that take place in the backdrop. The list is indeed long, starting from brainstorming new ideas to promote your business, planning campaigns all year round, catching up with trends, and tweaking strategies basis insightful metrics.
Keeping a check on all of this manually can be an absolute nightmare. Hence, having a social media scheduling tool is a must. Sprout Social is among these social media management tools for tracking it all at one go.
However, this may not be the first choice for businesses with varying needs and budget constraints. Hence, the need for alternatives rises.
Let's dig further!
Why Should You Consider Alternatives to Sprout Social?
Sprout Social is one of the most popular social media management tools, especially for business users. You can use this tool to manage multiple social media activities like scheduling, publishing, monitoring, analyzing your profiles and actions, etc.
Various enterprises and SMBs trust Sprout Social to manage their social media presence across multiple platforms with a simple and intuitive user interface. Sprout Social supports scheduling and publishing on 6 social media platforms – Facebook, Twitter, LinkedIn, Instagram, Pinterest, and Youtube.
But it has pros and some cons too. Let's have a look at them.
Pros of Sprout Social
Helps to manage major social media channels
A consistent and powerful platform
In-built robust reporting feature
Offers CRM integrations and helpdesk options
Cons of Sprout Social
Limitations on keyword monitoring and social listening features
User-based pricing makes the product expensive for larger teams
Reported issues in search, filters, and information view in streams, along with posting likes or comments to other platforms
Limitations on how much you can interact with fans and requires you to sign in to the actual social media platform to find the conversation
What are the Best Sprout Social Alternatives?
Let's now go through a detailed analysis of the tools mentioned above. I have compared each one with Sprout Social to give you a holistic perspective for your social media marketing endeavors.
1

Sprout Social Alternative – SocialPilot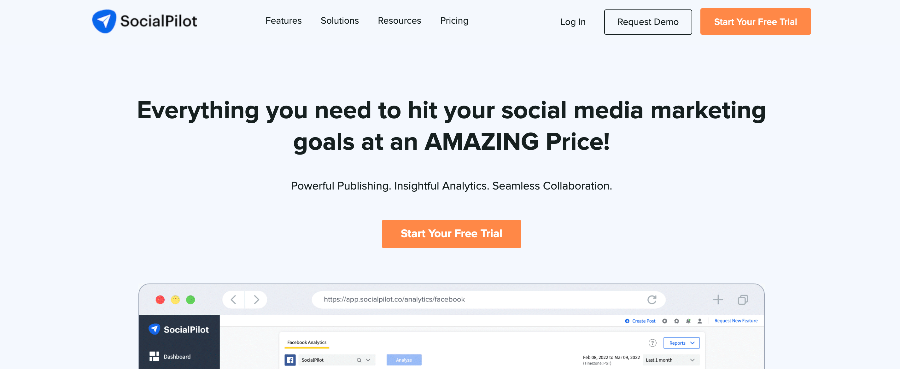 SocialPilot is one of the best social media management tools trusted by more than 115,000 marketers globally. It is designed and developed, especially for small digital marketing agencies and businesses. It offers all essential and advanced features at an unbeatable price.
With SocialPilot, you can customize your posts for LinkedIn, Twitter, Facebook, Pinterest, TikTok, and VK by adding CTAs, Emojis, GIFs, Videos, Images, etc.
Have a look at some of SocialPilot's key features:
Advanced scheduling with the bulk schedule feature
Publishing support on 9 platforms
Facebook ad management
Content curation
RSS feeds
Team and client management
Proactive spam monitoring
Analytics and reporting
SocialPilot vs. Sprout Social
Both tools support Twitter, Facebook, Instagram (Direct Publishing), Google My Business, Pinterest, and LinkedIn as their most significant social media networks.
Sprout Social is great for businesses to introduce a brand and promote a blog. It is also suitable for a single person.
However, SocialPilot is best for small companies that want to schedule and publish on different platforms at an affordable cost.
The software has highlighted affordability as the main differentiating factor. SocialPilot is suitable for agencies where a team creates content, edits, and schedules with $35 per month for each user.
However, Sprout Social is not a good option for teams. You have to pay more to add anyone on the base price of $99.
Pricing: SocialPilot considers a wide range of audiences with no restrictions in its features. There are four pricing plans and 14 days of free trial for small businesses to larger enterprises. The subscription starts at $25.50/month (billed annually) compared to Sprout Social's pricing – $99 per user per month subscription.
Willing to explore more?
Check out the more categorized and detailed comparison of SocialPilot being one of the best Sprout Social alternatives.

---
2

Sprout Social Alternative – Sendible
Sendible is a comprehensive social media management tool designed for businesses of all sizes. It offers all the standard features like planning, scheduling, publishing, and analytics.
This tool provides an informative dashboard that shows each social media platform's performance, recent comments, and user engagement report. With Sendible's visual calendar, you can easily manage all your posts and activities.
Some of the key features of Sendible are:
Analyze social media performance
Add contacts via social media interaction
Tracks followers
Automates lead generation by creating specific features
Automatically finds new profiles suiting set parameters, adding them to the database
Auto-starts social media conversations
Collects comments and posts from all accounts
Publishes new posts at scheduled intervals per day
Queues optimized posts
Access reports of each post-performance
View reports in a colored calendar layout
Sendible vs. Sprout Social
Both apps operate differently, but both are easy to use with straightforward navigation. They offer similar functionalities and integrate with popular social networks. But a significant difference lies in pricing.
If you want to add more users to your plan with Sprout Social, you have to pay more.
Pricing: Sendible offers four size plans that you can buy by paying monthly or annually. The Creator plan is $29 a month for 1 user and 6 social profiles. The Traction plan costs $49 a month for 4 users and 24 social profiles.
Its Scale plan is $199 a month for 7 users and 49 social profiles. Lastly, the Expansion plan is priced at $399 per month for 15 users and 105 social profiles.
To see a more categorized and detailed comparison of SocialPilot being one of the best Sendible alternatives, click here.
---
3

Sprout Social Alternative – Buffer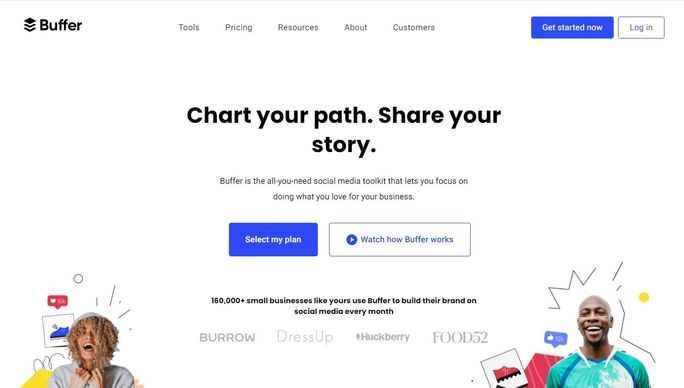 Buffer is a powerful social media management tool that positions itself as a publishing and analytics tool. It facilitates publishing on social media platforms like Facebook, Instagram, Twitter, LinkedIn, and Pinterest. This tool also makes it easier to manage a team and enable inter-team collaboration by integrating over 60+ apps.
Buffer offers the following features:
Connects to prime social media accounts
Schedules posting for multiple accounts at once
Shortens selected photos automatically and then add links
Set a specific time zone to schedule on each profile
Works well with smartphone apps
Analytics prompting to update popular posts for resharing
Offers helpful customer support
Buffer vs. Sprout Social
Both Buffer and Sprout Social have invested in beautiful page designs that effectively capture their target audience's attention.
Much like Sprout Social, Buffer is one of the most popular scheduling tools for Twitter in social media marketing. Nevertheless, Buffer has improved more than Sprout Social.
Buffer offers more robust site analytics that allows users to see the posts' details and interactions when compared with Sprout Social.
Price: Buffer offers a free plan with 3 social channels. You can even go for the Essential plan at $5/month per social channel. The team plan costs $10/month per social channel.
If you are also looking for a Buffer alternative, check out a detailed comparison of SocialPilot vs. Buffer.
---
4

Sprout Social Alternative – Falcon.io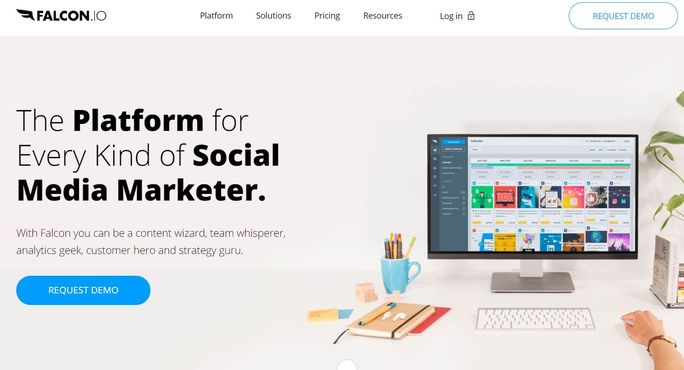 Falcon.io is a cloud-based social media management solution. It is also used to enhance customer experience with social listening capabilities. Businesses can have personalized scheduling, publishing, and post customization.
Falcon.io also offers collaborative calendar features for advanced content planning used by social media teams of varying sizes. There are several in-built templates for campaign building too.
Falcon's key features include the following:
Intuitive dashboard for easy access
Content pool feature that automatically saves stock items for future use
Community interaction management with the social inbox
Manages Facebook and Instagram advertising
Team management and collaboration
Audience profiling from social listening
Falcon.io vs. Sprout Social
Like Sprout Social, Falcon.io makes it simple for users to create, plan, modify, and post content on crucial social media sites. You can do analytics, automated publishing, and content management like scheduling your posts and customizing each social media platform's content.
Falcon.io allows you to work with your team, and you are also entitled to manage roles and levels among them. You can even include your clients for collaboration. However, on Sprout Social, you can assign tasks from the inbox to your team members and view their task flows.
Price: The software lets you handle your social media accounts and their content efficiently. Falcon.io offers its Essential plan at $129, ideal for 1-2 users. It supports 7 networks and 5 channels. The Suite plan is customizable.
---
5

Sprout Social Alternative – Hootsuite
Hootsuite is one of the dominating marketing tools. It offers a range of apps and integrations besides mere publishing tools. Hootsuite is a robust all-round social media management platform for organizations and users of all kinds. But this tool is expensive for small businesses and agencies to realize its full potential.
Key features of Hootsuite are as follow:
Enables you to schedule posts in advance
Offers flexibility in its free edition
Combines several applicable marketing and social media resources
View all streams from one dashboard
Offers privacy features and many customizable tabs with no limitation
Hootsuite vs. Sprout Social
Social Sprout and Hootsuite are robust tools for social media management that can do almost everything you need, such as post sharing, feed tracking, team management, post-planning, and social analytics.
Sprout Social can manage users with team functionality, content creation, and editorial calendar options.
On the other hand, Hootsuite offers a deeper collaboration ecosystem, including departmental and team-oriented dashboards.
Sprout Social has user operational capabilities too. Its interface is built into the editorial calendar and content development features for better collaboration.
Price: Hootsuite tool offers all scheduling and analytics for businesses to cover their client's essential needs. It provides a free plan and four payable plans.
The free plan includes 2 social accounts of 1 user. Its Professional offer costs $49 monthly for 1 user with 10 social accounts and unlimited scheduled messages.
The team plan costs $129 per month for 3 users, 20 social accounts, and unlimited scheduled messages. Hootsuite Business option is $599 per month for 5-10 users and 35 social accounts with unlimited scheduled messages.
Check out how SocialPilot competes as a Hootsuite alternative.
---
6

Sprout Social Alternative – IFTTT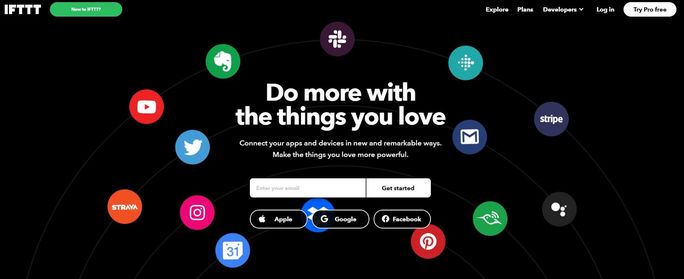 IFTTT is the freeway to get your applications and computers to connect. This tool is great for lead nurturing and prospecting. You can select their preset automation features called "recipes" for leads. Though it might sound geeky, these recipes are pretty easy to set up.
With this "If This Then That" tool, you can:
Connect all accounts for creating recipes and set a course of action to achieve a desirable end goal
Enables using others' pre-made recipe
Seamless integration with other tools
Offers super flexible website and a user-friendly mobile app
IFTTT vs. Sprout Social
Along with all their standard features, Sprout Social and IFTTT help businesses increase their presence and find new customers.
Also, IFTTT is a leading platform to grow the products' digital transformation into integrated services and is perfect for home automation.
IFTTT is a great tool to automate your social media management the way you want.
Price: IFTTT offers free services in which you can run 750 posts per month with unlimited flows. Adding more functionalities costs $5 to $15 per user monthly. Its plans are Developer, Team, and Business.
With the Developer package, you can open and extend your API's scope to 20M users, 200K developers, and 600 services.
There is a fixed price with the Team plan for every linked user and embedding solutions to communicate with you digitally. The Business package offers volume-based pricing. Through behavioral intelligence, enterprise reliability, and committed help, you will maximize your linked users' value.
---
7

Sprout Social Alternative – Agorapulse
Agorapulse is a social media scheduling platform that also offers social CRM capabilities. In addition to it, the businesses can also manage all the incoming communications on multiple social media platforms without leaving Agorapulse. Thus, saving them time and improving efficiency. The UI is simple and easy to learn. You also get your hands on competitor analysis capabilities with Agorapulse.
Key features of Agorapulse are as follows:
Schedule posts to all the major social networks like Instagram, Facebook, Pinterest, Twitter, and YouTube
Collaborate with team members for posts, replies, and customer requests in the app's social inbox
Customize social media reports by date range
Agorapulse vs. Sprout Social
Agorapulse and Sprout Social offer automated publishing, analytics, contact management, keyword filtering, post scheduling, and multi-account management.
Agorapulse is suitable for small and medium-sized businesses, whereas Sprout Social is not the right fit for small businesses and independent contractors.
Price: After a 30-day trial, Agorapulse suggests four paid plans with assumed monthly payments.
The Pro package costs $99 with 2 team members and 10 profiles. Its Premium plan is $199 with 4 team members and 25 social profiles.
The Enterprise level supports 8+ members and 40+ social profiles. The pricing of this plan is customized.
SocialPilot also proves to be a cost-effective alternative to Agorapulse. We have compared both the tools in detail here.
---
8

Sprout Social Alternative – Socialbakers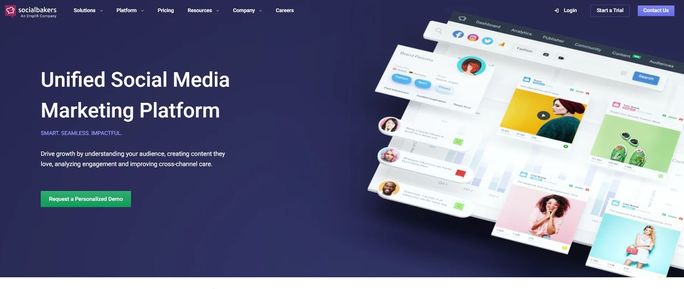 Socialbakers positions itself as a unified social media marketing platform covering all aspects of social media marketing. Many big brands like Toyota, McDonald's, Jägermeister, and ASUS use this tool. Socialbakers offers two paid plans. One is essential with the basic features to manage 10 or 20 profiles. The second is the complete solution that can be configured based on the requirements.
The easy-to-use Socialbakers interface makes it possible for social media managers to:
Post quickly and monitor all of your social media accounts
Post at optimum times and increase your followers
Find the right Influencers on Instagram and Youtube
Manage customer care queries
The app has a lot of high-cost add-ons
Socialbakers vs. Sprout Social
Like Sprout Social, Socialbakers is an equally powerful social tool that schedules, manages, publishes, and analyzes content for brands on social channels.
Sprout Social's CRM tools increase productivity and team collaboration commonly in all industries. Socialbakers track and monitor your social media to find the right influencers, maximize your budget, and use a single dashboard to benchmark your performance.
Price: Socialbakers' essential plan for marketing and management costs $240 per month for 5 users and 10 social profiles. It costs $480 a month for 10 users and 20 profiles.
The smart package is for 20 users, and up to 30 social profiles cost differently. Scale plan offers 25-2000 social media profiles with an unlimited number of users. Integrated 360 is ready for 100 or more social profiles with no limitation for the number of users.
---
9

Sprout Social Alternative – MavSocial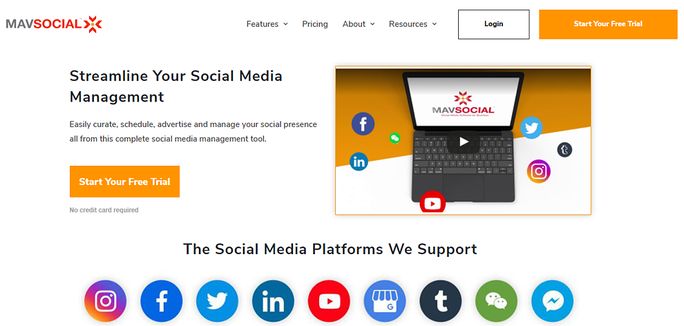 MavSocial provides a complete social media management tool for brands and agencies. Along with content management and curation, it lets you schedule posts on multiple social media platforms like Facebook, Instagram, Twitter, LinkedIn, Youtube, Tumblr, and WeChat.
MavSocial simplifies the process of managing visual content in social media by providing businesses with a central platform that can store hundreds of images, videos, and infographics.
A few key features of MavSocial are as follows:
Offers users to purchase photos via an automated payment system
Allows saving pictures in the library for quick access
Automatically chooses added profile pictures, company logo, images, videos, audio clips, and promotional content into the system when accounts are linked
Analyze and plan for various social media channels
Send posts via email or app's chat feature for approval
MavSocial vs. Sprout Social
Sprout Social (a SaaS software) and MavSocial (an end-to-end platform) help brands and all sizes of businesses communicate better.
Like Sprout Social, you can schedule, save your content, create a customized scheduling calendar, plan campaigns, and edit your photos via MavSocial.
However, MavSocial's customers are brands and organizations that need a cost-effective and time-saving social media management and marketing solution.
Price: There is a free edition for 14 days. MavSocial Advanced paid plan is suitable for freelancers and small businesses, costing $19 with one user and 10 social profiles.
Pro plan, ideal for agencies or growing brands, is $78 for 3 users and 30 social profiles. The business package is offered for larger teams and franchises with 5 users and 50 social profiles at $199.
Enterprise plan costs $415 with 20 users and 70 social profiles prepared for enterprises with custom solutions.
---
10

Sprout Social Alternative – MeetEdgar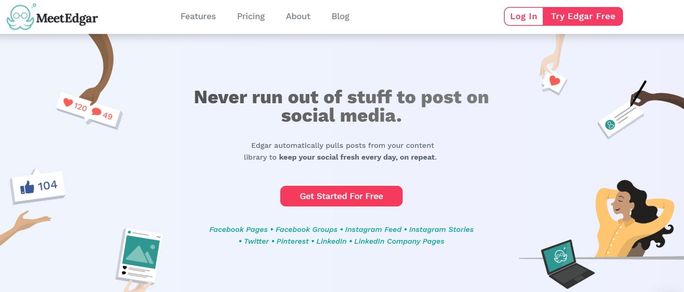 MeetEdgar, also known as Edgar, is a great social media management tool for busy social media marketers. It automatically repurposes and schedules your content even if you are out of new posts.
With MeetEdgar, you can post on multiple social media platforms like Facebook Pages and Groups, Twitter, LinkedIn Profile and Company Pages, Instagram, and Pinterest. You can also determine which post category you want to share in any slot, or Edgar randomly picks posts to share.
A few key features of MeetEdgar are as follows:
Provides an automated re-sharing option for popular posts to improve traffic rates
The Super Smart Insights option for user interaction and tracking publishing queue continuously
Unlimited library to store all of content and updates, all organized under categories like account, category, and date
No reporting or monitoring features
Advance scheduling and direct posting to social media
MeetEdgar vs. Sprout Social
Sprout Social and MeetEdgar allow you to schedule sharing posts on social media like Twitter, Facebook, LinkedIn profiles, and brand pages.
However, MeetEdgar has a more intuitive design and is easy to use in comparison with Sprout Social.
Sprout Social, lets you schedule updates or put them in Queue to be shared manually that you have organized in advance. On the other hand, MeetEdgar stores all updates online in a category-based resource automatically.
Price: The monthly plan costs $19 with 4 categories, 3 social media accounts, 10 automated posts per week, plus unlimited manually scheduled posts. The other $49 per month plan is 25 social accounts, 1000 automated posts per week, unlimited manually scheduled posts, and unlimited categories.
If you'd like to check a detailed comparison of SocialPilot being an awesome MeetEdgar alternative, here it is.
---
11

Sprout Social Alternative – Later
Later is no longer limited to just Instagram scheduling. This Sprout Social alternative allows you to schedule posts on LinkedIn, TikTok, Pinterest, Facebook, and Twitter too. If your focus lies on visual marketing, Later is the undisputed choice.
Along with publishing your branded content, you can also share posts from others. This is a game-changer for those who heavily rely on user-generated content for promotion. Later's analytics is great for evaluating your influence online.
A few key features of Later are as follows:
Give a personalized touch to curated content
Drive increased traffic to the site, increasing sales
Reporting features with insightful metrics
Easy planning and scheduling of content with a built-in content calendar
Later vs. Sprout Social
Later is a time saver when it comes to hashtag search. You can also save captions for future use. It gives you a grid view of your scheduled posts, eliminating the risk of creating a messy profile.
Sprout Social is good for businesses with fairly large budgets and teams. Later is even affordable for freelancers. Its customizable plans suit every need.
Price: Later offers three paid plans. The Starter plan starts at $15 for 6 social media profiles, 60 posts per profile, and 1 user. The Growth plan begins at $25 for 150 posts per profile and 3 users. You can schedule unlimited posts with 6 users with the Advanced plan. Adding profiles and users furthermore will cost extra.
Investing in social media management tools is mandatory these days. Scaling online presence manually is a tough nut to crack since social media platforms continuously evolve with their features. Keeping a tab on those changes without dipping your results calls for automation tools like Sproutsocial and SocialPilot.
But again, choosing the right tool will require a thorough assessment. As you have seen in this blog, many different social media management tools have advanced features that you can use as Sprout Social alternatives. Start evaluating your current business situation to purchase the right social media tool for growing faster.