Features
1. Scheduling
Allows you to schedule social media posts ahead of time. It enables users to plan and publish social media content across multiple social networks in order to create a consistent online presence.
Enabling users to create a content calendar, schedule engaging posts, and publish them at the best times, the scheduling feature of Agorapulse saves tremendous time and effort. You can also preview your posts before publishing. In all, Agorapulse helps streamline your social media management process with the help of its scheduling feature.
Agorapulse's mobile app also allows you to schedule content on your iOS and Android device.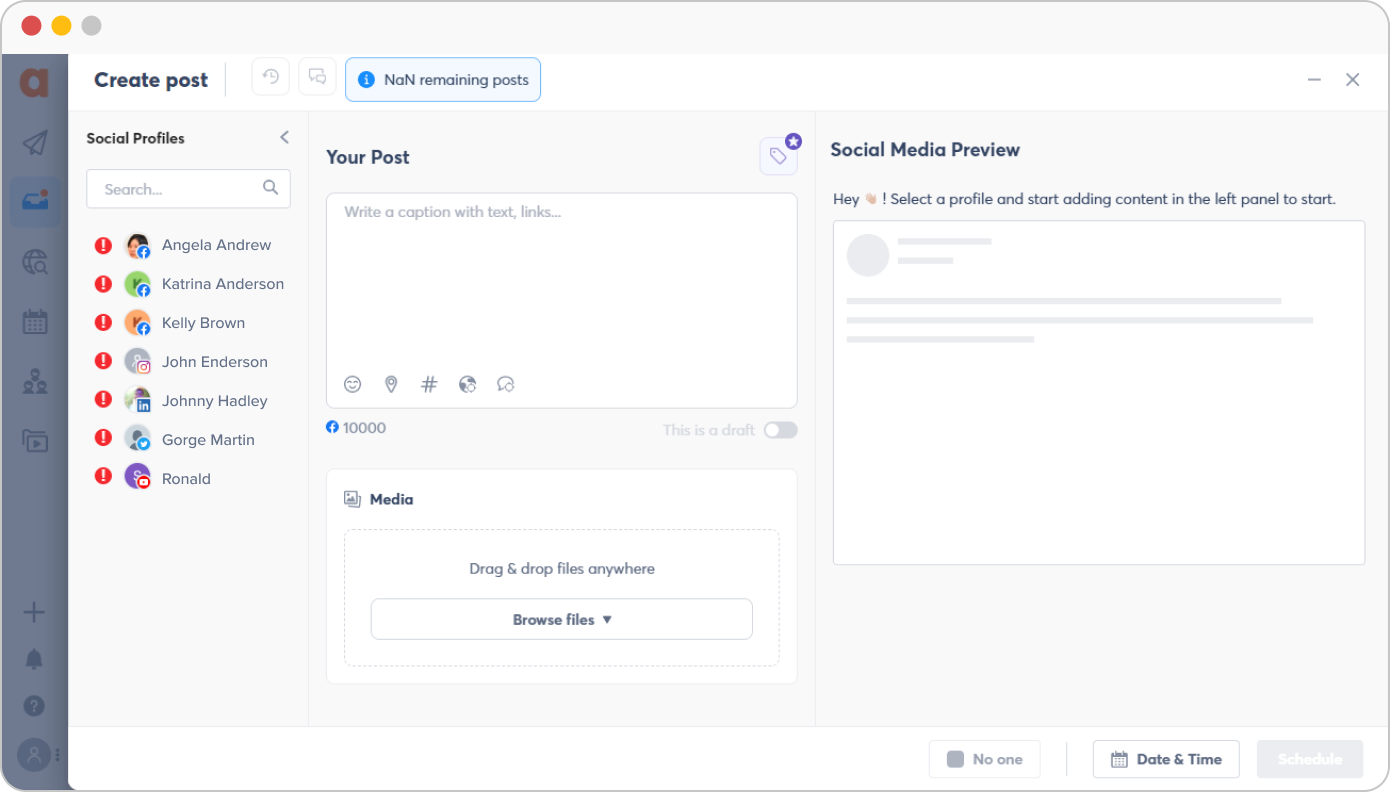 2. Calendar
Helps you plan and organize content because it lets you check out an overview of your scheduled social media content on a visual calendar.
Agorapulse comes with a calendar feature for the purpose of planning and scheduling social media posts. With the help of this feature, you can keep a check on the frequency and timing of your posts. This is because it helps you view your social media content by the month, week, or even day.
The calendar feature also comes with approval and collaboration workflows, which lets users allocate tasks to team members, keep a check on progress, and get approval before publishing of posts.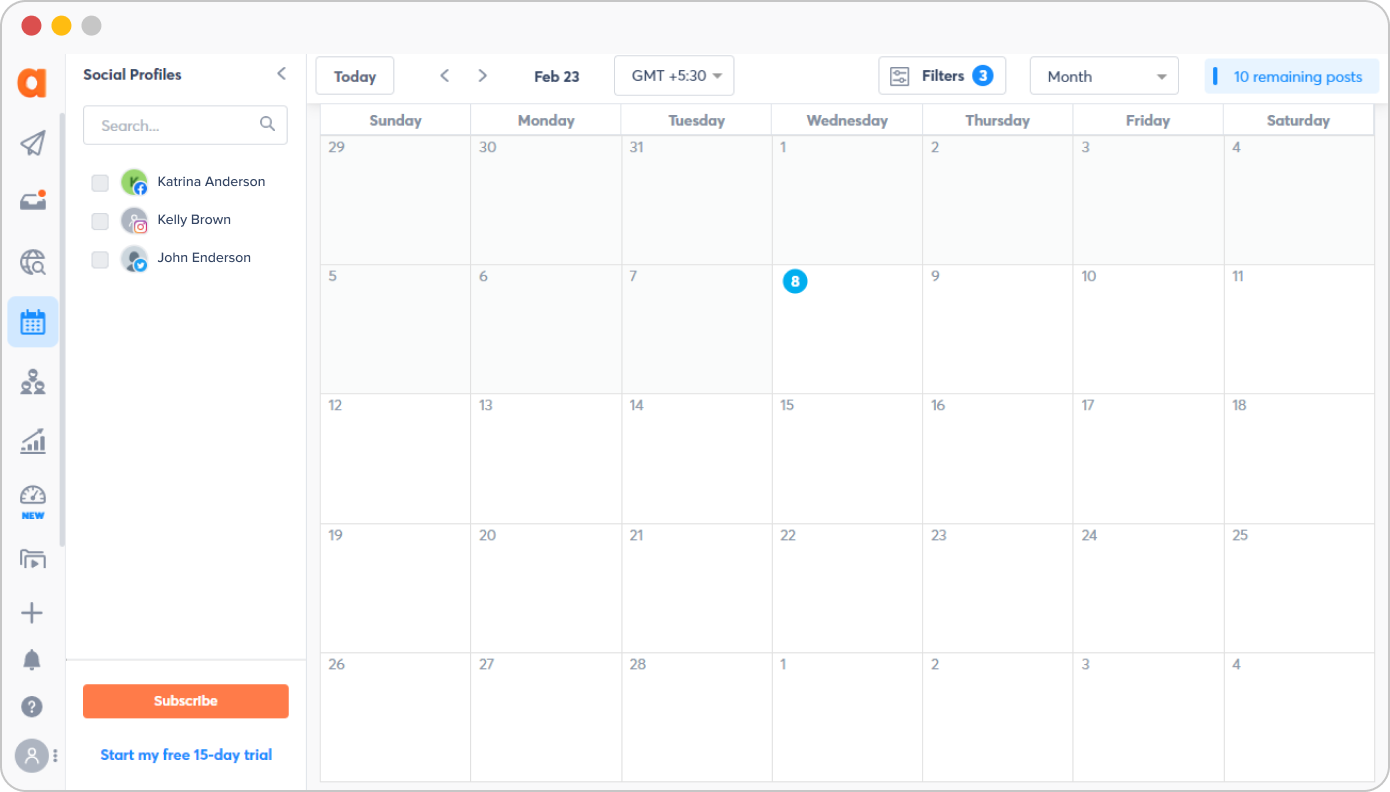 3. Insightful Analytics
Allows you to create attractive, actionable reports that showcase things that are working and not working.
Agorapulse's insightful analytics feature helps enhance your social content strategy as you get to detect which is your top-performing content, when, and where.
Getting to know the paid reach, organic reach, total reach, number of engaged users, and clicks for your content is easy with the tool's insightful analytics.
You are also able to keep a track on trends and team performance with the help of this feature. You even get recommendations on your next social content move because of Agorapulse insightful analytics feature.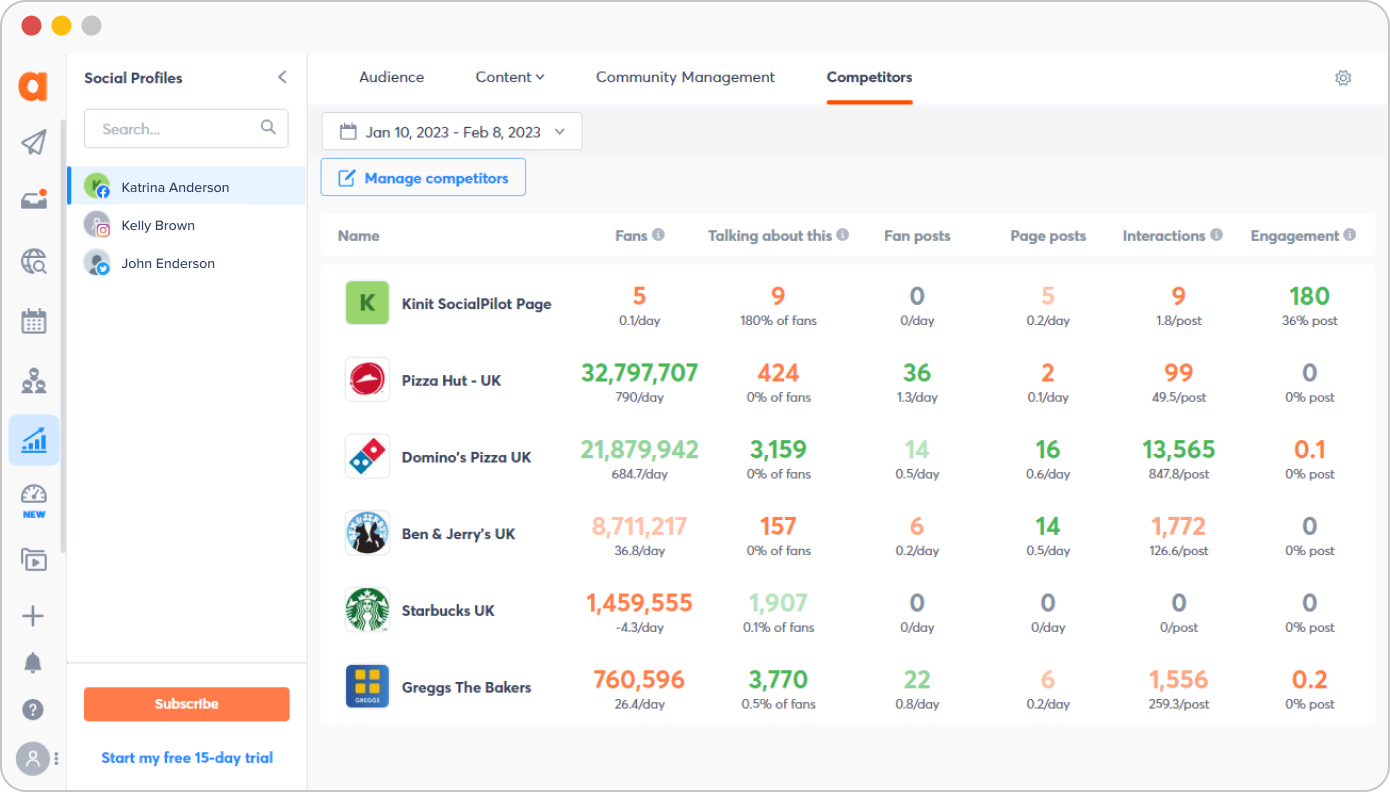 4. Inbox
Allows you to easily view and manage all your social media comments and messages in a single place. Monitoring and responding to social media activities becomes easier with this feature of Agorapulse.
With Agorapulse's Inbox feature, marketers and businesses can boost their response time to customers and smoothly carry out their social media communication. This feature lets you check out every social media message, comment, and mention across different social platforms in a single unified inbox.
The Inbox feature also allows you to categorize comments and messages, allocate them to team members, and put in any internal notes that help offer accurate and on-time responses. This feature also has a priority inbox, which bring highest priority comments and messages to your attention.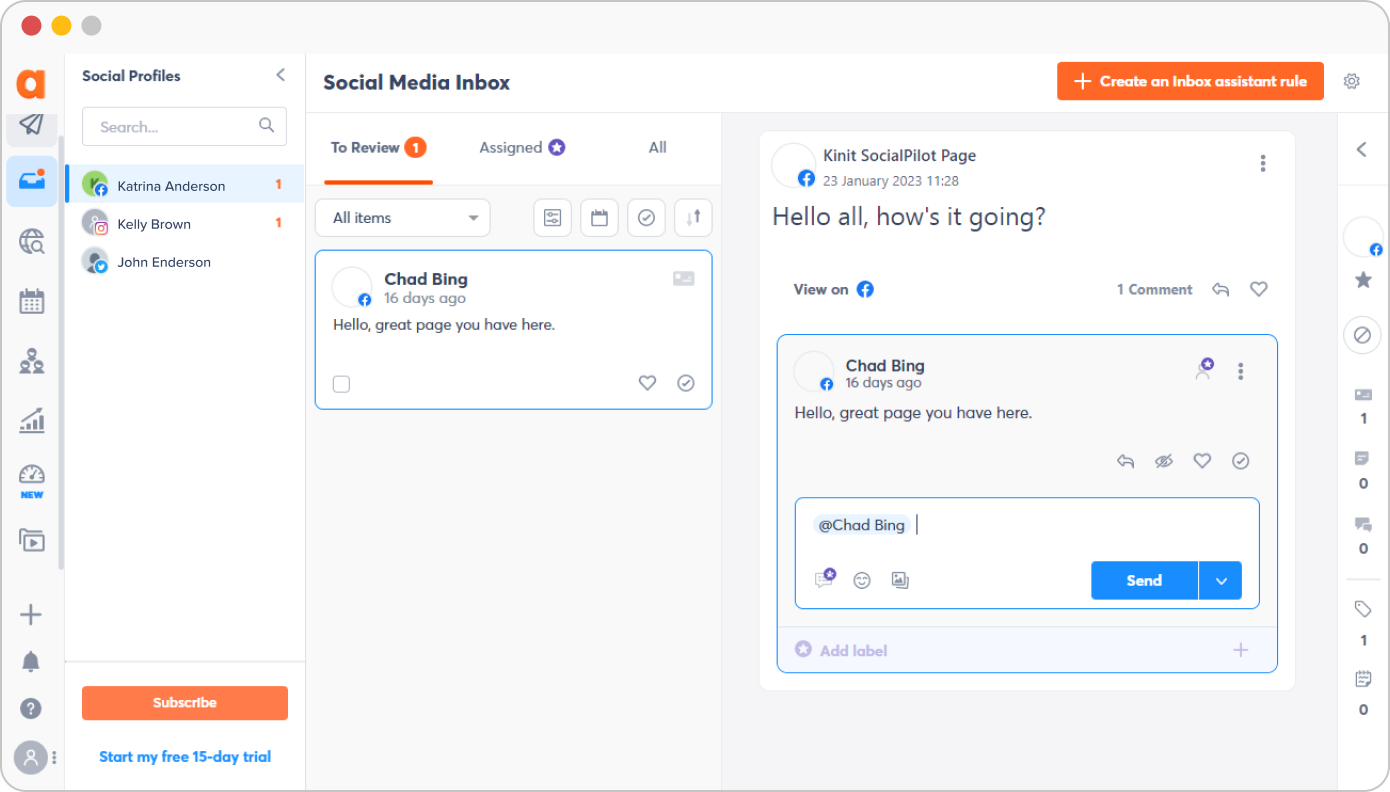 5. Listening
Lets you find insights and trends about your brand as well your competition.
Agorapulse's social listening feature helps you find out what individuals are talking about when it comes to your brand and your rivals. This helps you stay informed and lets you jump into online conversations quicker.
The social listening feature of this tool also allows you to stay abreast with potential new business opportunities, which means more progress for your business.
You can also take quick actions on a monitored item with retweets, DMs/PMs, replies, and more, all thanks to this feature.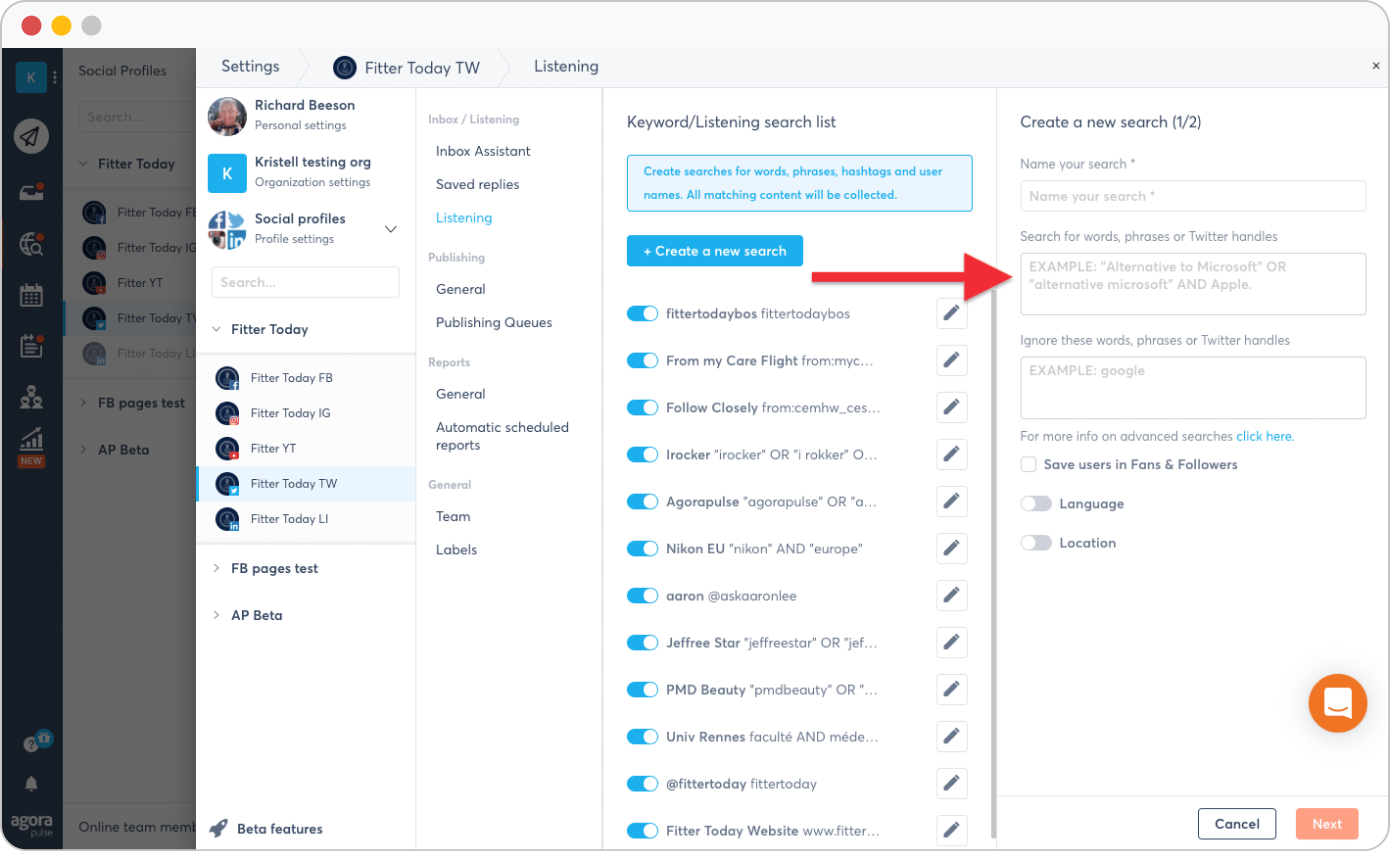 6. Social Media ROI
Allows you to smoothly see what conversations and posts are driving leads, sales, and traffic. The actionable insights you get from the tool aids business growth.
Agorapulse's social media ROI feature assists you in measuring the business impact of social media campaigns.
Basically, this feature of the tool lets you track and analyze important metrics like conversions, engagement, and revenue, generated from your social media marketing campaigns. This, in turn, helps businesses fathom which social media campaigns and channels are getting the best business results. This way, you are able to know where you need to concentrate your social media efforts.