Features
1. Publishing
Allows you to plan and publish your content for TikTok, Instagram, Twitter, Facebook, LinkedIn, and Pinterest, all from a single, easy-to-use dashboard. For instance, you can plan and publish your Instagram carousels and posts to your Instagram account.
In all, Buffer's publishing feature helps you smoothly plan and publish engaging content to take your business to the next level. The tool lets you choose what you want to share and when.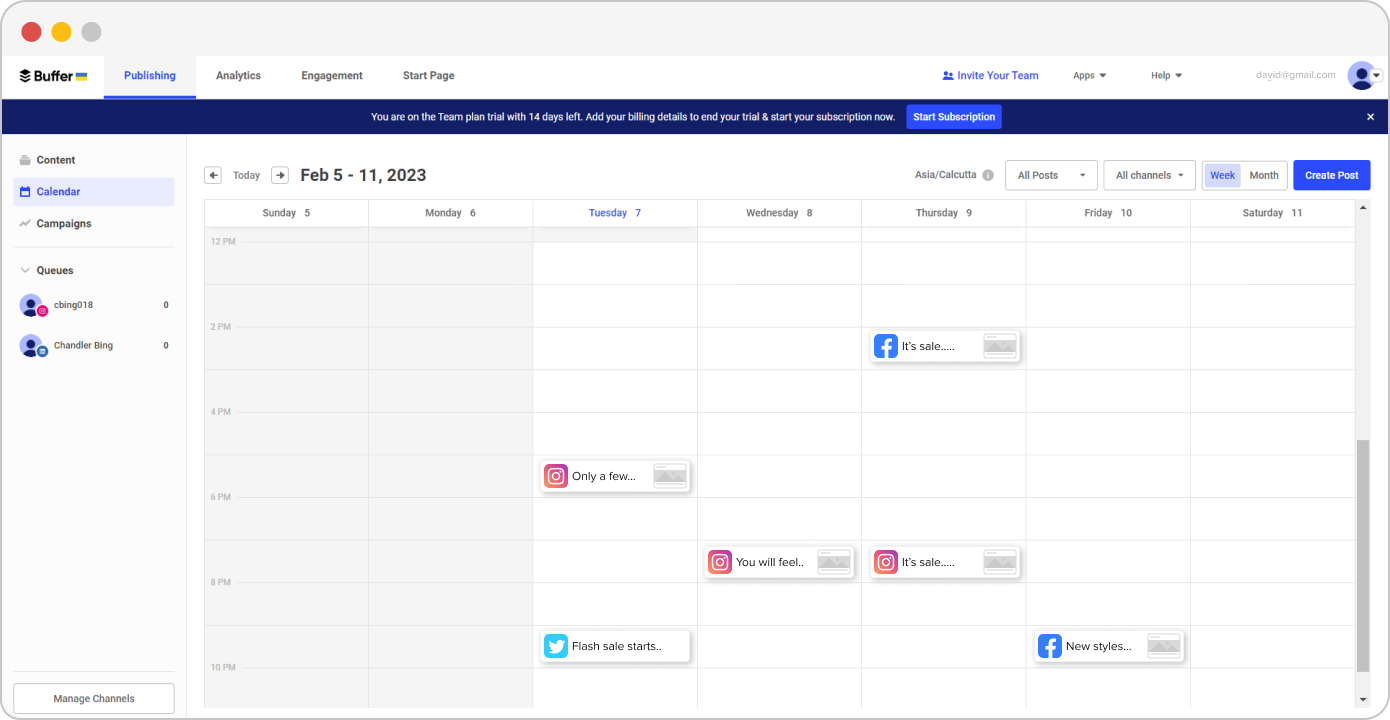 2. Scheduling
Buffer is one of the best social media scheduling tools that allow you to plan your social media content ahead of time. All you need to do is add your content to the queue or calendar, customize each post as per the social media channel you want to post it to, choose your preferred date and time, and let Buffer do the remaining work of publishing. This way, you reach your audience at the time they are the most active on social media. It also saves you loads of time.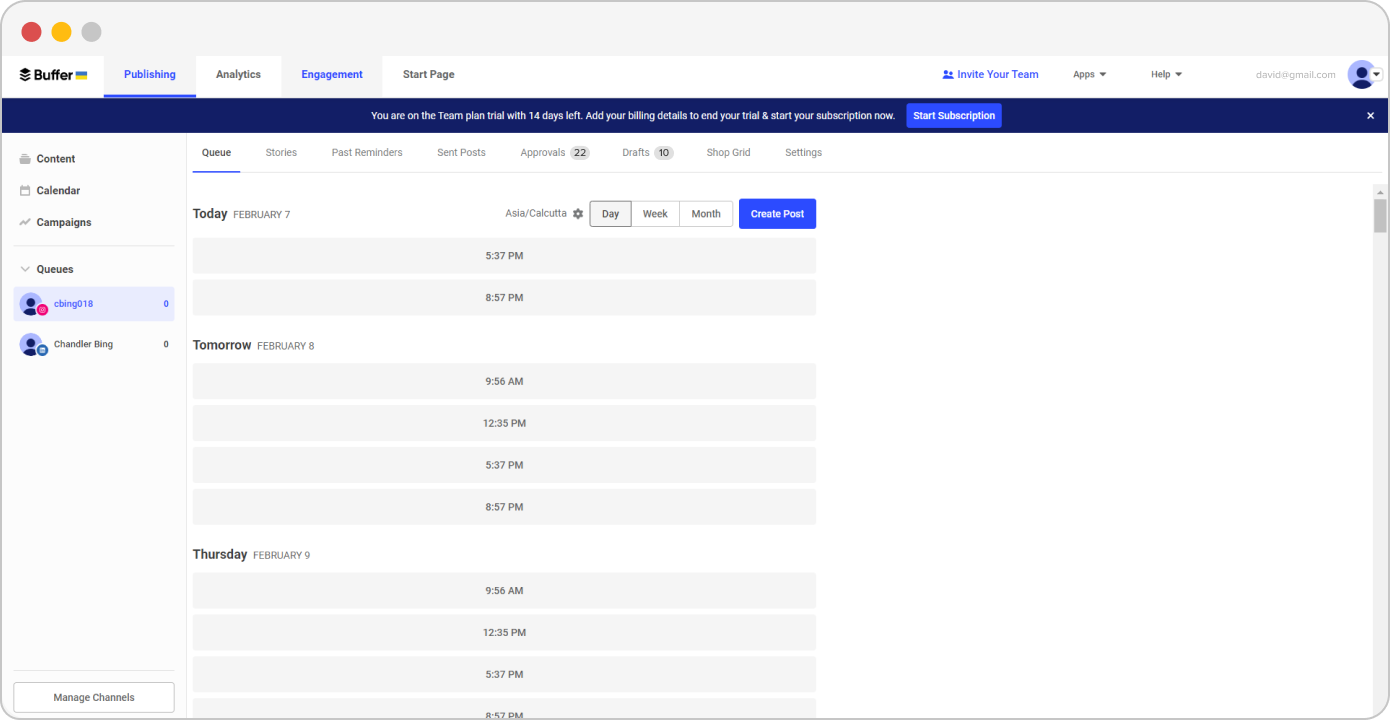 3. Campaigns
Allows you to create campaigns and check their performance in the Buffer analytics tab.
Today, many marketers plan their content for social media channels in terms of campaigns. These campaigns typically have an objective and cover multiple social networks.
With Buffer's social media management capabilities, you can easily create a new campaign and manage it. You can also view, edit, and delete your campaigns with ease.
Users with Admin access or the account owner can create new campaigns. For creating a new campaign, choose the Publishing tab in your Buffer dashboard and then select Campaigns in the top left. Then, everything will be pretty straightforward from there.
4. Analytics
Offers real-time analytics to help you check the performance of posts and know if they are performing well with your audience.
Buffer provides detailed analytics to build your brand on social media. You can easily measure social media performance and receive recommendations to increase sales, reach, engagement. You can also create reports for Twitter, Instagram, LinkedIn, and Facebook all from a single dashboard.
The social media metrics you can track with Buffer's Analytics tool include the number of posts, engagement rate, post saves, the number of likes, retweets, post shares, and lots more. You can start using Buffer's Analyze to boost reach, sales, and engagement for your business.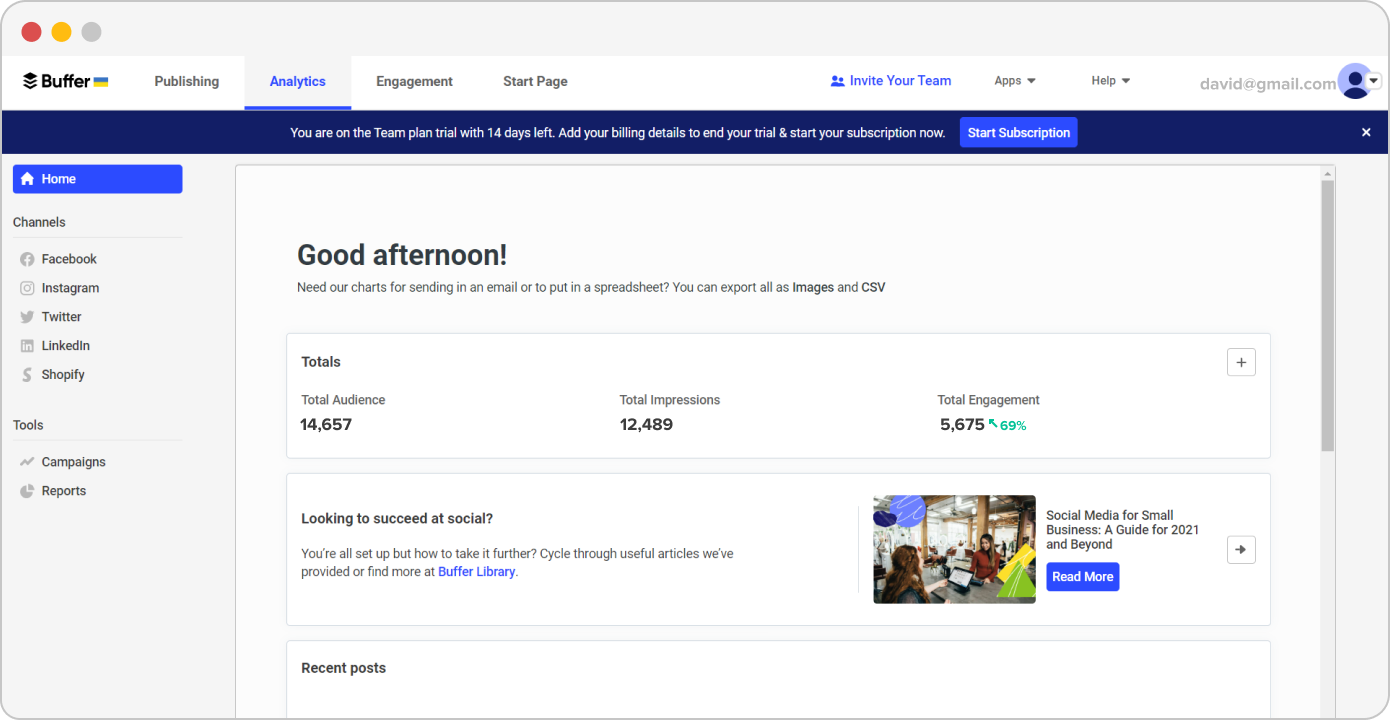 5. Engagement
Enables you to navigate your comments and interact and engage with your audience.
All thanks to Buffer's Engagement tool, you can see all your unanswered comments in an uncomplicated dashboard. It even highlights the most important ones! In all, you are able to view all of your comments, remain aware of important interactions, and respond quickly to your followers and fans.
Buffer's engagement tool also helps you react with an emoji. It even allows you to see negative comments, comments about your orders, or any questions – right from within your dashboard.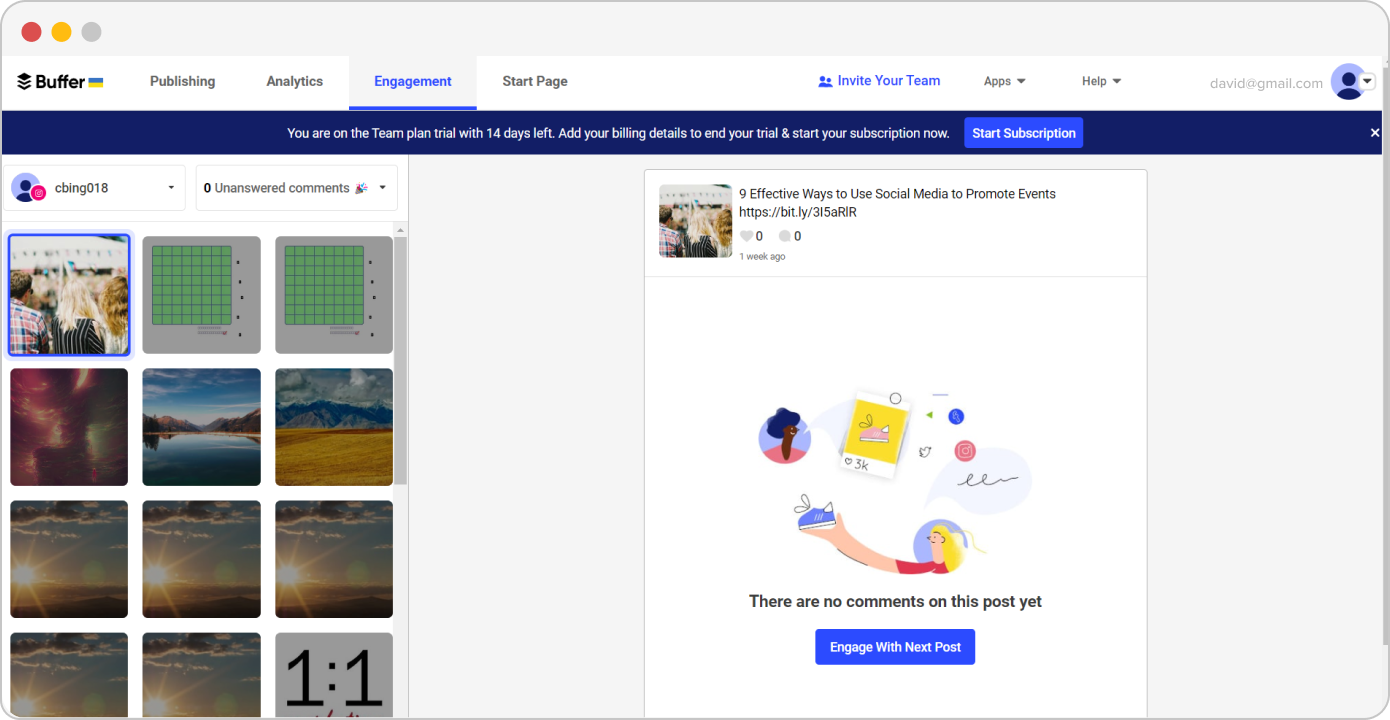 6. Integrations
Integrates with multiple other tools and platforms to allow users to effectively manage their social media account and content.
Integrations help you get more out of Buffer. Some of these integrations include:
Canva: Helps you create and import images.
Make: Connects Buffer with thousands of apps in a few clicks and lets you design, build, and automate.
Zapier: Automatically pushes content from more than 400 other apps to Buffer.
IFTTT (If This Then That)
WordPress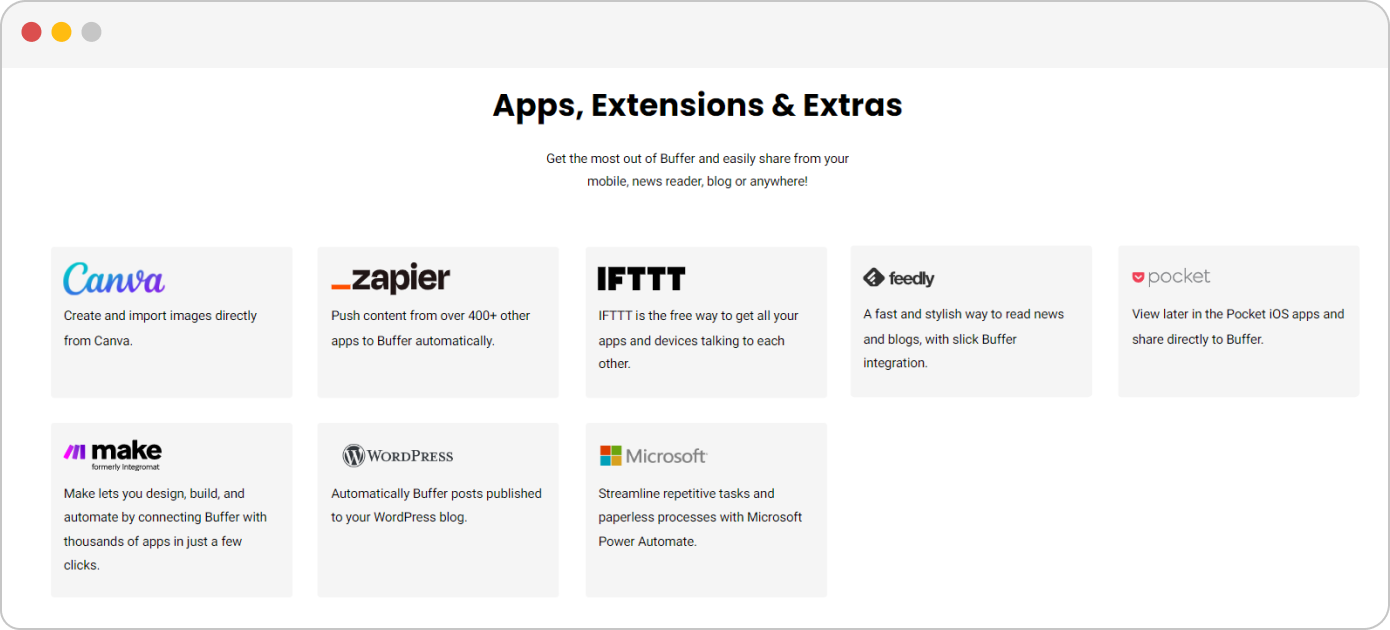 7. Landing Page creation
Allows you to create an attractive, mobile-friendly landing page in just a matter of minutes.
Regardless of your business type, Start Page by Buffer generates a landing page and URL for your business in a quick manner. Buffer's Start Page, coupled with its social media tools, makes for a useful toolkit to market your business.
You can also update the landing page you create, all in a few seconds. You can start creating your Start Page after setting up your Buffer account. You have the option to choose from one of the pre-made templates or you can also create the layout you want. Start Page by Buffer is a simple and free link in bio page that brings together your best content.