Features
1. Scheduling
Enables users to schedule posts to different social media platforms in advance.
Sendible's scheduling feature lets you create and schedule posts on various social networks from one single dashboard. You can easily schedule posts on social platforms such as LinkedIn, Facebook, Instagram, Twitter, etc.
Use Sendible's scheduling feature to choose the date and time when you want to publish the posts. Doing so makes sure that you post at times when you will get maximum reach and engagement.
Another thing you need to know about this feature is that you can preview your posts before they get published. This allows you to check for any edits you need to make before the post gets published.
In all, the scheduling feature is great to plan and organize your content for social media well in advance. You can streamline workflow and save loads of time by planning and scheduling your content for different social channels.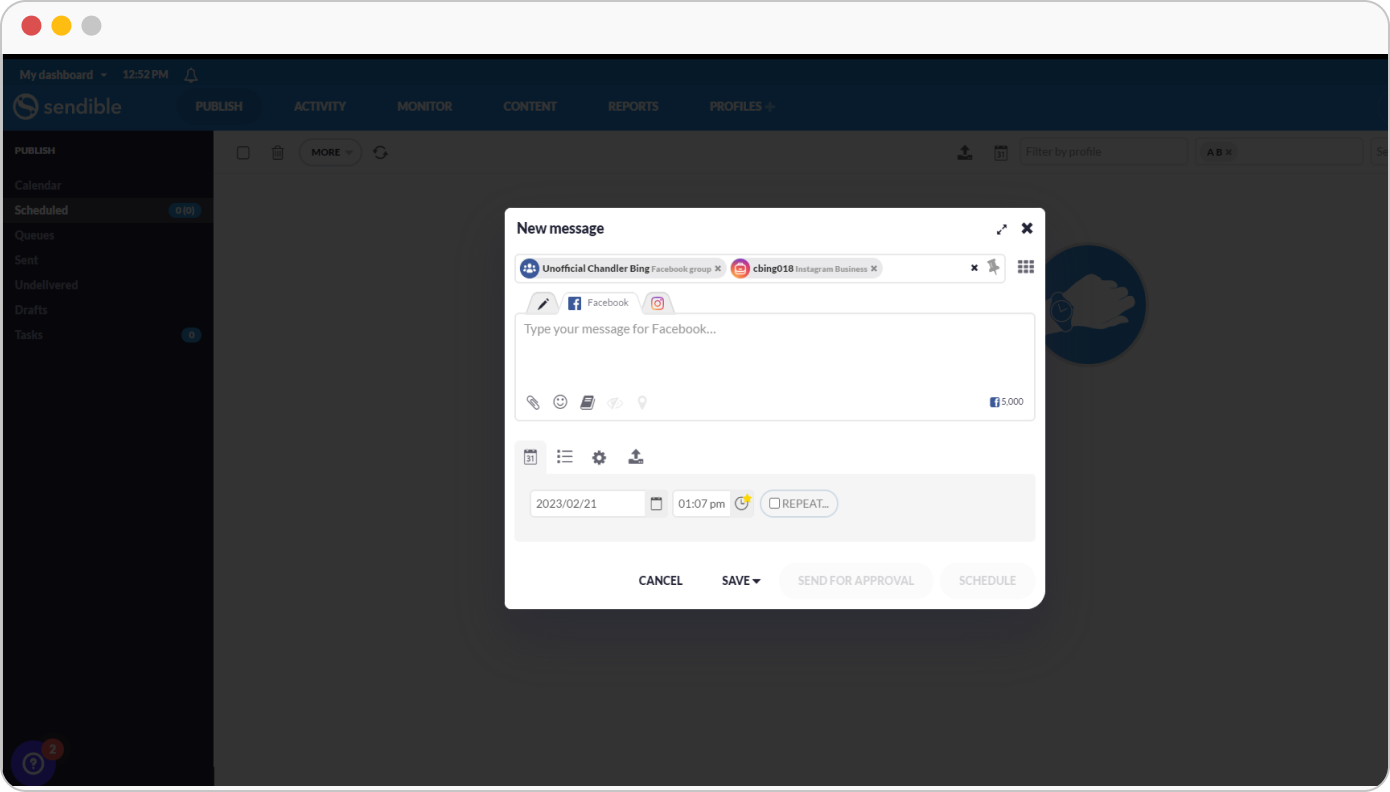 2. Calendar
Lets you manage and view your content for social media in a calendar format. This feature helps you plan and organize your content, enabling you to publish at the best times and, that too, consistently.
Sendible's calendar feature allows you to see your scheduled posts in a calendar view. This makes it easier to know which post is scheduled for publishing across a social media platform. You can even drag and drop posts if you need to reschedule any, and delete or even edit posts if you want.
Apart from this, another great thing about Sendible's calendar feature is that it offers an exhaustive overview of social media engagement and activity. It provides analytics alongside the scheduled social media content.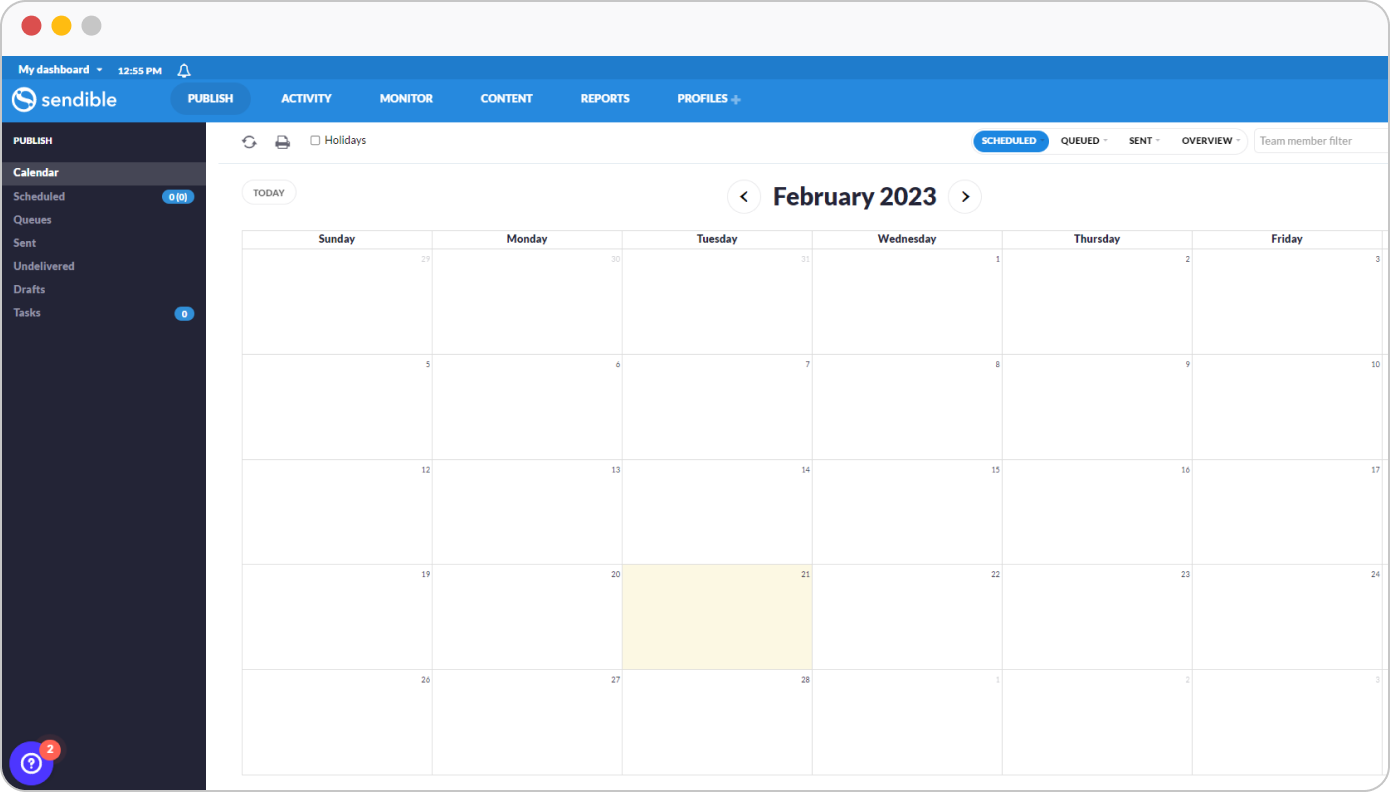 3. Insightful Analytics & Reports
Offers you detailed insights and data about your performance on social media.
Sendible's insightful analytics & reports is a feature that enables you to examine and analyze your campaign's results, keep a track on your social media activity, and make data-driven decisions. This, in turn, gives your social media strategy a boost.
Also, when you use the analytics and reporting tools of Sendible, you can create custom reports to share with stakeholders. You can automatically send the reports to them, at a set time. These tools also help you track metrics like reach, engagement rates, follower growth, impressions, and more, on different social media platforms.
4. Social Inbox
Allows you to view all of your social media messages, comments, and messages in one single place. This helps you manage social media channels in a much more efficient manner.
With Sendible's social inbox feature, you can respond to mentions, messages, and comments directly from the platform. It even helps ensure that the messages are taken care of in a timely manner. How? You can assign messages to other members of the team and can also collaborate with them.
When you use Sendible's social inbox, you can also access features like sentiment analysis, conversation history, and the ability to categorize messages for sorting purposes.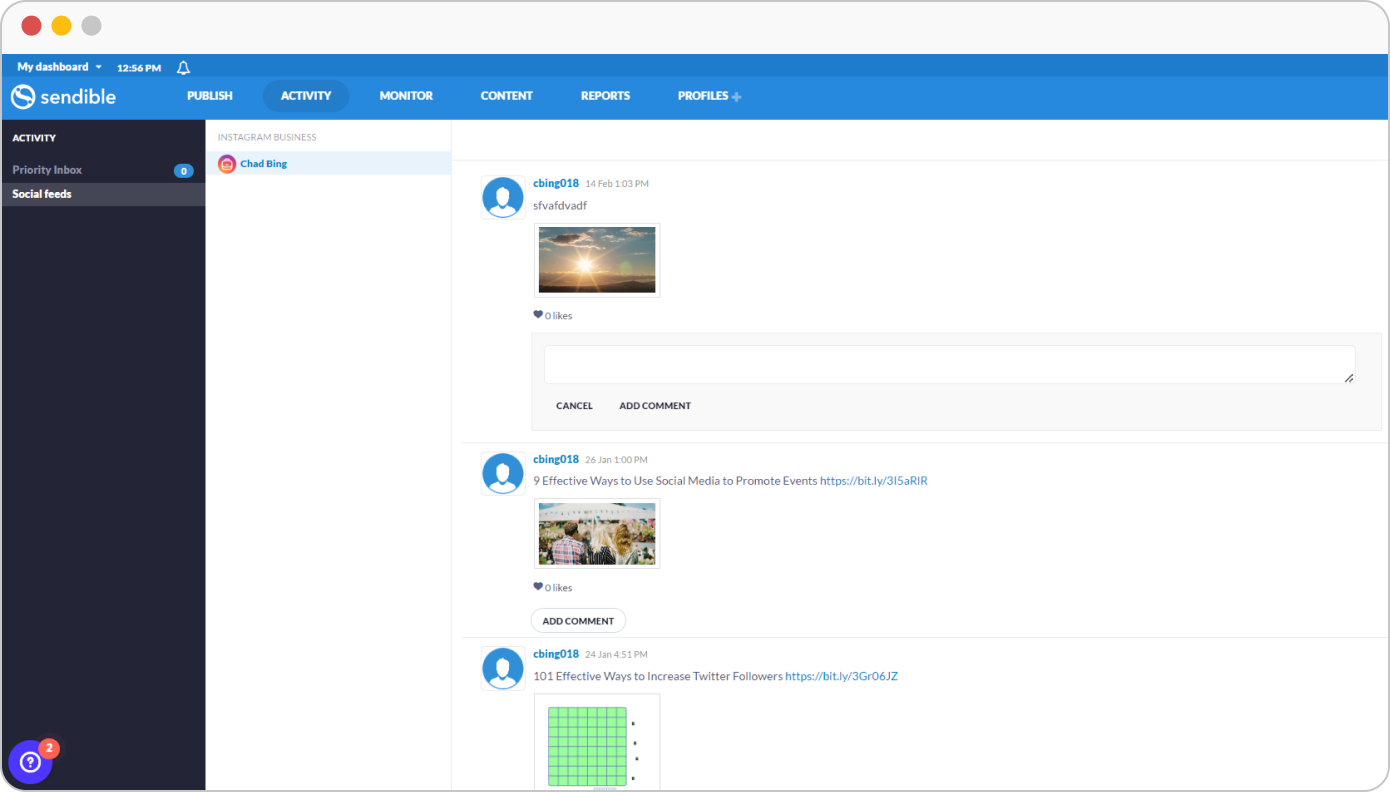 5. RSS Feeds
Sendible allows you to follow the RSS feeds you trust and helps you publish high-quality, relevant content to your social media channels regularly throughout the day.
RSS feeds are a fantastic way to find content based on particular topics. Sharing the latest updates and news from your most-loved blogs and websites with your social media audience is easy with the RSS feed feature. You can always use this feature to engage and build your audience on social media and to create an active social presence as well.