Gone are the days of advertising on billboards and traditional commercials, and here comes the power of social media. There's absolutely no debate why it is the most captivating mode of marketing.
And the hype is actually worth it! Social media marketing is cheap, and with automation tools like Buffer, managing full-fledged campaigns seems like a child's play.
Social media statistics conclude that almost 4.48 billion people use social media each day for interaction and entertainment. But whenever there is an opportunity, there's also rigorous competition.
Brands have outgrown themselves on multiple social media platforms to grab attention. The increased noise on social media platforms also poses a challenge in making your audience care about your brand's message.
Marketers need social media tools to manage everything from one place, avoiding all plausible chaos.
Why Consider Alternatives to Buffer?
Buffer is undoubtedly a fantastic tool for social media management that divides its offering into two products – Publish and Analyze. This makes it an expensive proposition for small agencies as they have to spend more to get analytics capabilities.
If you're looking for social media management tools that fill the gaps that Buffer leaves, you might want to consider these 11 Buffer alternatives to execute your social media marketing plan.
What are the Best Buffer alternatives?
1

Buffer Alternative – SocialPilot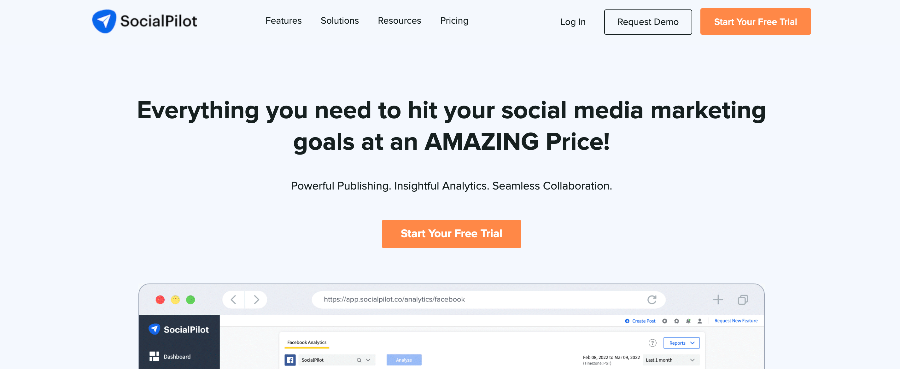 SocialPilot was designed and developed especially for small businesses and agencies. It is a tool that streamlines your social media management processes, from scheduling and publishing your posts to coming up with in-depth analytics, guiding you on what can be done better to improve your overall strategy.
Some of SocialPilot's key features include:
Allows you to connect to Twitter, Facebook, LinkedIn, Pinterest, Tumblr, Instagram (Direct Publishing), Vk.com, Google My Business, and TikTok
Scheduled posting
Social media content calendar
Analytics and reports
Social Inbox (a tool for managing conversations across all of your Facebook pages)
Content curation
Teams and collaboration
Facebook Ad management
SocialPilot vs. Buffer
Though there are a lot of similarities between SocialPilot and Buffer, the former seals a formidable deal.
SocialPilot can connect to more social media platforms. Apart from that, it can schedule up to 5,000 posts compared to Buffer's 2,000 posts.
There are also extra features that SocialPilot offers that Buffer doesn't, such as giving you the option to manage your Facebook ads within the marketing tool itself.
Another feature worth noting is SocialPilot's Social Inbox where it allows your team to manage posts, comments, and messages across Facebook Pages.
Check out a more detailed comparison of SocialPilot being one of the best Buffer alternatives from here.
Pricing: Most importantly, even though both offer free trials, SocialPilot beats Buffer by the price alone, especially for medium to large enterprises.
For small teams, you can avail SocialPilot with only $75 for 25 accounts compared to Buffer, which is priced at $120 for connecting 10 accounts. Even at a lower price, SocialPilot gives you more than your money's worth.

---
2

Buffer Alternative – Apphi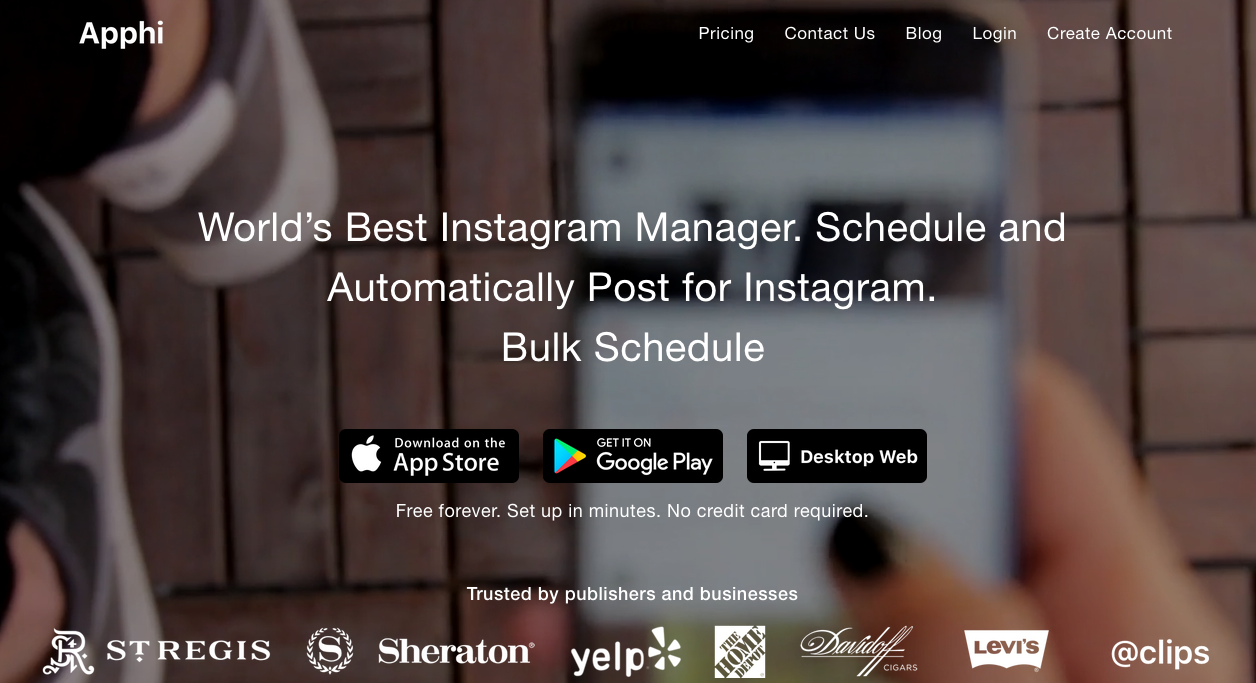 Apphi's is another excellent alternative to Buffer, whose main focus lies in scheduling posts and converting followers into customers through Instagram. However, they have also branched out to other popular social media platforms like LinkedIn, Twitter, and Facebook. This tool is great for metrics analysis to find potential pitfalls quickly.
Apphi's key features include:
Compatible with Instagram, Facebook, Twitter, and LinkedIn
Post scheduling and reposts
Visual plan through drag and drop
Repeat schedule
Advanced analytics
Apphi vs. Buffer
With Apphi, you will be able to plan your visuals on Instagram through the drag and drop feature, which lacks in Buffer.
It also includes Analytics in their plan, which is offered separately in Buffer. It also gives you more options in terms of choosing a subscription plan.
Pricing: Both offer free subscription plans but have minimal features, which might not be the most suitable for your marketing plan. Apphi's services start at $10 for one user, same as Buffer.
---
3

Buffer Alternative – Loomly
Loomly is a great social media publishing tool that provides you with ideas to optimize content for your marketing strategy based on trending topics and social media best practices.
Loomly makes your work efficient by giving you access to all your brand assets stored in a library. It offers several team workflow features for better collaboration.
Key Features of Loomly include the following:
Post ideation and creation
Post optimization
Post previews/mockups
Built-in approval workflows
Scheduling and automated publishing
Advanced analytics
Loomly vs. Buffer
The main difference between the two is that Loomly focuses on content creation with tips and previews, while Buffer leaves the content creation in the hands of your team and focuses on what comes after it.
Pricing: Loomly's price is $76/month for 6 users, while its counterpart Buffer is priced at $10/month per social channel.
---
4

Buffer Alternative – Salesforce Social Studio
Salesforce is a cloud-based software that specializes in Customer Relationship Management (CRM). Social Studio, its social media marketing feature is one of the top alternatives to Buffer. This tool helps you to create, schedule, manage and monitor all your social media postings. Along with this, it lets you manage ad campaigns efficiently with social listening.
Some of Salesforce's key features are:
Integrated with Facebook, Twitter, LinkedIn, Youtube, Instagram, Pinterest, and more
Create and configure workspaces
Built-in social advertising
Einstein vision/Image recognition
Social listening
Social post engagement and metrics
Salesforce Social Studio vs. Buffer
Salesforce guides your brand from publishing your content to providing analytics to refine your marketing strategy.
They make use of artificial intelligence and listening tools to better grasp your brand's reputation among social conversations. For example, they have a listening tool that monitors your market's discussions and lets you discover your customer's sentiment about you—both positive and negative.
What's also interesting is that they have an image recognition software called Einstein vision. Marketers can use it to solve unique cases such as finding which of your leads are most interested in availing your products or services by classifying the objects in their photos.
Pricing: The cost of their services will depend on your needs, budget, etc., as a business. The general idea regarding their pricing is around $1,000/month for 2 social accounts.
---
5

Buffer Alternative – Sprout Social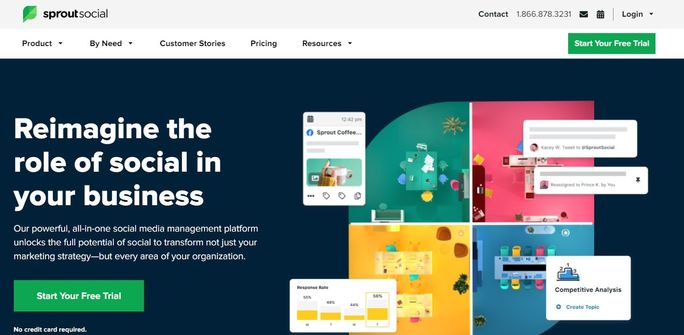 Sprout Social offers solutions to brands and agencies through publishing, engagement, analytics, and listening. It truly made connecting easier at all points. It also facilitates powerful CRM integrations to upscale its effectiveness.
Some of Sprout Social's key features are:
Compatible with Facebook, Twitter, Instagram, and LinkedIn
Smart Inbox which acts as an inbox for all of your social media platforms
Comment moderation
Social CRM
Image editing
ViralPost Technology which calculates the best time to post
Sprout Social vs. Buffer
Sprout Social is unique because it has a CRM function and has listening add-ons that can help improve your marketing strategy through insights and conversations about your brand.
They also offer a 30-day trial, which is twice the amount of what other automation brands offer.
Pricing: You can access Sprout Social's services at $99 per month. While Sprout Social is priced much higher than Buffer, it covers everything that you may want to do to optimize your social media marketing plan.
Have a look at how SocialPilot is a great Sprout Social alternative from a detailed comparison here.
---
6

Buffer Alternative – Later
Later started as an Instagram marketing tool in 2014 and has expanded its platform to popular social media sites like Facebook, Twitter, and Pinterest. Their expertise centers around visual scheduling, media management, marketing, and analytics.
This tool is perfect if you're only handling one brand. They also have other subscription plans to cater to the needs of enterprises.
Later's key features are:
Visual Instagram Planner
Unlimited media
Instagram analytics
Hashtag suggestions
Instagram Stories Scheduling
Later vs. Buffer
While Buffer only has an Instagram hashtag manager where it saves the common hashtags you use, Later levels it up by suggesting hashtags you could use for better discovery. It also boasts a content library where you can upload an unlimited number of photos that Buffer unfortunately lacks.
Brands such as Hippeas have used the platform to build their presence on various social media channels. They eventually secured partnerships with huge names such as Starbucks and Whole Foods. Now, their products are available in more than 30,000 stores.
Pricing: The price at Later starts at $12.50 a month for one user, while Buffer's plan starts at $10.
---
7

Buffer Alternative – Hootsuite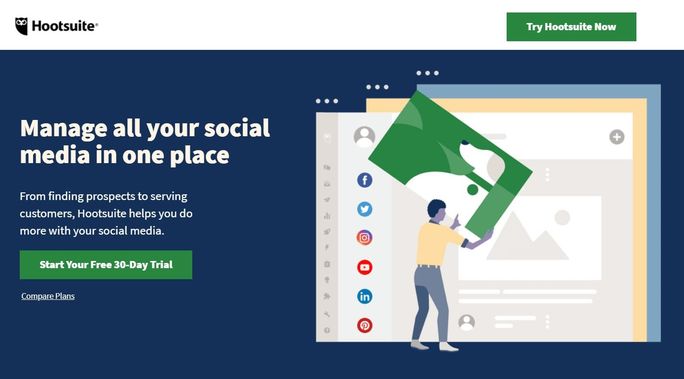 If your focus is on establishing customer relationships through your social media platforms, Hootsuite may be a good option. They value the power of human connection by using their software to "build strong internal cultures, uncover emotionally rich consumer insights, and unify the customer experience."
Here are the core features of Hootsuite's platform:
Connect with more than 20 social media platforms, including Facebook, Twitter, Instagram, Youtube, LinkedIn, WordPress, and Pinterest
Create, curate, and review content
Monitor and manage incoming messages
Create and manage advertising content
Monitor conversation on key topics
Measure and analyze your social media performance
Hootsuite vs. Buffer
Hootsuite lets you do more than publishing and analytics. You can create posts through 'Composer,' At the same time, you preview your posts on how they would look on your page.
It also lets you integrate more than 250 tools into your plan, making it a seamless experience as everything will be in the same interface.
Like Sprout Social, they will allow you to use their service for 30 days, giving you more time to get familiar with their interface and eventually decide.
Pricing: Hootsuite starts at $49 for one user with 10 social profiles, compared to Buffer's $10 for 1 profile.
Know how SocialPilot also proves to be a cost-effective Hootsuite alternative.
---
8

Buffer Alternative – Sendible
Sendible helps you amplify your brand's voice through authentic storytelling amid the sea of overwhelming information on social media. Although designed for agencies, they also have subscription plans which are easily accessible for small businesses.
Sendible's key features include:
Integrated with Facebook, Twitter, Instagram, LinkedIn, Youtube, Pinterest, WordPress, Blogspot, Medium, Tumblr, and many more
Content calendar
Priority inbox
Custom reports
Social listening
Sendible vs. Buffer
Sendible does more than just publishing content for you. One of its unique features is its CRM functionality, where it gives you information about the person you're talking to and your previous interactions with them. This will help you send out more personalized messages to your customers.
Pricing: Sendible does allow you a 14-day trial. Their prices start at $29 for one user, which puts them slightly above Buffer's starting plans.
Check out how SocialPilot is a notable Sendible alternative from here.
---
9

Buffer Alternative – Tailwind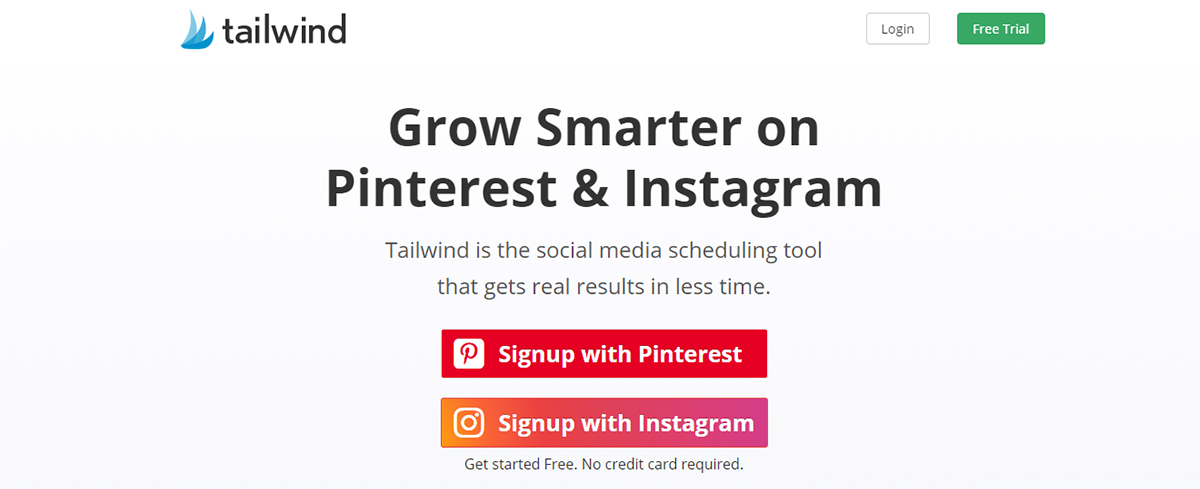 Tailwind is a visual-focused social media marketing service that is an official Pinterest, Facebook, and Instagram partner. This Buffer alternative lets you determine the optimum times to publish and use suggested hashtags to increase engagement. Double your reach with smart scheduling features and by measuring key analytics.
Key features of Tailwind are:
Hashtag suggestions
Tailwind communities
Personalized content
Mockups and previews
Insightful analysis
Tailwind vs. Buffer
If your business stresses visual dynamics, Tailwind is the tool for you. The design capabilities with preview options can improve your Facebook, Instagram, and Pinterest performances starkly.
Tailwind communities is another feature that lets you connect with influencers of your niche globally. Buffer does not offer such community connectivity.
Pricing: Tailwind pricing starts at $19.99 for one user with advanced analytics. You can also try its free forever plan.
---
10

Buffer Alternative – MavSocial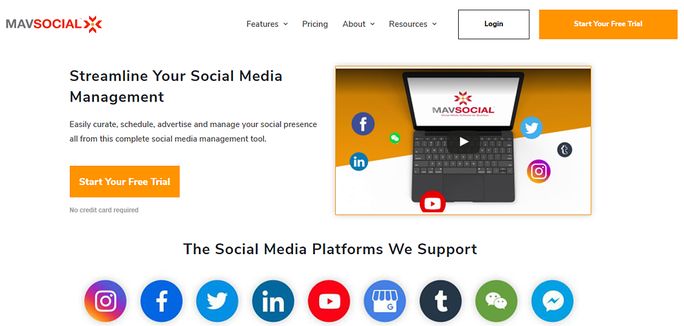 MavSocial is the ultimate social media marketing software that will help you right from curation to analysis. It has an inbuilt library of stock images, so you don't need to spend additional efforts designing visuals for your posts. Leverage social listening to make a dominating impact on your social media audience.
Key features of MavSocial include:
Integrated with Instagram, Facebook, Twitter, LinkedIn, Youtube, Google My Business, and many more
Content curation
Team collaboration
Asset management
Social listening
MavSocial vs. Buffer
MavSocial is a tool that can help you massively when handling campaigns. Its intuitive features will help you in the smooth execution of most tasks. Its content management system outshines Buffer too.
Buffer has vital features as add-ons, but MavSocial includes most of them as package offerings, leaving you with no confusion.
Pricing: MavSocial costs $19 per month for connecting up to 10 social media profiles. You can also go for its 14-day free trial.
---
11

Buffer Alternative – Agorapulse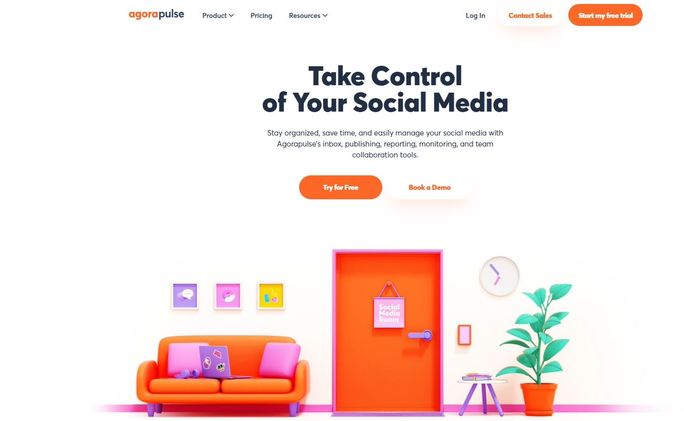 Agorapulse is a Buffer alternative that is worth considering. Apart from usual posting and scheduling, Agorapulse also has social listening capabilities that let you monitor your brand mentions. This can help brands to engage whenever their business comes into discussion actively. Agorapulse has an excellent CRM integration as well.
Key features of Agorapulse include:
Integrated with Instagram, Facebook, Twitter, Pinterest, and YouTube
Unified Calendar
Bulk Scheduling
CRM Tools
Social listening
Agorapulse vs. Buffer
Agorapulse is a robust tool with insightful metrics. You can manage messages from multiple social media accounts from a single place. It is smart and incredibly easy to use too.
Buffer, on the other hand, offers just preliminary features of automation tools. Anything beyond that costs extra. Unlike Buffer, Agorapulse support is not limited to online but includes webinars, tutorials, and other valuable resources.
Pricing: Agorapulse costs $99 per month for connecting up to 10 social media profiles for 2 users. You can also go for its 30-day free trial.
The automation tool you decide to use should support your implementation process from beginning to end to execute your social media marketing as seamlessly and cohesively as possible.
Buffer is one of the most popular social media automation tools for this venture. Still, other available platforms go beyond what Buffer does at a competitive price.
Find out why SocialPilot will best suit your business needs from most Buffer alternatives listed above by taking up its free trial.