Features
1. Social Media Scheduling:
Allows users to schedule and publish posts to multiple social media platforms, including Facebook, Twitter, Instagram, LinkedIn, and more. So, if you are wondering what Hootsuite is used for, you can consider it as one of the best social media scheduling tools</a >.
With Hootsuite, you can easily create new posts, and use its publishing feature to schedule them to a number of social media accounts at the same time. The tool allows you to curate, create, schedule, and publish content, all within a single dashboard. You can check upcoming scheduled content as well.
Also, Hootsuite's social media scheduler helps you plan your content beforehand, across all the social platforms. This saves a lot of time and lets you remain on top of things. You also have the option to schedule multiple posts with Bulk Composer, all at the same time.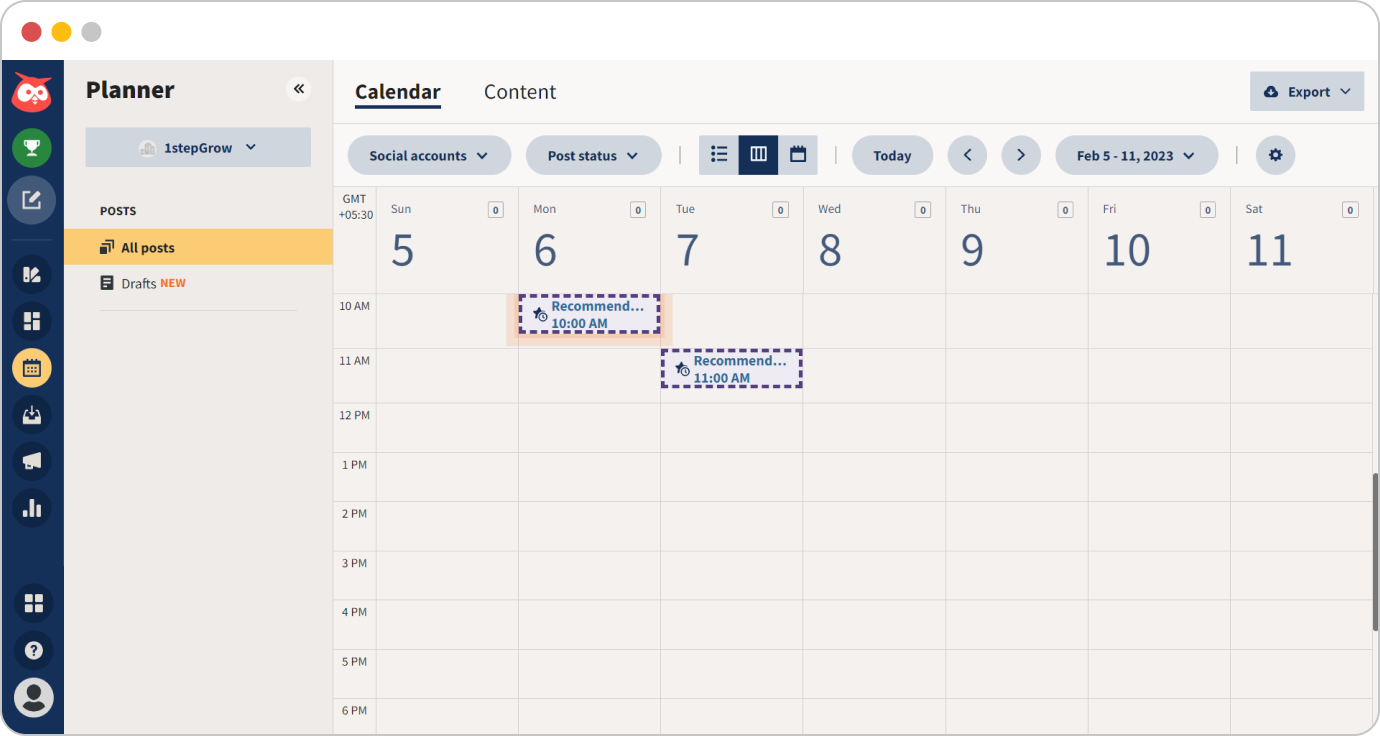 2. Social Media Monitoring:
Allows users to monitor mentions of their brand, keywords, and competitors across multiple social media platforms.
Users can use Hootsuite to stay abreast with all the latest conversations on important topics and keep a track on brand mentions and post performance. You can also use Hootsuite for competitor analysis. All of this happens within a single dashboard.
Additionally, users can also set up custom streams to check out trends, important topics, and the latest happenings at a glance. The feature of responding in-stream is also available.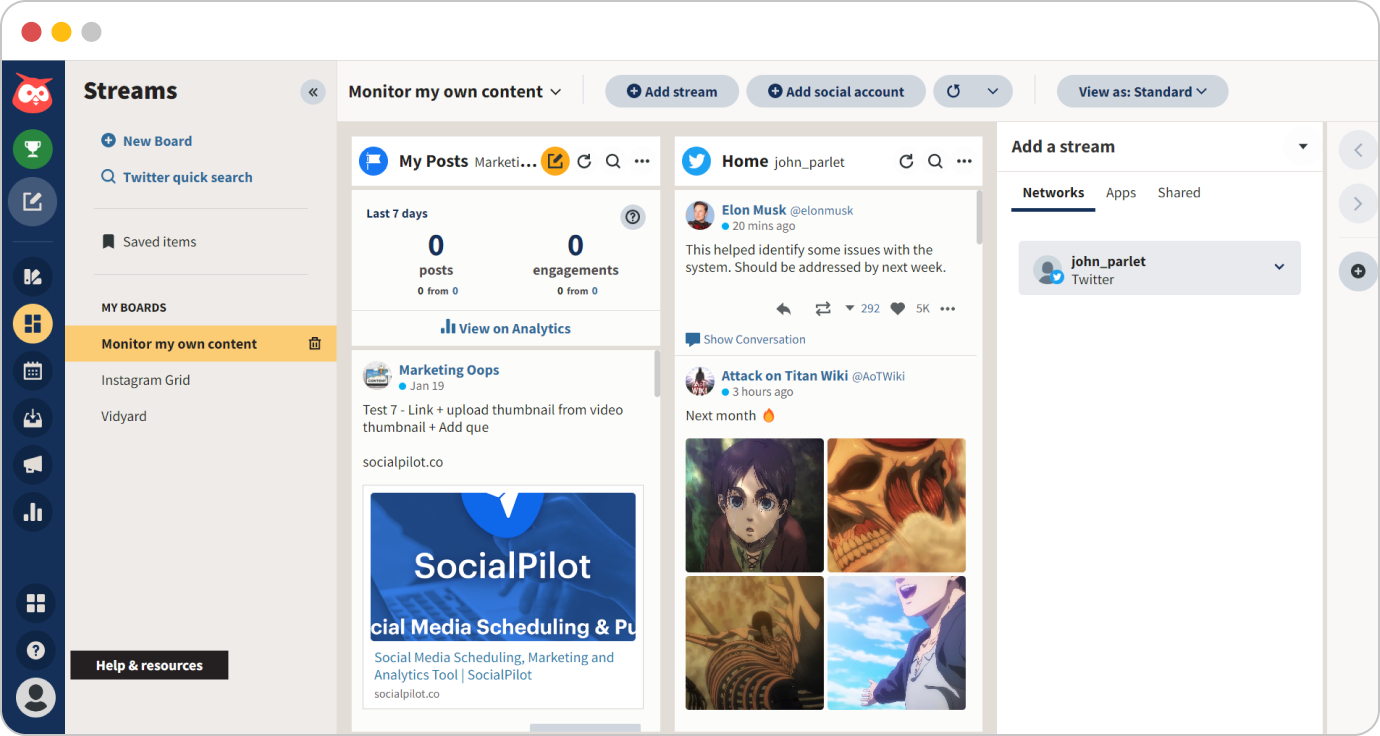 3. Social Media Analytics:
Hootsuite's analytics feature provides in-depth insights into social media performance, including metrics such as engagement, reach, and audience demographics.
Setting performance benchmarks and monitoring improvements become easy with the help of Hootsuite because of the 360-degree view it offers of your results on social platforms.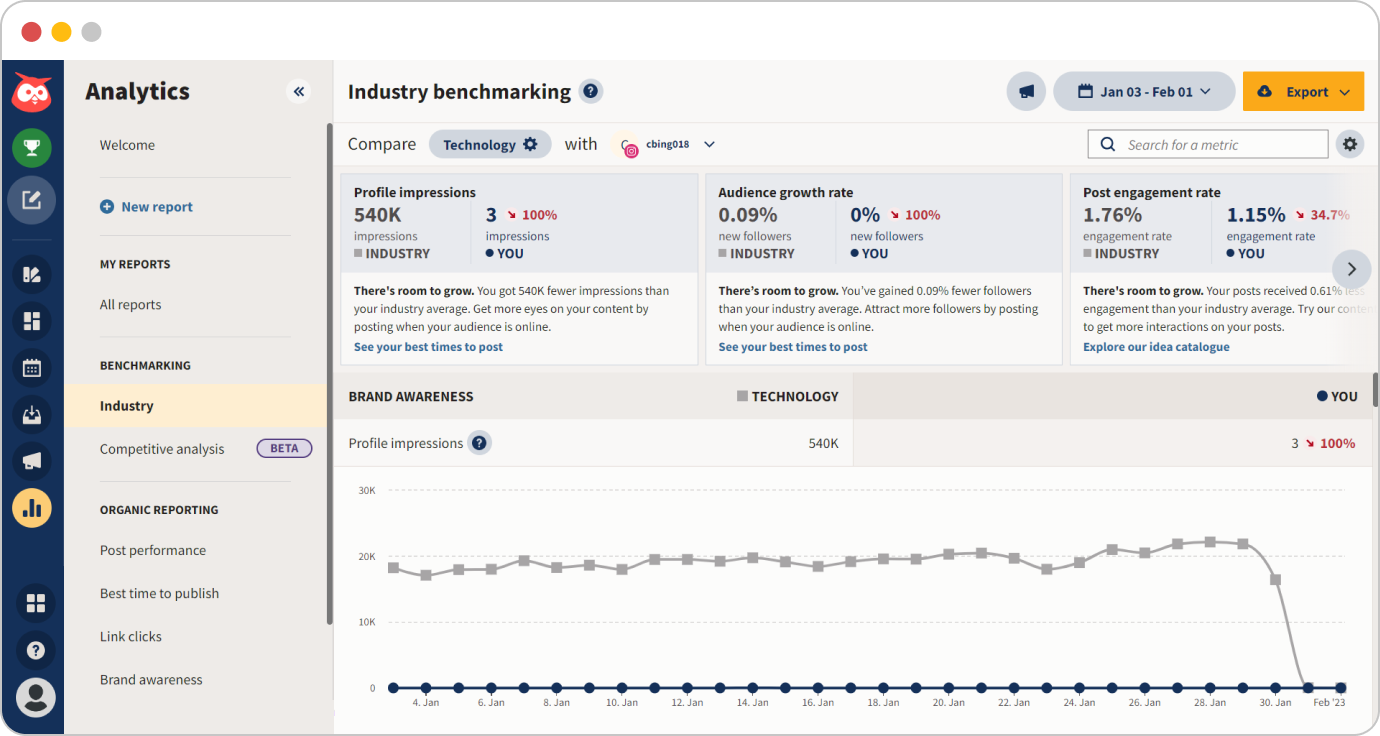 Also, assessing your performance in every social platform helps you save loads of time. With this social media analytics tool, you are also able to create custom reports that showcase the impact on your bottom line and brand in general. Hootsuite's Analytics provides you with customizable reports showcasing the facts and figures that are valuable to your organization. You even get important information on the best times to post.
4. Team Collaboration:
Allows multiple team members to access and manage the same social media accounts and schedule posts.
Hootsuite allows you to get edits or insights from your team members before a post is published. This can help ensure that the content is on-brand and consistent. In all, Hootsuite is a tool that allows for easy collaboration.
You can also view the name of the post author. This offers easy reference. You can also easily edit, create, and even duplicate drafts. This can help save time in crafting your next campaign.
Apart from this, the Hootsuite Planner helps you fill content gaps and collaborate in real time.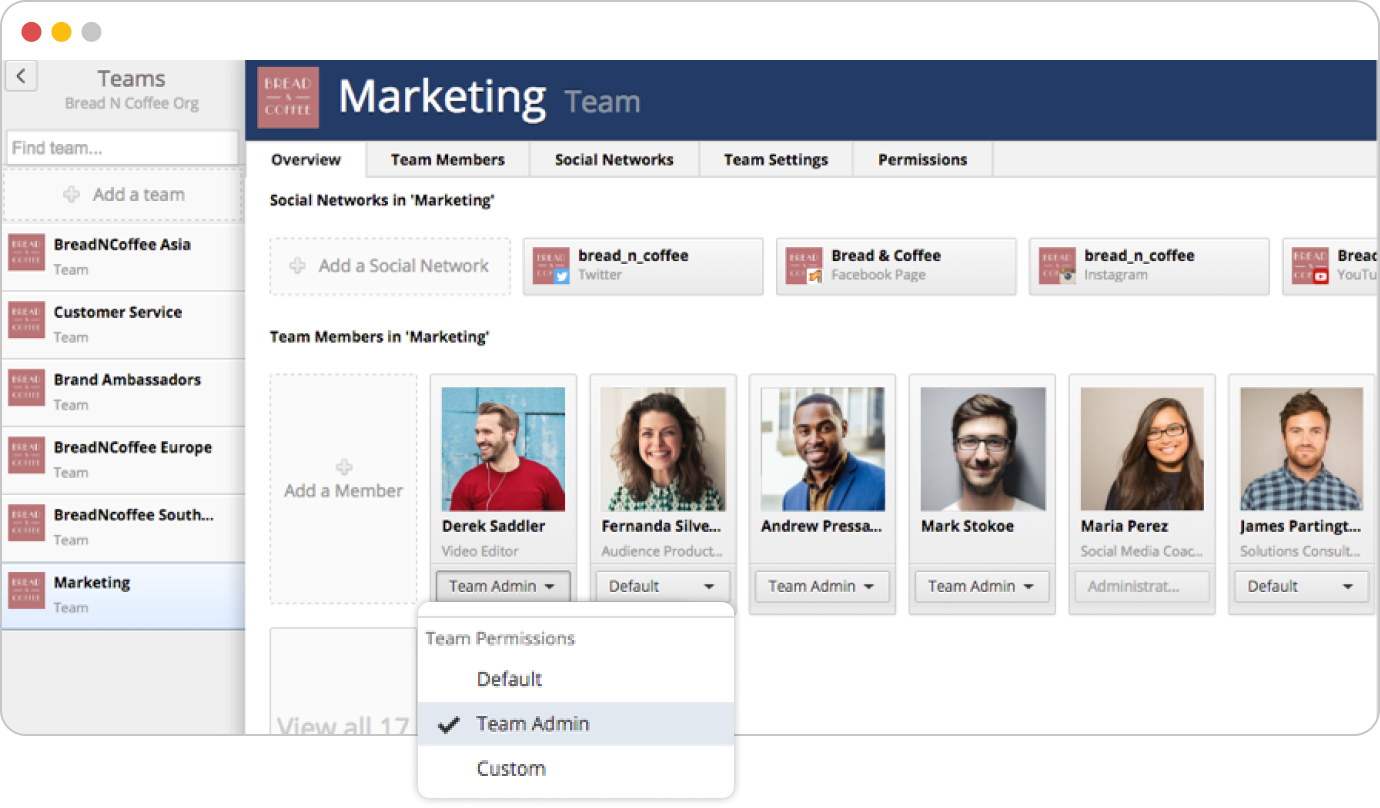 5. Social Media Advertising:
Helps users to create, manage, and analyze social media ad campaigns across multiple platforms.
With targeted paid efforts, such as ads and boosted posts, you can get your brand in front of the desired audience at all stages of their customer journey.
Hootsuite enables you to analyze and optimize your efforts, boost posts, and generate reports across Instagram, Facebook, and Linkedin. This saves a lot of time and you can do it all within the Hootsuite dashboard.
In all, while wondering what else is Hootsuite used for, you should know that it makes your advertising efforts easy and impactful by letting you advertise across social media channels seamlessly.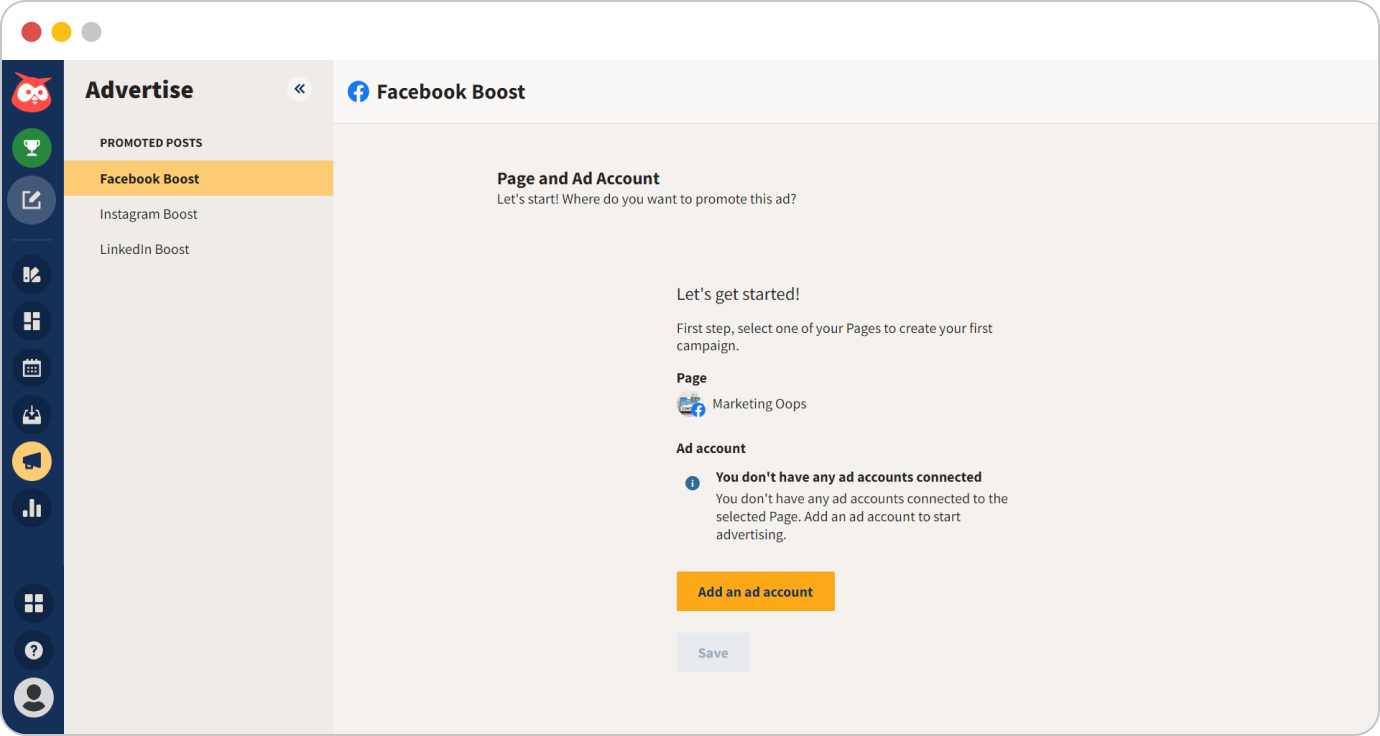 6. App Directory:
Allows users to connect with over 150+ apps to extend the functionality of Hootsuite, including apps for analytics, content creation, and customer relationship management. With this feature, your essential social media networks and tools come in one place.
The reason Hootsuite offers access to a plethora of apps is to simplify marketing. These apps include Google My Business, LinkedIn Hashtag Analytics, MailChimp, Hubspot, Canva, Shopview for Shopify, etc.
When you integrate Google My Business, for instance, you can monitor Google My Business reviews and send messages to customers directly.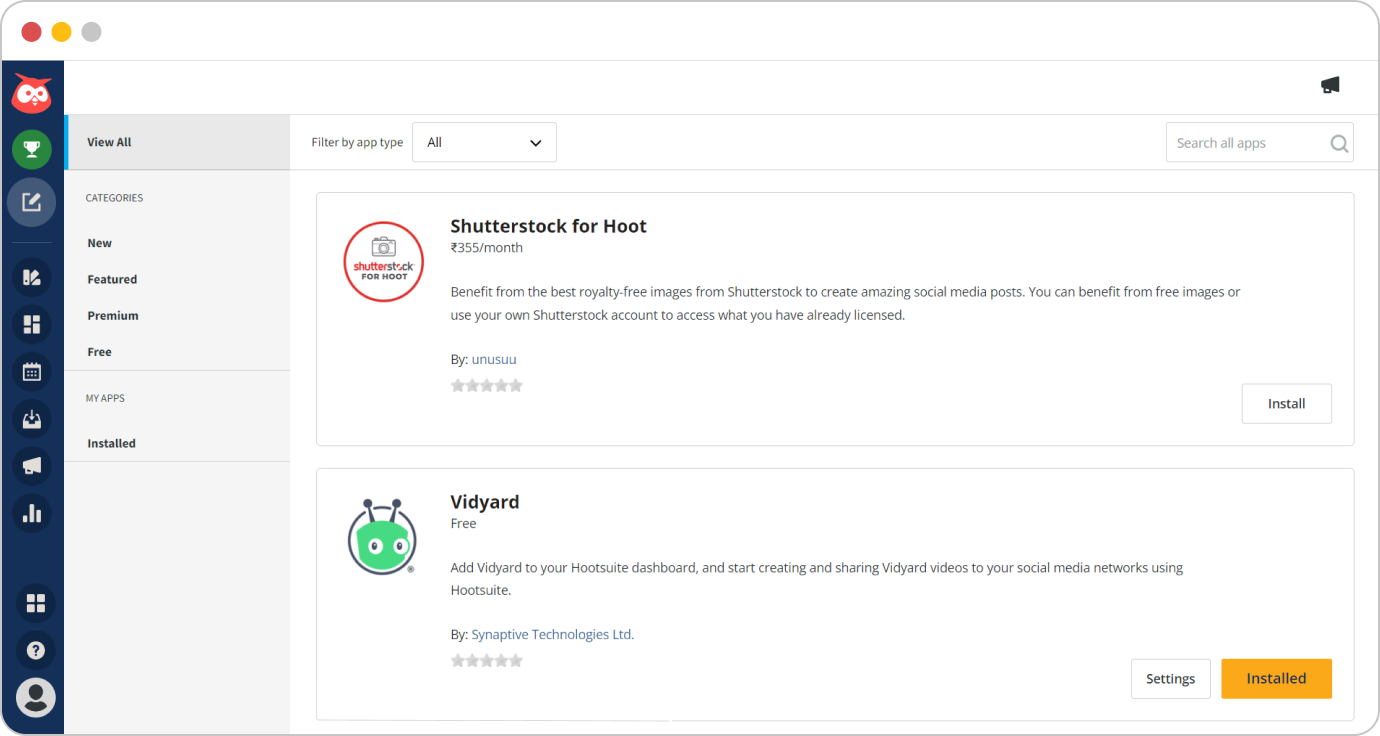 7. Security & Compliance:
Provides various security features, such as user roles and permissions, and compliance with industry-specific regulations.
Also, Proofpoint, a software tool, offers an extra layer of security. You can integrate it with Hootsuite Enterprise accounts and get automated screening and analysis post or prior to when a post is published.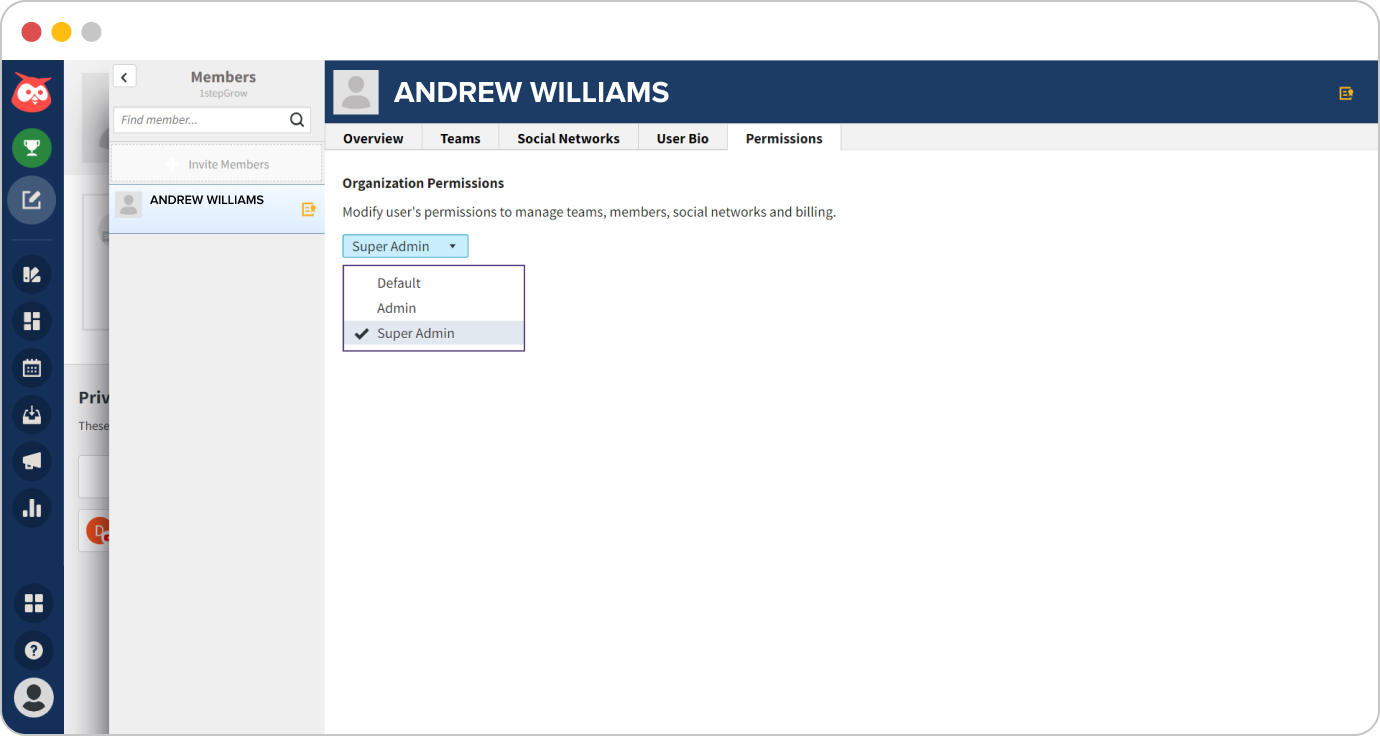 8. Hootsuite Insights:
A content discovery and curation tool that helps users find and share the
most relevant content for their audience.
Hootsuite Insights offers a real-time overview of millions of conversations taking place on the web. All you need to do is search for a keyword or topic, and use filters such as location, demographics, date, and more. This tool, powered by Brandwatch, also helps you learn about how your brand is perceived in the market. It even helps you recognize thought leaders and receive instant alerts if your mentions witness a spike.
In all, the tool is great to receive real-time audience insights.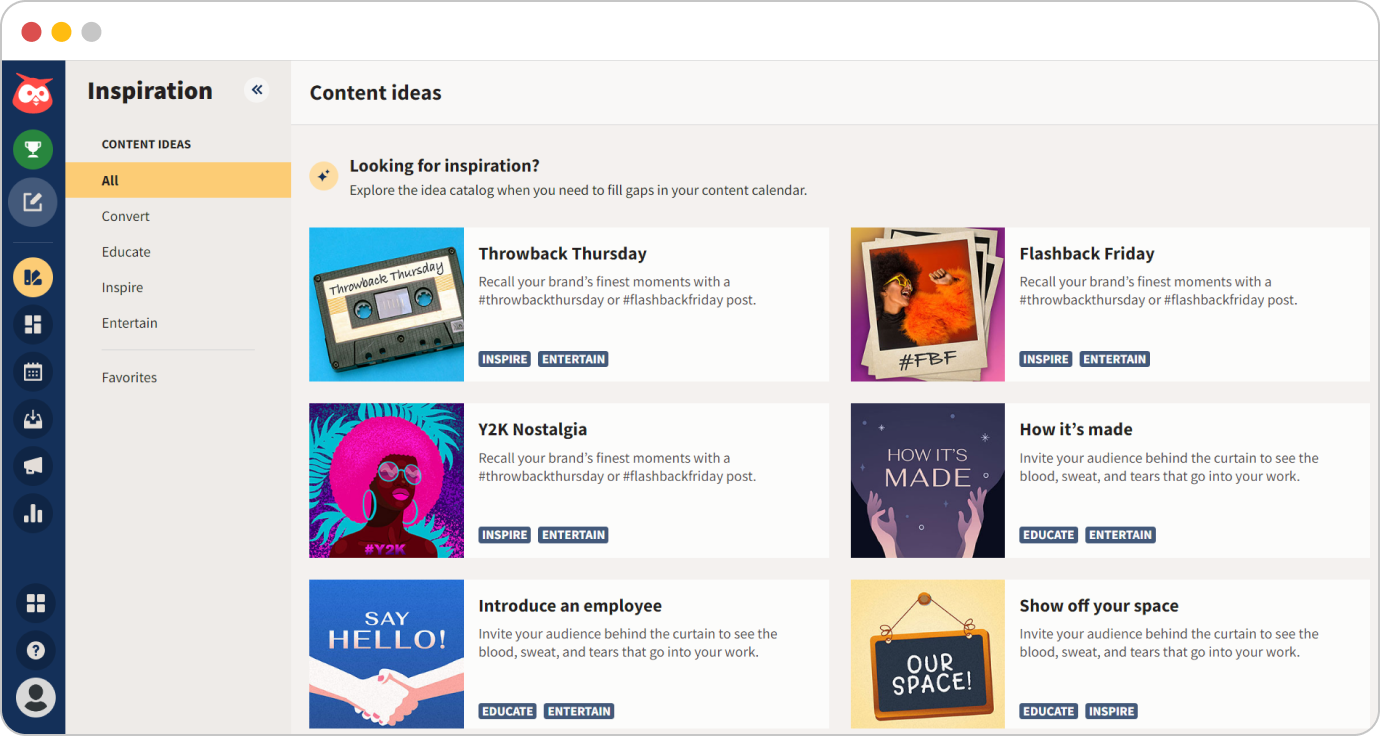 9. Hootsuite Impact:
A Hootsuite analytics tool that provides a comprehensive view of the business
impact of social media efforts, including ROI and revenue attribution.
Impact helps you compute the return on your social media investment. It also assists you in demonstrating how social media channels and campaigns drive conversions, leads, and sales. The customizable dashboards consist of tables, readable graphs, and KPI summaries, making it great for stakeholders who are result-oriented. All in all, Impact helps you prove the real business value of social media. It enables you to influence as well as inform business decisions, all thanks to the insights from your organic and paid social media campaigns.
10. Hootsuite Academy:
A learning platform that provides training and certification on social media best practices and strategy. If an individual wishes to learn new skills and take their social media career to the next level, these courses by Hootsuite can help them. To start learning, all you need to do is sign up for the certification courses.
Academy Certification courses include Hootsuite Platform Certification Course, Advanced Social Media Strategy, and Social Marketing Certification Course. These online classes are taught by industry professionals. All in all, these courses help you find success with social media as they help you advance your social media skills.