The craze of social media bears proof of its fame. Individuals and marketers are constantly exploring ways to gain instant recognition on multiple platforms.
No matter the niche, every brand has found a safe haven to connect with their followers and carry out their marketing propaganda. But before that, brands need to claim their space and make a spot in their followers' feeds.
That's when social media management tools come into the picture. Hootsuite is one of those easy-to-use social media tools that allows you to handle various social accounts, business pages, and profiles from its comprehensive user interface.
It doesn't require additional installations either. With Hootsuite, you can easily schedule, publish, monitor, and analyze your social media activities. But this isn't the only tool.
There are a bunch of Hootsuite alternatives providing similar features at a competitive price.
Let's dig further as to why these options are worth considering.
Why Consider Alternatives to Hootsuite?
Although Hootsuite offers a wide range of flexible plans with free trials, small businesses might not be able to leverage the true capabilities of this tool without spending a significant amount on subscriptions.
In this post, we shall walk through the top Hootsuite alternatives that even small businesses can opt for their mandatory social media marketing activities like post scheduling, content creation, publishing, and analytics.
We shall review each alternative to Hootsuite, so you don't have to. And when we conclude, you will be able to decide the social media management tool that caters to your marketing strategy needs ideally.
But before diving into the list, watch our exciting webinar on "How to Increase Engagement for Marketing Agencies?" Learn the best tips and tricks from industry experts on how your marketing agency can build a long-lasting connection with clients and prospects.
Now, back to the list.
What are the Best Hootsuite Alternatives?
1. Hootsuite Alternative – SocialPilot
Developed especially for small businesses and agencies, SocialPilot is best for publishing, engagement, and analytics. It is hands down more powerful than Hootsuite and offers a wide range of features that are a must for small businesses and agencies at a fraction of cost.
Here are the key features SocialPilot offers:
Team collaboration and client management
Compatible with Facebook, Instagram (Direct Publishing), Twitter, Google My Business, LinkedIn, Pinterest, TikTok, VK, and Tumblr
Social media analytics and reporting
Social inbox & Facebook ads
Advance post scheduling with the ability to mention, schedule videos, album & carousel posts, add CTAs and so much more
Canva integration to help you create images on-the-spot
24×5 Support available via calls, emails, live chat, and social media
SocialPilot vs. Hootsuite
While both platforms are quite similar, there are certain advantages of using SocialPilot. For example, Hootsuite schedules up to 350 posts at a time to your social networks, but you can bulk schedule up to 500 posts with images in SocialPilot.
SocialPilot offers a unified dashboard similar to Hootsuite and allows you to put certain social platforms in a group. This feature is extremely useful when you're dealing with multiple clients and do not wish to make a mistake while posting content.
Hootsuite only offers ow.ly link shorteners, whereas SocialPilot gives you access to other popular link shorteners like Snip.ly, Rebrandly.com, and Bitly.com.
Additionally, you will be able to search for content related to your field while getting your RSS feeds in SocialPilot. This feature is not available in Hootsuite.
To see a more categorized and detailed comparison of SocialPilot being one of the best Hootsuite alternatives, click here.
Price: SocialPilot offers a 14-day trial, and the subscription starts at $25.5/month (billed annually) as compared to Hootsuite's pricing – a $49/month subscription when billed annually.

---
2. Hootsuite alternative – Buffer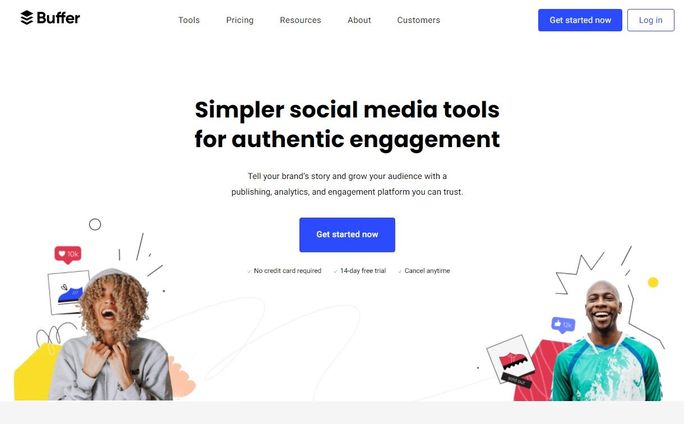 Much like Hootsuite, Buffer also started as a scheduling tool for Twitter and is now quite popular among other Twitter tools in the social media marketing segment. But as the years progressed, Buffer has undergone more changes than Hootsuite.
Here is a list of Buffer's key features:
Comprehensive feed for every social network
Free plan with 1 social account for a network up to 10 scheduled posts available
Compatible with Twitter, Facebook, Instagram, LinkedIn, and Pinterest
Users can re-buffer published posts
Content curation using RSS feeds
Visual calendar
Buffer vs. Hootsuite
Both tools have similar dashboards, but Buffer doesn't show notifications about direct messages or comments. Buffer only displays scheduled posts and previously published posts under the Analytics – Posts path.
Using Buffer is advantageous when creating publishing schedules for different social channels. You can use these schedules and add new content regularly. Hootsuite also has a similar feature which is restricted to a single schedule only.
However, Buffer doesn't give you many options to interact with fans and followers, but it is great for scheduling posts and re-publishing the ones that worked well.
Price: Buffer offers a free plan. After the trial, you can avail the Pro plan at just $15/month.
If you'd like to have a look of how SocialPilot is compared as a great Buffer alternative, we have a detailed comparison here.
---
3. Hootsuite alternative – eClincher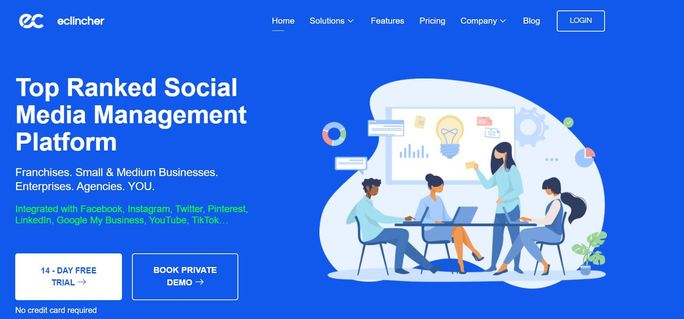 eClincher is a robust and feature-rich social media management tool that can be used by small and medium businesses to streamline their social media presence. It is known to make social media management easier and more effective with its intelligent social media dashboard and centralized inbox.
Key features of eClincher include:
Advanced publishing
Content curation
Marketing automation
Keyword tracking
Social media analytics
Content recycling
Scheduling
Engagement
Team collaboration
eClincher vs. Hootsuite
eClincher is best known for its publishing, reporting, and monitoring capabilities. It offers an interesting feature called Pocket integration. You can use this feature to share any content stored in your pocket account directly to associated social platforms.
However, compared to Hootsuite, eClincher doesn't let you collaborate on social media tasks. You will have to collaborate separately for messages via email or Slack.
eClincher's UI is not as simple as Hootsuite and takes some time to master. It is recommended to use the support documents to train the team before they start using eClincher.
Price: All eClincher subscriptions include a 14-day free trial, and the base subscription starts at $59/month.
Check out how SocialPilot competes as an eClincher alternative here.
---
4. Hootsuite alternative – CoSchedule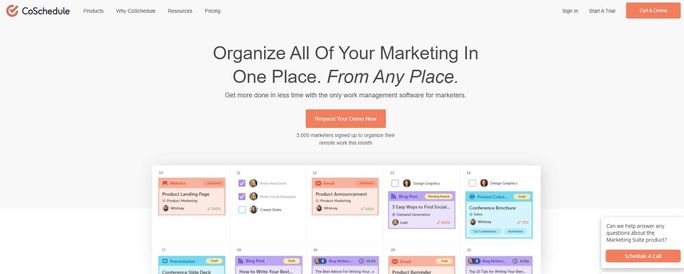 CoSchedule allows you to manage your marketing from a unified platform. It offers social organizers like marketing suites and calendars that integrate with multiple social networks helping businesses by equipping them with the marketing essentials.
Some key features of the tool include:
Automatic notifications
Campaign analysis
Campaign management
Content management
Custom branding
Monitoring
Reporting and statistics
Third-party integrations
CoSchedule vs. Hootsuite
If we compare the two tools, CoSchedule is a cheaper option due to its pricing structure. As you scale up, you will have to pay more for availing advanced features.
CoSchedule also offers a free trial to perform testing. You can curate content, schedule posting time, and automate it from its centralized management system.
Price: CoSchedule – Social Organizer plans start at $29/month for a single user. The top tier allows 10 users, and you need to pay extra to add more users.
---
5. Hootsuite alternative – Socialbakers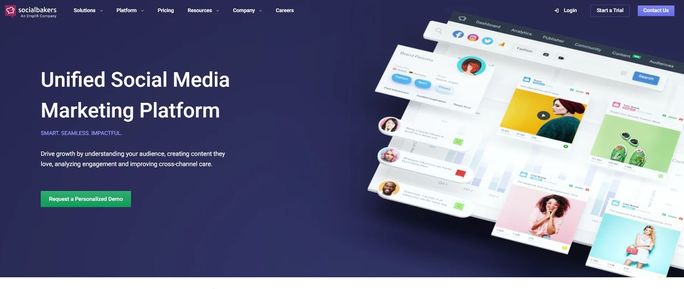 Socialbakers is an AI-focused social media marketing and analytics platform that empowers small businesses to post their content at the right time to generate maximum traction.
You can easily measure, compare, and optimize your social media campaigns with its easy-to-use interface.
Key features of this tool include:
Social media analytics
Reporting
Publishing
Competitive Ad insights
Predictive intelligence
Data integration
Socialbakers vs. Hootsuite
Socialbakers and Hootsuite are pretty evenly matched. While the free version of Hootsuite is a good place to start for small businesses, investing in Socialbakers might be worth it.
Socialbakers allows you to schedule posts at a time when they are likely to receive maximum hits. Upload content and get a comprehensive overview of your marketing campaigns with its reporting and analytics tools.
Price: The pricing for Socialbakers starts at $200 for 5 users. The advanced plans are only available on request. It is good to contact them for the exact price to avoid any lengthy bills in the future.
---
6. Hootsuite alternative – Agorapulse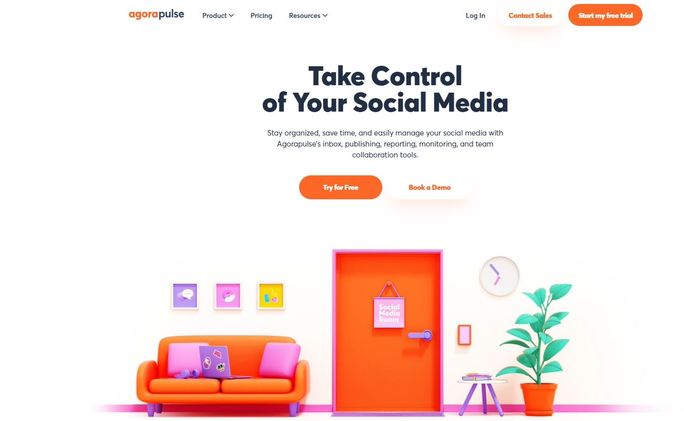 Agorapulse is a publishing tool, but it also covers some other important aspects of social media marketing like competitor research and social listening.
Key features of Agorapulse include:
Unified inbox to view, reply, and assign comments
Compatible with Facebook, Twitter, YouTube, Instagram, and LinkedIn
Comment moderation
Hashtag and keyword monitoring
Visual calendar
Follower profiling
Agorapulse vs. Hootsuite
Agorapulse's bulk upload options combined with unlimited RSS feed helps it beat Hootsuite in almost all regards.
The unified inbox feature allows you to manage interactions within your social channel in a much easier manner. In addition to that, Agorapulse offers a clutter-free dashboard that adds to the user's convenience.
Price: Agorapulse offers a 14-day free trial without a credit card, and the subscription for their Solo plan starts at $79/month (billed annually).
SocialPilot also proves to be a cost-effective alternative to Agorapulse. We have compared both the tools in detail here.
---
7. Hootsuite alternative – Sendible
Sendible is a tool that helps amplify and manage multiple brands on social media, streamlining processes from planning, collaborating to engagement. It's more of an agency-focused tool, making it a great Hootsuite alternative.
Key features of Sendible are:
Social listening
Content calendar
Unified social inbox
Custom reporting
Team collaboration
Social media publishing
Bulk scheduling and RSS Feed
Lead generation through Social CRM
Sendible vs. Hootsuite
When comparing Sendible to Hootsuite, you can go beyond social media management. It can track all of your online campaigns outside of social media as well.
What makes Sendible stand out is its CRM functionality and the 360-degree monitoring capabilities, which Hootsuite completely lacks. The dashboard of Sendible boasts an expansive set of features from social media management, monitoring, sentiment analysis, auto-following and auto-responding, in-depth and detailed analytics, to a lot more.
Though Sendible has some great features, there is definitely a learning curve to it. You can't understand the dashboard very easily. The pricing is also a bit odd compared to other social media management tools. It's based on the services you use, which turns out to be quite expensive when you have a lot of scheduling to do.
Price: Sendible's yearly pricing for startup agencies starts with $170/month for 7 users, where you can build 14 reports in total. You can try it out with a 14-day free trial.
If you'd like to check a detailed comparison of SocialPilot being an awesome Sendible alternative, here it is.
---
8. Hootsuite alternative – Zoho Social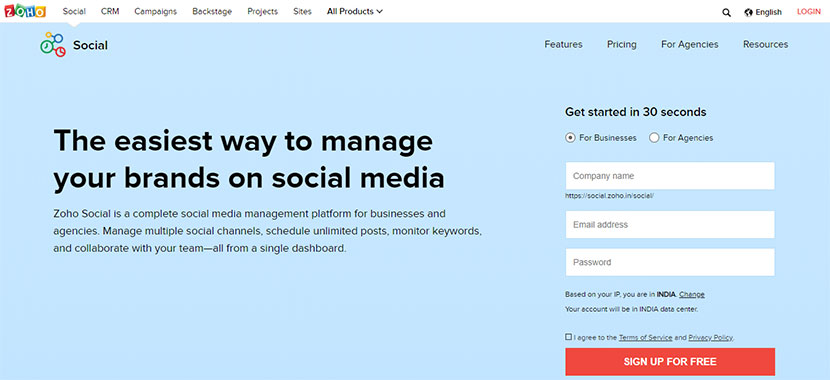 Zoho Social is another tool like Hootsuite that takes social media publishing up a notch with its smart scheduling options. It is built keeping the needs of businesses and agencies in mind helping them grow their presence on social media.
Key features of Zoho Social
Social Media analytics
Custom reporting
Social media listening with live stream
Smart scheduling
Team collaboration
Social media calendar
Zoho Social vs. Hootsuite
Zoho Social is more of a tool that is focused on mid-sized businesses and agencies. It proves to be a great alternative to Hootsuite with advanced features like social listening and SmartQ predictions, unlike Hootsuite. Zoho Social also shows the best times to post for wider reach and engagement.
There's a listening dashboard as well that helps you streamline your social media messages based on the criteria you've set, but sometimes you don't get the accurate engagement numbers.
Zoho Social doesn't have RSS Feed integration so for automating content pieces to social media you would have to pick another tool. Zoho Social falls into an expensive category where to use certain services you need add-ons to your subscription.
Price: All the subscriptions include a 15-day free trial, and the best plan to begin with for agencies costs $200/month for 5 users.
If you are looking for a Zoho Social alternative, SocialPilot proves to be flexible and intuitive. Check here for a detailed comparison of Zoho Social and SocialPilot.
---
9. Hootsuite alternative – MeetEdgar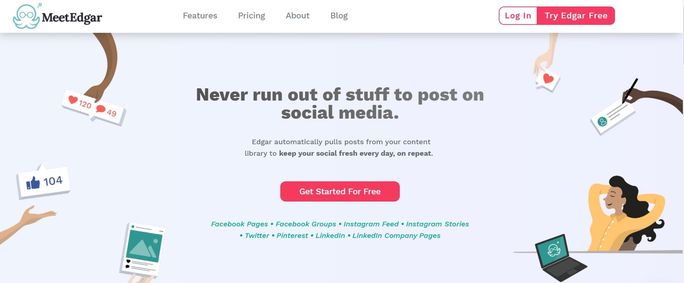 MeetEdgar automatically keeps your social calendar evergreen. It is time-saving and easy to use. The library is categorized into content types, so you never run out of social media posts ever. It is widely popular among entrepreneurs and small agencies for long-term benefits.
Key features of MeetEdgar are:
Organized library
Social media scheduler
Auto refill queue
URL shortener
In-app tracker
RSS feed import
Engagement monitoring
MeetEdgar vs. Hootsuite
MeetEdgar is quite sophisticated when compared to Hootsuite, but getting the hang of it definitely pays off. It automatically pulls content from your website, creating endless content customized for you. While in Hootsuite, you need to decide on the content part on your own and schedule them manually.
The best part is it also recycles the content which is missing in Hootsuite. Moreover, MeetEdgar has an overall simplistic UI with AI integrations for intuitive posting capabilities.
Price: MeetEdgar comes for $19 per month for 3 users with 10 weekly automation. All plans have a 7-day free trial.
---
10. Hootsuite alternative – Statusbrew
Statusbrew is an app like Hootsuite that has a social inbox and the usual scheduling feature. The workflow is sleek with advanced permission features. The listening dashboard lets you keep track of real-time happenings, making it an instant favorite of marketers.
Key features of Statusbrew are:
UTM links and shorteners
Ad monitoring
Slack integrations
Social media analytics
Team collaboration
Activity dashboard
Statusbrew vs. Hootsuite
Statusbrew helps small businesses to access complete analytics. Unlike Hootsuite, Statusbrew's engagement feature keeps your presence on social media very active. The workflow establishment has advanced permission to regulate collaboration.
Another remarkable feature of Statusbrew is its enterprise-grade security like single sign-on, team activity logs, and two-factor authentication.
Price: Statusbrew falls on the expensive side, costing $129 per month when billed yearly. There is a 7-day free trial for the standard package, while the premium version has a 14-day trial.
---
11. Hootsuite alternative – Loomly
Loomly is a popular Hootsuite alternative that lets you create posts from scratch. Find inspiration from trending topics, use asset management features to access media files quickly, and preview them before the scheduling.
Optimize your content as per social media standards to get an aggravated reach. It also has collaboration and workflow capabilities for the social media team.
Key features of Loomly are:
Calendar View
RSS Feeds
Asset Management
Ad Preview
Loomly vs. Hootsuite
Unlike Hootsuite, Loomly helps to ideate and preview your social media posts before publishing. It gives you tips based on the latest trends and practices.
Run ads and sponsored posts from the Loomly dashboard to reach out to more people on Facebook and Instagram. Engage with them via community manager, responding to comments and messages quickly.
Price: Loomly starts at $34 for 10 social media profiles and 2 users. You can also take its 15-day free trial before purchasing any plan.
---
And it's a wrap!
There you have it. Hootsuite is one of the oldest social marketing tools, but alternatives like SocialPilot allow users to create new USPs and get better features at competitive prices.
There is always a crunch in the budget when it comes to small businesses and agencies, but that should not be a hindrance anymore with tools like SocialPilot.
All you need to create a solid strategy is the right set of social media management tools at your disposal. With the comprehensive list discussed in this article, you will be able to make a unanimous choice for your business and stay ahead of the curve.
Frequently Asked Questions
🌟 Is Hootsuite the best tool?
+
🌟 What is the best Hootsuite alternative?
+
🌟 Is SocialPilot better than Hootsuite?
+
🌟 Which Hootsuite alternative is better for small businesses – SocialPilot, AgoraPulse, or Buffer?
+
🌟 Which is better, Hootsuite or Buffer?
+
🌟 What is cheaper than Hootsuite?
+
🌟 Which social media management tools are best in 2021?
+