It's not a surprise that most times, we end up posting random content on social media just to maintain our presence.
These random postings, however, will only fetch you random audiences. But as a business you need to focus on those who intend to buy or convert. That's why it is crucial to publish the right content on the right platform.
It is even more important to publish your content at the right time. That is where social media calendar tools come to your rescue. These tools keep you organized and armed with content well in advance with proper planning.
But there's another challenge with social media posting. Social media marketers have to handle multiple accounts. And for these various accounts, they have to run numerous campaigns. Each campaign, in itself, requires them to post tons of content. You can imagine how exhausting things can get with that kind of unmanageable workload.
If you are a social media manager with a digital agency, or run social media for your small business, you need a social media content calendar to help you visualize your content strategy without any chaos.
Let's elaborate on it with an example.
Black Friday and Cyber Monday are huge opportunities for eCommerce merchants to increase their sales using social media. At that time of the year, you will be required to run several campaigns to maximize engagement and sales from channels like Facebook, Instagram, Pinterest, etc. That will only happen if you've carefully laid out a content posting calendar. And, this can be achieved with the help of social media calendar tools.
If you don't have a social media calendar tool in place, then it's time to get one. Let's have a look at the top must-try social media calendar tools that can manage your content better.
10 Best Social Media Calendar Tools You Can Use
An extremely comprehensive platform for social media scheduling and posting, SocialPilot can be a great tool of choice. If you are looking for an easy-to-use social media calendar tool, here are the robust features it offers.
A macro-level view of your scheduled content: Gives you a bird's-eye view of how your social media plan for the entire month looks like. Once you have scheduled posts day-wise or week-wise for an extended period, you just need to revisit your plan and double-check.
Digging deeper into your plan with filters: This is quite useful if you handle multiple clients and create month-long social media campaigns for them. You can filter your calendar view to dig deeper into account specific or group-specific scheduled content..
Easy rescheduling of your social media posts: It may happen that when you run through your month-long plan for social media marketing, you find that you want to move some posts from the fourth to the third week. Or, you might feel like sending a post scheduled for 3:00 pm to 6:00 pm because your analytics show that the latter gets more engagement. That's why the rescheduling feature is helpful. It's super easy and super quick to use because you just need to dra
Easy resharing of evergreen content: Some posts keep bringing in the traffic, engagement, and conversions. Identify these and don't forget to enable 'resharing' on such posts. Why waste time writing new content from scratch when you already have posts working the way you want? Of course, you can't reuse your old content, but some new posts with some evergreen content is a superb mix.
Easy publishing: You can link blog feeds that automatically get shared on your social media accounts as soon as you publish blog posts. You can also queue them up if you want to modify the time at which they get posted. You can also enjoy Instagram's direct publishing feature with SocialPilot.
Make it visually attractive: You can play with different types of visual posts by adding multiple images, interactive GIFS', posting native videos, creating a new image with Canva integration, carousel posts, and much more.
What Users are Saying
JoAnn J.
SocialPilot is easy to navigate. I especially like the "calendar" option, where you can view a full month's worth of posts, even segmenting by the social media platform. This comes in handy, especially with Pinterest. The analytics tab is easy to read and allows me to see which days and times my followers are most engaged, without having to visit that particular social media platform.
Lydia F.
The social media calendar feature helps me visualize my post schedule and the drag and drop feature makes rescheduling extremely easy. I prefer to schedule rather than put posts into a queue but the times I've used the repeat post feature (publish X times in Y days) it has been easy to set up.
---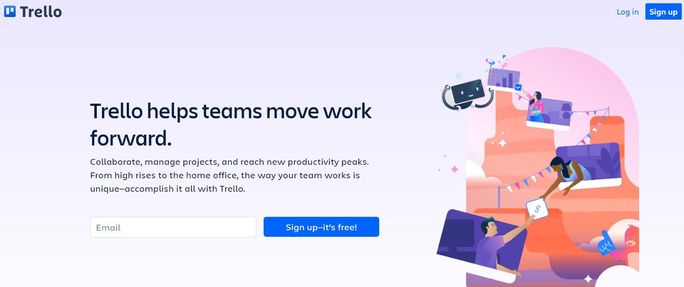 A popular tool that both individuals and companies use, Trello is typically a team management tool. It isn't typically a social media content calendar tool but can be used as one. Managers can allocate and assign work to team members inside the Trello dashboard. This reduces the amount of 'emailing' required daily.
For example, you can create different columns: To-do, In review, Posted, To-repost, etc. So, once seniors have approved your 'in review' post, you can 'post it' and move it to the 'Posted' column. Or, you could create focused channels where you put in different cards under each and assign dates to these cards.
Once you've organized all your content on your Trello board, you can go to the calendar view, which gives a comprehensive insight into which post is scheduled to go out when.
Pros of using Trello
A simple user interface that anyone can start using without any help.
The tool works on all devices: laptops, mobiles, and even tablets. That way, it helps you set your social media calendar even when you are on the go.
You can color-code your cards, making it easier to understand the status of workflow on different campaigns. Trello makes content planning and publishing an effortless job.
Malcon C.
Trello is a striking, fun, and intuitive application that helps people to collaborate at work. The biggest challenge in using it is deciding if it's the right type of collaboration app to manage your work. Trello is best described as a kanban board app, a category of software that is better at organizing, coordinating, and tracking work as it progresses through a workflow among a group of people.
Cons of Trello
You will have to integrate Trello with a third-party social media tool to automate social media posting from Trello. This is additional work, which might make you rethink using Trello as a social media calendar tool.
It gets difficult to manage and organize your work when you have multiple clients. The tool is best-suited for handling only three or four social media channels for four or five clients.
Verified Trello User
It becomes difficult to manage cards with Trello boards once the company size grows. Difficult to manage a trello board with a lot of cards added to it. Features like adding expected time to completion for a task, adding the completion percentage of an individual card can be more helpful.
---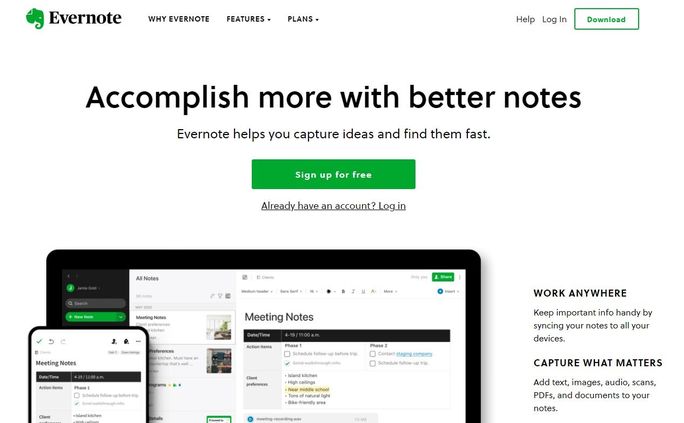 With an easy-to-use interface, Evernote can be intelligently used to manage your social media calendar. Just like Trello, Evernote is more of a task management tool that allows you to put dates on your social media content.
Evernote also makes it super easy to collaborate and work together with others in the team to manage your social media marketing campaigns. Using the app, you can organize your calendar into monthly, weekly, and hourly logs to view when your content is created, when it is being sent for review, or published on social media.
Pros of Evernote
Evernote syncs with multiple devices with ease. It also has a clean and straightforward interface.
The feature "Related Notes" can be of much use for social media managers. The app uses an automated system that reviews content that you've earlier created in Evernote and recommends it if it relates to the content you are currently working on. This helps with better idea generation and helps dig out some excellent social media posts that have won you amazing results in the past.
James B.
I have used this software now for a little over two years and I absolutely love it!! Evernote makes it easy for me to keep track of different things or tasks that I need to remember and can easily access and look at no matter which job I am working at.
Cons of Evernote
Creating a backup of all the content you've created, listed, and organized on Evernote, is difficult.
Though the user interface is easy to understand, it isn't very neat. There is a lot of scope for improvement on that front.
Hannah S.
They should improve account synchronization with different devices. You also have to pay and for some people, this is not pleasant, the free version is not as good as the paid version so if you want to enjoy all the options you have to pay for the full Evernote version.
---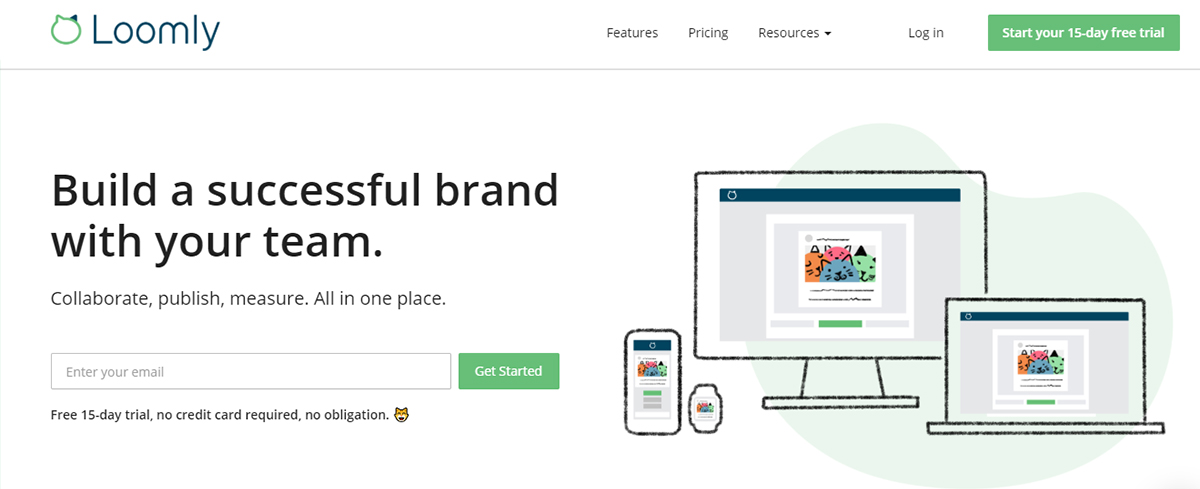 Loomly earlier went by the name Calendy. As of date, the tool positions itself as a 'brand management' platform. For companies, both small and big, Loomly is a social media marketing platform that helps in planning, creating, and executing paid and organic social media campaigns with ease. This social media calendar tool's features allow you to view your editorial calendar in list-view as well as calendar-view.
Pros of Loomly
The tool can suggest ideas based on which you can optimize your posts for more engagement and conversions.
Great tool if you have multiple clients and a big team to manage as it allows quick collaboration and effortless scheduling.
Daniel B.
Loomly is a tool that makes the job easier for me, since I can schedule and optimize the posts in an innovative and multifunctional calendar, which can be customized at any time. It helps me simplify projects and create strategies that will help the business in the future.
Cons of Loomly
The tool provides very few integrations with other platforms. It also offers very few CRM integrations.
There have been instances when the calendar and social media accounts have been disconnected.
Darien C.
Loomly is missing a few key features that you would expect on a social media management platform. Apart from those things, there are a number of simple UI issues that I wish they would remedy; including: Quickly adding a post from the calendar Month view ignores your preset posting schedule times. The Loomly Mobile Website is not fully optimized for mobile devices.
---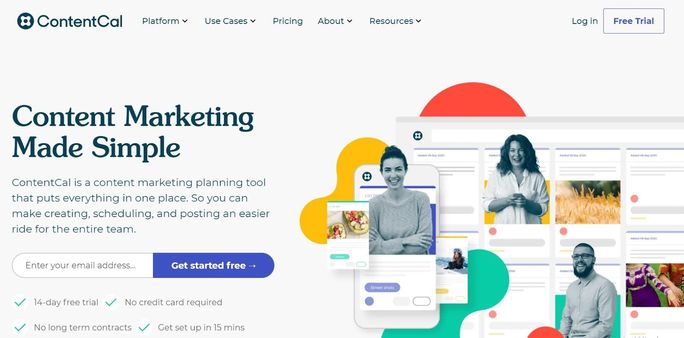 If you are an eCommerce merchant or, say, a food or fashion blogger, you should consider the social media calendar tool – ContentCal. The tool brings the focus on 'visuals'. So, on your social media editorial calendar, you can view all the attached visuals.
The image-focused content that you create and schedule on your ContentCal calendar can be easily viewed, removed, approved, and rejected by others in your team using Approval workflows.
Using its 'Planning Channels' feature, you can manage the number of channels that you want to schedule posts for. It's easy to both add and remove social media channels in your list, for different accounts that you are working for.
Pros
Extremely intuitive and user-friendly. It is easy to get started with the tool in less than five minutes.
You can add 'notes' for different campaigns that you are running, which makes planning and content creation super-efficient.
On your ContentCal calendar, you can 'tag' the content you've created for publishing by theme or category.
Caroline M.
It is very easy to use, the layout is simple and intuitive and visually it is easy to see what the status is of each post.
Cons
The tool isn't particularly great if you wish to schedule content containing videos.
You'll have to integrate ContenCal with a tool like Zapier to post on Instagram.
Verified ContentCal User
We like the tool for scheduling purposes but the reporting really lacked the details we needed to send to our clients, which resulted in more work – so we weren't saving any significant amounts of time.
---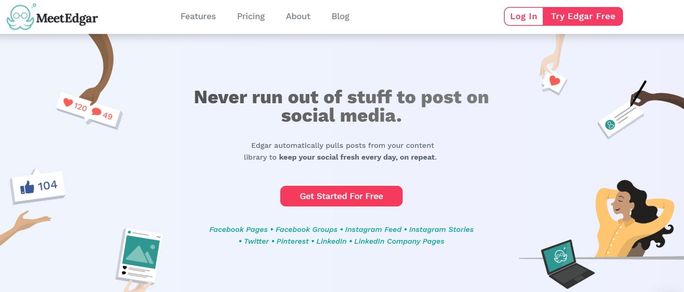 Taking social media content creation to the next level, MeetEdgar can write posts on your behalf. What the tool does is that it uses intelligent algorithms to extract content that's winning the most engagement from the right audience. It then suggests those to you so you can post and promote them on social media too.
On your Edgar social media calendar tool, you can schedule posts category-wise. This means you can segregate your post into blog posts, infographics, discount/promotional posts, webinars, etc. Color-coding on these category posts makes this task super easy.
Pros
A comprehensive social media management tool that allows you to handle all work by logging in only to one account.
The platform is very easy to use and understand.
Dawn M.
Create a schedule of categories to pull from. Generates a two-week Queue so you can see what will be posted. You can also skip content. Keep content so content can be reused at a later time. Organizes content into a library of categories.
Cons
It supports 5 social media platforms so you can only publish posts for Twitter, Instagram, Twitter, Facebook, and LinkedIn.
It is a comparatively expensive choice for a social media calendar tool.
Verified MeetEdgar User
We like the tool for scheduling purposes but the reporting really lacked the details we needed to send to our clients, which resulted in more work – so we weren't saving any significant amount of time. Edgar is ideal for managing one company's social media, but as an agency, we found it difficult to manage multiple clients on a single account. You'd essentially have to create multiple accounts, making it more costly than competitors.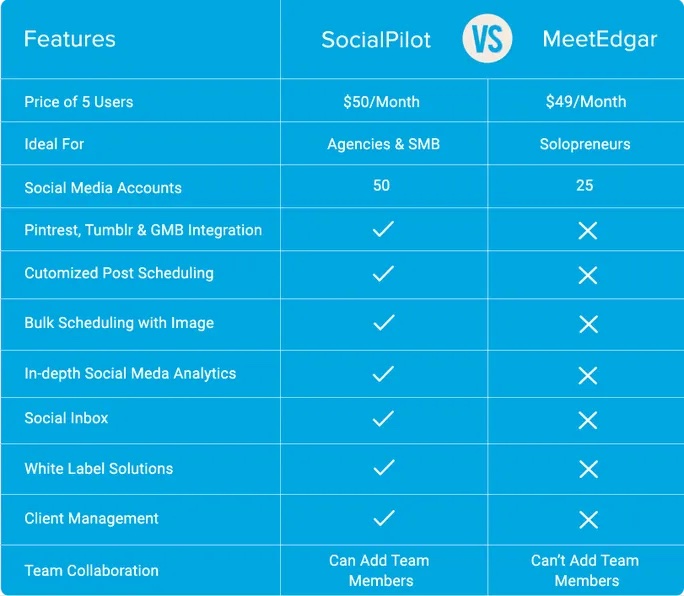 Here's a detailed comparison of SocialPilot as a powerful MeetEdgar alternative.
---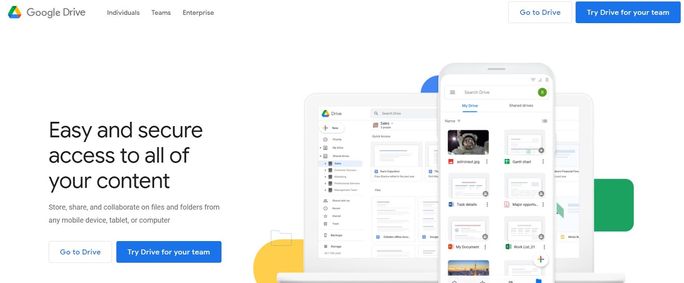 Those who use Gmail and not Microsoft Office would be well-versed with the Google Drive Suite. There are features inside Google Drive like Google Sheets, Google Docs that social media marketers can use to plan, create and organize their work.
You can use the Google Calendar to organize and set dates for different social content that has to go out on different channels. For example, you can lock '25th December' for 'Christmas posts'.
Pros
The free version is loaded with features and capabilities. You really don't need to buy a paid version of Google Drive.
Needless to say, people around the world are very comfortable using Google Drive. It is extremely intuitive and user-friendly.
Both small and big companies can make elaborate content on Google Drive. There is no limit to the number of accounts or channels you can manage from within Google Drive.
Philip R.
Google Drive allows me to easily organize all of my files and have access to them on the go. With the mobile application and website access, I can access my files anywhere I have the internet.
Cons
Difficult to integrate with other channels of communication. Even the number of plugins you can use with Google Drive is limited.
Not a great fit if you are looking to manage all your social media postings and social media calendars in one place.
It's more of a file-sharing and storage platform than a social media calendar tool.
Verified Google Drive User
Google Drive could offer better security to keep all your sensitive data safe. With ease of accessibility comes the risk of breach. Adding more features that allow Google Drive to be secured more easily would be helpful.
---
Where several social media calendars that we've talked about aren't so Instagram-friendly, Hopper HQ markets itself as the #1 Instagram scheduling tool. Fashion brands, cosmetic brands, restaurants, food bloggers, models, and influencers – Hopper HQ is for you. Social media marketers who handle more than one Instagram account have the added advantage of managing all accounts using a single Hooper HQ login.
Other than Instagram, Hopper HQ works for only Facebook, LinkedIn, and Twitter. The social media calendar planner is easy to use and has a neat layout. It also helps in rescheduling posts you've lined up for sharing on social media.
Pros
The tool enables bulk uploading, which means you can upload up to 50 posts in one go.
The tool has some interesting image editing features. It helps you add filters, borders, text overlays, etc., to make your images more eye-catching.
You can make sure that your audience on mobile sees quality images and pictures. Before posting, you can preview how the images will look on mobile screens.
Eric K.
I like the straight-forward UI and clean, uncomplicated layout. It's easy to use, too. Most tasks are self-explanatory. It does the job for me. I don't really need much more than what it already does, and I'm hoping the ease-of-use will not change in future.
Cons
Sometimes, posts that you have scheduled randomly fail to get posted. This makes the whole automation exercise a fail.
Editing pictures, though a feature, is really difficult in reality. You have to work hard to adjust the image sizing as per your requirement for different device screens.
It supports only Instagram, Facebook, and Twitter, so you have to use another calendar tool for managing other social media platforms like TikTok and Pinterest.
Rachel M.
Dragging and dropping using the calendar option is limited to one month at a time. If I am working at the end of a month I'm not able to drag into the beginning of the next.
---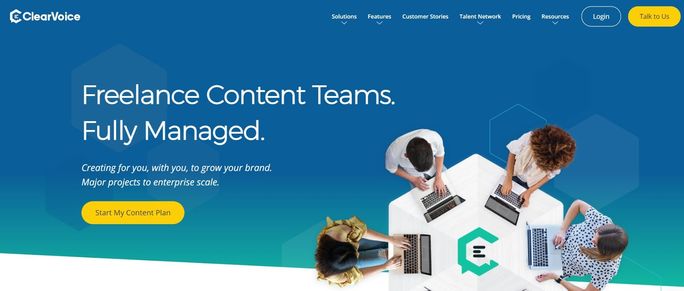 ClearVoice is a great social media calendar tool that can bring lost coordination amid teams of varied sizes. Their dynamic editorial calendar helps in streamlining content creation and effective management. The intuitive dashboard sums up metrics of the latest campaigns. There are also collaboration tools for establishing workflows.
To further fuel the content process, ClearVoice has 'Project creation' feature for both internal and external collaborators. You can add, edit, and approve various projects and keep track of them on a single interface. Apart from this, you can also conduct your talent search and find professional help if needed.
Pros
A valuable tool for daily scheduling and overall content management with CMS integration.
ClearVoice gives you quick access to writers.
Eric P.
The content management is slick. The ability to manage creation, review, edits, and publication procedures while collaborating is fantastic.
Cons
The tool is pricey and not affordable.
There is a steep learning curve, and it takes time to understand the product.
Casey L.
We have a ton of different clients and projects and it often gets difficult to find the projects that only apply to you.
---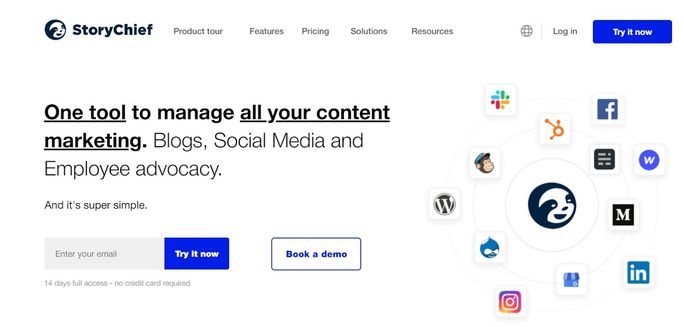 StoryChief is the perfect combination of collaboration and publishing solutions. This has a complete content solution for B2B ventures, including calendar features. The calendar feature has multiple filters to sort through your different content types like Social media campaigns, posts, and stories.
You can even track the status of progress with each task and assign relevant collaborators for accomplishing them. You can get the daily, weekly, or even monthly view on the StoryChief calendar to get a comprehensive insight. Not just that, you can track multiple campaigns and calendars as well.
Pros
The platform is reliable and quite responsive.
The tool gives advanced analytics with easy publishing capabilities.
Marilyn D.
The main benefit has been the speed with which I can go from a blank screen to a published blog. I also love that it syndicates the content across my social media channels which also saves a lot of time.
Cons
Editing images within the tool is often buggy.
It is an expensive tool for the features it provides.
Diego B.
Despite being an online publication and writing tool, publication does not offer me innovation as it does not contain preloaded templates and I must conform to its standard and boring design.
Over To You
Social media calendar apps are an essential requirement for anyone involved in social media marketing. Those who've just started, will need social media calendars to keep track of posting and maintain the discipline of posting at the best time. Those working with multiple accounts or on various campaigns across channels also require calendars to stay organized.
We've discussed 10 of the best social media calendar apps in this post. SocialPilot comes out as a tool with robust capabilities for scheduling, rescheduling, managing bulk posts, and working across different channels. We'd suggest you give it a try. If you are using any other social media calendar tools, we'd love to know how it's working for you.
Frequently Asked Questions
🌟 What is a Social media calendar?
+
🌟 What are the advantages of using a Social media content calendar?
+
🌟 How do you create a calendar?
+
🌟 What are the best Social media calendar tools for 2021?
+
🌟 What is a Social media calendar tool?
+
🌟 What is the best Content calendar app?
+
🌟 Is there an app that posts to all Social media?
+