Features
1. Workspace
Social media management on Planable works inside separate spaces called Workspace. Workspace is a great way to organize and manage social media accounts of multiple brands separately without getting things cluttered.
Inside every Workspace, you can add and manage multiple social media accounts, people, and calendars to create, review, collaborate, and publish posts.
For every social channel added, you will get a separate page to maintain your creation and collaboration smoothly. Apart from real social media pages, you can create mock-up pages of every social platform and use them to draft, preview, plan, and collaborate on content that you can later move for publishing if approved.
Apart from social media accounts, the Planable Workspace lets you connect Universal content page, wherein you can create and plan, although not publish, multiple marketing content types, such as blog posts, newsletters, documents, ads, and more.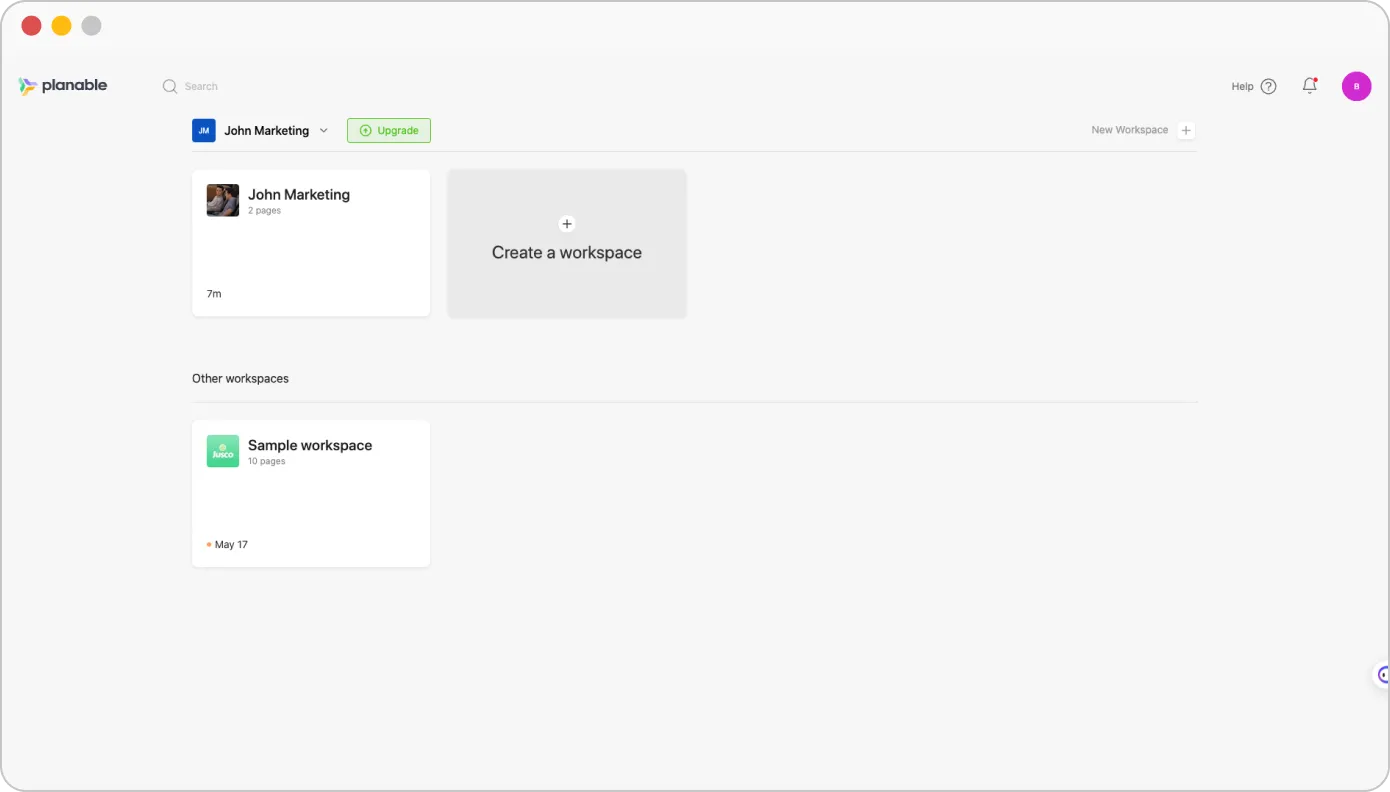 2. Scheduling
Planable enables you to create, customize and schedule posts for multiple social media networks added to a workspace simultaneously. The tool supports scheduling for Facebook, Instagram, Twitter, TikTok, Linkedin, Youtube, Google Business, and Pinterest.
Each social media page has an option to pop up the post creation window. There you can create and customize a post for that particular platform or rope in other platforms simultaneously.
After choosing your accounts, you can switch tabs to access the customization options based on the nature of each platform. For example, if you have selected an Instagram account, you get a separate tab to create posts, reels, and story creation.
Moreover, you can customize your post by adding gifs, images, and videos from your local storage or Planable's media library.
Once your post is ready, you can schedule the publishing on an upcoming date and time or share it right away.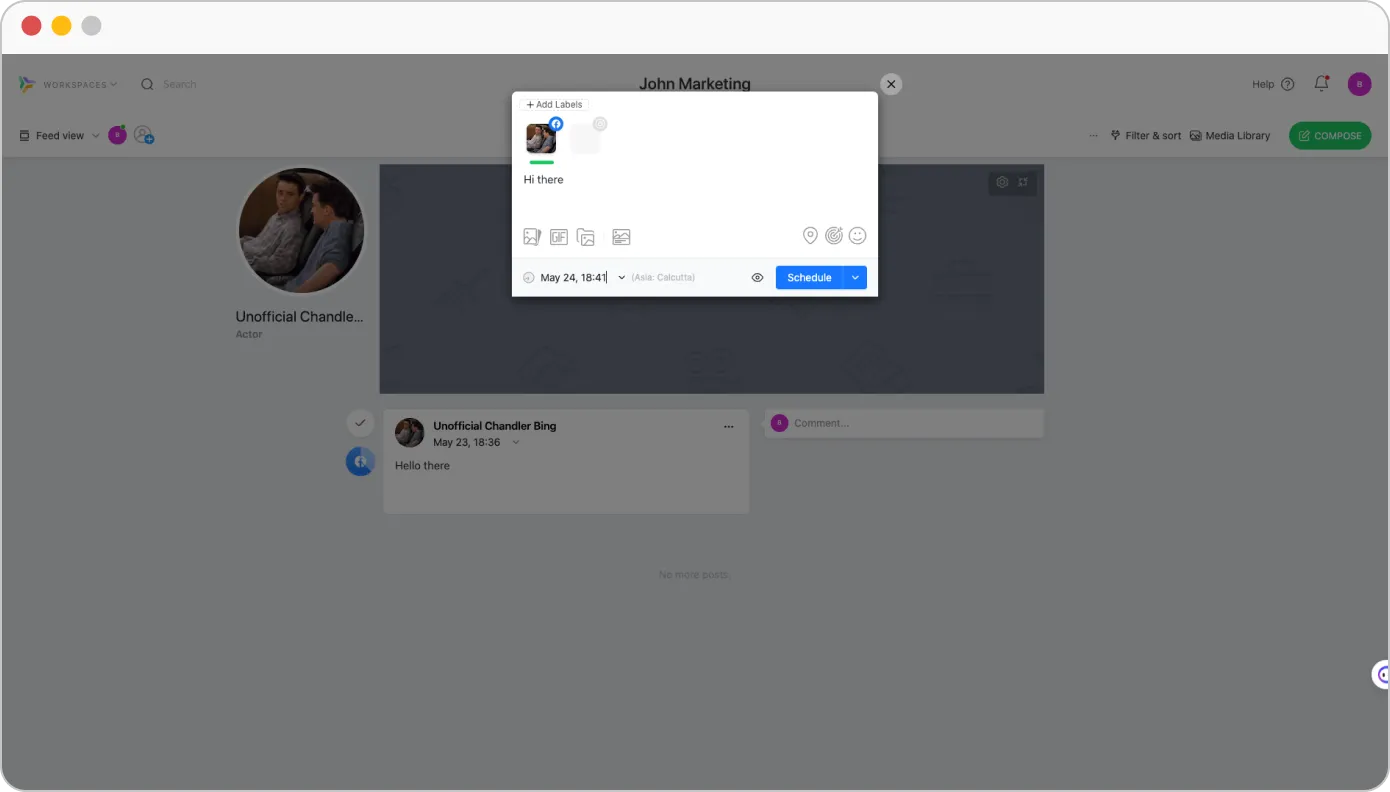 3. Planning View
If it's not clear by the tool name itself, Planable makes your social media content planning pretty organized. It gives you multiple views to plan and collaborate with your whole team faster.
Its feed view enables you to see the social posts exactly as they would look on your social media feeds before even publishing them.
Then there is the calendar view, which is best for planning and visualizing content by weeks and months across multiple social media accounts at once. You also get the drag-and-drop functionality to make changes to the plan.
The list view focuses more on providing functionality and information than the visual presentation. Here you can see a quick preview of posts across all your pages and can do bulk actions for multiple posts at a time.
Finally, there is a grid view dedicated to Instagram only. The grid view looks the same as Instagram's feed to help you accurately visualize your grid plan in advance. You can also plan and schedule your content by dragging and dropping posts in your grid view to ensure they all come together into a cohesive story.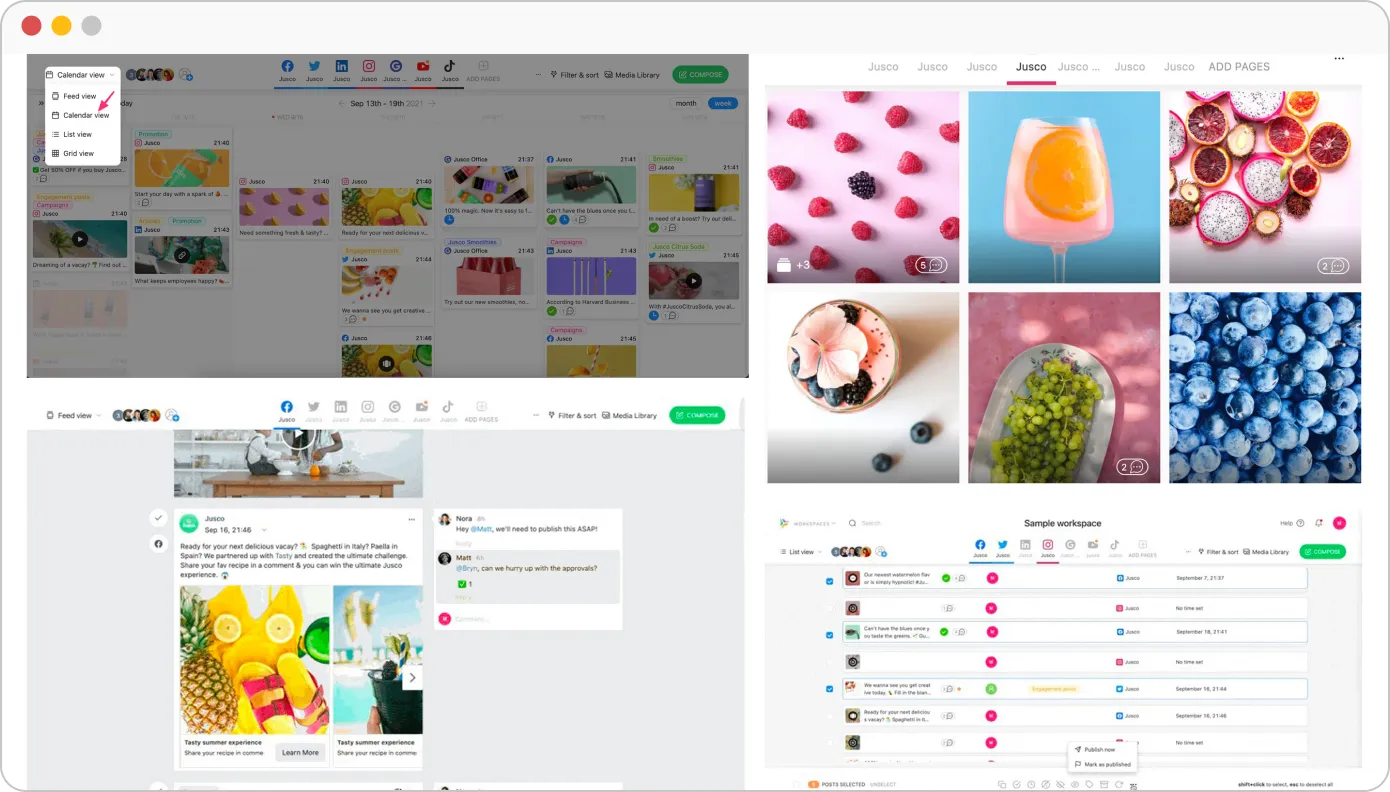 4. Collaboration
The internal and external collaboration features of Planable are one of the most notable aspects. Whether you are working in an in-house or agency setting, its multi-level collaboration feature helps you keep the transparency alive and approval workflow smoother and facilitates seamless communication among your team.
You start by adding the team members and clients involved in the content creation and approval process for every workspace and define their roles and access permission.
Now, the real collaboration happens on a post-level inside the Feed View. Each post has its own comments section where you can hold a conversation with threaded replies. Here, you can tag other team members to send them a notification, leave internal notes, and attach any important files.
You get zero to multi-level approval workflow settings that fit teams of all sizes. The approval features help ensure that crafted posts pass through all decided touchpoints before going out to the world.