Features
1. Dashboard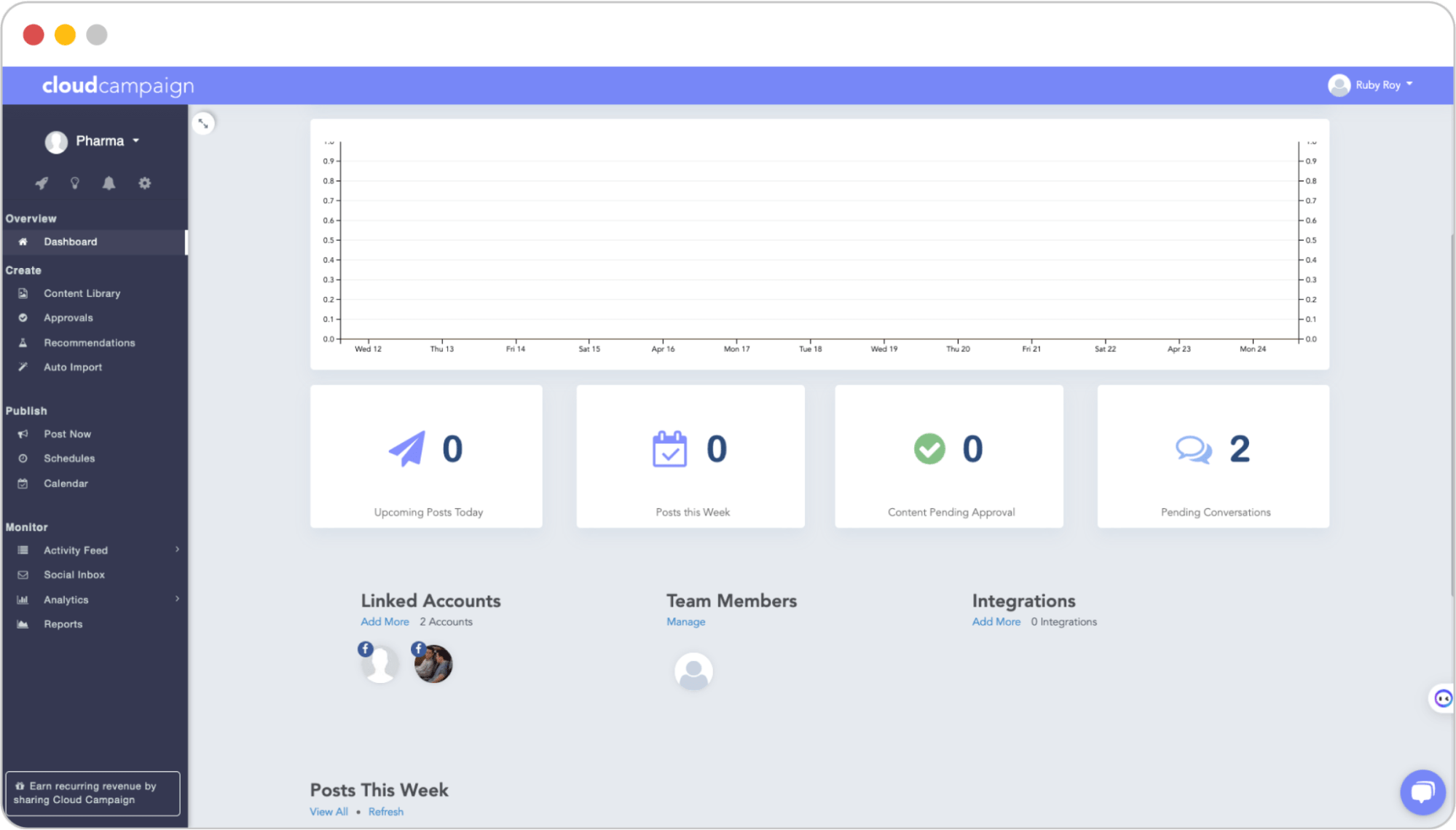 On the Cloud Campaign dashboard, you will see a comprehensive view of the client accounts you manage. The clients are separated into different workspaces, so you can tackle each one of them separately at a given time. Select any workspace, and the overview of all the accounts in it will show up on your dashboard.
For every workspace, you get to see the list of accounts, team members, and active integration neatly organized and siloed from your other client accounts. You can add more accounts, team members, and integrations directly from the dashboard.
Apart from this, you can see the current status of the number of posts lined up for publishing and approval.
2. Scheduling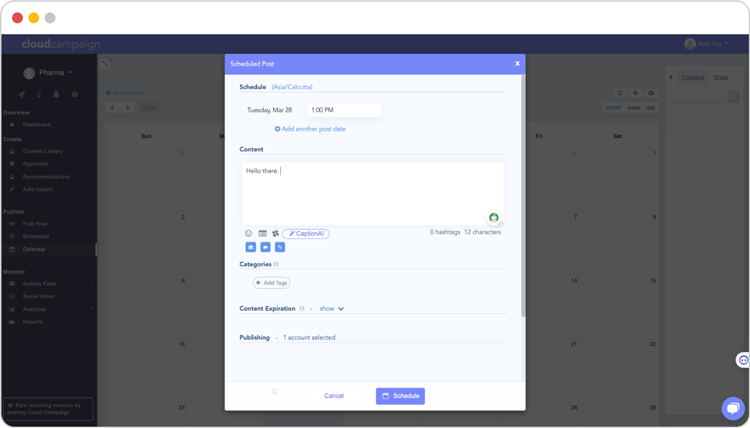 Cloud Campaign's scheduling feature enables you to schedule social media posts in advance for multiple channels, such as Twitter, Pinterest, Facebook, Google Business Profile, Instagram, and LinkedIn so that you can reach out to your audience at the right time.
It also has scheduling options like "Weekly Schedule" and " Drip Schedule" to make your social media posting more consistent and planned.
The scheduling workflow of Cloud Campaign starts with adding the Media. After that, you can create multiple captions for one post to rotate through or create captions for a specific platform. You also get to see the preview of your drafted post to understand how your post will look once published.
Then, you need to pick the target audience and social channels for publishing to save your content for scheduling.
3. Publishing
Cloud Campaign has a built-in social media inbox that lets you interact with conversations under your post comments and direct messages.
That's why it is best to use the calendar mode to create your post and schedule it to begin with.
One notable feature of Cloud Campaign's calendar is that it can automatically assign your posts a time of publishing for maximum engagement. Don't worry; you can change that time to plan the posting time according to your wits.
4. Messaging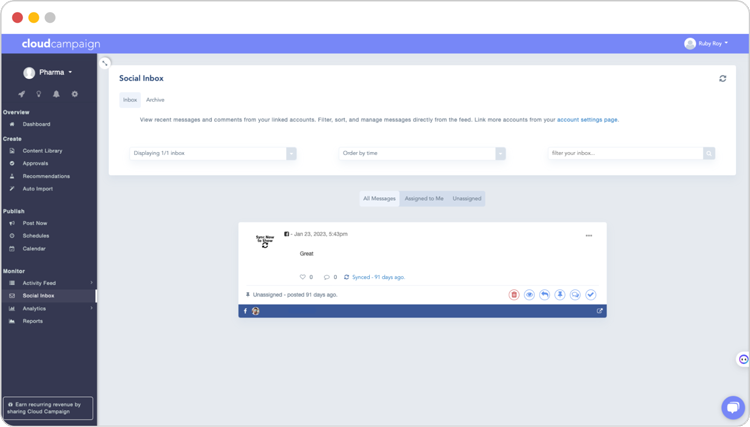 Cloud Campaign has a built-in social media inbox that lets you interact with conversations under your post comments and direct messages.
A social inbox feature becomes a necessity when you are managing not just the publishing but the social media conversation for multiple clients. With Cloud Campaign's messaging feature, you can streamline your audience interaction by bringing all your conversations under one roof. Additionally, the inbox has features such as assigning posts to team members, internal comments, and task tracking to keep your inbox management smooth.
You also get a Mention tab to help you keep track of any mention of your brand on social media. If that's not enough, you can use its Social Listening feature to keep track of any relevant hashtags or terms on Twitter.
5. Reporting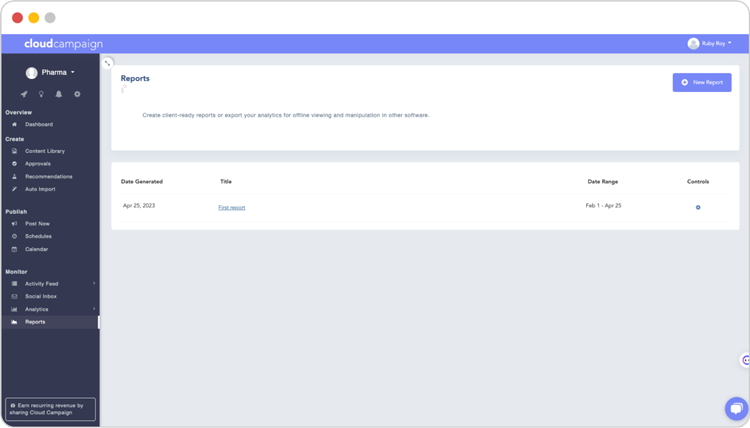 Cloud Campaign breaks down the analytics of multiple social media channels into different categories under one dashboard. Moreover, its analytics feature is not limited to just social media channels but also shows you Facebook ads and Google analytics data.
But what stands out the most is its social media reporting feature. In just one click, you can get your hands on an in-depth, interactive white-labeled social media report accessible from any browser and available for a PDF download.
With the white-labeled solution, you can customize the overall dashboard color scheme and report URL with your branding to make everything look more professional.