No business can thrive in the dynamic landscape without spying on its competitors. One of the widely used channels by marketers for this activity is Facebook. Brands utilize Facebook competitor analysis to track vital rivals as it is home to more than 10 million advertisers.
So how do you use this game-changing strategy to make your way to the top?
It's evident that ignoring competition on Facebook isn't the solution. Rather brands should spend some time planning how to do competitor analysis on Facebook, what all metrics to track, and which Facebook audience insight tool to use.
Before understanding the process, let's get some idea of what exactly competitor analysis is?
How Would You Define Competitor Analysis on Facebook?
Facebook competitor analysis essentially revolves around identifying your key rivals in the niche and monitoring all strategies they are leveraging to get leads. It also includes conducting a thorough Facebook page analysis and identifying bottlenecks in your competitors' plans, so you address them to woo their customers to your offering.
Competitor analysis doesn't deal with research alone but also requires you to predict the next set of steps to outdo the current ad campaigns run by your competitors. You can plan way ahead in advance and discover some fresh ideas to garner more leads.
For example, if you have a beauty services page on Facebook, start with identifying a couple of your key competitors.
Take Sephora Cosmetics as a competitor and then do a detailed Facebook page analysis on them and observe the kind of posts they are sharing and what's grabbing attention. The page has an extensive collection of videos.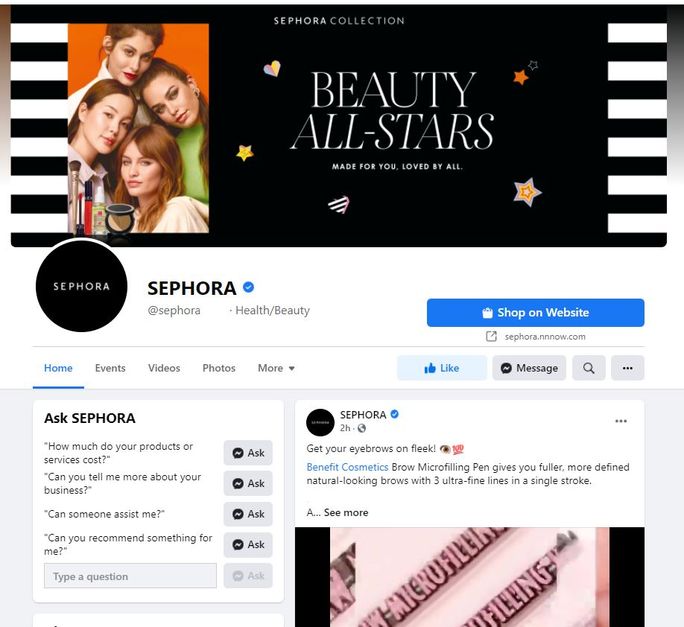 Go through the kind of videos the brand shares, and based on that, come up with something unique that could lure more visitors into exploring your page.
Why Is It Important to Conduct Competitor Analysis on Facebook?
Facebook boasts of the most extensive social media user base, with enriching diversity. Apart from that, here are a few more reasons why Facebook competitor analysis is a must for every marketer out there.
1. To Refine Target Audience
As we saw in the above example, by finding your key rivals on Facebook and exploring their marketing strategies, you can get an idea of what your targeted customers demand.
Moreover, it gives you an understanding of all the pain points your prospects generally face so you can promote your brand in a way that gives them a solution to fix those. Also, focus on the audience segment that your competitors are targeting and offer them something out-of-the-box, so they turn to your brand.
2. Learn FromYour Competitors' Mistakes
Every business learns a lot from mistakes they commit over time. But being prompt on competitor analysis will give away major learnings. It gives you a chance to learn something valuable from what your rivals have done wrong.
This could prove to be a jackpot as you can refine your social media strategy by leveraging the right Facebook competitor analysis tools and never miss a chance to grab a lead. Also, you can get an idea of:
What kind of content performs the best for engaging your targeted visitors?
At what time should you post so it reaches the maximum of your potential leads?
3. Discover a New Niche/Opportunity
Spying on your competitors regularly on Facebook allows you to look through what alternative social media channels they are leveraging. Not many of them may be utilizing multiple platforms. So you can make use of the untapped potential of other platforms like Pinterest, Instagram, Twitter, etc., to reach customers that are out of your rivals' radars.
4. Monitor a Few KPIs
Putting in efforts without tracking is of little use. The same applies to Facebook competitor analysis. Track and compare some key performance indicators of your Facebook campaigns, so you know if you are heading in the right direction.
To make things easier, you can use the Insights feature on the platform, as it is one of the primary Facebook competitor analysis tools.
Let's explore how to track KPIs from your competitors.
Go to Page and click on Insights from the left pane. Scroll to Pages to Watch at the bottom of the Overview tab.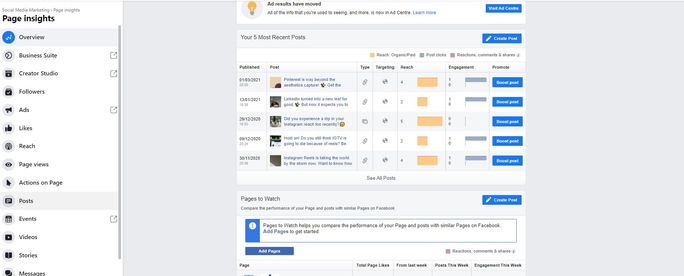 Click the Add Pages button and start including the pages of your key competitors. The popup box will give you certain suggestions too.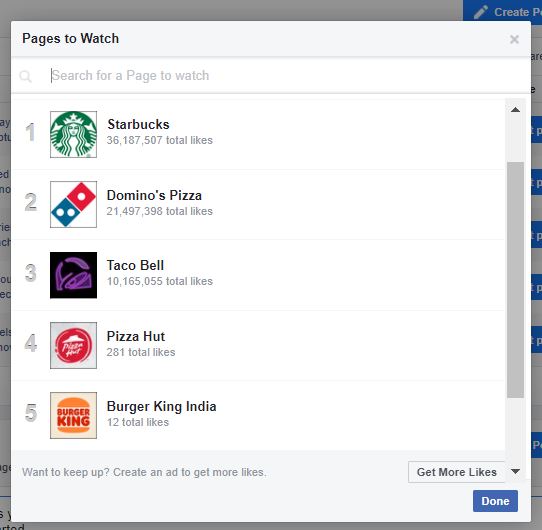 Bonus Insight:
Based on your search history and preferences, Facebook suggests new business pages. These appear both on the original Insights page and pop-up search window.
After adding a few of your competitors, you will get to observe some impressive stats: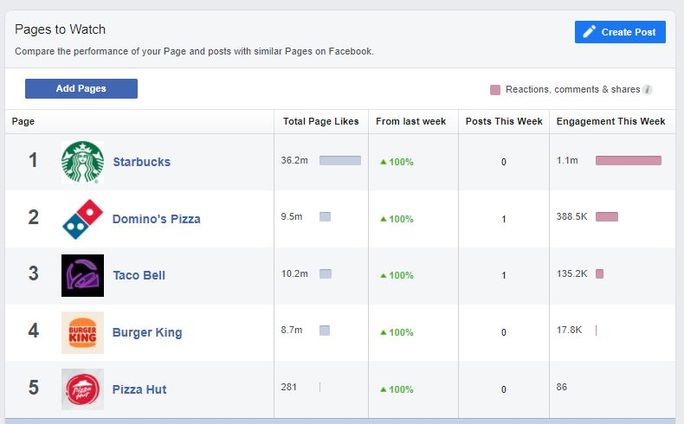 Here, you can track the following metrics:
Total page fans of your key competitors
Total number of posts your rivals share weekly
Engagement received by their posts such as likes, comments, shares, etc.
Total page likes along with the increase/decrease in comparison to the previous week
Bonus Insight:
Along with the above metrics, check the best-performing posts shared by the added competitors.
Go to the Posts tab and choose Top Posts from the Pages You Watch section from the top menu.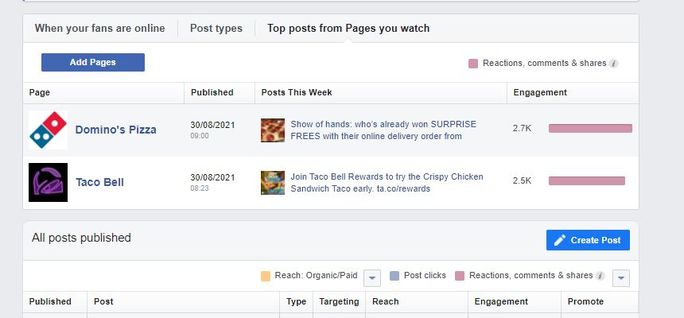 Here you can view the top posts from your valued competitors published during the last week, ranked in terms of engagement, based on the total number of reactions, shares, and comments those posts have received.
The best thing about this section is that it is great for exploring what's trending in your niche, and based on the same, you can curate the best content for your targeted customers.
By analyzing top posts, you can also compare engagement rates of these pages and study how often they are sharing their posts and their impact on the overall page engagement.
If you want to view more than 5 posts, then you need to switch your profile from personal to page. Follow the below-mentioned steps to do so:
Click on the down arrow at the top right of the Facebook toolbar and pick the page you want to leverage to like the new page.
Explore each page on your Pages to Watch list and start liking their pages.
Keep These in Mind
Do Added Pages Get To Know That Someone Is Spying on Them?
Yes, as soon as you add a specific page to your tracking list, Facebook sends them a notification for the same. But they don't get to know on whose watch list they have been added to.
Is There Any Alternative Way to Identifying Competitors Other Than Adding Them to Your Watch List?
To get a broader idea of what kind of posts your prospects love, you can just sift through the pages that your current fans are liking. Many of these pages might not be directly related to your business segment, but you will get an idea of what's trending on Facebook.
Final Words
Facebook competitor analysis lets you keep a vigilant eye on your top competitors. The benefits to these are endless. You can learn a lot from their marketing styles and innovate with your twists. You get the potential to refine your business objectives and reassess your entire social calendar to guarantee you optimized results. With the tips, we provided here and the help of some nifty Facebook competitor analysis tools, get inspired by your competitors. Strive for more qualified leads by adopting more ingenious ways. So get going and accelerate your marketing efforts.