As social media is making its way to the top of the marketing agendas, businesses are investing in a one-stop solution that manages every crucial platform from a single place.
And Facebook is the common social media platform in the length and breadth of every industry. Why?
Facebook has 2.74 billion monthly active users, which is more than any other social media network. It has now emerged as a social planet and is surprising its users with new feature updates and tool launches for branding purposes.
Facebook facilitates businesses to sell their products/services directly from their Facebook page. However, to make the most out of this social site, brands need proper marketing strategies to navigate the right audience. That is exactly when you need Facebook tools for your business.
But how do these fancy tools help you?
Facebook Analytics tools let you know more about potential audiences by showcasing your page's insights like most engaging posts, traffic data, views, conversions, and much more. It basically helps you understand what content will work for your Facebook audience and what will not.
And now that Facebook Insight is no longer available from 1st July 2021, investing in a third-party Facebook analyzer becomes mandatory. But not to worry! We have already done the research and have listed the 10 best Facebook Analytics tools.
Best Facebook Analytics Tools For Your Team in 2021
1. Facebook Analytics Tool – SocialPilot
SocialPilot, with its best analytics features, can be the ultimate solution for your Facebook Business page. Along with analyzing, it also helps you customize, schedule, and discover great content for your business page. It is a powerful Facebook insights tool, as it analyzes posts from the system and other vital sources, pages, and accounts.
This Facebook insights tool lets you quickly view key metrics like the number of followers, fans, posts, and the total number of engagement of posts. SocialPilot also allows you to track your progress by comparing data for deeper Facebook analytics.
Know more about your growth in Facebook audience on a daily, weekly, or monthly basis through the graph of likes and dislikes. Choose the best time and day to post. Optimize your campaigns and learn which types bring the most audience. Analyze which specific activities or campaigns triggered a decrease in engagement. This Facebook analyzer can also help you discover top influencers that can generate more engagement for you.
The best part about using SocialPilot is its cost-effectiveness. It is one of the most budget-friendly Facebook analytics tools in the market, loved by agencies and small businesses.
Pricing: SocialPilot's monthly subscription starts at a mere $30 per month, fit for the pocket of almost every small business.
Pros of using SocialPilot as your Facebook insights tool
SocialPilot makes your brand promotion easy and efficient on social media profiles, pages, and groups. Along with Facebook, it also supports instagram, LinkedIn, Twitter, Pinterest, VK.com, Google My Business, Xing, and TikTok.
It helps you customize Facebook posting to add native videos, carousel images, album posts, and design compelling visuals with Canva integration.
Download White-labeled PDF reports to get a Facebook analytics summary with graphs. Email these to your clients right from the SocialPilot account itself.
Know when your Facebook fans are online the most to plan your schedule for better engagement.
Re-share most popular posts, driving more traffic to your targeted content.
Reply to Facebook mentions, comments, and visitor's posts from the Social Inbox.
Schedule boost posts and manage Facebook lead ads seamlessly.
Palak J.
SocialPilot is very easy to use and user-friendly. I can easily post creatives and videos over all the social media platforms, and I can get the analytics, respectively. It also connects to the Facebook ads, which helps me manage my ads and posting on a single platform. Overall it's a very useful and handy software.
Karen W.
I like that I can schedule a post that I find from Facebook to a later date. I also like that it does not cost anything to look at analytics for your posts. Hootsuite was not as easy to use, and every time you wanted an analytic report, it was an extra $20.

---
2. Facebook Analytics Tool – Agorapulse
Agorapulse is a multipurpose social media tool. Its key features are social media analytics, post schedules, and report generation.
This Facebook analytics and reporting tool helps in numerous tasks such as identifying content performance, benchmarking your page, recognizing the best performing content. It tells you about metrics that seek improvements. It also allows you to run competitions, sweepstakes, and quizzes on your page to increase audience engagement.
Agorapulse breakdowns the posts into organic, viral, and paid reach. This Facebook analyzer tool highlights influential users and the ones talking about your brand the most. AgoraPulse also offers a unified social inbox with which users can assign messages to their clients with a customized note or a comment.
Pricing: The basic plan starts at $99/month, where you can manage up to 10 social profiles with 2 users.
Pros
Along with being a Facebook page analytics tool, Agorapulse offers content scheduling.
With this tool, you can also customize your content on several channels at the same time.
This tool stores private conversations and messages, which you can tag or comment on and save under a particular username.
Erin H.
It's simple to use. Agorapulse's robustness is what makes this an attractive tool from the start. Its auto-upload tool and queue system are both time savers.
Cons
Agorapulse's interface can sometimes slow down unexpectedly.
The reports offered by this Facebook reporting tool are pretty basic and not helpful in building a strategy.
Agorapulse seems to be quite pricey for the features it has to offer.
Amanda K.
Missing functionality for special purposes (e.g., multiple languages for Facebook/ link to sites and other persons sometimes go missing without any reason).
---
3. Facebook Analytics Tool – Social Status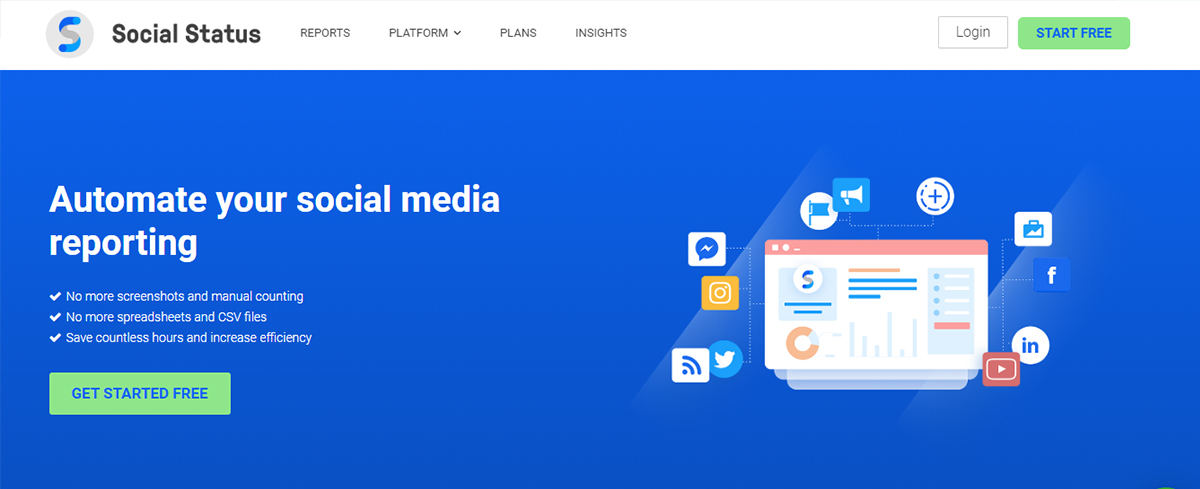 Social Status offers a full suite of analytics and reporting, including posts, ads, competitor analysis, and influencer analysis.
This Facebook reporting tool supports Facebook pages, Instagram business profiles, Twitter profiles, YouTube channels, and LinkedIn company pages with historical data access for up to 730 days, depending on the plan one selects.
You can also connect your Facebook ad accounts to see in-depth campaign performance for Facebook and Instagram. Competitor benchmarking is also supported along with influencer analytics. Best of all, you can export reports into several file formats, including PowerPoint PPTX, Acrobat PDF, Google Slides, and CSV.
Pricing: Social Status is also one of the only Facebook analytics tools to offer a Free plan with their paid plans starting at just $29 per month.
Pros
Social Status gives the best in-depth analysis for Facebook, Instagram, Twitter, YouTube, and LinkedIn.
This Facebook competitor analysis tool provides competitor benchmarking so you can compare your page and posts' performance against any public page or profile.
Social Status supports Facebook Ad Accounts to report on all your paid advertising campaigns on Facebook and Instagram.
Geoff S.
Quick to set up, easy to use, and a powerful analytics tool for all our company social media accounts. We use it every week.
Cons
Because this Facebook target audience tool only focuses on analytics and reporting, there is no functionality for scheduling, posting, or community management.
No support for Snapchat or Pinterest.
No support for Twitter Ads and LinkedIn Ads.
Jacky C.
It is a bit expensive but worth it. If you are looking for a White label report feature, you have to subscribe to quite an expensive plan.
---
4. Facebook Analytics Tool – Iconosquare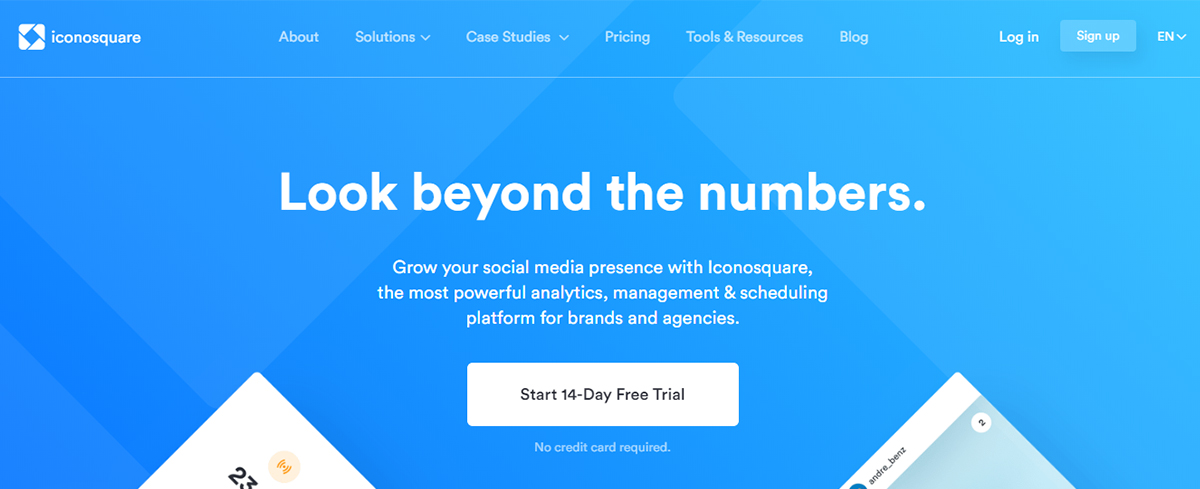 Iconosquare, a Facebook page analytics tool, is an official Facebook marketing partner. The tool is used for two social media giants, Facebook and its child company, Instagram. Apart from analytics, other key features of Iconosquare include content management and scheduling with which you can improve your social media presence and ROI.
Measure overall community growth with this Facebook analyzer. Understand your audience with demographics details like followers, fan languages, locations, and more by keeping track of impressions, profile reach, and posts.
Sort best-performing posts and views based on likes, comments, engagement rate, reach views, and more. Track engagement on your page and that of your competitors for comparison.
Iconosquare also allows you to export analytics data in various formats like PNG, PDF, SVG, CSV, XLS, and more. You can send the data automatically to your inbox too.
Price: Iconosquare plan starts at $59 per month for 2 team members and 3 social profiles.
Pros
It is quite cost-effective.
Iconosquare is very easy to navigate.
It is not difficult to learn and has clear descriptions if users need some guidance.
Lene A.
I love how it helps us provide comprehensive data for my Facebook brand and that it comes without a learning curve.
Cons
The server can be slow in some regions.
This Facebook insights tool is used for just 4 social media sites: Facebook, Instagram, Linkedin, and Twitter.
Chloe T.
Some of the categorizations of features are a little confusing, but once you've used it a few times, it becomes easier to understand. The names of the categories are not necessarily user-friendly, but once you get the hang of it, it's fine.
---
5. Facebook Analytics Tool – Quintly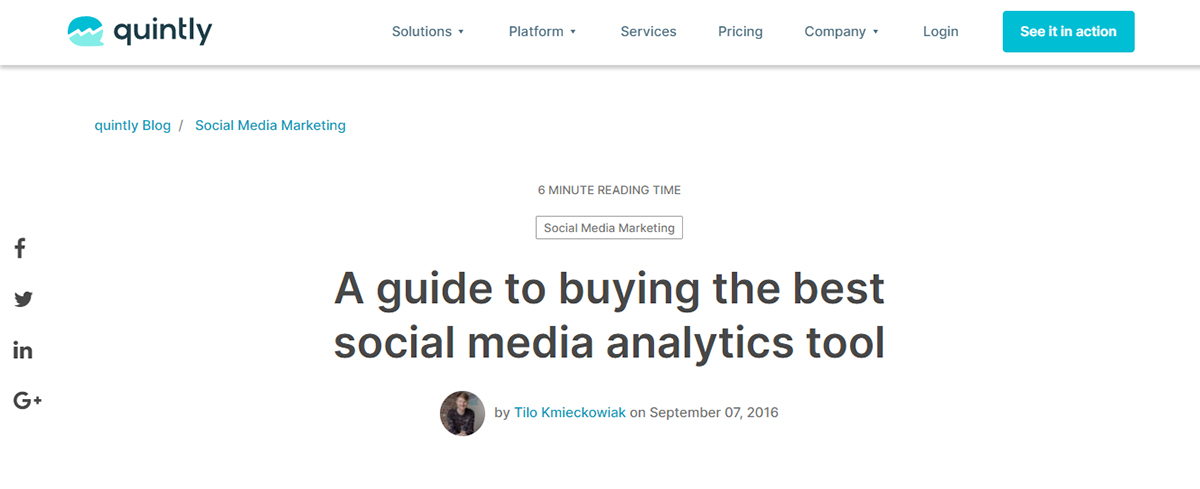 Quintly is another multitasking tool on our list that provides performance insights, competitive benchmarking for different social channels, and advanced analytics. Along with being a Facebook analyzer, this tool works for numerous social media sites like Instagram, Youtube, Twitter, and LinkedIn.
This Facebook insights tool offers a customizable dashboard to simultaneously track three Facebook pages and view page engagements such as likes, shares, comments, followers, and more. Along with measuring your Facebook page's performance, you can also track how your competitors are performing to strategize Facebook marketing accordingly.
It increases your engagement by providing data like influencers, sponsored posts, content, and more. Analyze audience demographics to see how many new followers you have gained and when.
This FB analytics tool acknowledges over 250 metrics, generating customized reports in any widely used formats. You can also choose to automate recurring reports, so you don't have to log in regularly.
Pricing: The custom plan of Quintly starts at $300 per month.
Pros
Quintly comes with a well-designed interface for its users.
Social media integrations are available.
Custom metrics to create a social media report.
Efficient customer support to solve queries.
Valerie M
I like how easy it is to compare accounts, and I also like the variety of graphics available. It's easy to learn how to use it initially.
Cons
The price is a little bit high for what it has to offer.
The trial/educational version doesn't offer much.
Sarah C
Sometimes, the export templates of our custom dashboards get changed, which impacts our entire solution. Would really appreciate it if this is taken care of :).
---
6. Facebook Analytics Tool – Grytics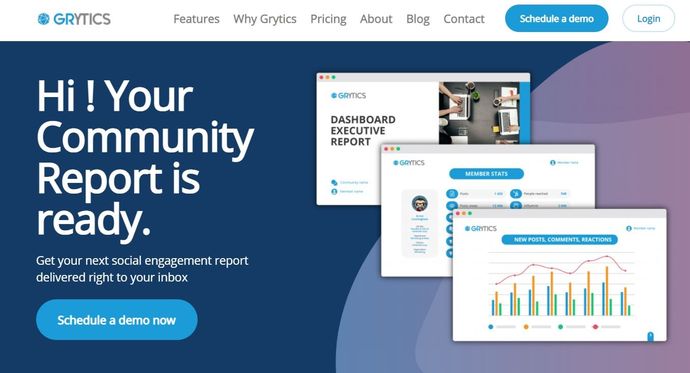 Grytics is a Facebook metrics tool for all the marketers who incorporate Facebook groups in their marketing strategy. The tool is specifically used for analyzing and optimizing Facebook group performance.
Facebook groups are an essential feature for many marketers, and it's a big deal for small-scale businesses. So, for those who often use Facebook groups for selling their product or for customer interaction, Grytics simplifies managing them and boosts impact.
Grytics analyzes group posts and comments and tells you which is the most engaging time for a group post. It measures your group's engagements and various activities happening on board. This Facebook analyzer can be used to manage several groups at the same time. You can compare your groups for insights and more. It also allows you to allocate tool access to your team members and coordinate for better efficiency.
Pricing: Grytics offers 14 days of free trial. Its premium plan starts at $99 per month.
Pros
It shows both strengths and weaknesses of a Facebook group.
This tool enables you to create a group report consisting of key metrics, top posts, KPIs.
Along with tracking your performance, creating and downloading the report is just a click away.
Jamie C
Nice visualizations, very intuitive, yet definitions of some metrics are doubtful. But it's nothing that changes my impressions about the tool.
Cons
It's quite complex to use for beginners.
Bobby B
Some of my staff found it a little difficult to use, but after a small training session, they were pro at it.
---
7. Facebook Analytics Tool – Socialbakers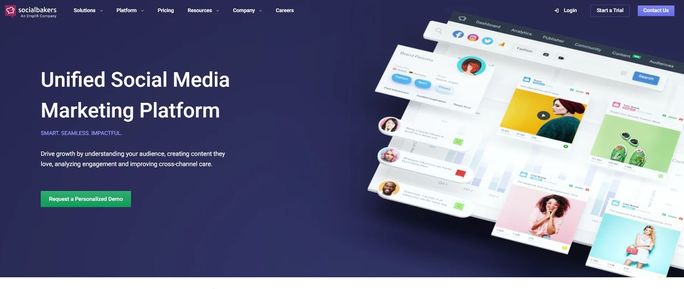 Socialbakers, a Facebook reporting tool, lets you track everything on one dashboard. This makes the process of analyzing and reporting simpler. Whether you want to analyze videos, stories, track hundreds of influencers, or view all your spending trends and results, access it all from one dashboard.
Social bakers are available for multiple social media giants like Facebook, Instagram, LinkedIn, Pinterest, and Twitter. It offers an in-depth analysis of your page and its competitors to help you figure out your page performance.
Pricing: Socialbakers plan starts at $200 per month with 5 users and 10-20 social media profiles.
Pros
When sharing insight reports to your clients or employees, attach a Metric Report Overview to showcase glossary defining terms from Share to Relative Fan Growth.
Social Baker also offers custom plans on request.
Paola F
User friendly, quick, and convenient! I use it every day, and I enjoy how easy it is to use and also train others to use.
Cons
You can purchase only one account per client, so you have to buy different accounts for every client, unlike other platforms that give multiple or unlimited account creation.
For a single page, channel, or profile, monitoring is priced at $50 per month, which is quite high.
Monitoring two business pages, along with two competitor's pages, is priced at $100 per month, and monitoring a hundred pages, profiles, or channels will cost you $2000 per month.
Frank K
It's a little difficult for nonprofessionals to use. However, it is a perfect marketing automated software for medium size organizations.
---
8. Facebook Analytics Tool – Rival IQ
Rival IQ is an analysis and tracking tool that helps you track your page's performance compared to competing brands. It measures your page's growth by recording the number of audiences that keeps changing weekly, monthly, or annually. This is one of the best Facebook analytics tools that provides you with historical data, so you can measure swift in audiences with business cycles or significant events.
Rival IQ is a great reporting tool as well. This Facebook analyzer compares your page data with your competitors, such as likes, posts, and engagement rates. If you are not sure about how to describe your Facebook business page, Rival IQ provides a summary of your competitor's pages. Another good thing about this tool is that you can find changes your competitors are making by going to the social bio changes section.
Pricing: The subscription price of Rival IQ begins at $199 and goes up to $499 per month.
Pros
Rival IQ approaches social platforms via a landscape. Place your client and its competitors into a view and watch information pour in. This keeps the analysis quick and simple.
James K
I liked the usability of the software and its overall layout. It was very thoughtfully put together and optimized for ease.
Cons
Rival IQ is competitively priced on a tiered structure. Still, if you want to add small sets of additional data within tiers, such as new companies, the pricing is prohibitive to force you into the next tier up.
Compatible networks are not applied evenly.
It doesn't offer a version of Discover that supports Facebook at this time.
Messie W
I wish you were able to get more granular with the data. I also found it a bit lacking in video analytics, specifically. Video is huge for any social publisher, and I would have liked more ability to see deeper video metrics.
---
9. Facebook Analytics Tool – Brand24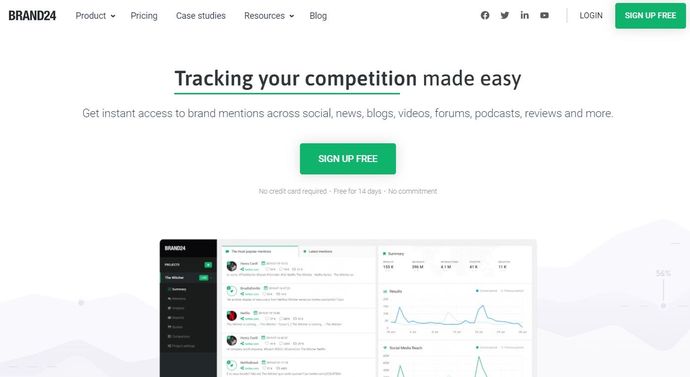 Brand24 is a powerful Facebook analyzer to improve your brand impression. It lets you monitor your brand mentions across Facebook and other social media platforms. Analyze conversations and engage with your followers in real-time.
It also has sentiment analysis to gauge if your brand is making a positive impact. Track each response to take actionable steps. Get influencer scores to determine the right one for your next campaign. Access the comparison tab to see where you stand with respect to your competitors. Brand24 takes it even a step forward and also brings you sales opportunities. How cool is that!
It doesn't end here. If there are abnormal dips in your social media ventures, Brand24 will also alert you via email. You can also get your reports exported to sheets or PDF format to share it across.
Pricing: Brand24 pricing starts at $49 per month and goes upto $299 per month.
Pros
The tool is super easy to use.
The interface is simple with an enhanced user experience.
Roberto S.
The platform has a very good and widely renowned capability to optimize a marketing strategy-building process; it can be integrated solidly and very quickly. The program has definitely coordinated a follow-up process to market needs.
Cons
It is on the expensive side if you want to leverage its full potential.
Keyword tracking is limited.
No customization for reports.
Michele H.
The grouping tool is useful here. However, the setup process is a bit challenging. Data download is not that great, and another big issue is the reliability of historical data. Also, I hope that in the future, I can add sentiment analysis for more languages.
---
10. Facebook Analytics tool – Vaizle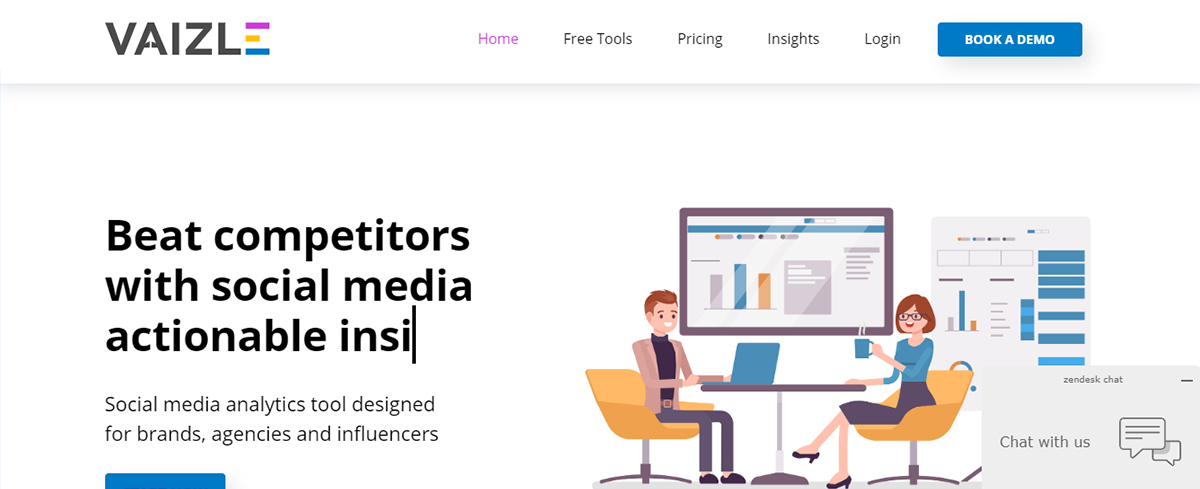 Vaizle is a competitive Facebook page analytics tool for startups and enterprises who need actionable social media insights. It allows marketers to improve their social media performance by identifying gaps and opportunities.
Get the social media data interpreted into actionable tips that can be used daily to improve brands' social media performance. Vaizle will give you daily insights across multiple variables in the form of graphs, charts, numbers, and daily tips.
Pricing: Vaizle offers 3 plans starting at $29 per month for 6 profiles and 2 social media platforms.
Pros
Create context for your social media marketing analysis by comparing your performance with your competitors.
This FB metrics tool has a comprehensive Report-Builder. The user can download unlimited, fully customized, White-label reports with an option to add their own insights and comments.
You can see which brands use popular hashtags the most and compare it with your own hashtag strategy for better performance in the future.
David D.
I think the program is great to get the analytics you need to make correct social media marketing decisions. It connects all your social accounts and can take a look into competitors Analytics as well. Great for someone who loves numbers
Cons
Some repeated bugs are reported where graphs aren't shown properly.
It has a learning curve.
It is not very user-friendly.
Verified Vaizle User
User interface and user experience can improve a lot. I think that the setup is a little technical, but the videos help.
Wrapping It Up
Monitoring Facebook is a challenging affair from the start. Mere likes and comments are not sufficient to give you a comprehensive insight. We ensured to cover every need in the list mentioned above, right from Facebook Page insight tools, Facebook target audience tools, competitor analysis, and Facebook reporting tools.
But if you are seeking a multidisciplinary analytics tool for all your social media accounts, SocialPilot is for you. It is an all-rounder social media management tool that works for several social media apps for social media analytics, reporting, scheduling, content visualization, editing, and what not. Start your 14-day free trial to find out more.
Frequently Asked Questions
🌟 What can Facebook analytics tell you?
+
🌟 How do I use Facebook Analytics to grow my business?
+
🌟 What is the best Facebook analytics tool?
+
🌟 What is Facebook's analytics tool called?
+
🌟 What are the best Facebook reporting tools for a small business?
+
🌟 Can I download Facebook Reports to be sent to my clients?
+