Congrats! You closed the sale. Now it's time for the truly critical part.
When you onboard clients, this is their first impression of your company, your team, and what it will be like to work with you.
Onboarding is the honeymoon phase of a working relationship. Everyone wants to put their best foot forward and make a strong impression. You want to deepen the connection and collaborate seamlessly while making it look easy.
When you onboard clients, this is your single most important opportunity to confirm in their minds that they made the right choice by signing on the dotted line. You want their onboarding experience to be so positive that they're eager to stay with you long-term and refer their best contacts.
So what does an effective onboarding process look like?
Why Is it Important to Onboard Clients Properly?
Client onboarding is a critical step for agencies as it sets the stage for a long-term, successful relationship with the client. It's the time when the agency can establish clear expectations, build trust and confidence with the client, and prevent misunderstandings.
Onboarding helps lay the groundwork for the entire project, including processes, roles, accountability measures, project milestones, and timelines. A well-structured onboarding process can be a valuable asset to the agency as it improves communication and avoids misunderstandings between the agency and the client.
When an agency onboards clients, providing clear and concise instructions is essential to avoid wasting valuable time and resources. The onboarding process can also identify potential issues that could arise during the project and provide solutions upfront, thus saving time and resources.
By creating a streamlined process for communication and operations, it becomes easier to keep everyone on the same page, which helps to improve client satisfaction.
Overall, proper onboarding helps to set clear expectations, establish a trusting relationship with the client, save time and resources, and improve client satisfaction. This can translate to both parties' better agency-client relationship and long-term success.
By intentionally providing a seamless and informative onboarding process, agencies can differentiate themselves from their competitors and deliver a superior client experience.
Step-By-Step Guide To Correctly Onboard Clients
1. Planning and Preparing for Onboarding
Effective client onboarding begins with proper planning and preparation.
First and foremost, schedule a kick-off meeting with the client to ensure that everyone is on the same page and understands what the onboarding process will involve.
Before the meeting, share the onboarding timeline and agenda with the client ensuring they understand what to expect and what is expected of them.
See this recommended agenda from the project management team at Asana.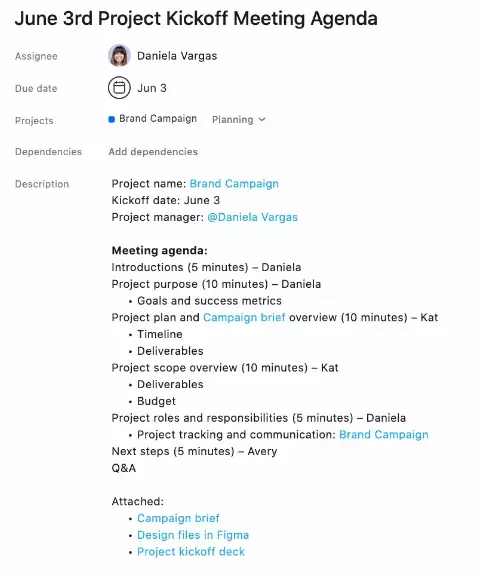 Gather all necessary client materials and information to ensure everything is in place and ready to go. This includes any branding guidelines, previous marketing materials, target audience information, and access to social media accounts, if applicable.
Finally, prepare the onboarding team for their role in the process. Assign tasks and responsibilities to team members and ensure everyone knows the timeline and goals for the onboarding period.
With proper planning and preparation, the client onboarding process can be smooth and efficient, allowing for a successful long-term partnership with the client.
2. Conducting the Onboarding Process
Conducting a successful onboarding process is critical in establishing a strong and long-lasting relationship with your clients. This is the perfect opportunity to clarify goals, scope, and expectations and helps set a solid foundation for future collaboration.
Begin by introducing the client to your team and their roles. This establishes a foundation of transparency and trust and enables the client to understand the full extent of the agency's capabilities and the expertise available to them. A collaborative partnership based on clear communication and mutual understanding is more likely to succeed in meeting the client's goals.
Next, review the project goals and objectives in detail. Ensure everyone is on the same page about what success looks like, and establish clear metrics for measuring progress. Discuss the project's scope, including any limitations or exclusions, and clarify any potential changes to cost or timeline.
Remember, communication is key in any relationship, and onboarding is no exception. Establish communication channels and protocols that work for both parties and explain the tools you'll use for particular tasks. If possible, provide video instructions like this helpful tutorial from the top team communication tool, Slack.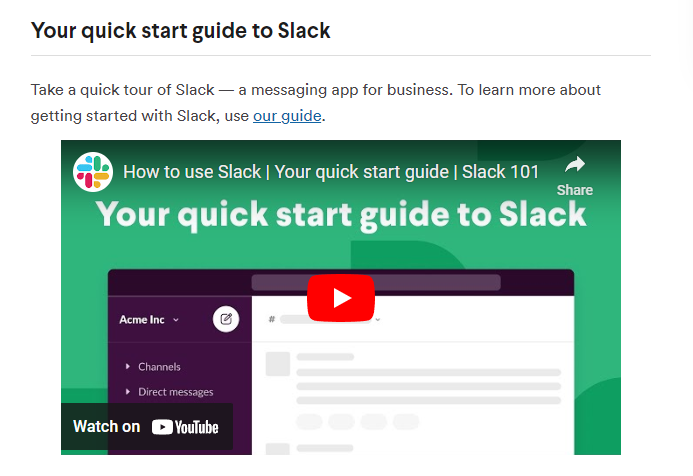 Setting expectations and timelines is crucial to the project's success. Establish realistic benchmarks, and hold your team accountable for delivering on time.
Finally, address any questions or concerns the client may have to ensure a smooth onboarding process.
By following these steps, you'll establish a strong foundation for a successful agency-client relationship.
As an agency, we're certain you need a good set of tools and automation. Share what tools you'll be using to complete the project and what role the client will play, if any.
Here are a few of the top resources for agency software and automation tools.
ClickUp
ClickUp is a CRM software that helps you manage internal communications, track client communications, analyze data and customer insights, optimize your customer database, establish a customer pipeline, and even has specific automated processes built in to onboard new clients.
SocialPilot
SocialPilot is a comprehensive social media management platform that provides analytics, engagement reporting, internal collaboration tools, and automated publishing features that keep your content organized and posted in all the right places.
From this one platform, you can manage content on various social platforms, including TikTok, Google My Business, Instagram, and Facebook. Perhaps one of the most impressive features is the option to White Label the platform and provide a customized experience for your clients.
Zapier
If you can do it, it can be automated. While that's somewhat of a generalization, Zapier makes it true for many tools and platforms. This third-party integration tool connects with all your day-to-day apps and software to make them talk to each other and make your job easier.
You can automatically create ClickUp tasks based on internal emails, alert your team to new leads in Slack, and create new text posts in your SocialPilot queue when a new row is created in Google Sheets.

As an agency, ensuring your customers are comfortable with how you do what you do and handle their information is important. By sharing your favorite tools, you can bring them along and integrate them into your established processes.
Bonus Tip: Provide An Open Forum for Discussion
Here is a great time to provide an open discussion to address any questions or concerns the client may have. This will help you avoid follow-up emails or clogging up your Slack communication channel later with things that could have been easily addressed during the onboarding.
Let them know in advance that they will have the opportunity to ask their questions and encourage them to prepare a list.
3. Post-Onboarding Steps
Once you've completed the onboarding process, you ensure that the client is satisfied with the service they received. As an agency, send the client a recap of the kick-off meeting and onboarding process. The summary helps reinforce the project's goals, timelines, and deliverables.
Additionally, conduct a post-onboarding survey as that provides valuable feedback on the onboarding process. This survey also helps identify areas of strength and areas that require improvement. Plus, it can help the agency to understand the client's needs and preferences, which makes it easier to provide a better experience in the future.
Finally, review and revise the onboarding process based on the feedback received from the client. This step can help the agency improve its onboarding process and ensure that future clients receive a much smoother, efficient, and effective onboarding experience.
Conclusion
In today's competitive market, an effective client onboarding process is what it takes to differentiate your agency from the rest and set the stage for a long-term, successful partnership.
By following the easy steps outlined in our guide, you can ensure that your onboarding process is well-structured, efficient, and designed to meet your clients' needs.
Keep in mind that a positive and professional onboarding experience is essential to build trust, strengthen relationships, and establish your agency as an industry leader. Spend time to create a more detailed and streamlined process that reflects your brand's values and commitment to quality service.