There are around 4.59 billion social media users, so it's not surprising that social media marketing is a key focus for marketing professionals, especially as this number is only set to increase.
However, juggling LinkedIn, Instagram, Facebook, and Twitter accounts can be tricky.
Not only can there be scheduling issues, but it can also be difficult to maintain consistency and present a unified brand identity.
This is something that can impact your bottom line.
With a social media style guide can make your brand globally recognizable like it has for companies such as Audi, Starbucks, and Ben & Jerry's. As a matter of fact, a consistent brand image can increase a company's revenue by 23%. It can also
Read on to find out how you can create your own guide and the benefits it could bring to your company.
What Is a Social Media Style Guide?
A social media style guide is a set of rules that determines the social media activity of your brand.
It might include:
Tone of voice and language
Design elements such as color schemes and imagery
Names of key contacts for social media activity
Rules for engaging with comments and public activity
A schedule or posting frequency
Guidelines for collecting and processing analytics
Some social media guides are comprehensive, while others leave more room for creativity and interpretation.
Including more detail in your style guide can be helpful if there is particular language or images you want to be used across all of your social media activity.
Any number of people might have input on a social media style guide, including:
Content and copy specialists
Designers and visual marketing personnel
Individuals that manage sales leads generated from social media
Clients (for agencies)
For this reason, it's a good idea to keep your guide simple to start with.
The critical thing to remember is that these guides exist to make your social media activity easier for your team.
How to Produce a Social Media Style Guide?
Every team produces its social media guide slightly differently, but there are a few key things to keep in mind.
Based on the platform
Firstly, you need to know where your audience is online and which platforms you plan to use.
For example, if your target market primarily uses Instagram and Pinterest, they will be a highly visual audience.
For this reason, you'll likely want to produce high-quality visuals and avoid wasting resources on copy-heavy platforms like Twitter.
The platforms will dictate a large part of your technical style guide, including:
Image sizes
Use of hashtags and tags
Length of copy
Frequency and timing of posts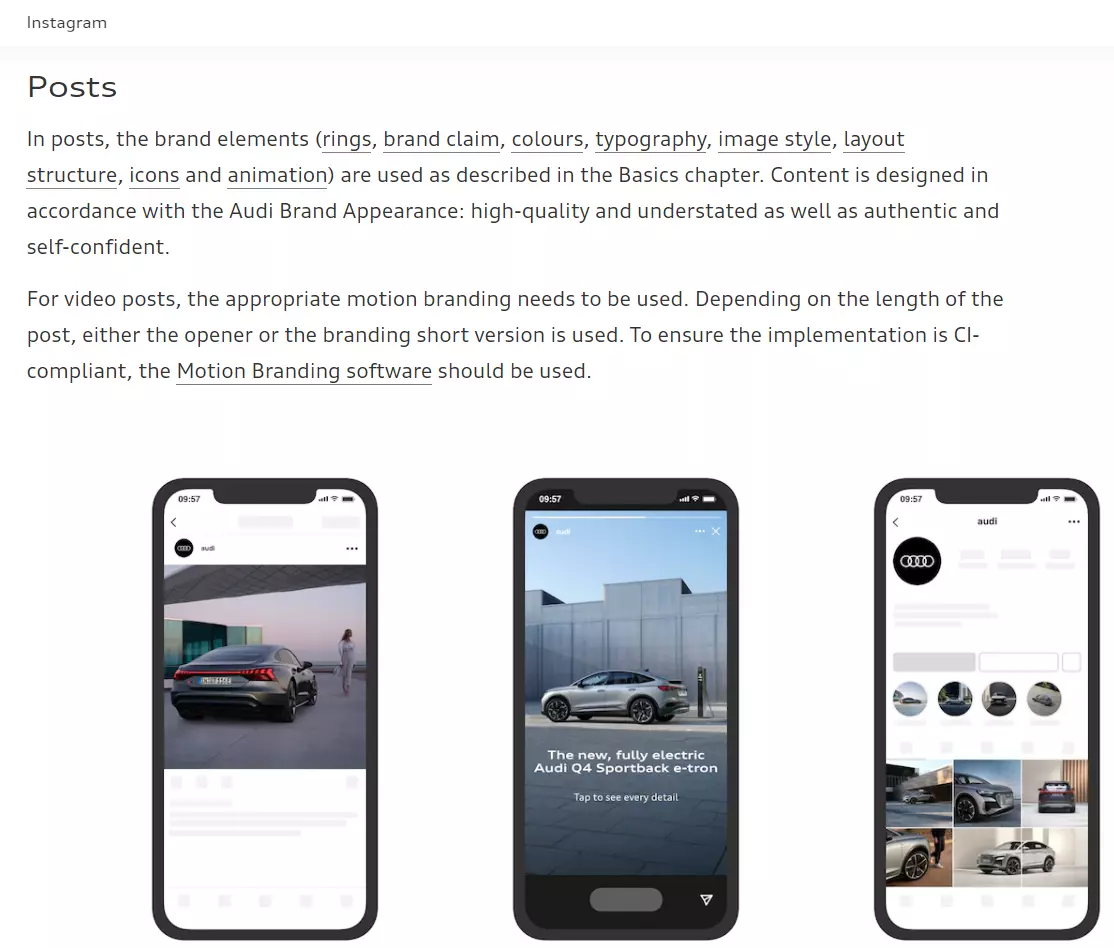 For example, car manufacturers like Audi provide detailed instructions on how each post should look to maintain brand consistency.
Based on the audience's needs
Once you've established which platforms you're using, you'll need to consider your audience's needs.
This will depend heavily on the nature of your business and which platforms you're using. However, certain points will be similar across all social media business accounts.
For example, an e-commerce social media style guide might include:
How to reply to customer questions, concerns, or complaints
Whether you are product- or company-focused, or a mixture of both
The best times for reaching potential customers
Color schemes and designs based on the past social media activity of your customers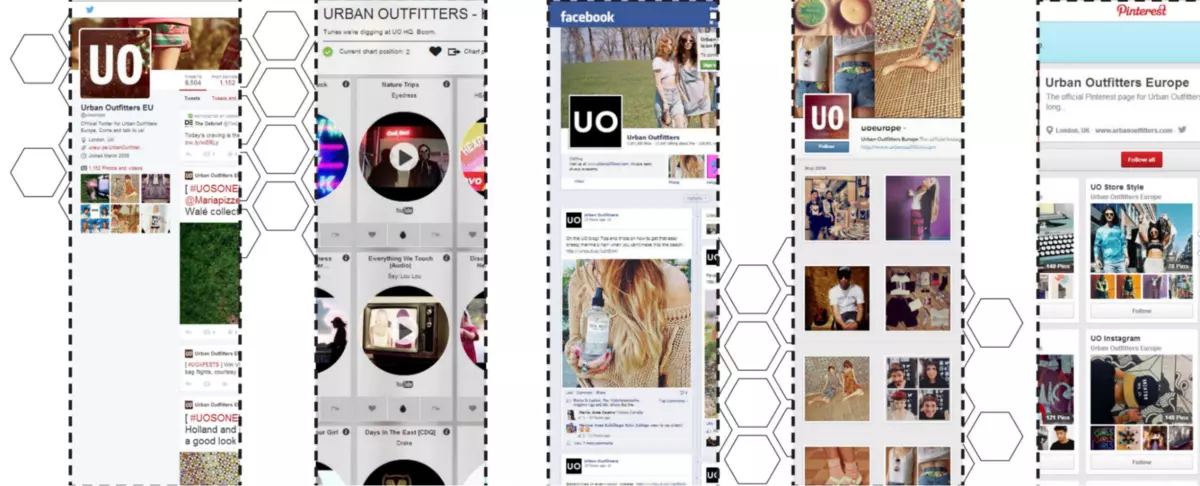 Take a look at the example above.
Retailer Urban Outfitters coordinate their social media strategy across the different platforms to ensure its tone of voice and imagery stay true to its brand.
Based on keywords
You may also include notes on keywords specific to your audience. Doing so will increase the possibility that potential customers will find your profiles.
Also, think carefully about any hashtags you want to use. These will further contribute to improving the visibility of your profiles.
For example, an electronic signature service might target the specific keyword 'electronic signature Canada'.
Whatever your social media keywords, note them down with the reasoning.
Storing your guide
Finally, you'll need to consider how and where to store your guide.
Most brands are increasingly digital, meaning many social media guides take the form of PDFs.
These are often saved in the cloud to make them easily accessible to current team members as well as future ones.
What Must Your Social Media Style Guide Include?
Your social media style guide will be unique to your company and its needs, but some of the key features it should cover include:
1. A List of Your Social Media Platforms
Include a list of all the social media platforms that your company uses or plans to use in the future. These will depend on your target audience.
For example, if your brand is aimed at younger consumers, you may focus on TikTok over Facebook. If you're a B2B company, perhaps LinkedIn would be more suitable.
Each platform has different features and formats. Make sure your guidelines provide details on how your brand will be portrayed in each.
This could also include the names of your different accounts and any variations you might have for different countries.
For instance, the sports brand Nike has multiple Instagram accounts: Nike, Nike Running, Nike Sportswear, etc. Keeping a record of your different accounts will avoid confusion in the future.

2. Brand Language
There should be a section on the words and expressions to describe your brand.
Be specific, as this will help you refer consistently to your brand, product, and services across all platforms.
Take a look at the example from Destination Canada below.
They use their section on brand language to identify a preference for the "traveler" over the "tourist." They also identify a focus on more optimistic vocabulary instead of a language with more negative connotations.
When writing your style guide, do some brainstorming to come up with the language that best suits your brand.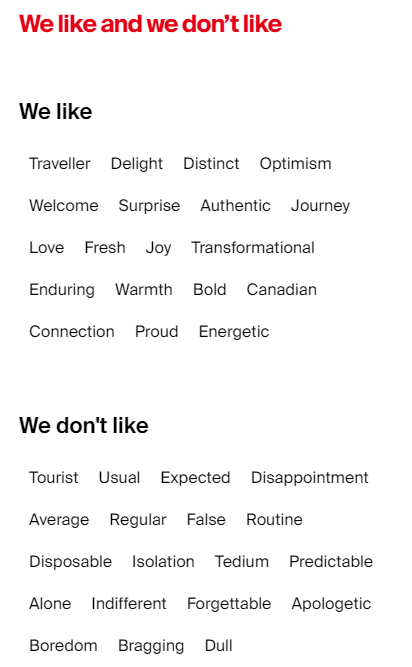 3. Hashtags
These will be the words and phrases you want to use as hashtags to help improve your brand's visibility.
There will be more general ones you will regularly use and hashtags for specific campaigns you may be running.
Alongside the different hashtags, think carefully about how many you will use for each social media platform. For example, you might add three hashtags to posts on LinkedIn and eight to a post on Instagram.
Software company PandaDoc limits the number of hashtags they use across all their social media platforms.

Screenshot taken from linkedin.com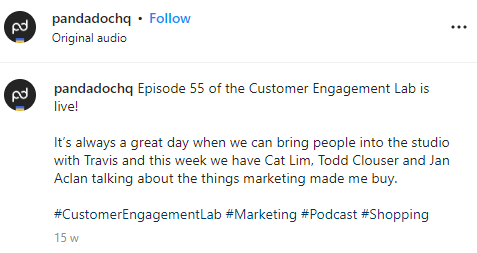 Screenshot taken from instagram.com
4. Color Palette
It's essential to give details on the colors you want to use and how and when they should be used. Using the same color palette across all your social media platforms will go a long way to unifying your brand image.
Identify your primary colors and your secondary colors. Also, consider the color proportion and how to maintain the correct color balance. You'll want your primary colors to feature more prominently than your secondary colors.
The Red Cross provides a great example of how to do this in their style guidelines. By sticking to their color choices, they are able to maintain a recognizable brand identity.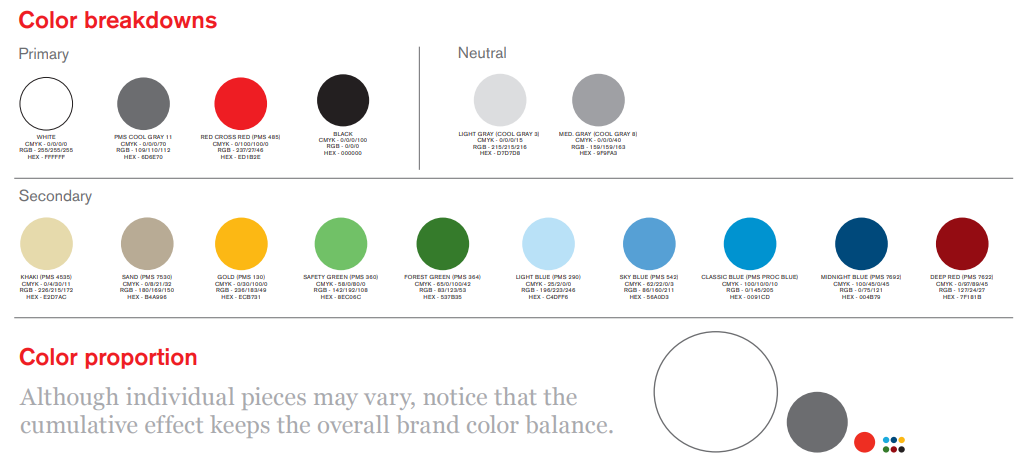 5. Formatting
Include details on how different posts will be formatted to ensure quality and consistency across different platforms.
Think about where your logo will be placed in posts and the size of the posts needed for different platforms. Outline the exact spacing, image sizing, and where your logo will be placed.
You could even take it a step further, as Audi does, and consider how your posts will appear on different mobile devices.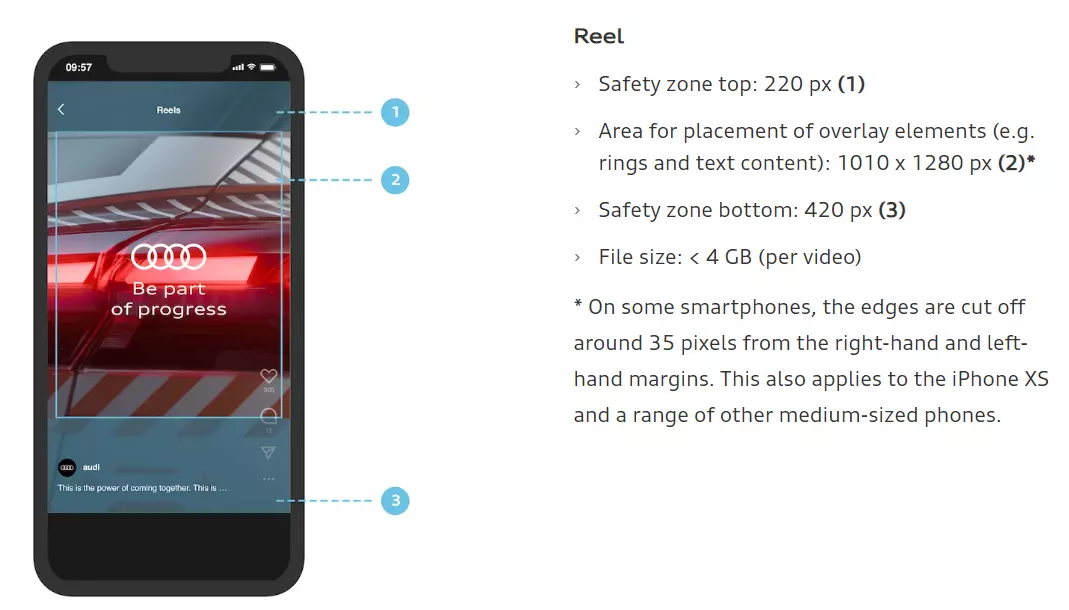 6. Tone and Voice
This section is where you'll outline the tone of voice that best suits your brand.
Is it serious and formal or fun and quirky, for example?
Including clear guidelines for your company's brand voice will help your content creators produce social media posts that read consistently and truly represent your brand.
You may also want to provide specifics of different tones of voice and when to use them, as Starbucks does in the example below.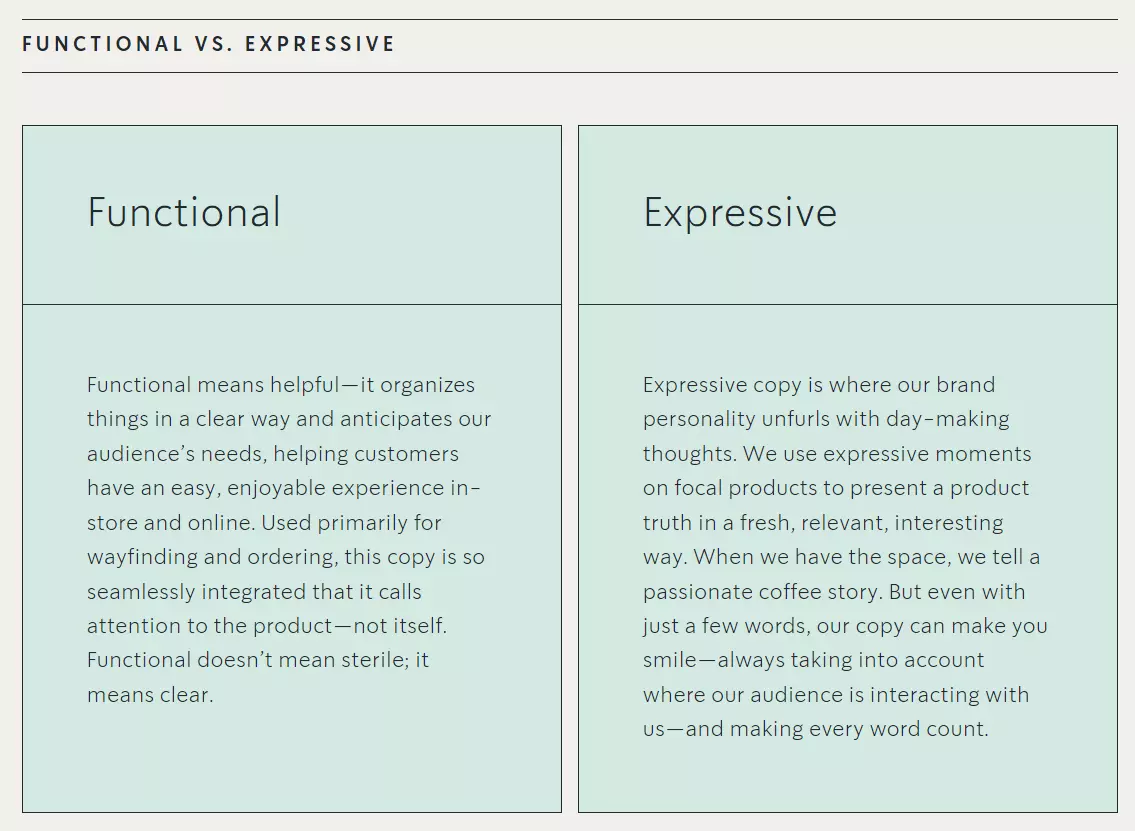 7. Typography
In this section, you need to identify the fonts you plan on using across your posts.
These play a big part in making your brand recognizable. Include fonts for titles, headings, and body copy. Think also about the font's weight and whether you will use italics.
If you use a font designed specifically for your brand, you may want to include a link or instructions on how to access it.

8. Emojis
These can be an expressive addition to your content but may not always be appropriate.
You may choose to avoid them when posting on LinkedIn to project a more professional image but use them quite liberally on Twitter.
If you choose to use them, outline which ones you plan to use, how many you will include, and where you'll use them.
Headspace limits its use of emojis to the end of posts and only includes one or two not to overwhelm the viewer and distract from the content.

9. Spelling, Grammar, and Punctuation
Another factor to include in your social media style guide are specific spelling, grammar, and punctuation rules you plan to use. This could cover when you hyphenate words, whether you want to avoid using the passive or comma use.
Something else to consider is the variant of English you use.
If you have accounts aimed at an American, British, or Australian audience, you could also include guidelines on how spelling and punctuation will vary.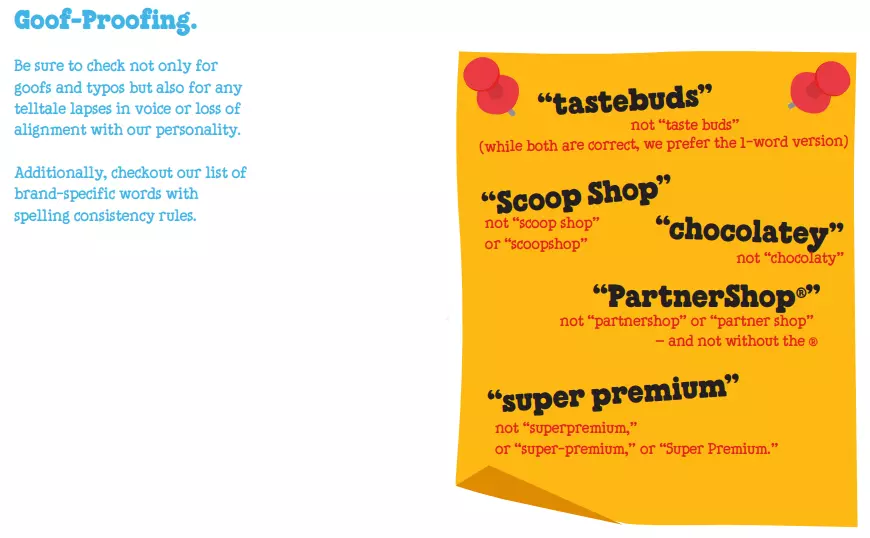 Ben & Jerry's brand guidelines for language
10. Multimedia
In this section, you need to outline the different types of images you plan to use.
Will you use stock images or only those produced specifically for your brand? Will you add a watermark?
You should also consider any filters you might add to images so as to keep your brand recognizable.
Moreover, you should also think about how your video content will be formatted and any music choices so these will be consistent across your social media platforms.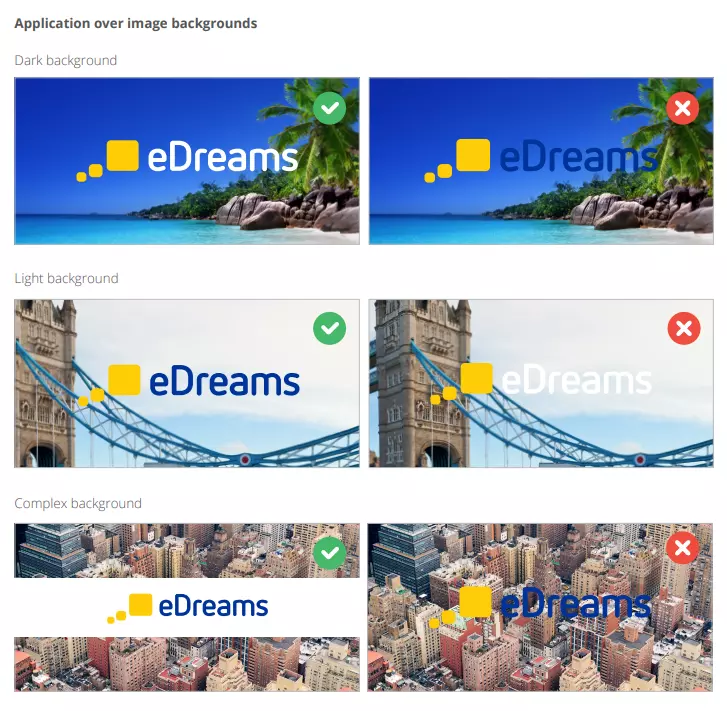 Despite guidelines, one might miss out on small details like adding watermarks to images when making hundreds of posts at a time.
So why not leave it on SocialPilot and have one less thing to remember?
The tool lets you set up custom watermarks for every social media account so that every published post bears the designated mark of its respective brand. This takes away one task off the designer's plate while making sure style guide is followed to the T.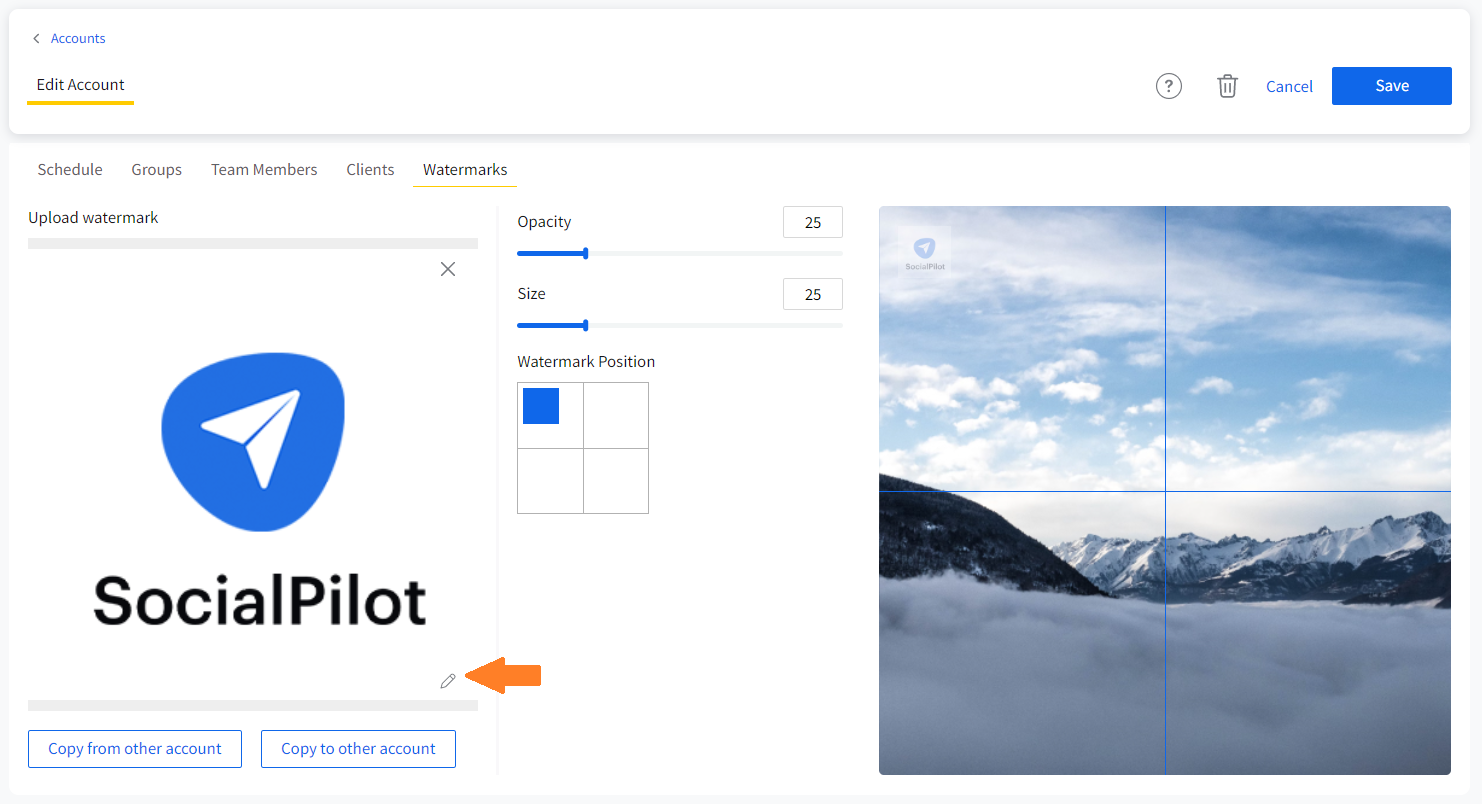 Social Media Style Guide Examples
Below are examples of three social media style guides and what makes them so successful.
1. Audi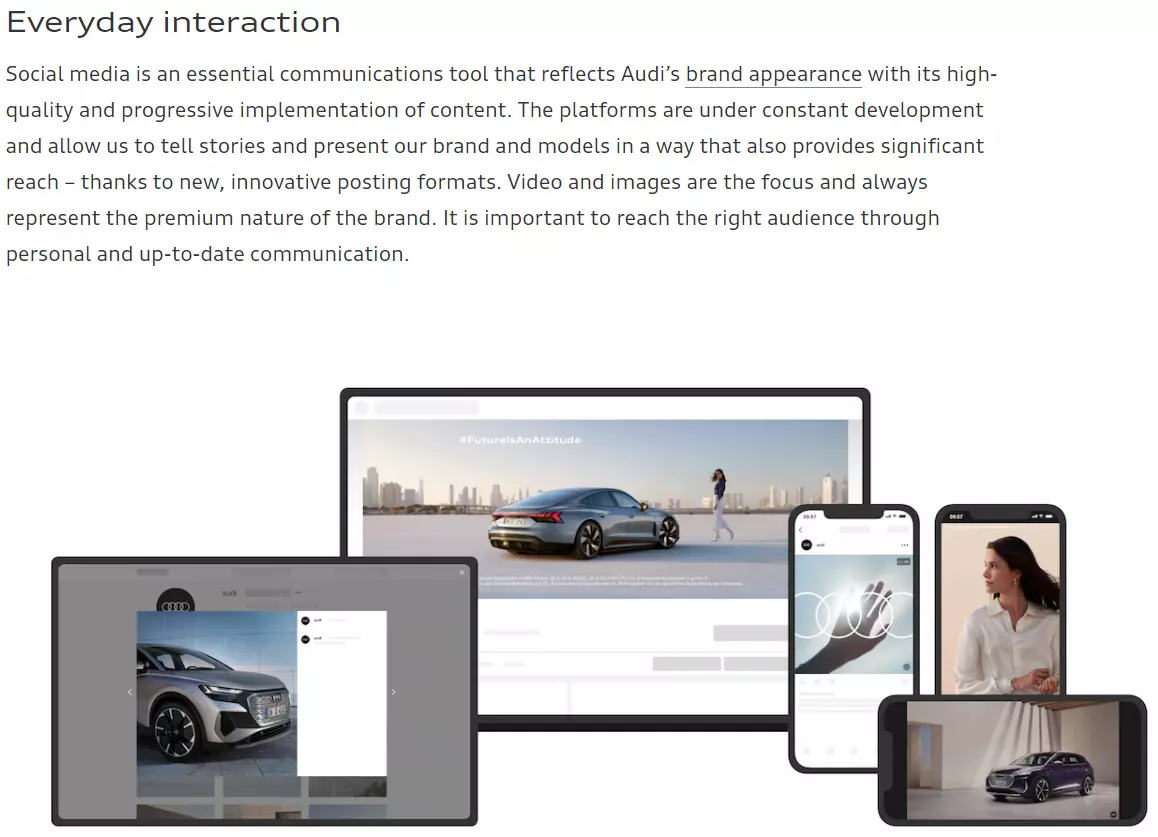 Audi goes the extra mile to outline its guidelines for its social media.
They provide image sizes, profile pictures, and branding before providing specific branding for individual platforms.
By going into such detail, they can maintain brand consistency, making it recognizable no matter which social media platform they are viewed on.
2. Boy Scouts of America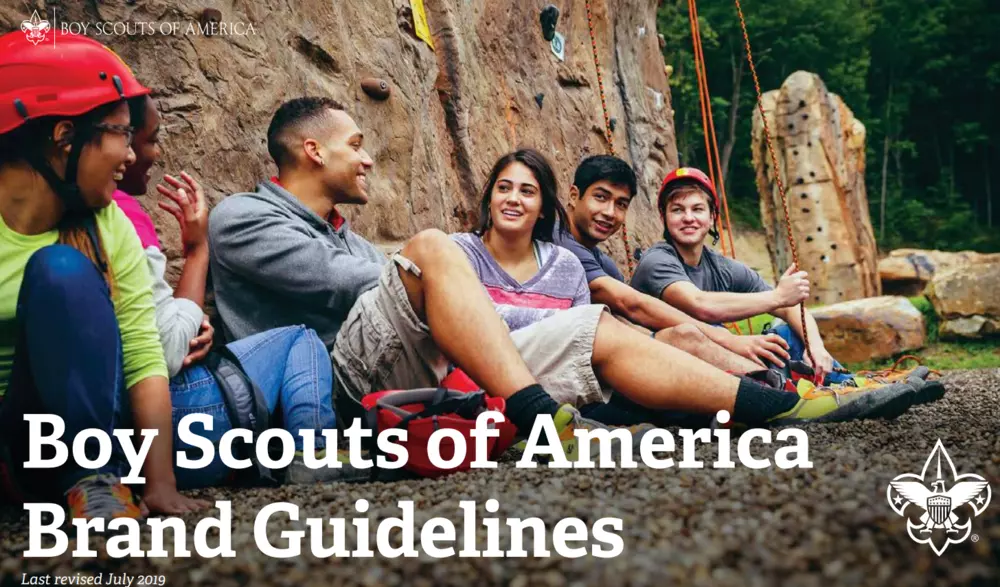 Boy Scouts of America's brand guidelines
The Boy Scouts of America use their style guide to encapsulate everything necessary to display their brand across all platforms. They cover typography, color, logos, layout, content, and imagery for their main brand and sub-brands.
They reinforce their guidelines with real-world examples to demonstrate how they should be portrayed.
3. Vodafone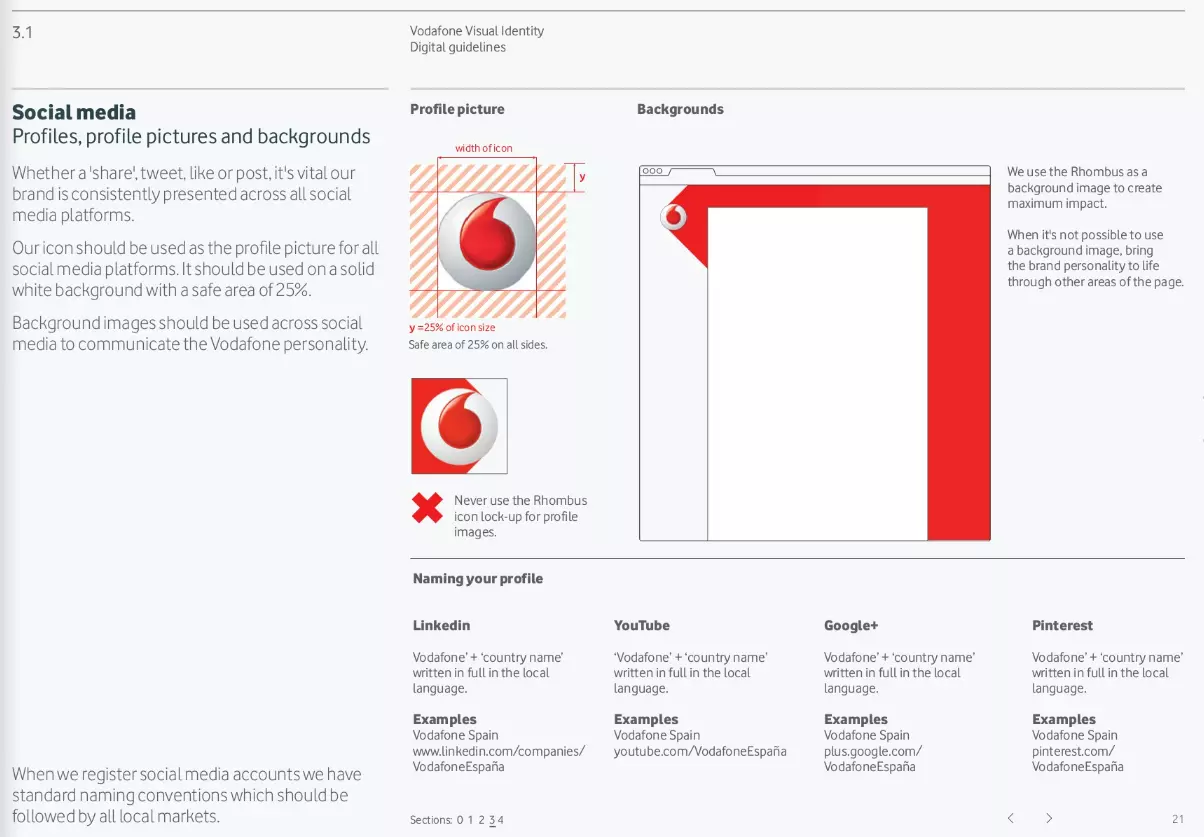 Vodafone's brand guidelines
Vodafone is another example of a company utilizing a style guide to ensure consistency across its social media platforms.
Like Audi, they give specific guidelines for different social media sites and examples of how things should look.
They also provide some do's and don'ts when posting the Vodafone logo. This makes it even easier for the brand to be depicted the way it wants.
How a Social Media Style Guide Benefits Your Brand
It may seem like a lot of time and effort. Still, there are proven benefits to building a guide that dictates your public communications via social media.
1. Consistency
The major benefit of a style guide for a company's social media is to build consistency.
Why?
Because consistency is always beneficial to social media brands, and effective branding is about building a singular public image.
Unlike personal branding, it's difficult for a brand, especially when multiple people are working on your brand's social media.
To overcome this, a style guide ensures a consistent tone of voice while establishing brand authority.
2. Training
Training can be challenging, but it's worth it. Investing time and resources in training will allow your team to work cohesively and maintain your brand image.
Consider a social media style guide as key training equipment for your team.
Keep your guide in an easily accessible area on your server or cloud service. Go through the guide with new team members as soon as they are onboarded, and update your style guide as needed.
You can expand your social media guidelines to include all external communications, for example, creating a standardized email signature across your team's email accounts.
3. Forward planning
Social media can drive sales and brand awareness. That said, sometimes your team simply won't have the time to dedicate to social media activity.
By laying out social media brand guidelines, anyone in your team can plan content ahead of time or take over social media activity when the assigned person cannot.
Social media scheduler can also help to free up time to work on seasonal or promotional content.
For example, if you know that you post for a particular campaign two days per week and other campaigns three times, then you can lay this out in your guidelines and plan.
At quieter times, you can create a few weeks' worths of content and use a scheduling tool to post automatically. This saves your team time and allows you to dedicate your efforts to labor-intensive social media campaigns instead.
SocialPilot has a scheduling feature that helps you plan your content in advance.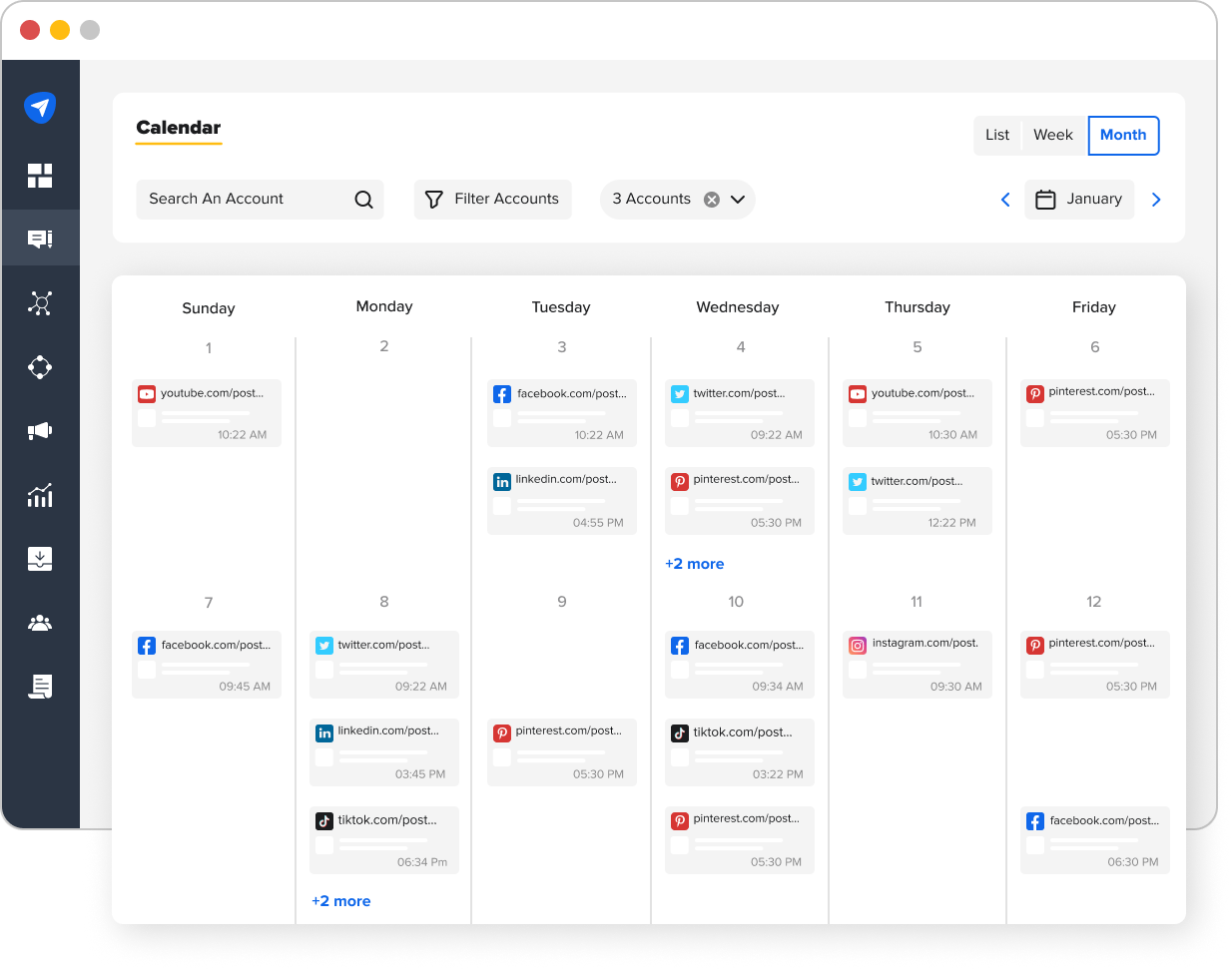 Their social media calendar allows you to plan more efficiently and get a clearer view of how things look with their 'monthly plan view'. You can even reschedule posts and filter by account.
4. Collaboration
Some brands make external collaborations a crucial part of their brand strategy.
This might include collaborating with influencers, ambassadors, brands, or charity organizations. Collaborative posts are a great creative outlet and open up new business opportunities.
Your style guide will allow you to easily show collaborators what guidelines to adhere to and determine whether a collaboration between two parties would be mutually beneficial.
Furthermore, you can then compare style guides if you both have one. Finding similarities will help you identify hidden commonalities, which can further benefit your collaboration.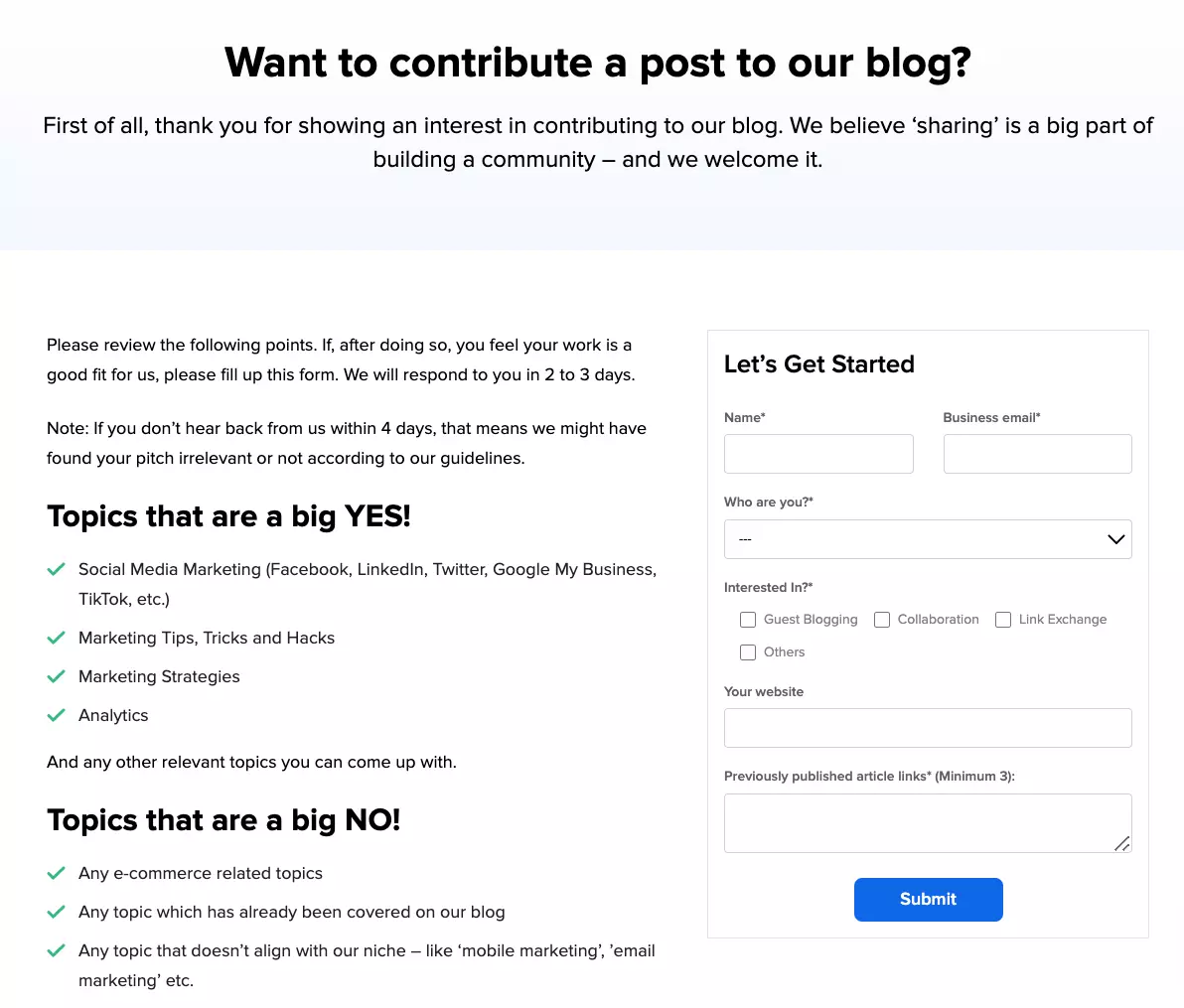 Above is an example of SocialPilot's guidelines for guest post collaboration. They provide detailed and clear guidelines to ensure the posts they receive are at the required standard.
5. Brand identity
Everything we've covered so far points towards this: social media style guides help to build brand identity.
Every team member's ability to create consistent posts and act as one voice is key to building your brand identity and creating the social media persona you want.
A strong brand identity helps build authority and ensure your brand comes across as trustworthy and reliable. This, in turn, helps to build your customer base, drive sales and maintain customer retention.
Make Your Social Media Style Guide Work for You
Social media is a saturated market, meaning your brand needs to stand out.
Whatever your goals, whether raising brand awareness or increasing social media sales conversions, you should post thoughtful, well-reasoned content that resonates with your audience.
A carefully curated social media style guide can help you achieve high-quality social media campaigns. Making your content work for your audience is one of the best ways to make your social media work for you.