The landscape of social media marketing is ever-changing. What worked for you in the past might not get you eyeballs in 2023.
Nonetheless, it's important that you keep up with the changes by incorporating new social media tactics in your strategy.
Because social media is a crucial marketing frontier, and all businesses are striving hard to make their presence felt on the various social media platforms.
With over 4 billion population, social media can push the envelope for B2C businesses real far. Better yet, 70% of B2B marketers using social media agreed that it helped them improve sales.
Isn't that great! So, how do you get noticed?
While it is difficult to state one single social media marketing tactic that will boost your awareness, there has to be something that works as more buyers and sellers are drawn to the social platforms.
Let's check out these social media tactics and discuss their various aspects.
1. Select Your Social Media Channels
Every month a new social media network pop-ups in the market. As tempting as it feels to get on each one of them, DON'T!
Before going ahead with our discussion, let's consider the following social media statistics:
81% of all adults in the United States have a Facebook account.
The 25-34-year-old age group is the largest of the demographics, attributing to 31.2% of the Instagram population.
Linkedin is the right platform to connect with bigger organizations. LinkedIn has 65 million decision-makers and 10 million C-level executives.
27.9% of global Twitter users are aged between 18 and 24 years, which makes it a hub for the younger demographic.
See, each platform has nuances, and if your target audience, goals, and KPIs align with the platform's offering, then it's a match made in heaven.
For example, the Linkedin audience caters to a business-centric audience who responds more to educational content compared to TikTok users, who are more visually inclined and want to see entertaining content.
Remember that creating a social media account is free, but maintaining your brand's presence requires a strategic resource allocation and a good chunk of your marketing budget. So choose wisely.
2. Organize a Social Media Contest
Social media contests are fun!
And they help a great deal to grow your engagement, build brand awareness and also impact your overall sale. Who wouldn't like to win prizes just by doing some fun little task?
According to Wishpod, contest CTA's have a 3.73% higher conversion rate than other CTA's.
Excited to begin?
Before starting your contest, you need to understand what end results you want to achieve. Is it lead generation, or product awareness, or do you want to improve engagement?
Once the goal is settled, think of contest ideas that align with your goals.
Choose a prize that is relevant to your target audience. This will help increase the chances that your contest will be successful in achieving your goals.
After that,
You need to clearly communicate the rules and guidelines of your contest to participants, including how to enter, how the winner will be chosen, and any eligibility requirements.
Take a look at Canva's Famous #canvadesignchallenge. We can all learn from the eye-pleasing contest announcement visuals, clear rules and prize declaration, and the consistent use of the hashtag.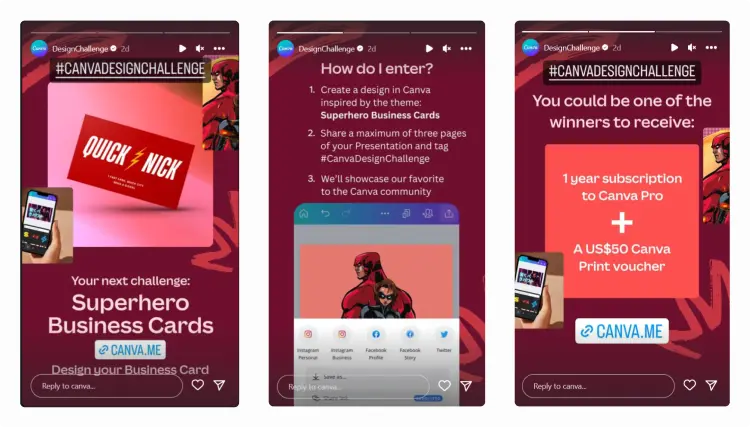 3. Engage with Storytelling
There is a lot of information on social media. So, don't be surprised if your content starts to look like an emulation of your competitors' content.
The same "Buy This," "Limited offer," and other link-laden posts are not the right way to do it. You need to be informative, and while being so, you need to be interesting.
If you want to stand out and make an impression on your target audience, then you will have to do more than the usual stuff. And that something more is "Storytelling."
Social media storytelling will give your content the distinctive edge it requires to engage on a deeper level with the followers.
It involves creating and sharing content that captures your audience's attention and engages them with your brand or message.
One brand that thrives in storytelling is Patagonia. They often feature photos and stories from customers who have used their products in rugged outdoor environments and have had positive experiences. By sharing these stories, Patagonia can connect with its target audience of outdoor enthusiasts and showcase the durability and functionality of its products.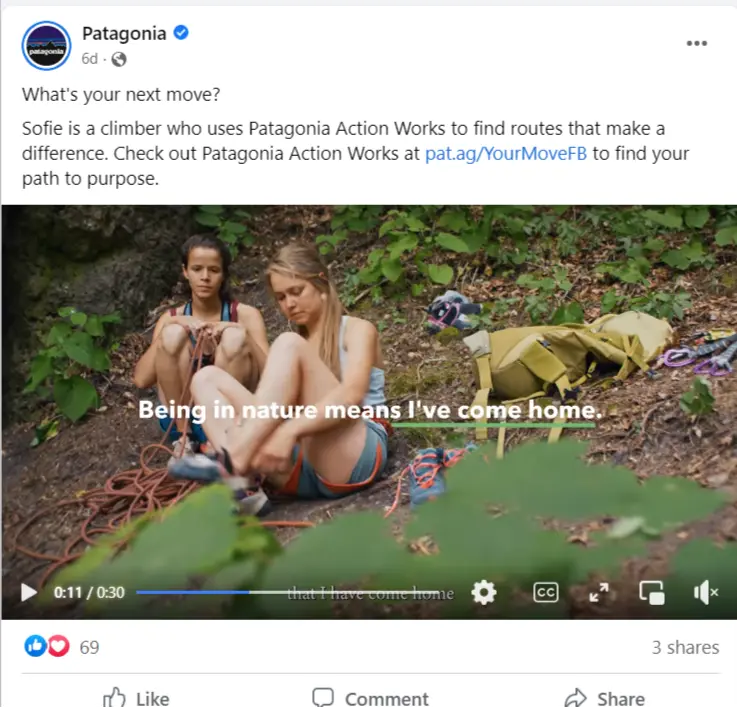 The benefits of storytelling in social media:
First of all, story-driven content establishes a strong emotional connection with your audience and creates a sense of community
Moreover, algorithms prioritize story-driven content over promotional and link-heavy content on your follower's feeds
4. Collaborate With influencers
You can't deny that Influencer marketing has become an integral part of social media marketing.
Statistics say that 93% of marketers have leveraged influencer marketing in their campaigns. It is about time you dip your toes in it and get out of the 7% lot.
Start by connecting with the influencers who have a strong presence in your target market and align with your brand values.
The next step is to use your influencer connection smartly. Here are a few ways:
Create sponsored content to promote your brand
Partner with influencers for product reviews and tutorials
Host giveaways or contests on Influencer social media channels
It's important to keep in mind that influencer marketing should be authentic and align with your brand values. Be sure to clearly communicate your expectations and goals to the influencer, and consider offering them incentives or compensation for their efforts.
5. Consistent Posting of Excellent Content
The value of fresh and informative content is priceless! You can always bank on the power of posting value-driven social media content regularly to increase your business ROI.
Not just that…
Consistency is also essential to ensure that your audience regularly sees your content and is reminded of your brand. You know how crowded it is on social media these days.
To stand out from the crowd, you need to consistently establish your distinct identity on social media. This can help you stand out from competitors and attract the right audience. The more engaged they are, the more interested they will be in what you offer.
But, with the plethora of social networking platforms, posting content daily to all social channels could be a task. Marketers can use free social media scheduling tools to schedule their client posts consistently.
It's hard to post consistently on multiple clients' social media accounts …unless you have SocialPilot!
Yes! SocialPilot enables you to schedule your posts way ahead of time for multiple social media platforms from a single dashboard. Get ready with all your social media tactics and empower them with the power of scheduling to raise your brand awareness like never before.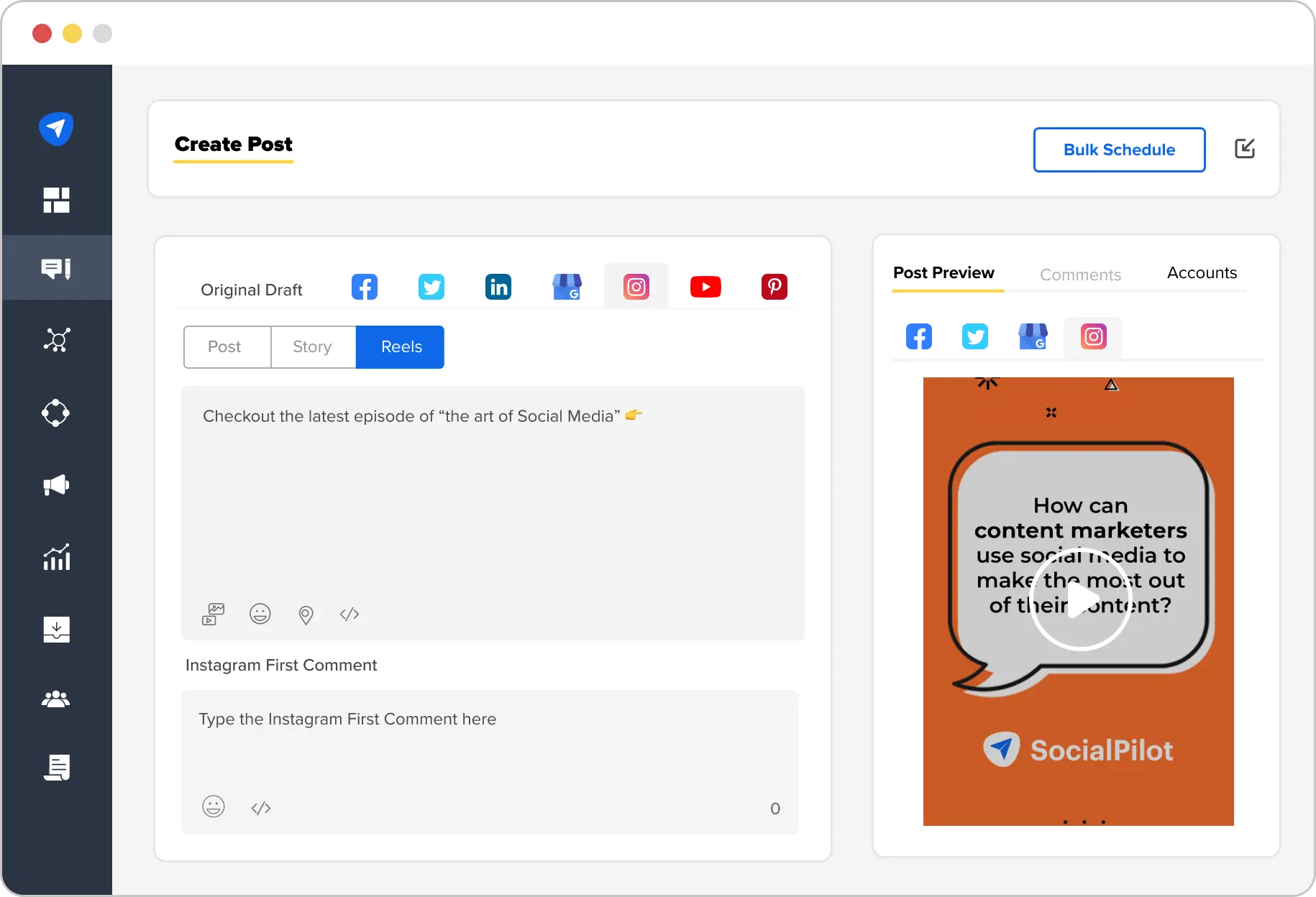 So what kind of content should businesses and marketers post?
Content that is:
Relevant
Vividly depicts the company's voice
Informative
Not too pushy or salesy
Engaging
While consistent posting is important, you also need to emphasis on keeping the content quality driven and refrain from using engagement baits. You also need to consider the frequency of posting link posts and consider alternatives like video content, images and even memes that keep audience entertained
With that lets take a look a integrating videos for brand awareness.
6. Integrate Videos
Video content can increase the ROI on content marketing by almost 200%
It is one of the most important content strategies social media marketers must prioritize and focus on. Youtube is huge and often called the grand-daddy of video content, while Facebook is fast gaining ground with figures like 8 billion daily video streams.
Facebook video content is smart, crisp, and interesting, having all elements to keep the consumer glued to the social networking platform.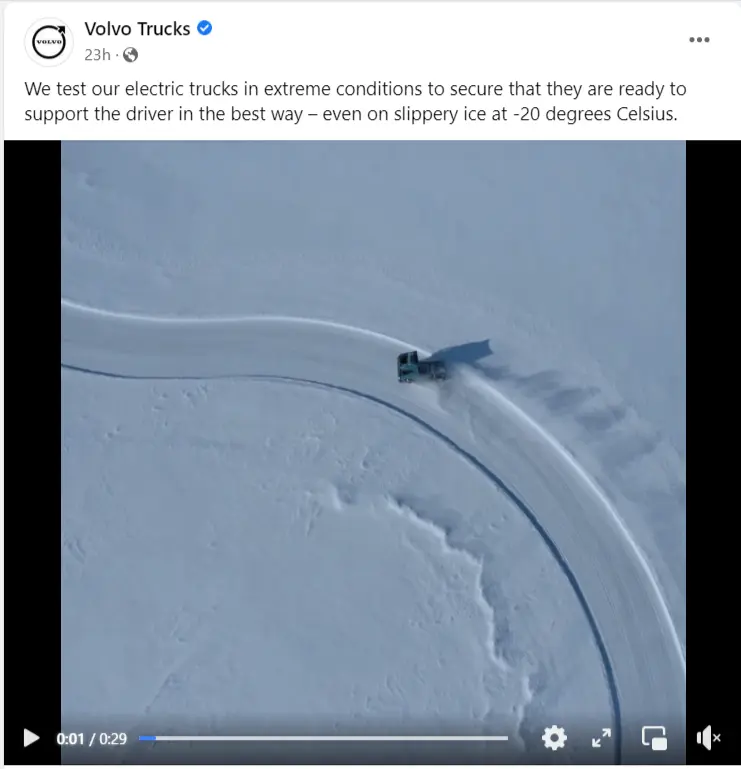 The famous global truck manufacturer Volvo Trucks integrated viral video marketing into their social media campaign, and with this addition, they gained millions of euros.
"In bigger marketing campaigns, the aim is often to create broad awareness, but at the same time to create leads," Malmcrona said. "We have been successful in creating leads in marketing campaigns simply by linking from video-based content in social media to a dealer landing page. This gives us a very good ROI," said Agneta Malmcrona, the global content manager at Volvo Trucks.
7. User-Generated Content
Are You Listening?
We have already discussed the importance of building relationships with customers. Social media gives marketers the leverage to reach out to them and personalize interactions. Lack of communication or response from brands can turn a potential lead towards the competitor. Similarly, if you listen intently to what your followers are saying and respond to their queries and suggestions. In that case, these loyal followers will boost your sales and recommend your services to others.
An effective way of connecting with the audience is by encouraging User-generated content. Business Insider says customers who witness user-generated content are 97% more likely to convert. Social proof is omnipotent; it works more than any other social media campaign.
Point noted.
Yotpo, a platform helping online businesses to gain customers, believes in collecting unique user-generated content and converting it same into sales.
Here's what Tomer Tagrin, CEO of Yotpo, has to say on user-generated content:
"User-generated content has an enormous impact on a brand's social growth. Over one year, simply by sharing customer content on social media, our customers' Facebook followers increased by 270%, and the Twitter followers increased by 150%."
Tip Find people on social media who are talking about your brand and start following them. Share their content (relevant to your brand) and offer prizes in exchange.
8. Join a Community; Start a Discussion
Once you decide on the relevant platform for your business, build an account and start a conversation with the community. Learn, listen, and understand the requirements of the people and offer genuine content from authority sources.
Are you doing this?
Go to Quora, Reddit, and other community-building platforms to join your relevant community, share your and others' content, post comments on appealing content
Join Facebook Groups, look out for what people are discussing and participate with your own comments
Keep a check on Twitter Chats and participate in discussions held.
74% of buyers prefer buying from salespersons who add value to the buying process rather than those who don't.
Who likes to buy products from someone who is too loud and salesy? You must create a positive impression that compels users to turn into buyers. Pushy salesmanship is a big NO. Build credibility using subtle marketing tactics to boost your sales.
Tip Provide links to your products only where asked. It re-enforces the audience trust on your reputation and credibility.
9. Keep in Tune with Seasonal Changes
The'seasonal changes' are the latest trends and events in the industry. If you are doing business, you have to keep yourself updated with the latest happenings.
Provide discounts, offers, and incentives keeping in line with seasonal activities. Giving discounts and selling products is a common practice to amplify sales before festivals.
Look at the Tweet by Dunkin Donuts offering its drink to welcome the winter season: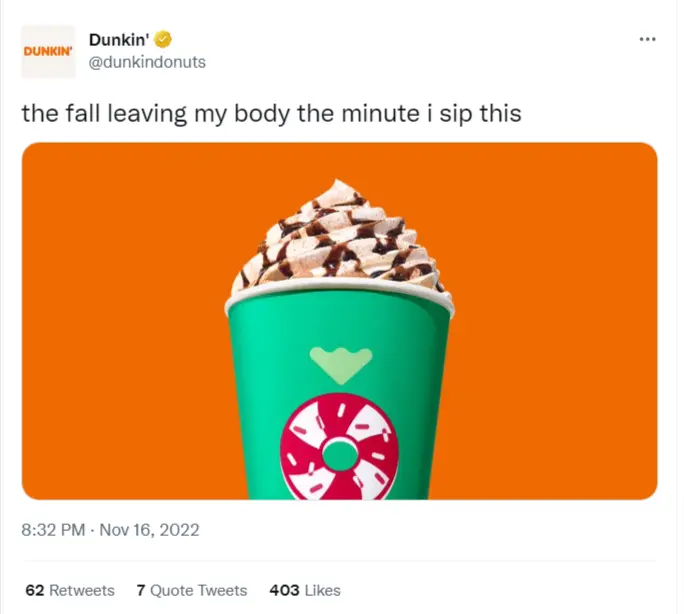 Here again, you have to ensure that you do not go overboard in your promotional activities. Acting overtly salesy will repel the potential buyer away from your web pages.
And… do not forget to plan.
You keep abreast with the latest happenings in the market. Use them fruitfully. Device your future marketing plans after carefully studying the market. Listen to what the industry marketing gurus have to say about the upcoming trends and then design the perfect social media strategy.
Points to remember
Focus on the getting hold of the market trends before your competitors. It will help you look beyond the horizon and stay ahead in the competition.
Use the latest technology tools like Google Alerts, Twitter's advanced search options, and LinkedIn signal, to ensure greater sales for your brand.
Wrap up
Social media has inevitably crept into users' lives and has a greater influence on their choice. Every business caters to various realms of the audience that has different social habits.
Customers make purchases based on the social media platform influencing them the most. Hence your social media tactics have to be effective to leave a long-lasting impression on users.
By leveraging the right social media tactics, you can build brand awareness, drive traffic to your website, and generate leads and sales. To be successful, it's important to have a clear strategy in place and to be consistent in your efforts. By staying up-to-date with the latest trends and best practices, you can effectively use social media to grow your business and achieve your marketing goals.
Being a brand, you must have your own time-tested social media tactic.