One of the best personal branding examples that I see happening everyday is, when one of my room mates asks me if I've seen their iPhone or if we have any band-aids. Not all phones are iPhones and not all bandages are Band-Aids but these brands have become so popular that they've overtaken the noun, how crazy is that?
Google was founded in 1998 so 20 years ago the verb 'to Google' didn't exist. Nowadays, it's the answer to any question you could think of. "I wonder how many Pandas are left in the wild?", "I'll just Google it". (Apparently it's only 1,864 by the way)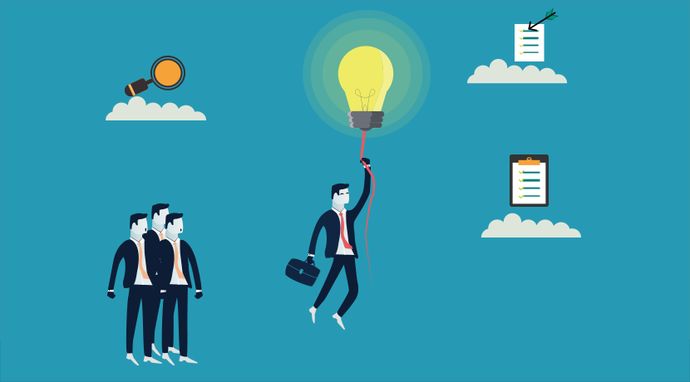 My point is that branding is huge. As much as I'd love it, I can't see anyone using my name instead of the word 'marketer' in the future, but it's still incredibly important to establish yourself as a name that someone associates with expertise in a certain field. If you're a Salesperson based in Boston, you want to be "THE Salesperson in Boston". If you're a Truck Driver in Ireland, you want to be THE Truck Driver in Ireland.
That, my friends, is the essence of building your personal brand.
Essential Personal Branding Tips: How to Establish and Strengthen Your Brand
1. Identify Your Unique Selling Points
What makes you the salesperson to remember? What makes you the architect everyone calls when they're planning a new house? Why should a business get you to consult on their social media strategy?
Don't get me wrong – self-branding isn't all about just being an external contractor or consultant. It's about establishing yourself as the go to person for marketing in your company or when looking for a job convincing your potential employer that you can manage a team better than all the other applicants.
Creating a visualization of this information is a great exercise to help you decide what it is that sets you apart. Grab a pen and paper and in the center write the topic that you want to be known for. From this core topic, branch out into the different sub-topics that make up this core one. Rank yourself on a scale of poor, average, good and excellent for each.
This is a great way to become self aware of what may be holding you back from building a personal brand.
Naturally you can't be excellent at everything, that's just not realistic. The goal is to turn anything that's poor or average to good and good to excellent. Write out a plan to help you develop each section and stick to it. This can be applied to any field or area of expertise, so give it a try.
It's not enough to let people know that you're the King or Queen of something, you actually have to work to make this true. Mohammed Ali wasn't the greatest just because he said he was. He earned the right to call himself the Greatest.
Once you know what sets you apart and you've started executing on it, then it's time to start letting people know about it.
2. Curate Relevant and Impactful Content
Whether you're a consultant, employee or on the job hunt, you're going to be Googled by your potential client, boss or recruiter. Let's face it, in this day and age they're also likely to check your social media channels. You need to make sure that they find your professional portfolio rather than the Facebook page you created with all the cute pug pictures.
One of the best things that I did for building a personal brand was set up a blog relevant to the industry I'm in. This gives you credibility, articles to share and makes you discoverable online. When someone Googles your name this is what you want them to find.
Aside from creating a blog or website, you need to make sure that you're filling your social media channels with relevant, impactful content. When someone looks you up on Twitter, they should see insightful questions, on Linkedin find impressive articles and displays of your work and not find anything damaging on Facebook. You can use a Facebook analytics tool to see what's working for you.
If you're a designer for instance, you want to make sure that when someone Googles your name or looks you up on Linkedin what they find is your updated portfolio and previous work rather than photos from when you were 16. And let's face it, most of us are due a clean up of our Facebook profiles. At the very least, you should review your privacy settings to prevent those pictures from your cousin's BBQ when you had a few too many from appearing. (You know the ones!)
As an exercise, Google yourself from an incognito window so you can see how your digital presence appears to someone who may be looking you up. (I share a name with the drummer from the band Kasabian, so he's somewhat better positioned on Google than I am. You can add your country or field of expertise to the end of your name if you have the same issue as me.)
Most likely the first thing you'll find is your LinkedIn page but make sure that there's nothing else damaging that appears. Check Google images, and it goes without saying – check your Facebook. If the information that you find doesn't represent your personal brand image well, I would highly recommend starting a blog. If you have a blog already, treat your name like a keyword and optimize your content for your name so it can be found when people research you online.
3. Network Strategically to Build Your Brand
You may dread the thoughts of it, but networking is as important today as it ever was and doesn't have to be scary. Ask any consultant or agency and they'll tell you the referrals that they get from past clients are the most qualified leads they come their way. The same is true when you're talking about establishing yourself as a thought leader or looking for a job – the best way to get people to believe you're the greatest salesperson in Boston is to have someone else tell them it's true.
If there's a job or department that you want to join in your current company, make sure the people on that team know who you are and what you can do. I always say when it comes to internal mobility within a company: if you start working towards a promotion when the position has been posted, you're already too late.
Meetup.com can be a great resource for networking across any kind of industry or field that you can think of. You can search for any type of meetup you like and find groups and events near you. Once you have established yourself as knowledgeable in your field, if you're feeling brave enough you can even arrange to speak at meetups. But it doesn't always have to be in person. Even networking on social media is a great way to create your own brand.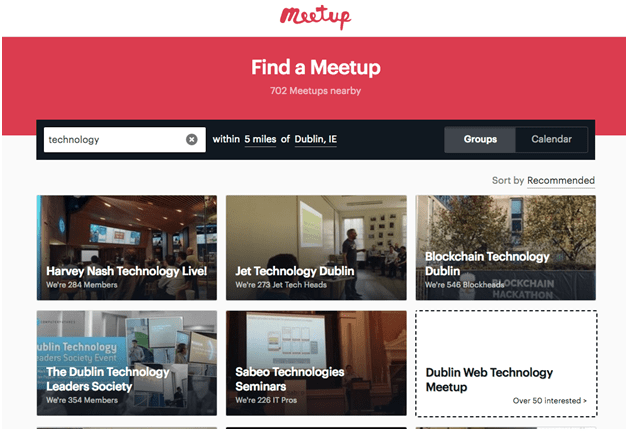 I recently started to see someone pop up on my LinkedIn feed a lot. Any time there was a discussion about sales, he would give his input. He had articles and content that he shared and the main thing is, they were good. One day he invited me to connect and although I didn't actually know him I accepted him because he seemed like someone who might be worth connecting with.
I then saw people posting about how he had done a great job reaching out to them, connecting and building a relationship. Soon after he released, shared an update that he had launched book about sales that reached Amazon Number #1 Best Seller status in 4 countries, across 25 categories.
Then it became apparent what he was doing. This man was networking to sell his book, and it worked!
He established himself as a reputable source of information on sales and developed his personal brand. He did this through networking on LinkedIn and makes a living from it. This was a true testament to why is personal branding important.
4. Differentiate Your Personal Brand
It's all about the little things. Most people now know that they should have a website, a logo, all the trimmings. But there are some extra personal branding tips that can make your brand stand out and give your online presence that professional polish.
For example, you can use branded links to create and share links featuring your own domain name. These links can lead to your LinkedIn page, your portfolio, website, blog or other. For example, I use IanMatthews.Link/edIn when someone asks for a link to my LinkedIn page. This gives me an extra edge and sense of professionalism when promoting my personal brand.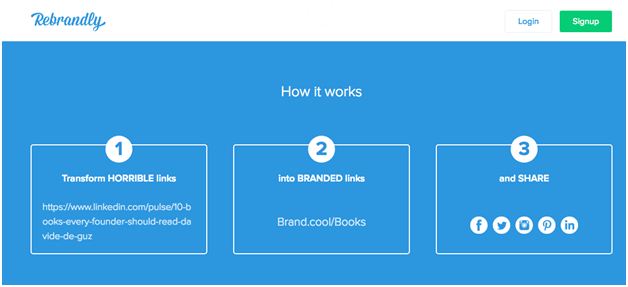 You can make your personal brand stand out by creating a video CV. You don't need fancy equipment, an iphone and imovie is enough to do some recording and editing. You can also use a really cool tool called Loom to create screen recordings with your head in the bottom corner as you speak over what the viewer is seeing, this tool is perfect for showcasing your portfolio or anything you've written while you describe what the viewer is seeing in shot.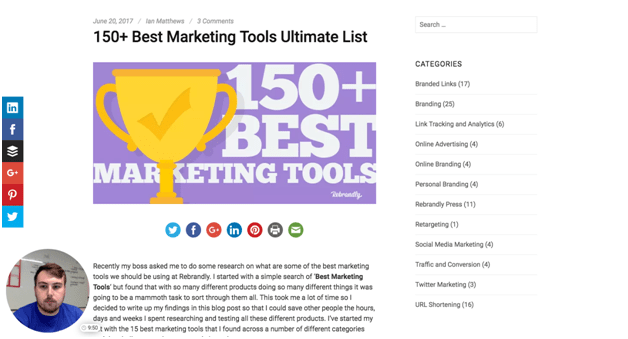 Also, you can publish branded posts on your social media channels. Every post does not have to be entirely promotional in nature. Your content can be informative and beneficial to your audience.
Quality content is what makes them follow you in the first place! So you can leverage that content to strengthen your personal branding.
For that, you'll need a sign or a logo, any visual piece which would become a representation of your own personal brand. Include this logo in your visual posts. That will lead to people being conditioned into associating your brand logo with that useful piece of content.
In the post shown below, SocialPilot has included its logo with a piece of information. This is a smart and easy way of branding.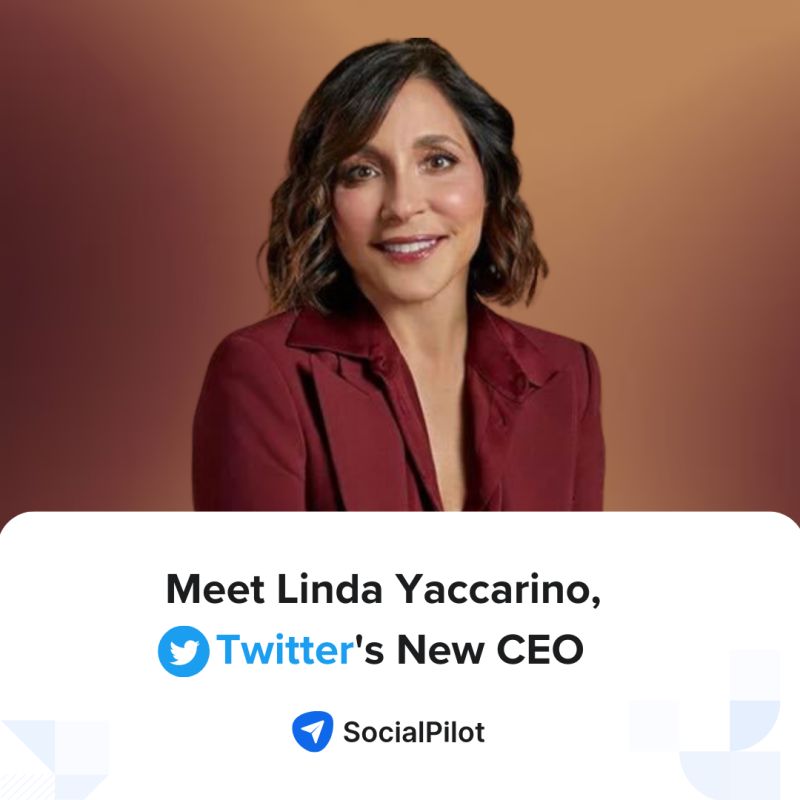 Branded posts help a great deal to empower your brand awareness. But editing every visual to add a logo of your brand to it becomes cumbersome when doing it for multiple social media accounts.
However, SocialPilot has found a way to fix this problem.
Users can set up custom watermarks for every social profile connected to it so every visual post published bears the logo of its brand. This keeps your content aligned with the brand image.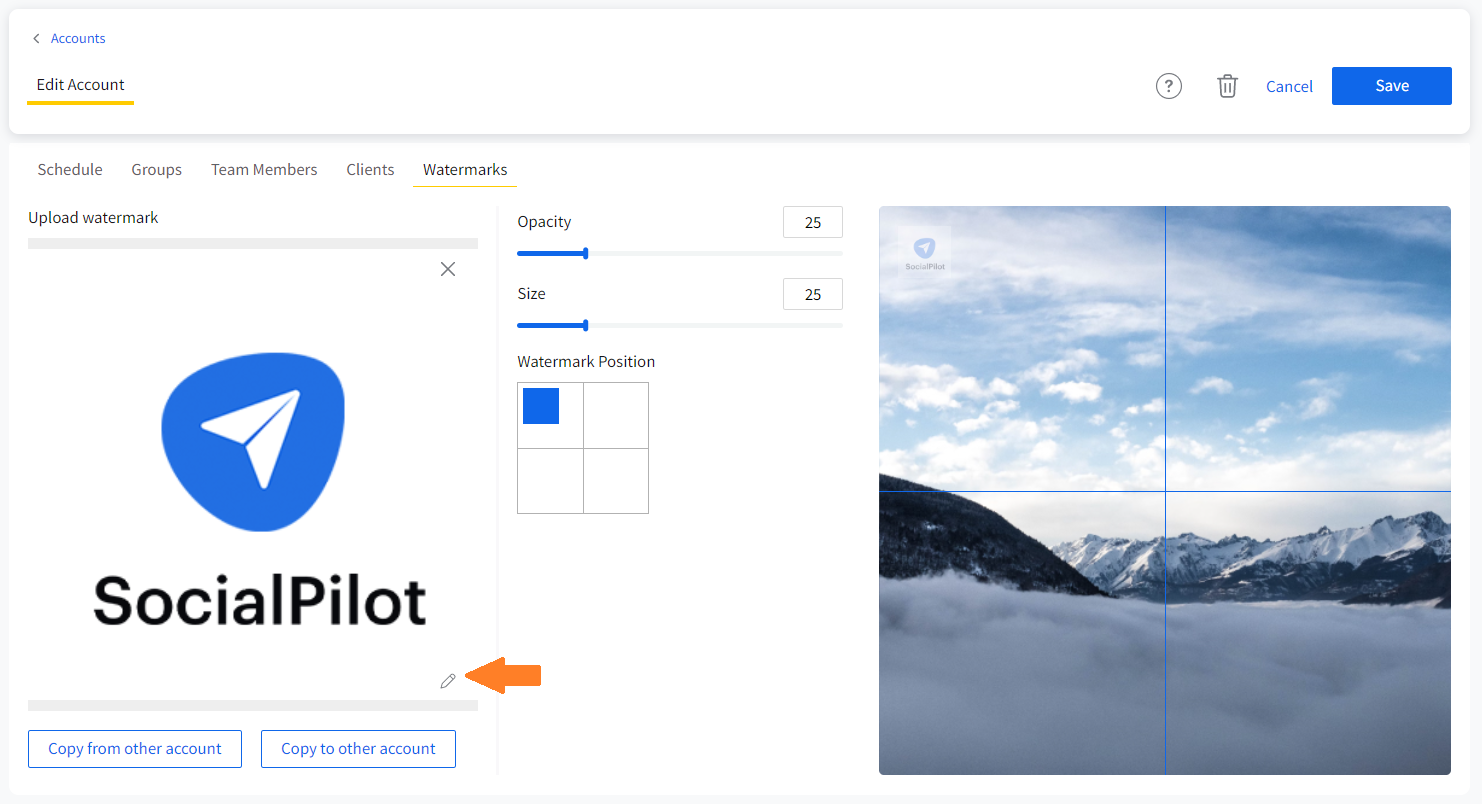 5. Maintain Updated Information
Whether it's running a blog or posting to social media, when you're building an online brand make sure to keep on top of things. Large gaps between posts can make you look inconsistent.
Create an authentic bio that you use across your social media pages and make sure information like your email address and current position are updated. A few months ago, I noticed that I had my position on Facebook as bartender from back when I was in college. This doesn't paint me as a leader in the marketing industry and could leave viewers to believe they've found the wrong person.
Remember that you improve your craft as time goes on so don't forget to review the content that you've written in the past. As new trends emerge, you don't want it to appear like you're not up to date. While you can re-use articles on social media again and again, don't let irrelevant content from a few years ago slip onto your feed.
That's A Wrap
Branding isn't just for businesses, it's for you too. Remember – it's not enough to make claims when creating your personal brand – you have to be able to back them up too. Choose how you're positioning yourself, make use of a free social media posting tool, nail it and then let people know. That's the magic formula.