Do you agree that using right social media image sizes are important for optimum reach?
Do you want your images to be engaging on platforms like Facebook, Instagram, Twitter, LinkedIn, etc. ?
Be it banners images on your Facebook Page, profile photo, cover image or logo - images are now the backbone of any social media marketing campaign on social media. Images have hugely garnered the marketing reins in its control and if your images are 'compelling' you are sure to win the engagement battle.
That's why.
Images sizes play an important role in luring customers to your posts. The specifications of the correct image sizes keep changing.
Well, this is a well-known fact & we as a marketer should always create different size images for the specific social media site.
In this cheat sheet for social media marketers I will be sharing all images size for various social media platforms to ensure your next social media updates reach out to it's maximum potential.
Here's a complete guide covering all image sizes of your social media networks you require for a perfect visual marketing!
Dimensions for Social Media Images
1. Facebook Image Sizes
Facebook cover photo should be all about your business, so why not use one of your product photos that represent your company? Meaningful Facebook conversations begin with great content and that should include an image that you share. Use your Facebook cover photo and newsfeed images to connect fans to your brand. Whether it's an image of your recent blog post or one that promotes your business, make sure it represent your business.
In fact, you need to include the image that fits with your audience's interest. These elements can also be applied to your Facebook cover photo in order to make people feel a certain way or take a specific action when they come to your page.
Facebook Page Image Sizes
Cover photo: 820 x 312 pixels for desktop
640 x 360 pixels for mobile
Profile photo: More than or equal to 180 x 180 pixels for desktop
140 x 140 pixels for mobile
Facebook banner dimensions: 1200 x 630 pixels
Link image: 1230 x 628 pixels
For best results upload JPG file less than 100 KB
Images with text (for instance, brand logo) must be a PNG file
Check Facebook's guidelines for banner sizes and more
Note: If you are promoting your business on Facebook make sure the image size is 1200 x 628 pixels and has only 20% text in it.
Facebook Event Image Sizes
If there is a special event that calls for a celebration or announcement, you can do it on Facebook with the help of 'Highlighted image'.
And if you have an upcoming event, you can advertise it by means of the event image on Facebook. Reminders for the events are also sent to the audience.
Highlighted image size: 1200 x 707 pixels
Highlighted images appear at 843 x 504 pixels
Facebook event image size: 1200 x 628 pixels
Event image ratio: 1.9:1
Note: As per social media blogger Louise Myers, the recommended Facebook event image sizes are 1200 x 628, a 1.9:1 ratio.
Further, her recommended sizes for various devices are:
Facebook Groups (iPad): 1128 x 590 pixels
Facebook events images: 1210 x 632 pixels
iPhone (both): 1242 x 650 pixels
Facebook events images (desktop): 1250 x 656 pixels
Facebook Groups (desktop): 1190 x 624 pixels
2. Twitter Image Sizes
Like all other social networks, Twitter is also known as one of the best social media networks that your customers will most often use to discuss your brand. Your Twitter header photo has to be a bit larger than your profile photo so you also need to choose it at the highest resolution.
Also, your Twitter profile picture is your main identification that will be visible to everyone. It will be visible on your home page and in the Twitter stream of your followers whenever you Tweet. So, it is important your profile picture is something attractive. Just like your cover photo on other social networks, your Twitter header image is your branding opportunity. Use your header image to align your look and feel of your marketing message and company tagline.
Twitter profile picture size: 400 x 400 pixels (file size must be less than 2 MB)
Twitter cover photo size: 1500 x 500 pixels (file size must be less than 5 MB)
Shared image: 900 x 450 pixels
In-stream photo size: 440 x 220 pixels
File size: 10 MB (max)
Recommended file type: JPG, GIF, or PNG file
Can tweet up to 4 images at one time
Find more information on Twitter help center
Note: If you are using a header image with the recommended dimensions and notice that parts of it are being cropped, 60 pixels on the top and bottom could be cropped.
3. LinkedIn Image Sizes
LinkedIn is known as the largest professional network. Where other social networks may be good drivers of traffic and customers, LinkedIn is a great place for B2B as well as recruiters to connect with industry leaders.
In addition, ensure that you use creativity to highlight the most relevant things about your business and brand in the banner image as well as in your cover image. With using this network, you can connect and engage with more professionals. If you have creative images, your professional, or even personal posts, are noticed by other people more easily.
Profile photo: 400 x 400 pixels
Background image: 1584 x 396 pixels
Company logo: 400 x 400 Square
Background image: 1584 x 768 pixels
Blog post image: 1350 x 440 pixels
File size: 10 MB (max)
Shared post image has landscape layout
Supported file type: JPG, GIF or PNG
Find more information on LinkedIn help center
Note: Members with a profile photo on LinkedIn can get up to 14 times more profile views than members without. Get noticed!
4. Pinterest Image Sizes
Pinterest is a wonderful platform for driving referral traffic to your site. It's very important for you to make sure you're optimizing your Pinterest page regularly and using proper image sizes for your boards and pins.
A Pinterest profile image may not be as significant as that of Facebook or Twitter profile images. However, you still need to use a nice one. Like other social sites, your profile picture on Pinterest should be something closely tied to you or your brand. After all, anyone who arrives at your board or pins through the keyword search will probably have a look at your profile too.
Profile image: 165 x 165 pixels
Pin size: 236 pixels x Adjusted Height
Board image size: 222 x 150 pixels
Supported file type: JPG and PNG for profile pictures
Find more information on Pinterest help center
Note: 93% of Pinners use Pinterest to plan or make purchases. Use your Pinterest size guide well!
5. Instagram Image Sizes
Mainly Instagram focuses on images, but remember image size (or Instagram post size) matters a lot. It's very simple. However, Instagram profiles don't have particular cover photos. Your Instagram cover photo is created by a variety of images you share on your Instagram profile.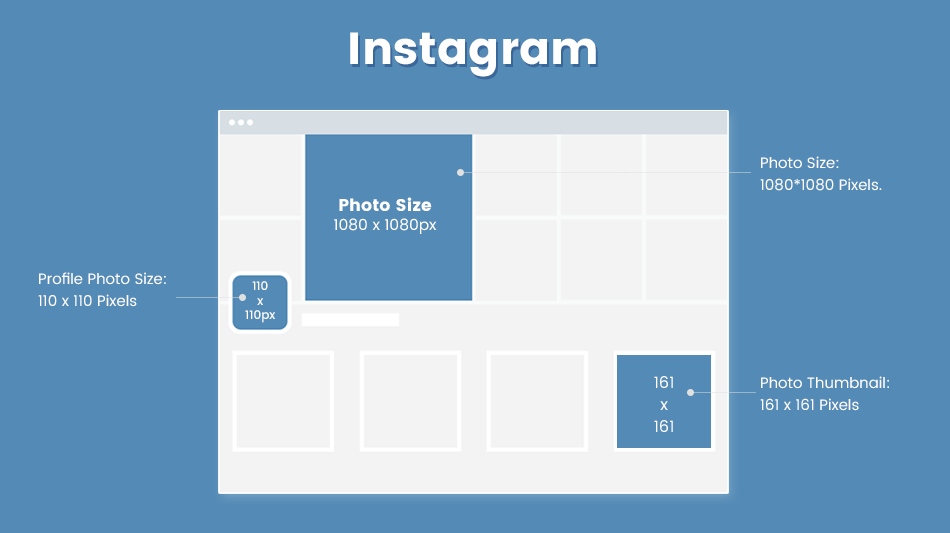 Profile photo size: 110 x 110 pixels
Photo size: 1080 x 1080 pixels
Photo thumbnail: 161 x 161 pixels
Appear on home page at 110 x 110 pixels
Find more info on Instagram help center
Note: Upload a photo with a width of at least 1080 pixels with an aspect ratio between 1.91:1 and 4:5 for best results.
6. Tumblr Image Sizes
Tumblr is a customizable social network that allows users easily share anything they want. Although the profile photo of Tumblr doesn't appear frequently throughout the site, you need to make sure that you choose an image that suits your page layout.
Profile photo size: 128 x 128 pixels
Image post: 500 x 750 pixels
JPG, GIF, PNG or BMP image is recommended
Image can't exceed 10MB
Animated GIFs must be under 1 MB and max at 500 pixels
Find more info on Tumblr help center
Note: For Tumblr, make sure your image file size doesn't exceed 10 MB.
7. YouTube Image Sizes
Almost one-third of the people on internet are YouTube users and moreover there are 30 million daily visitors. If you want to create an impact on them you need a cover photo and your channel icon to be perfect in size.
When you are focusing more on the visual content you need to make your videos very much accurate. For that, an upload size should be also defined in order to make your video visually sound.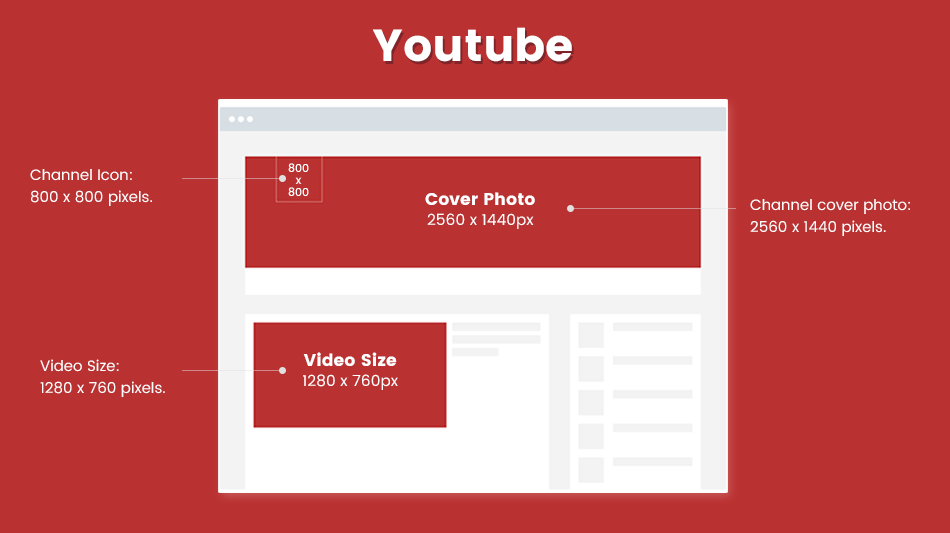 Channel cover photo: 2560 x 1440 pixels
Video uploads: 1280 x 760 pixels
Channel icon: 800 x 800 pixels
Make sure you're using an up-to-date version of your browser so you can upload files greater than 20GB. The maximum file size you can upload to YouTube is 128GB.
Hope these guidelines help your visual content to look perfect and gets you more engagement.
How are you using images to brand your business? Share your insights and experiences with us in the comment section below.