If you don't want to wait months for SEO to kick in, there's no better and powerful option than using Facebook ads.
Facebook ad platform offers:
6 primary ad formats
1300+ targeting options
11 main objectives
Just imagine the capability of this incredible ad platform.
And with over 2.85 billion active users every month, chances are a significant amount of your target audience is already on Facebook.
So why would you miss this golden shot to give an immense boost to your business?
But to make the optimum use of Facebook ads, you need to be crystal clear about the basics and how to run your ad campaign.
Here's a complete guide to make you a master at Facebook ads, even if you are just a beginner.
Why Spend Money on Facebook Ads?
Over the years, Facebook ads costs have taken a whopping jump from USD 135 million to USD 2.26 billion!
Businesses and marketers across the globe are using Facebook to boost their profits and enjoy hefty returns on their investments.
Want to know why they are choosing Facebook over any other ad platform?
Granular Targeting
Highly-specific targeting is probably the USP of the Facebook ad platform. You won't find such a wide variety of targeting options on any other ad platform out there.
Based on people's behavior, interest, demographics, connections, age groups, languages, and locations, you can filter out your target audience and show ads to them.
There is another plus point here with the targeting option; you can escape all the hard work of audience research and select your competitors' followers directly to run your ads.
Isn't it amazing?
Apart from precise targeting, marketers also use Facebook ads for their accurate analytics.
Powerful Analytics
If you are running your ads on Facebook, it will ensure that it brings you all the data related to your ad's performance.
You can use valuable metrics like page likes, post engagements, clicks, CPC, and reach during a selected time period.
You can use Facebook analytics to optimize your ad campaign and figure out what's working and what's not. They help you understand how people are reacting to your ads, what you should do to optimize and boost conversions, etc.
Lookalike Audience
With powerful targeting and analytics, the Facebook ad platform is also famous for gaining new leads. How? With the magic of Facebook's AI-based Machine Learning algorithm.
Once you run your ads for your target audience and find a set of audiences that converted to leads, Facebook's algorithm will help you find more people with similar interests to those who got converted.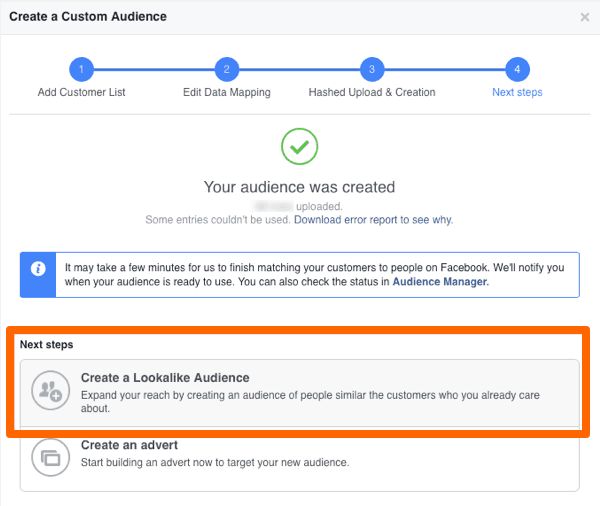 These are some of the significant benefits that make marketers use the Facebook ad platform for their business growth.
If you also want to step in their shoes of success with Facebook ads, be clear of two things before you start anything:
Your goals
How do you want your ad to look?
Answering these questions will help you pick the suitable ad format available on Facebook, and will help you achieve your goals with the right ad objective.
Talking about ad formats, here is a list of six main ad formats you can choose in Facebook:
Different Ad Formats on Facebook
Image Ads
Image ads are always an excellent way to kick-start your Facebook paid advertising. You need to keep it simple but attractive.
Your image ad should catch the attention of a Facebook user scrolling through his social feed. It should be attractive enough to do that and informative enough to make the user act on your CTA.
You need to be selective with the colors, text, or layout of your image. It can be a major deciding factor for your conversions.
Like in the example below, they have created an attractive image using text and graphics to attract their target audience.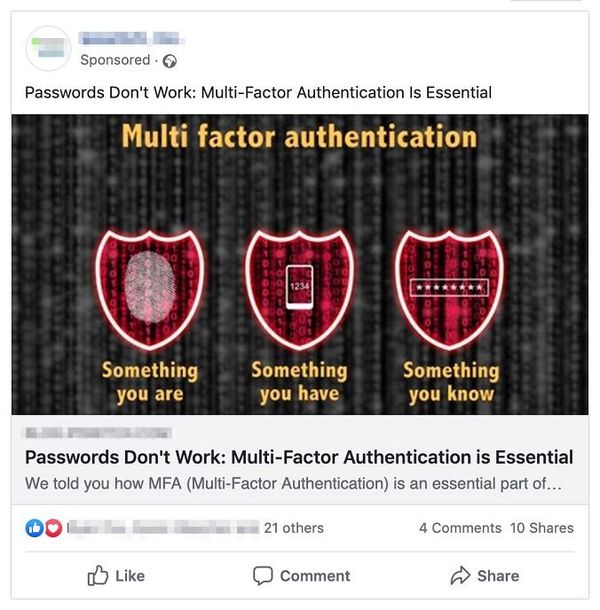 But there are certain limits that you need to take care of in an image ad, to get it approved by the Facebook algorithm. Here are certain specifications important for a Facebook photo ad. You can create ads with different motives like Facebook political ads, Facebook business ads, and a lot more.
Design recommendations:
Ratio: 1.91:1 to 1:1
File type: PNG or JPG
Resolution: At least 1080 x 1080 pix
Text recommendations:
Headline: 40 characters
Primary text: 125 characters
Description: 30 characters
Technical requirements:
Minimum width: 600 pix
Maximum file size: 30 MB
Aspect ratio tolerance: 3%
Minimum height: 600 pix
Video Ads
Video ads are another ad format available on Facebook. You make use of this to attract the viewer's attention by showcasing your product, a demo video, or any other engaging video related to your business.
Whether it be video ads, image ads, or any other ad formats on Facebook, you need to be creative. This is the reason Facebook ads are a demand generation tool. You generate the demand/attention of the user using your ad.
Here's an example of popular brands making use of video ads feature on Facebook to showcase their products and grab the attention of the viewer to make them aware of their product.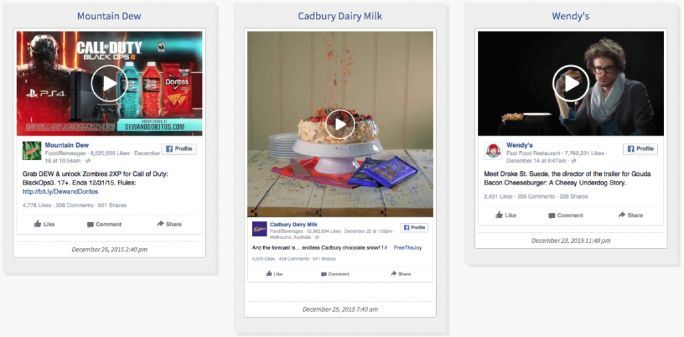 Facebook has also listed down some specifications related to video ads. If you want to run your ads effectively, you need to follow the below-mentioned specifications:
Design recommendations:
File type: MOV, MP4 or GIF
Video settings: H.264 compression, fixed frame rate, stereo, square pixels, and progressive scan
Ratio: 4:5
128 kbps+ for AAC audio compression
Video captions: Optional, but we recommended
Resolution: At least 1080 x 1080 pix
Video sound: Optional, but we recommended
Note: There should be no special boxes or edit lists in file containers.
Text recommendations:
Primary text: 125 characters
Description: 30 characters
Headline: 40 characters
Technical requirements:
Maximum file size: 4 GB
Video duration: 1 sec to 241 min
Minimum height: 120 pix
Minimum width: 120 pix
Carousel Ads
If you want to use multiple photos or videos together in your ads, you need to select the carousel ads format. You will have the freedom to add up to 10 videos or images together to showcase your service or product.
Each video or image piece will have its own CTA where people can take a specific action on individual slides.
Here's an excellent example of a carousel ad used by the World Football Summit. All the guest hosts are listed in each slide, and if a viewer is interested to hear any of these legends, they can click the 'Sign Up' button placed as a CTA.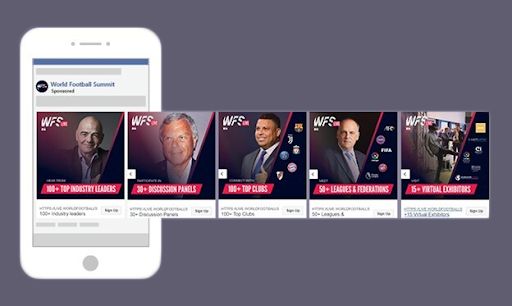 Being one of the primary Facebook ad formats, you need to be careful with the specifications issued by Facebook for carousel ads if you want to get your ads approved.
Design recommendations:
Video file type: MOV, MP4 or GIF
Image file type: PNG or JPG
Resolution: At least 1080 x 1080 pix
Ratio: 1:1
Text recommendations:
Headline: 40 characters
Primary text: 125 characters
Landing/Sales page URL: Required
Description: 20 characters
Technical requirements:
Image file size up to: 30 MB
Number of carousel cards: 2 to 10
Video file size up to: 4 GB
Aspect ratio tolerance: 3%
Video duration: 1 sec to 240 min
Collection Ads
Unlike the above three ad formats, collection ads are only limited to mobile devices. People can view your collection of images and videos and can directly click to buy your service or product.
You can also use collection ads to make your viewers buy your product, without making them leave the social media platform. Isn't that great?
You need to put your focus on the primary video or photo. The other listed images or videos will work as a catalyst for your collection ad.
Here's an example of Adidas using a collection ad format.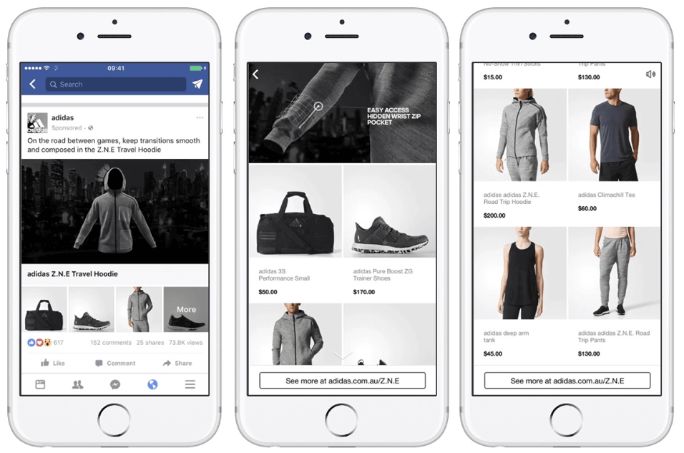 In this ad, they have used a video as their primary weapon for the ad and then listed all the relatable products in the same range. Every product has its individual price tag listed, and a user can directly purchase through this ad.
There are certain specifications that you need to keep in mind when you decide to make use of collection ads.
Design recommendations:
Image type: PNG or JPG
Ratio: 1:1
Video file type: MOV, MP4or GIF
Resolution: At least 1080 x 1080 pix
Text recommendations:
Primary text: 125 characters
Landing page URL: Required
Headline: 40 characters
Technical requirements:
Instant Experience: Required
Video file size up to: 4 GB
Image file size up to: 30 MB
Messenger Ads
All the above four main types of ad formats can be used on the Facebook feed but when it comes to Messenger, there is a slight twist. 1.3 billion users access Messenger and you can tap that audience just by choosing Messenger while placing your Facebook ad.
You can also use a normal Facebook ad and give a 'Click to Messenger' CTA to kickstart a conversation with your target audience on Messenger.
Here's an example of a Messenger ad: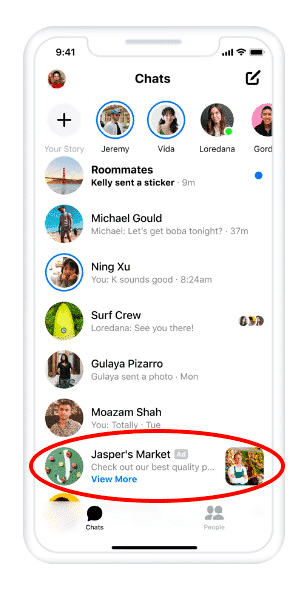 There will be a specific CTA displayed along with your ad placed in between different conversations a Messenger user has.
As you know that with Facebook ads there are specifications you follow. Here are Messenger ad specs:
Text description:
Body text: 125 characters
Headline: 40 characters
Objectives fulfilled:
Traffic
Conversions
Sales
Messages
Catalog
App installs
Stories Ads
The last on the list is story ads. It's a mobile-friendly video ad that can be only viewed in the stories feature of Facebook. You can place a CTA which will be displayed at the bottom of the video ad.
Looking at the example below will make you completely understand how the ad looks and works: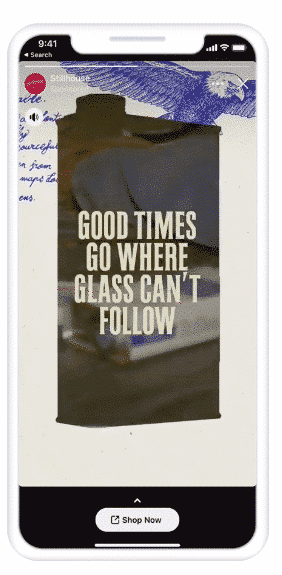 You can clearly see that it's a vertical full-screen video played in a Facebook story and a viewer can take the desired action after seeing it.
Here are some specifications you need to follow:
Test description:
No specified character count. You need to leave 250 pix with no text at the top and bottom
Objective:
Is suitable for all campaigns except store visits and engagements
You can also contact the Facebook ads support for any further assistance with Facebook ads.
Now that you know all the different ad formats, let's create one for your business.
Setting Up Your First Facebook Ads Campaign
Step 1. Objective Selection
To kick-start things, you need to click on the Facebook ad manager option, then under the campaigns section, click the 'Create' button.
A pop-up, like shown in the image below, will show up and you have to select the campaign objective. As you already know that there are 11 primary objectives, select one as per your goal and click on the 'Continue' button.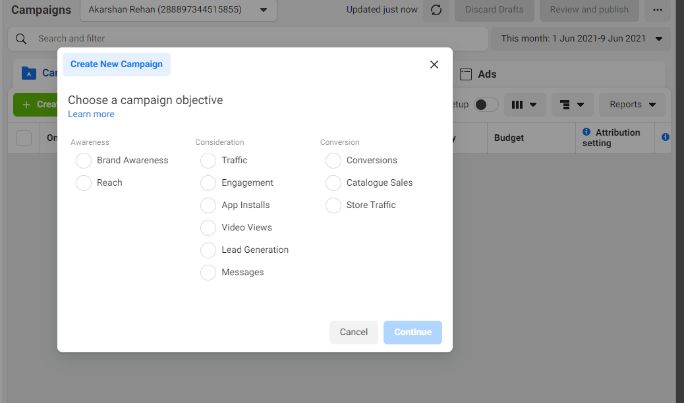 Step 2. Name the Campaign
Once you have selected your objective, name your ad campaign. You can see on the left side that a new ad set and new ad tabs are displayed. You can create multiple ad sets and each ad set can have multiple ads running.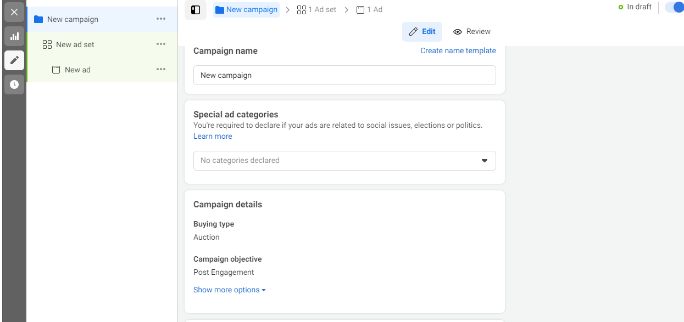 Step 3. Set A/B Testing and Your Budget
You also have the option of selecting A/B testing at the start. Click on the 'Get Started' button; then, you can create another version of your campaign for testing purposes. You also need to set up your budget daily or lifetime basis and schedule your ad by selecting a specific date and time.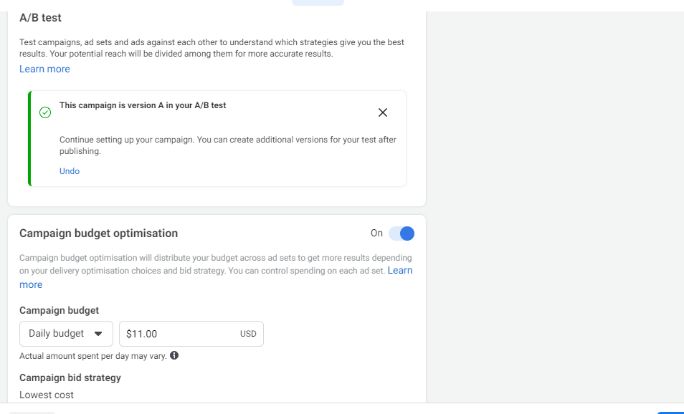 Step 4. Select Your Target Audience
Based on the location, age, gender, language, interests, and behavior, you can select your audience. Facebook audience meter will help you figure out the potential reach and whether the selection of your audience is specific or broad.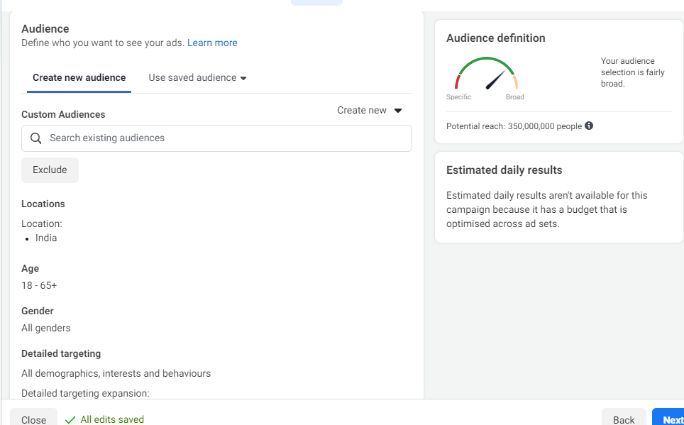 Step 5. Choose Your Facebook Ad Placement
It's better to go with automatic placements. But if you choose to select the manual options, you have multiple options to choose from, like different devices your ads need to be placed on, different platforms like Facebook, audience network, Instagram, or Messenger.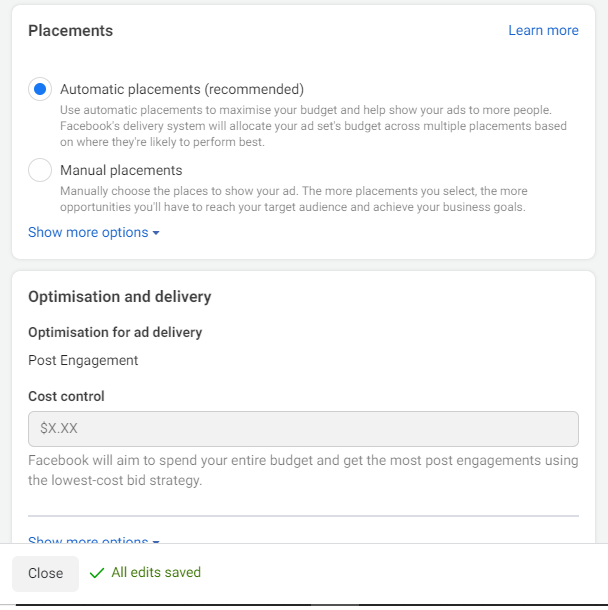 Step 6. Create Your Ad
Completing all the above steps will complete your new ad set. Now it's time to create your new ad. You can create multiple ads in this specific ad set and run an A/B test for those ads.
For setting up your ad, you can choose existing posts, create a new one, or use a creative hub mockup.
We recommend you should create a fresh post for your first ad campaign. After checking a few tracking options, you can click on the 'Publish' button to submit your request to Facebook.
You need to wait for the approval of your ads.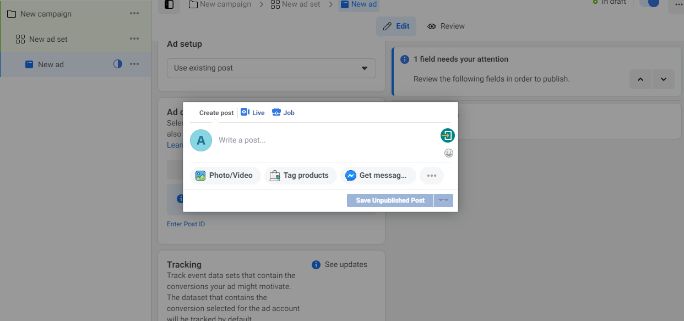 Facebook Ads Best Practices For a Successful Ad Campaign
Effective Use of Facebook Pixel
Facebook pixel is your key to track conversions you'll get from Facebook. It's just a small code that you need to add to your website. You can use the results drawn using the pixel to re-target visitors and reach out to the warm audience again, to make multiple business impacts and hence, improve your conversion rates.
Adjust Ad Frequencies
It takes 7 to 8 business impressions for a new user to just remember about your brand. You need to adjust your ad frequencies if you want to make optimum use of your ad campaigns. Also, adjust your budget accordingly because the more your ad shows up to the same viewer, the cost will also rise.
Testing is Winning
Without testing you won't be able to succeed with Facebook advertisements. You need to test everything: from your ad copies, CTA's, ad titles, ad descriptions, ad timings, ad formats, to know what's working and what's not.
Tracking and Optimizing
Without analytics and accurate tracking, you can't scale your ad campaign. Use Facebook ad analytics and other powerful analytics tools to know where you stand with your Facebook ad campaigns.
Follow all these practices to stand out from your rivals and master the art of running a successful ad campaign.
Conclusion
Facebook ads have been helping businesses all over the world to scale to new heights. They have been improving their algorithm to give businesses the best possible results without costing them more.
Facebook has become one of the most inexpensive yet effective ad platforms. Make use of this golden opportunity to increase your customer base and boost your ROI.